And so we have another rover on Mars. But give me a minute. I'll get there.
James Cameron is one of my all-time favorite filmmakers. As both writer and director, he knows how to craft a story that is imaginative, exciting, and action-packed. If I were to rank his work, it would look something like this...
Aliens (A+) One of the tightest action/horror thrillers ever created.
Terminator (A+) Amazing high-concept sci-fi that elevated action sci-fi cinema.
True Lies (A) Impeccably well-thought-out spy/action film with terrific humor.
Terminator 2 (A) After Aliens, one of the best sequels of all time.
The Abyss (A) Grossly underrated action flick with a brilliant story premise.
Titanic (B+) Impossibly good film that made the sinking of the Titanic exciting.
Avatar (B) Groundbreaking effects-driven spectacle.
The movie Strange Days, which is also a favorite of mine, was written by Cameron, but directed by his ex-wife Kathryn Bigelow. I actually liked it better than Titanic and Avatar.
So, to sum up, my favorite James Cameron is Aliens.
And I think of this movie every single time that I see NASA's Jet Propulsion Laboratories where all the scientists and technicians are staring at computer monitors as they run the mission. Yesterday I was watching live as the Perseverance rover was landing on Mars, none of these NASA people were watching events unfold live. It takes 11 minutes for a signal to return to earth, so what they're seeing happened 11 minutes ago. Likewise, any commands they send take 11 minutes to be initiated.
So they're flying blind.
Just like the "artificial person" Bishop does when he makes his way to the settlement satelite uplink tower to call a replacement drop-ship down from the Sulaco. He's not getting any feedback, he's playing out what's happening in orbit in his head and issuing commands accordingly...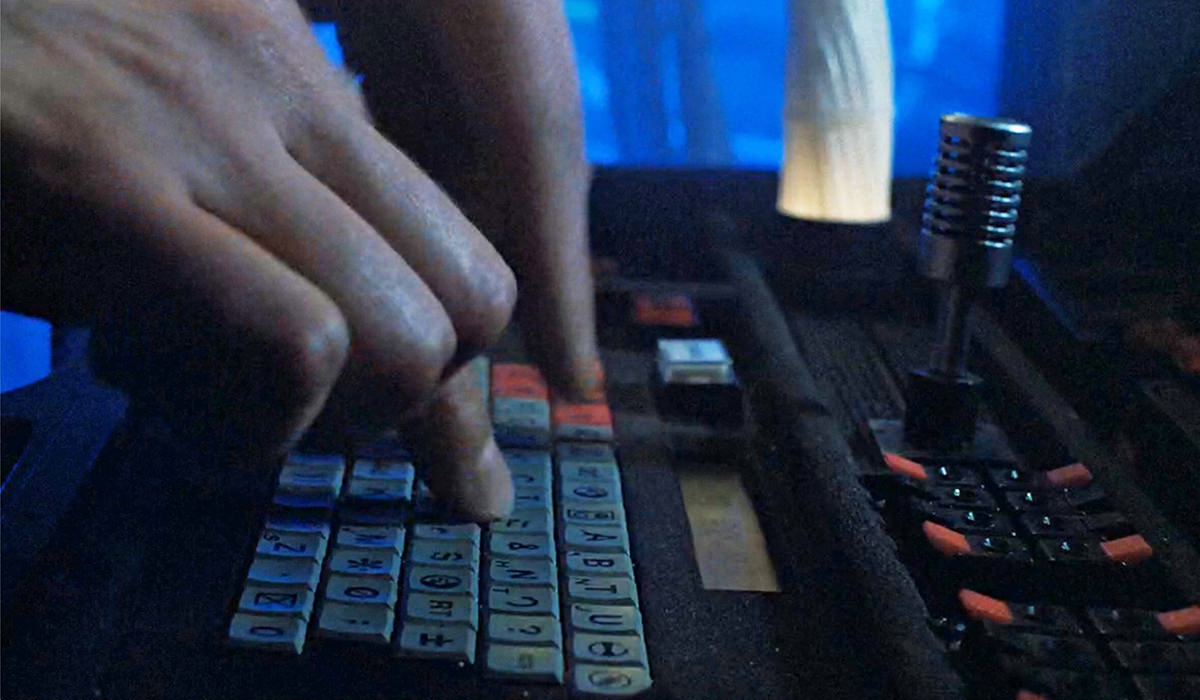 Actor Lance Henriksen, who plays Bishop, never looks at any display. He is either looking at nothing and staring into space while he concentrates, or looking at the keyboard...
Back when I first saw Aliens I thought this was incredibly cool... and totally baller. And it's a bit what I imagine it's like to work on a rover landing at JPL.
Anyway... back to Mars...
I watched NASA's "live" broadcast of the landing. It's nail-biting stuff. With that 11 minute delay and no way to send last minute course corrections or instructions, all they could do was cross their fingers that everything worked as it was designed to. As we saw with the probe Nozomi things can definitely go terribly wrong. NASA tried to make the wait interesting by having computer renderings of what's going on, which includes the rover targeting its landing zone after being released from the lander...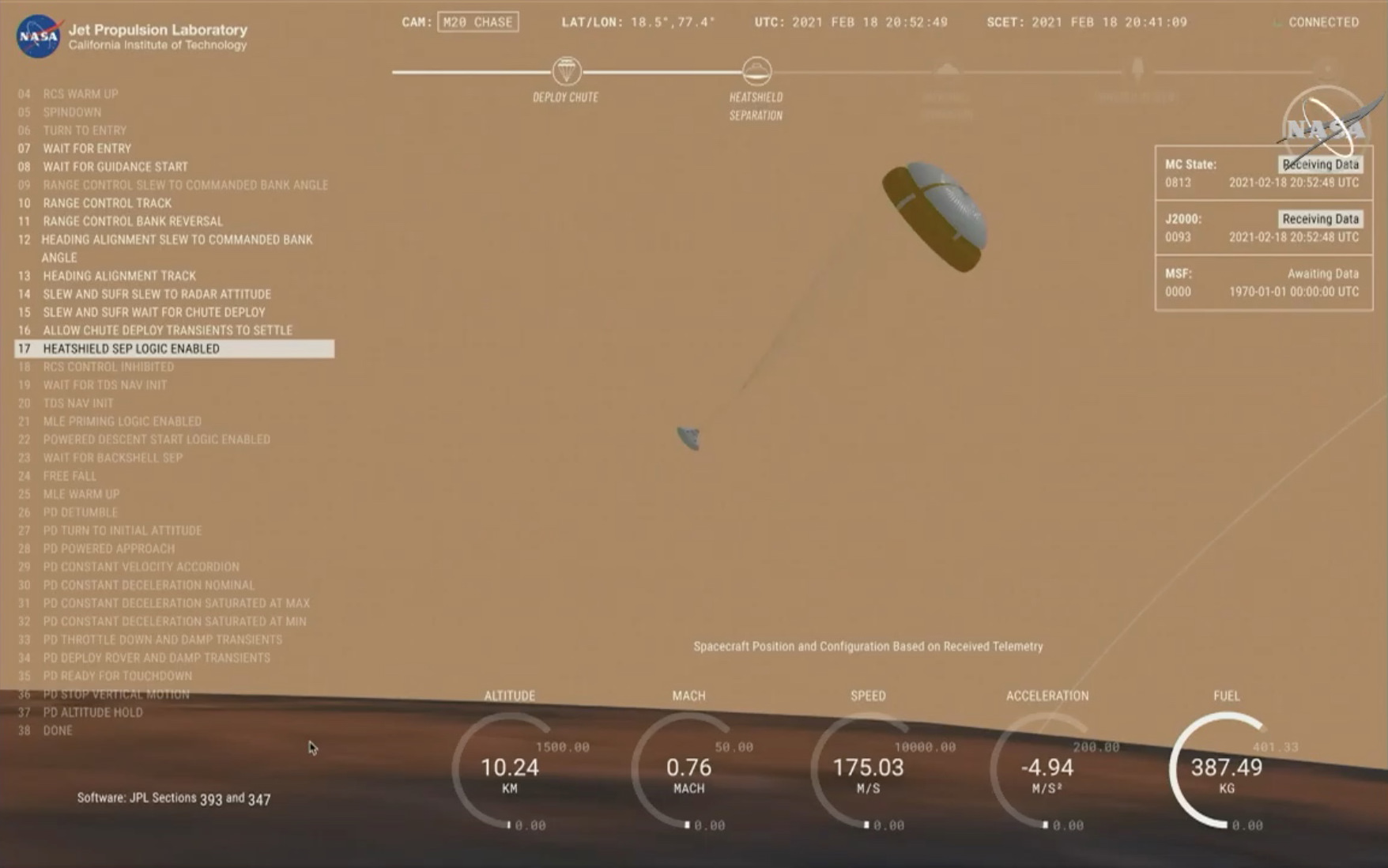 Good job, buddy!
Throughout the broadcast, there was a guy walking about stuff that was happening...
But I could barely concentrate on him... I was laser-focused on what looks like a Mars 2020 branded jar of peanuts sitting on the desk next to him...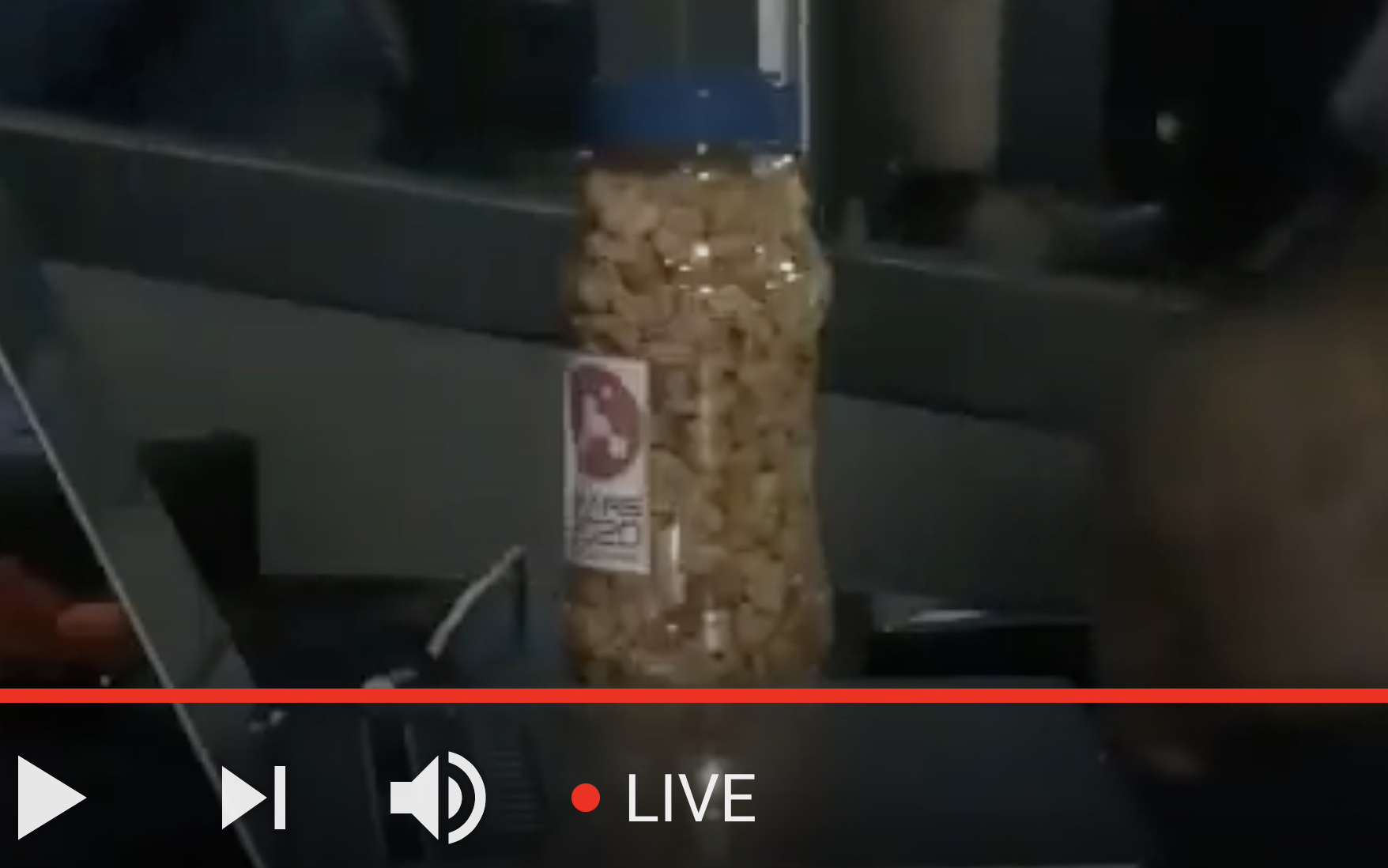 Maybe it's not nuts at all... I dunno. Could be it's some essential prop for discussing the Mars mission that I missed by coming late to the video stream. But it sure looks like nuts.
Of course, just because NASA received notice that the rover had landed successfully doesn't necessarily mean that everything is functioning correctly! We had to wait to get a low-res, black-and-white shot of The Red Planet via one of the Hazard Avoidance Cameras...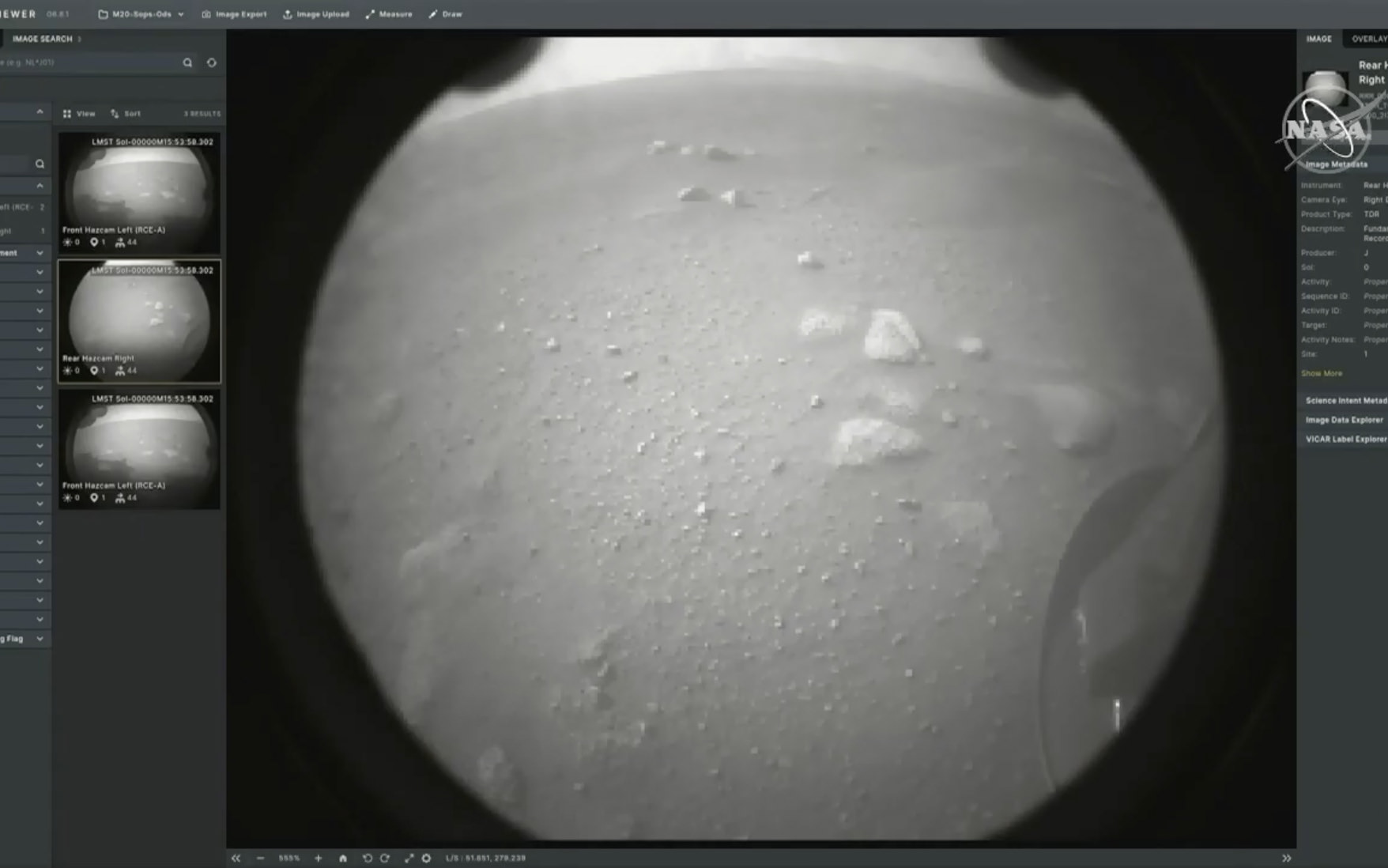 Sweet! High res images and more Mars updates will be forthcoming from the NASA Perseverance team at their Mission Update Blog, which you can visit and bookmark here.
And, before I continue, can I just say how fantastic Paul Reiser's performance as the ultimate rat bastard was in Aliens? Easily his best work as an actor, because he really had to sell it...
And when he gets caught on his bullshit and has the most upper-lip-sweat of any human being in the history of the world? Oh yeah. That was a cinematic moment right there.
And then there's tonight's latest episode of WandaVision which will be discussed in a spoiler-filled extended entry below. And you're welcome!
Needless to say, WandaVision and Marvel comic book spoilers abound...

I watch the latest episodes of WandaVision the minute they are released at midnight Pacific Time on Disney+ because I don't want any spoilers ruining the show for me. Apparently a lot of people tuned in for the 7th episode at the same time, because it took me almost ten minutes before I could get it to stream. I wasn't the only one expecting something big to be revealed!
Except there was no "big reveal" at all.
Wanda and Vision's perpetual next door neighbor Agnes ended up being AGatha harkNESs from the comics and she's the one orchestrating what's happening in Westview....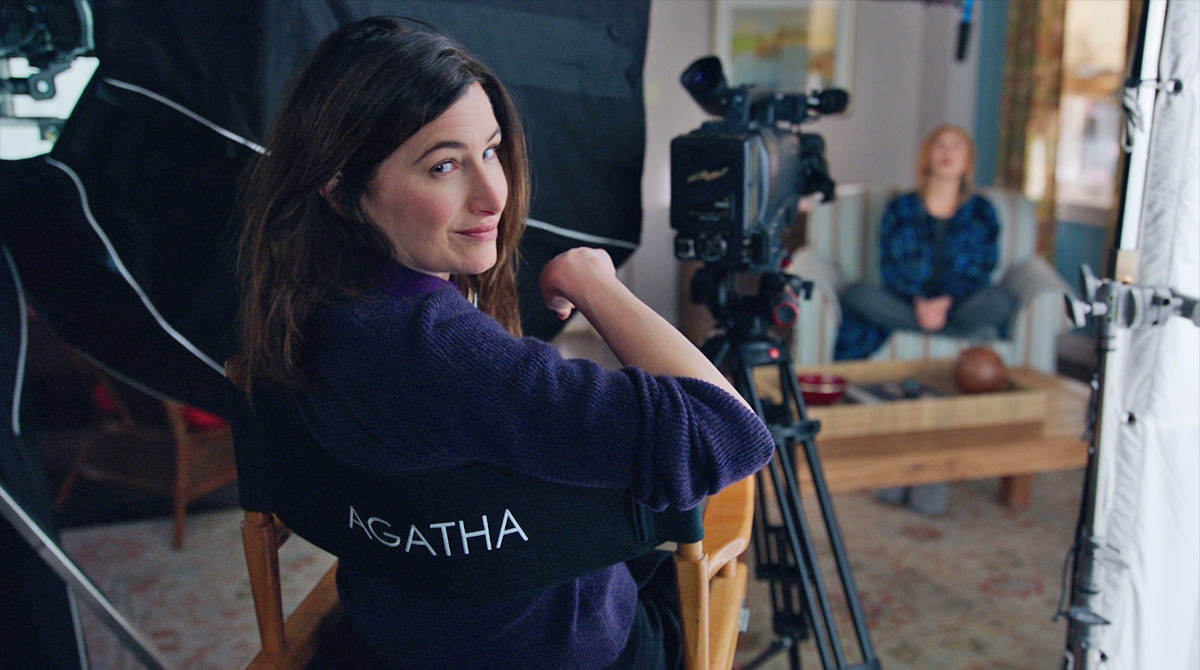 And, ZOMG! SHE KILLED SPARKY THE DOG TOO!!
Since I am familiar with the comics, this not-so-shocking reveal comes with loads of back-story that I am fully aware of. I know of Agatha Harkeness's long history in the Marvel Comics Universe and what weight it carries when it comes to Wanda Maximoff, AKA "The Scarlet Witch." But for people who are NOT familiar with the comics? I cannot fathom what they must be thinking, but I think that is something along the lines of "Who the fuck is Agatha Harkness? Is that supposed to mean something to me?"
Now that Agatha has been revealed as the person behind what's going on in the series, a number of things are going through my head...
"Pietro" is revealed to be controlled by Agatha Harkness. But is he really something more than that? Is he really the MCU Pietro reincarnated somehow? He could still be the Pietro from the 20th Century Fox universe of X-Men films, but with only two episodes left to go, it seems unlikely that they will have the time to explain the concept of a "multiverse," so I dunno. Perhaps he is the demon Mephisto who is in league with Agatha in order to reclaim to two pieces of his soul which were used to create Wanda's children, Billy & Tommy? You don't see him except in an Agatha flashback... until a mid-credits scene at the end where he catches Monica Rambeau snooping around (more on that below).
A far more interesting idea is that Director Hayward is Mephisto, and the reason he wants so badly to get into Westview is to reclaim the two fragments of his soul which were stolen to create Billy & Tommy. But since Wanda stole Vision's body before Billy & Tommy existed and Hayward started tracking everybody's favorite synthezoid, it's not like he was using Vision for bait. Unless this has nothing to do with Mephisto or his soul fragments at all.
The question being... IF Billy & Tommy were created from two pieces of Mephisto's soul, was it Agatha or Wanda who took them?
Anybody who reads the comic knows that Monica Rambeau was, at one time, an iteration of "Captain Marvel" plus a few other identities. Since The Marvel Cinematic Universe already has a Captain Marvel, odds are she's going to end up with "Photon" as her super-hero handle, since that was revealed to be her mother's fighter pilot callsign. This was an entirely expected event we have been awaiting from the very first episode.
Many, many people were curious to know who the aerospace engineer that Monica was meeting up with turned out to be. Was it Reed Richards from the Fantastic Four perhaps? Nope. Looks like it's a nobody named "Major Goodner." At least she's a nobody when it comes to the comic books, as I don't ever recall hearing that name. Could be that she's not the "aerospace engineer" at all and that will still be revealed, but this is a lame payoff to be sure.
Ultimately this was a pretty stupid episode. It consisted of absurd talking-head interludes that went nowhere along with a disappointing non-reveal of the "aerospace engineer" and the completely expected debut of Agatha Harkness and Monica "Photon" Rambeau's powers...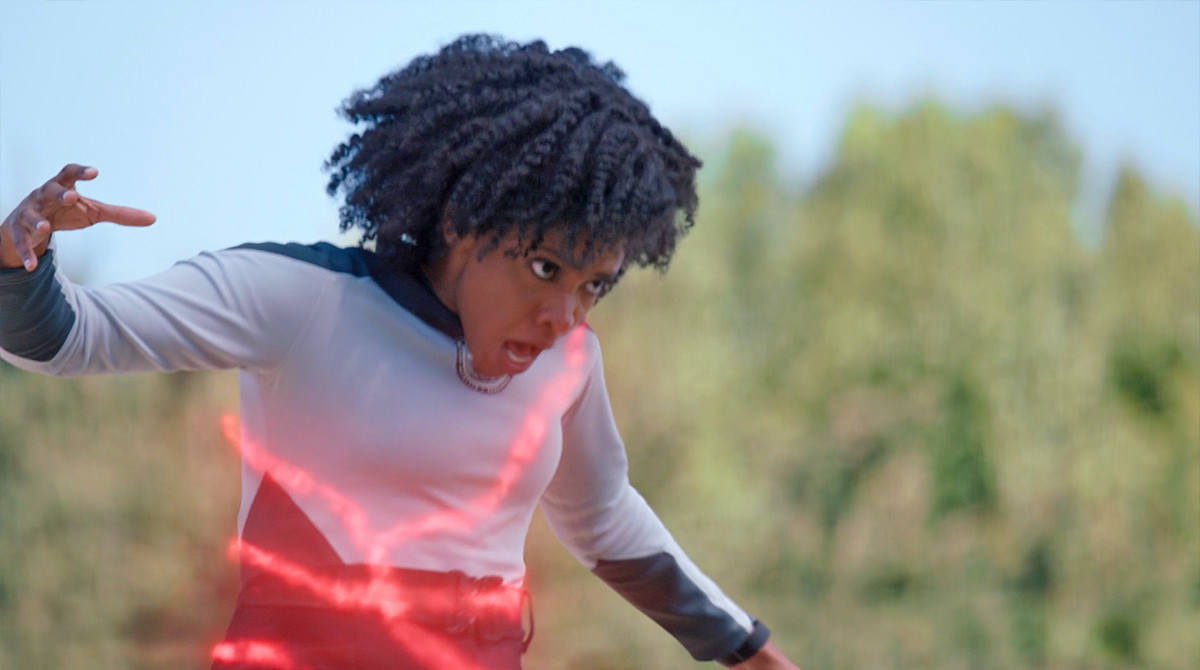 She is shown to have glowy blue eyes, super strength, and (assumably) flight, which allowed her to resist being shoved out of Westview (again) by Wanda with her super-hero landing...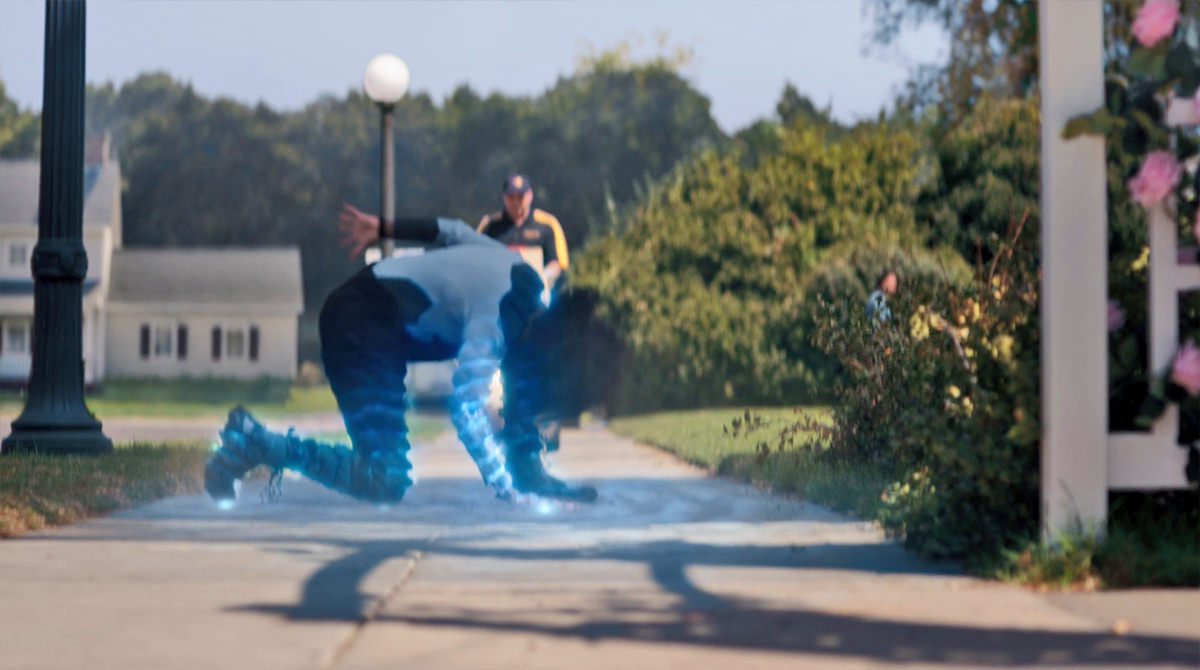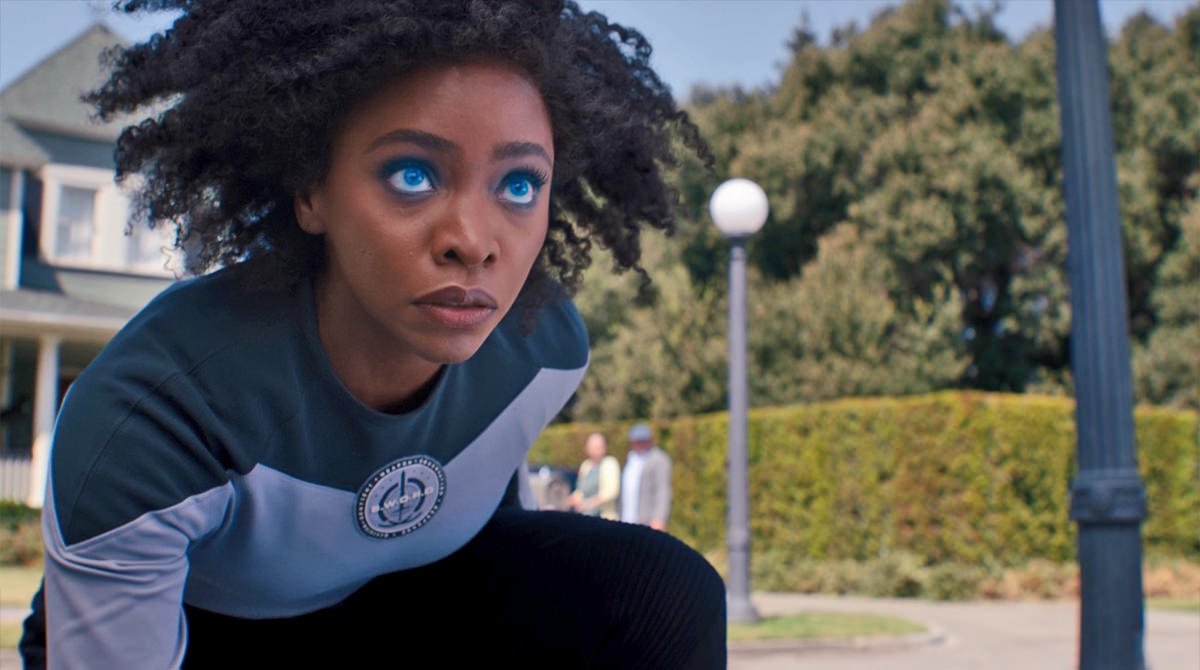 By far the most interesting thing to happen wasn't in the show at all but in the afore-mentioned mid-credits scene where Monica is snooping around and gets caught by "Pietro." Note how we've now shifter from HD to Letterboxed 4K format, which is how WandaVision has been telling us something is happening in the "Real World"...
This would indicate that Monica's powers are indeed independent of Wanda/Agatha's Westview reality bubble since she's still got them glowy blue eyes. I guess that's what happens when you manage to cross the bubble barrier three times without being rewritten into the new reality (and your molecular structure has been permanently altered)...
So while this episode was a colossal dud to me, it does show some promise for the future. But whether or not that "future" takes place in WandaVision, Doctor Strange 2, or Captain Marvel 2 is anybody's guess.
Two more episodes left for Marvel Studios to redeem themselves...