The iPhone Upgrade Program return kit showed up today. Which means I guess it's time for me to decide whether or not I'm keeping the iPhone 12 Pro MAX pretty quick.
Or immediately.
Because there's no way I'm giving up the iPhone 12 Pro MAX. Yes, I was concerned about it's MASSIVE size, but in less than a week I've just kinda adapted to it. And really adapted to that big, beautiful screen. Sure there are times I'd rather not have to deal with something so big, but the pros vastly outweigh the cons, and there's no going back for me.
So my beautiful Midnight Green iPhone 11 Pro which has served me very well, was boxed up and will be handed over to FedEx tomorrow.
What also showed up today? My MagSafe wireless charging puck...
One thing I should get out of the way is that the magnets are strong. The puck really "sticks" to my iPhone and equally well to my Project RED iPhone silicone MagSafe case. Very nice. It gives you a satisfying "click" when it snaps into place. I like it very much.
Just like my case provides a visual animation on the display when you pop it on, the puck too gives you an animation which starts like this...
Then gives you a quick flash on the charge of your battery...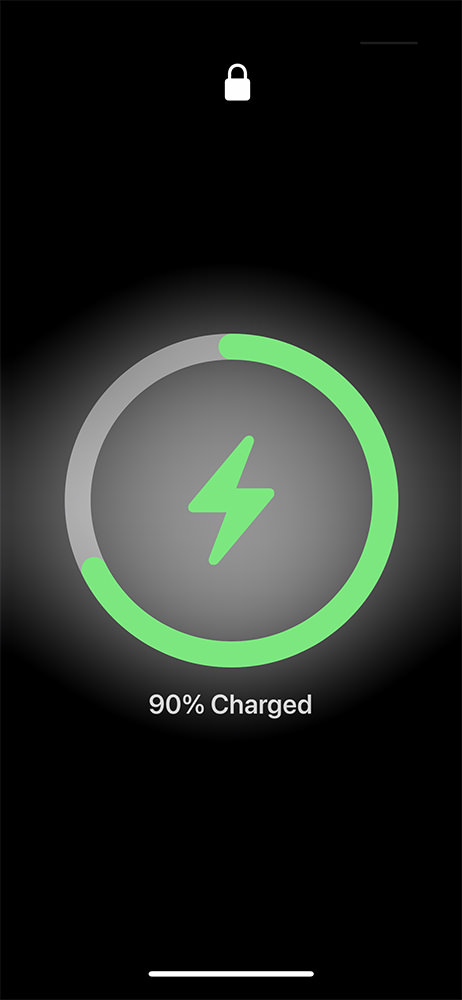 Classy.
All is not perfect, however. First of all, the 20 watt charging brick which allows fast-charging is not included. No charging brick is included. That's a $20 separate purchase from Apple. I have the 18 watt charging brick from my old iPhone 11 Pro, so I'm just going to use that. Since I charge my phone overnight, fast charging isn't necessary. Note that if you decide to use a brick of your own, you will not only not get fast charging, you will have to make sure that it's USB-C, not USB-A (like most all charging bricks are, including those that came with all iPhones prior to the 11).
The puck/cable itself is minimalist and even pretty, if you're into that aethstetic. I am concerned with where the cable meets the puck though. It looks like it could follow suit for every iPhone "Lightning" cable Apple has ever made and break quite easily. That's a big yikes for a $30 item.
Ultimately I think bringing MagSafe to the iPhone is handy and cool. I wish it was still a thing on my MacBook... and it eventually transitions to the iPad. I just wish it wasn't so dang expensive. Cheaper alternatives will be coming from third parties (indeed they already have been), but I don't know if I would trust it with such an expensive toy as an iPhone.
In other news, Dr. Fauci was surprisingly a part of the dog-and-pony show press conference on COVID-19. After President Trump repeatedly attacked Fauci, mused about firing Fauci, and essentially muzzled Fauci... I audibly gasped when he was trotted out along with Vice President Pence and others.
Dr. Fauci's statement on the vaccines was highly encouraging. I was dubious about the effectiveness claims being made, but Fauci laid it all out and essentially calmed any concerns I had. So I, for one, will be getting a vaccination just as soon as somebody like me is able to get it (assumably I will come after health care workers, the elderly, the sick, and the hospitalized). Sure something might go wrong. That's always a risk with new medication (as I found out after taking Accutane), but I'm old with cats as my only dependants so I'll take the risk. Gladly. Whatever it takes to get our lives back to "normal" again.
I have no idea what the anti-vaxxer brigade is going to do. Assumably they're going to take a big ol' pass on getting vaccinated. Which is extremely selfish and shitty, but typical. I don't feel sorry for them if they get sick and die, or lose lung capacity, or end up with brain chemistry problems, or whatever other heinous health problems that survivors end up with. Who I feel sorry for are their children. More and more science is attributing serious health problems... likely lifelong serious health problems... to child COVID-19 survivors. Madness.
And I really feel for immunosuppressed persons who might like to get vaccinated but can't. How shitty that their very lives are in the hands of assholes?
Oh well. Hasn't that always been the case for all of us?