As I said for the ridiculous first presidential debate, I am not much caring about the debates, don't pay much attention to the debates, and find these weak-ass moderators who can't control a damn thing to be embarrassing. Seriously SCREAM THE FUCK OVER THESE ASSHOLES WHEN THEY WON'T RESPECT THE TIME LIMITS THAT THEY AGREED TO! Being a moderator is not fucking rocket science, and yet here we are.
The Vice Presidential Debate is something I try to give a shit about. But it's tough. I detest Pence, am not a fan of Harris, and am disgusted that they are my choices... but they get to sit behind the big desk if the president dies or cannot perform their duties, so I feel like I have to care.
Everything went exactly as I expected.
Kamala Harris was the kind of flip-flopping politician I despise. The only thing that I can credit her for is the extreme restraint she exhibited. She has to be calm and measured or else she'll be called an over-emotional woman. She has to be even-tempered or else she'll be called a raging bitch and labeled an "angry Black woman." There is literally no way for her to win with a great many people who feel that the office of the Vice President belongs to a white, heterosexual, straight, Christian man... but she has to do her best to at least not give them any ammunition to use against Joe Biden. So full marks there.
Mike Pence is a fucking dick, a monstrous hypocrite, and a lying asshole. Just listening to his bullshit is rage-inducing for me. He is the absolute worst, and the only reason I don't want President Trump removed is because then his disgusting ass would be in the Oval Office.
In order to keep from going into a complete meltdown over the crap coming out of their mouths... and to not rage because, once again, the moderator isn't worth a shit, I watched the debate with Jay Smooth. He had a camera on his sleeping cat while he offered commentary...
All I had to do was be all "Awwwww! Such a great cat!" and I managed to not throw a hammer at my television screen.
And then there's that fly that was all over Vice President Pence's head...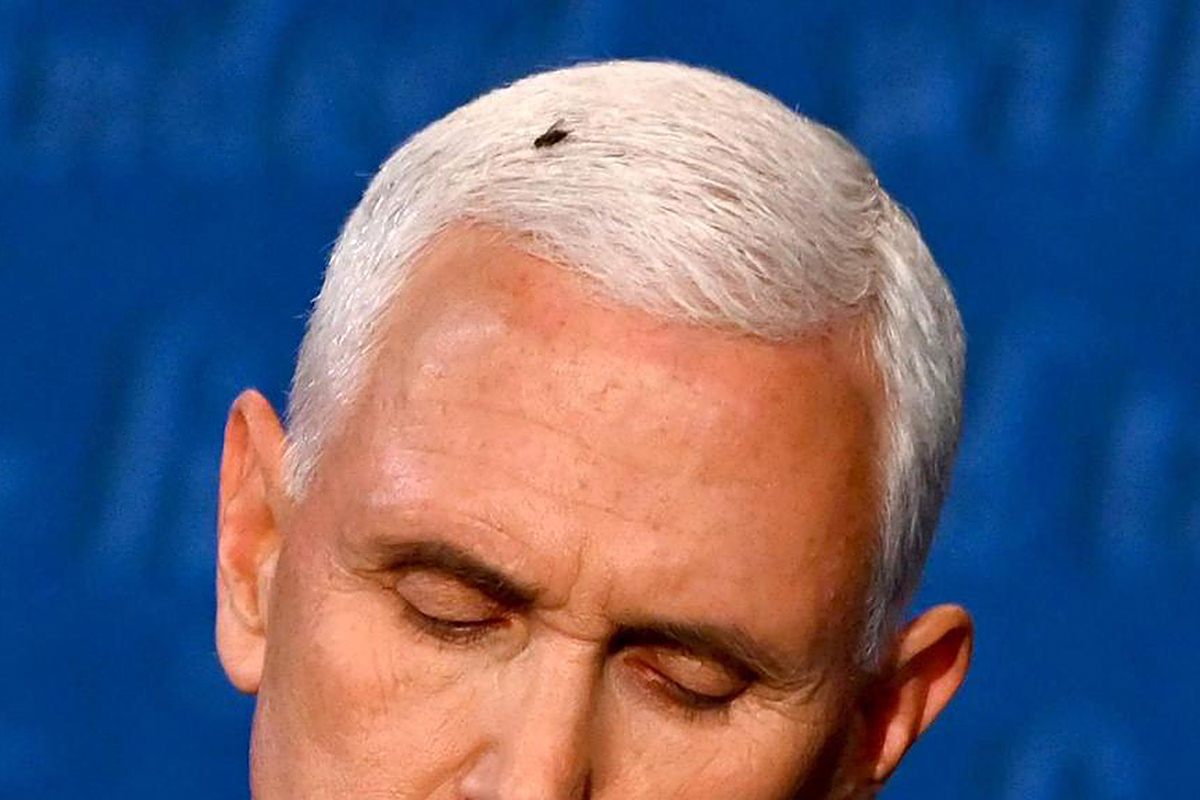 I haven't been going crazy about the fly on social media because it just seems so petty, but I will say this... Mike Pence uses his "Christian" religion as an excuse to persecute and disenfranchise people who don't align with his beliefs. He believes God is telling him to hate the LGBTQ community... to detest immigrants... to shun the poor... to do whatever he can to remove their protections and take away their rights. So when a fly lands on his head, it is tough not to apply HIS OWN THEOLOGY ON HIM. In The Bible, flies are a sign of everything evil. So it's not about what I think the fly represents... I don't care. It's what PENCE thinks the fly represents that matters. He should be taking this as a sign from God that he's an evil thing that is to be shunned. A wicked, wretched, horrible thing that should be condemned. And if the fly had landed on Kamala Harris, you can bet all the money in your pockets that this is what Pence's far-Right "Christian" base would think about her. "It's a sign from God that's she's evil!" So not hyperbole, because they do crap like that ALL THE TIME.
And what would I think if the fly had landed on Kamala Harris? NOTHING. She's not using her faith as a weapon against people like Pence is, so the fly has zero meaning there. It's just a fly, not a symbol of a terrible evil, and her base wouldn't give it another thought.
It's strange though. With all the wacky conspiracy theories that revolve around "signs" and "numerology" and "hidden messages" and crap like that... how is it that I haven't seen the most obvious? The word "Pestilence" has "Pence" right in the name! And he's apparently Lord of the Flies too. It's just so apt. Because he actually is a destructive, infectious, devastating plague on this country and always has been.
Which is not saying a lot. As politicians, Joe Biden and Kamala Harris are a plague on this country too. But at least they don't seem to be weaponizing their religion against the American people. And since they are the only other option, I begrudgingly have no choice but to give them my vote.
And yet... it doesn't take a lot of effort for me to remember that the lesser of two evils is still evil. But, alas, so long as all we got left in this horrific two-party system is quantifying...