Phenomenally gifted musician Eddie Van Halen died this past Tuesday at the age of 65.
As I seem to do any time somebody passes away at a younger age than my mom, I immediately count my blessings that I had her for as long as I did. She died at 73, which still seems awfully young, but it's eight years more than Eddie's son had. Had my mom died in 2009, there would have been no Disney cruise through the Mediterranean... no cruise through the Panama Canal... no trip to Vietnam, Cambodia, and Laos... no trip to Africa... not to mention countless other memories I have from that precious time I got with my mom that Wolfgang Van Halen did not get with his dad. And my heart is crushed for him thinking about it. Though I'm sure he probably feels lucky he got the time he did when he thinks about those who lost a parent even younger than Eddie.
All this was weighing on my mind this morning when I was getting ready for work. So I took a half hour to look through the travel books I made for my mom from our trips together. I haven't thumbed through them in over a year because it was just too painful. But now? Still painful... but not so much that I have a total melt-down just taking them off the shelf. Now they're just page after page of fantastic memories that I am overwhelmingly grateful to have had. I got to travel the world with my mom... how cool is that?
On the afore-mentioned Disney cruise through the Mediterranean in 2010, one of the ports of call was Civitavecchia, Italy. This was the stop for an hour-long drive into Rome. Since we had been to Rome three times prior, I asked if she wanted to hang out on the ship instead of heading into the city. She, of course, wanted to see Rome again. Not only was she adventurous like that, but I am fairly certain it was one of her favorite places on earth. Never one to pass up an opportunity to eat at Alfredo alla Scrofa, my favorite restaurant in the world, I made the arrangements and off we went...
On the bus-ride I asked what she wanted to do in Rome besides lunch and the only thing she said was that she wanted to go The Colosseum. For whatever reason, she loves the thing, and we ended up going every time she was in The Eternal City...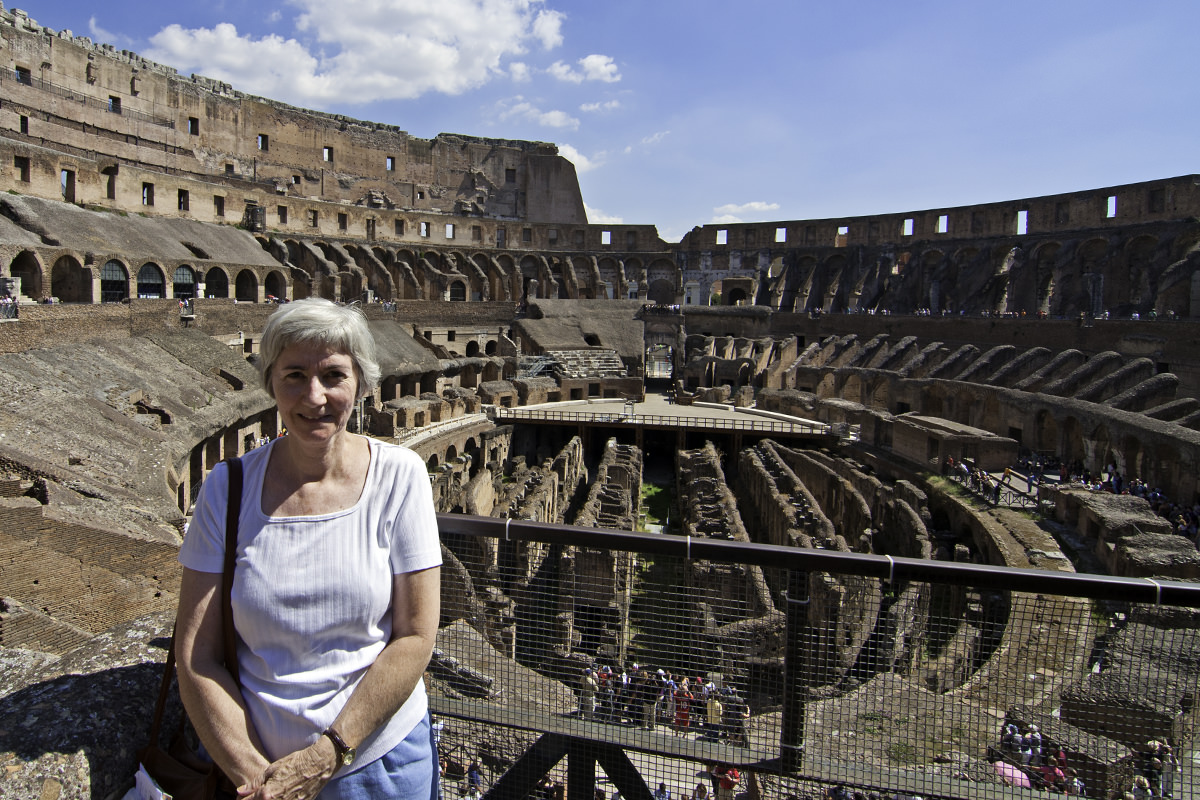 I thought it might be fun for her to toss another coin in the Trevi Fountain. It's said that if you have your back to the fountain and toss a coin with your right hand over your left shoulder, you are guaranteed another trip to Rome. She did this our first trip together and here we were on our fourth, so it must work, right? Here she is trying to figure out which hand you use over which shoulder. If there were an audio recording you'd hear me saying "Other shoulder, mom!"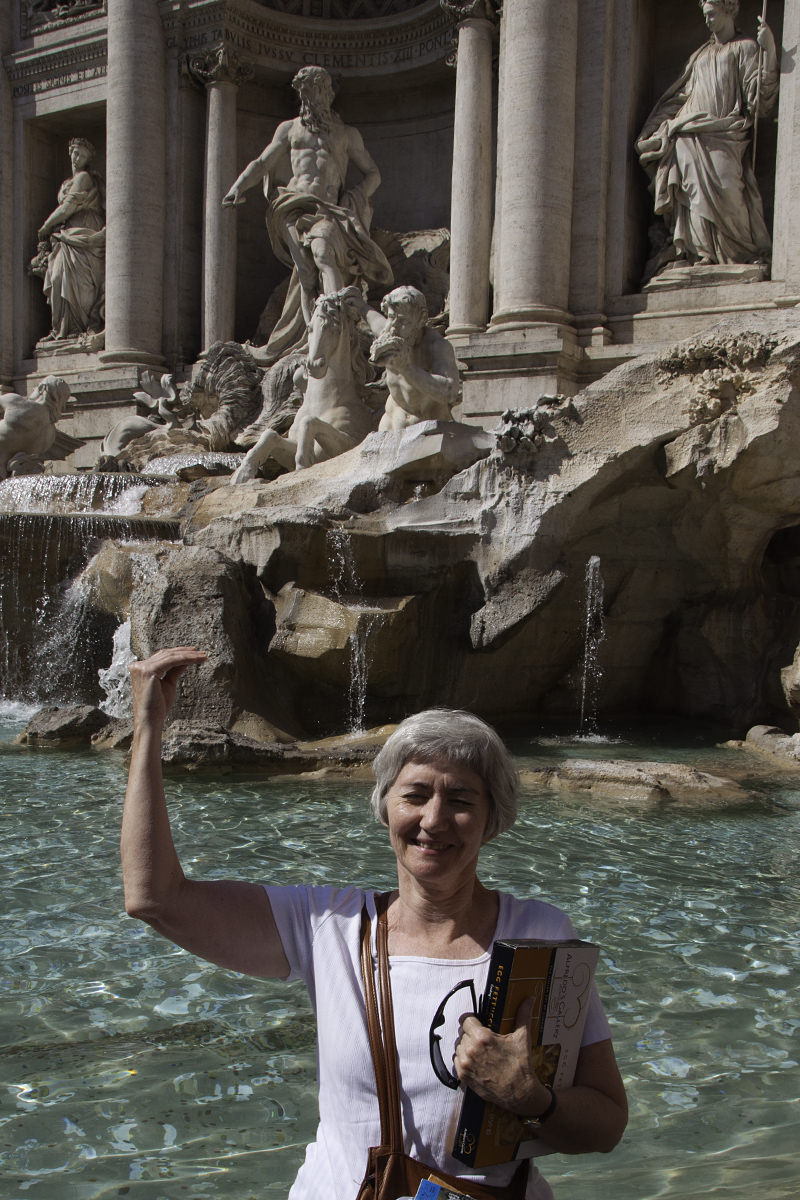 Alas, we never made it back to Rome again, but I'd hardly blame it on the fountain since it worked really well that first time.
With hours left to kill we went to The Vatican. I had never been on the roof of St. Peter's Basilica, so I thought we might as well take a look rather than getting lost wandering in areas I wasn't familiar with. But before that we went inside to kill more time. The church is stunning in a way the vast majority of architectural structures are not, so you simply can't see enough of it. My favorite thing there is Michelangelo's Pietà, one of the most sublimely beautiful works of art you'll ever see. It depicts Mary holding her son Jesus after the crucifixion...
I was explaining to my mom that Michelangelo was just 23 years old when he started work on it, and the piece was considered controversial because he depicted Mary as a young woman instead of somebody far older as had been customary. This has always been fascinating to me, and I noted that her face wasn't contorted in anguish because this would add creases and folds that would age her. My mom nodded and replied "She still looks sad to me." When I told her that I thought Mary looked more serene in her grief than sad, mom said "But she does look sad. She may be the mother of God, but she's still a mother who's lost her son. How else could she look?"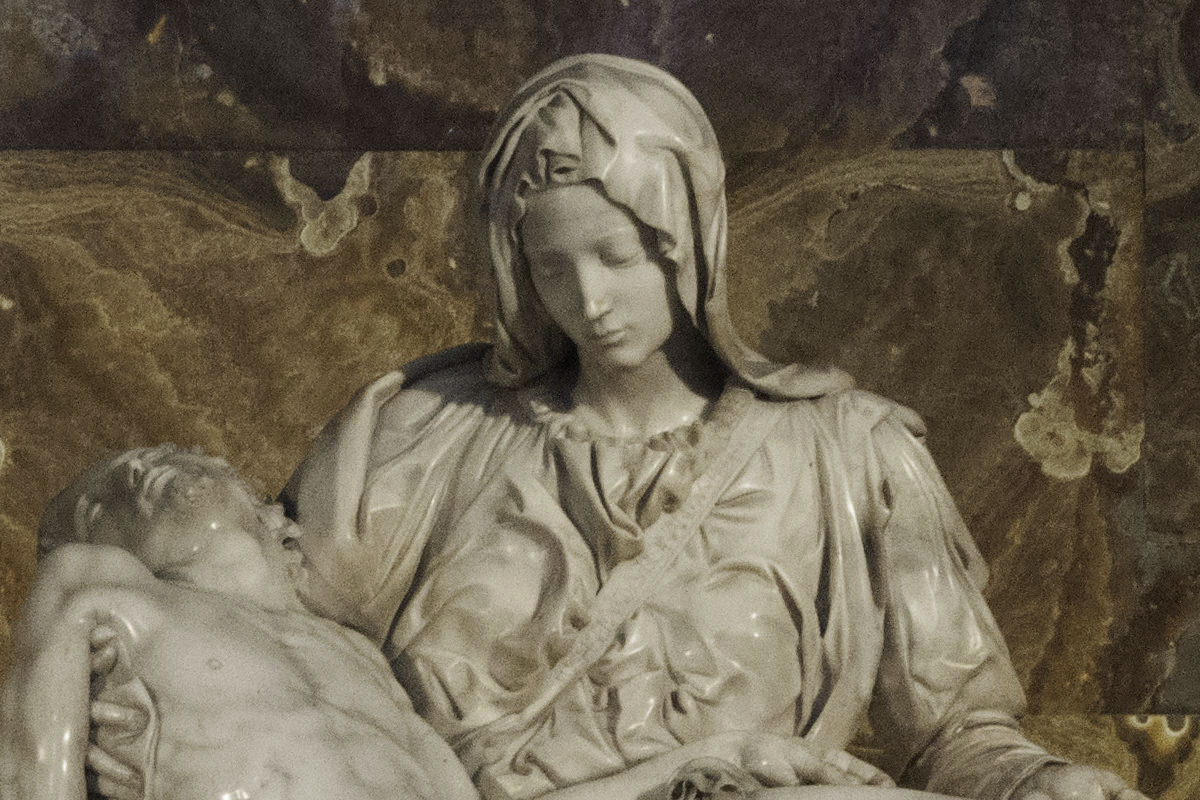 And there's no debating that. I was looking with my eyes... my mom was looking with her heart. She tended to do that a lot. Probably because it was a talent she had baked-in. I, on the other hand, have to work at it.
But not when thumbing through my mom's travel photo books. Looking with my heart is all there is.
Rest in peace, Eddie Van Halen. Your music was a voice for the generations.