After living with my Apple Watch for an entire weekday week, I thought I'd revisit the thing while stuff is still freshly accumulating in my head. If you haven't read my initial impressions, you can find that here.
Shall we begin?
SURPRISE
My Apple Watch is surprising me daily. When I bought it, I fully expected that the only reason I'd be using it would be for the health risk stuff. A safety net for my declining years, as it were. That hasn't been the case at all. It has proven useful in a number of areas, most of which you can't anticipate before having one on your wrist. After ordering, there was a part of me thinking it might be returned to Apple. Now I don't want to live without my Apple Watch! Good on you, Apple! Another surprise? There's already an update out...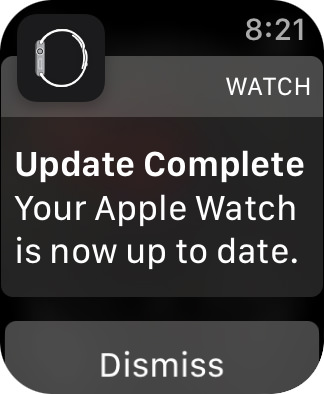 The notification that an update was available popped up on my iPhone, and it's your iPhone which downloads and installs it. Pretty easy and seamless.
DATE?!?
Once the "newness" had worn off... let's say, Day Two... I was looking for things my watch could do for me. I rarely need to know what time it is, but I am constantly needing to know what DATE it is. I tried adding it to the various watch faces I had set up, but it proved impossible. Most faces don't even have an option to display the date... A BASIC WATCH FUNCTION FOR FOREVER. But even the watch faces which do, don't seem to work. "Infograph" makes you THINK it can display the date. All you have to do is turn it on, right?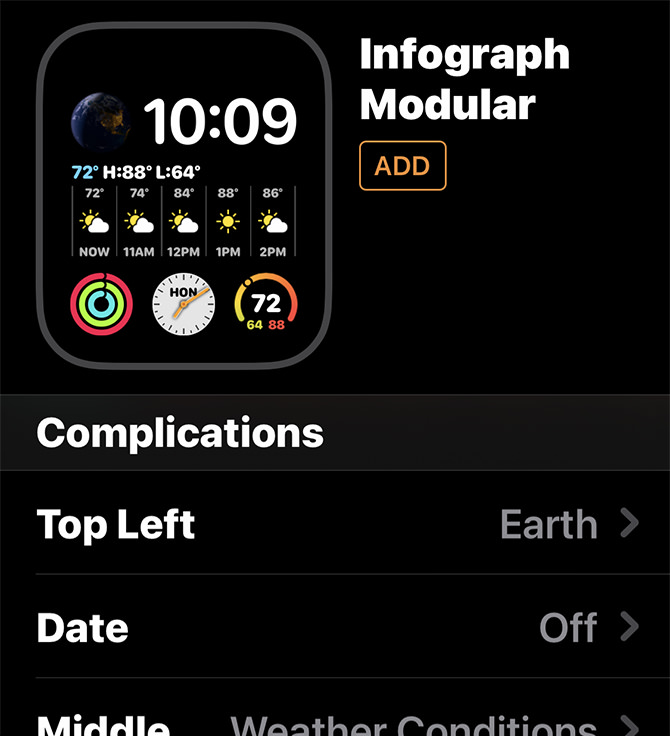 Not so much, no. Even if I turn off every other option to make room for the date, there's no way to turn it on. Just a way to confirm that it's OFF...

This is the most inexcusable, inexplicable disaster for a watch imaginable. How in the hell can you not tell your watch... IN ANY CAPACITY... to display the damn date? Apple Watch can tell you your blood oxygen level, can make phone calls, but can't display the date? Is ANYBODY at Apple paying attention? Do you know how I finally got my Apple Watch to display the date? I PAID TWO DOLLARS TO PURCHASE A "COMPLICATION" CALLED "BETTER DAY"...
Once installed, Better Day can add the date to any watch face which allows "complications"...
Including Mickey Mouse...
As an added bonus, you also get a full month calendar when you tap on the date...
Apple CEO Tim Cook must be out of his damn mind to allow this idiocy to propagate at his company. Does he even wear an Apple Watch? If he does, he must not care about what day it is.
UNLOCK
After a couple days, all three of my Macs dropped an alert asking me if I wanted my Apple Watch to automatically unlock them. I thought "Well that's nice!" and agreed. The model MacBook Pro I have includes a little fingerprint sensor for unlocking it that's easier than typing a password, but the Apple Watch unlock is even easier. Press a key to wake it up... and you don't even see a login screen! It's just... ON... and ready to go. Ditto for my other Macs...
The watch makes a little "clink" unlock sound once your Mac has been unlocked. Very cute. This is exactly the kind of thing I'm talking about when I say "I don't want to live without my Apple Watch.
INPUT
Since I've always got my iPhone on me, I did not anticiapte ever using my watch for anything requiring text input. But that hasn't been the case at all. My iPhone is often left in my backpack now. It's just so much easier to use my watch for simple text replies and such. There are third-party keyboards you can buy, but Apple's built-in "Scribble" is pretty great...
I'm not saying that I would type a letter on it, but I do use it for text more often than I imagined I would. It's quick, easy, and accurate.
SOUND
I was anticipating my Apple Watch telling me that the sound level is dangerous to my hearing when I'm at a concert or something, but the other day I got this alert... in the shower...
Perhaps water droplets hit the microphone or something? Bizarre.
OXYGEN
And so... guess this whole "masks cause hypoxemia" idiocy can be verified as bullshit by scientists... medical professionals... and now me. I tested my blood oxygen level several times during the day. Seems my "normal" is 97% (though I sometimes hit higher). That's what I keep getting. Including this morning at 10:12am...
It was also 97% immediately after a brisk walk home from work... WEARING DOUBLE MASKS AS I ALWAYS DO IN CASE I RUN INTO SOME RANDOM STRANGER ON THE STREET...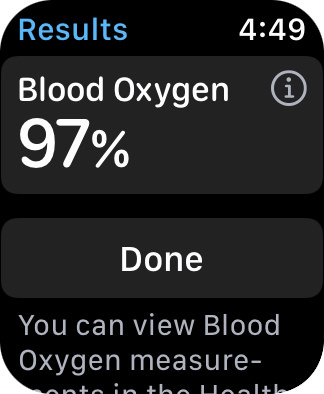 So there. Maybe all the scientists and doctors of the world are totally lying to us all the time... but you can totally trust me to tell the truth! OR CAN YOU? You may never know for sure.
RINGS
For somebody who's not fitness-oriented, I didn't think that Apple's fitness goal tracking was going to be something I cared about. Turns out I was really wrong about that. Once I started paying attention to how much I MOVE, EXERCISE, and STAND, I was caring quite a lot about closing my "fitness rings" each day. It doesn't hurt that my watch is spurring me on with inspirational messages and congratulating me as my rings close one-by-one...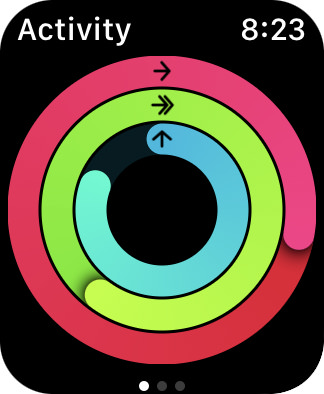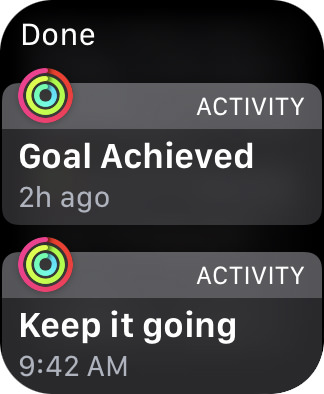 I haven't thought much about the Fitness Achievements you can earn... that may be going too far for me... but who knows? Maybe one day getting all these checked off will be something I feel like doing...
What I'm hoping is that Apple Watch will make me want to do more and more exercise, which can only benefit me health-wise. But even if that never happens I'm still much better off than I was by having moderate fitness goals instead of no goals at all. Thanks, Apple Watch!
STAND
One of the three parts of Apple's fitness ring theory is to "stand" 12 hours a day, and Apple Watch will give you regular reminders to do that...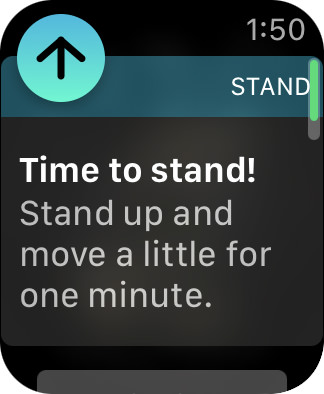 This is a weirdly large amount of time and makes zero sense to me. Unless I change to a standing desk (which is something I hate) I will never make this goal. And so I dropped it down to a more manageable 8 hours which I can meet if I get up and walk around when my watch tells me to. That's probably a good thing since sitting or laying down for too long can contribute to health problems.
BREATHE
My Apple Watch was pestering me to "breathe" a couple times a day. At first I was like "Pshaw. I'm already breathing! Leave me alone!" But then one day I decided to humor the watch and just do the breathing exercise it's been asking me to do. It's only a minute of my time, so what's the big deal...
I was surprised that my heart rate was 92bpm during an exercise meant to calm and center myself, but I have to be honest here... it was a really nice little break during my day! And so now I am taking a breathing break every time my watch wants me to. I'm totally into it, and think it's absolutely beneficial.
SLEEP
I touched on this in my first impressions, but the more I have to deal with Apple's absurdly stupid "sleep tracking" feature the more outraged I get. Apple Watch will only track your sleep during a set period of time that you have to tell it. Contrast and compare this inflexible nonsense on a $400 (minimum!) Apple Watch... with a $25 Wyze Band. Sure, the Wyze Band isn't as accurate, but if you were forced to have it be on a sleep schedule it sure would be! I just randomly set a schedule because I have to... even though I'm rarely in bed by 11:00pm...
It's just so bad! If you have a variable sleep schedule? Too damn bad. You have to go in and manually change your sleep schedule and risk losing sleep data when you do EVERY TIME! If you have to get up early for a trip? Too damn bad. Your watch is scheduled to be asleep during this time since you're scheduled to be asleep, so you have to force it awake in order to even use it. Have to stay up late? Too damn bad. You told your watch you would be sleeping, so it's asleep now and you have to force it awake in order to use it. Want a nap to count towards your sleep? Too damn bad. There is no way to tell your watch that you're sleeping outside of the schedule you're forced to set. And it just gets worse from there. Once I went to bed after midnight (something I do a lot) and my data was posted on the following day's sleep. Which means the data from that night didn't post at all because Apple Watch thinks I had already been to sleep? I cannot express in mere words just how jaw-droppingly crazy this all is. Trying to get a handle on my insomnia was something I was fully expecting to accomplish easily on an Apple Watch. Turns out that unless you go to sleep AT THE EXACT SAME TIME EACH NIGHT and get up AT THE EXACT SAME TIME EACH MORNING, Apple's way of doing things won't work for you. At least not very well. At the absolute bare minimum Apple needs to add a "complication" button which allows you to manually tell Apple Watch you're sleeping. That's a lot more work than I was planning on putting into sleep monitoring... but it's better than the worthless pile of crap Apple's handed me now. This is a 100% FAIL! on every possible level.
BATTERY
Turns out the battery longevity /slash/ charging stuff I was complaining about wasn't quite the issue I made it out to be... for me! If you are using the watch a lot... and using it for extra tasks like listening to music or texting all day long... then the use/charge disparity is likely still a problem. As for myself, I charge my watch to 100% every night around 9:00pm. It takes anywhere from an hour to an hour-and-a-half, and then I'm good to go. My iPhone alerts me when it's done charging and I can check the battery level and charge status there any time...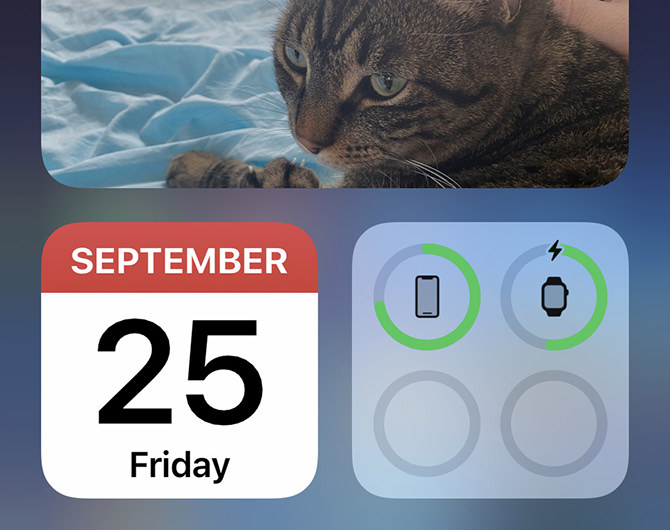 When I wake up in the morning I've got around 75% battery left, which keeps me going until I charge at 9:00pm again...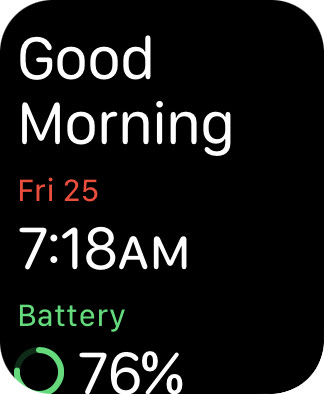 This is a huge relief, because the idea of having to charge the battery twice a day in order to use the sleep tracking was a major sticking point to me. I guess Apple was being conservative with its battery life estimate and trying to factor in people who use their watch a lot more than I do.
BAND
Welp. My Solo Loop watch band went from being a little too snug... to being just perfect... to now being a little loose. OVER THE COURSE OF FIVE DAYS! I am understandably worried that it's going to continue to loosen over time, which would suck since that means the watch will float up and down my arm instead of staying in place. What sucks is that you only get 14 days to return an item to Apple. By the time I know if it's going to be too loose for me to keep using it, the return period will be over. Hopefully Apple will consider this to be defect if it's not the size I ordered after a month or two. Guess we'll see. I sure love not having to buckle/unbuckle a watch band.
LYD
If you have a SONOS system, Lyd (which means "sound" in Norwegian) is a must-buy app for your Apple Watch. For only $2 you gain control of your SONOS system, and its abilities are far more extensive than I had expected. Everything from volume and track fast-forward/rewind to playlists and speaker group management...
You can even record a message on your watch and play it on speakers around your home! Fantastic work all the way around. It can also be used as a "complication" so it's ridiculously handy to immediately be able to access SONOS control from your main watch face. Congratulations to Alexander Heinrich for making me love my Apple Watch even more than I already do!
WISH-LIST
It hasn't been a week yet, so I'm still discovering how my watch can help me through the day and what it can do for me. I'm also still discovering things I wish it did (or did better) and am keeping a list...
WiFi Indicator Complication. It would be nice to see at a glance if my Apple Watch is connected to WiFi without having to swipe up for control center. Important info like this should be avaiable at a glance with no futzing.
FIX SLEEP TRACKING! Seriously. This is insane. Sleep monitoring on a $400 Apple Watch is crappier than what you get on a $25 Wyze Band. Embarrassing.
ADD THE DATE! The fact that I have to spend an additional $2 to get the damn date on my watch is absolutely bonkers. AGAIN, THIS IS A $400 WATCH!
Matching Accessories. I am still very, very raw that the "black" band is shown as matching the warm tones of my Space Grey watch on Apple's website... but the band you get is blue-toned and doesn't match at all. It's horrifying that an overly-image-conscious company like Apple is okay with this. Somebody on quality control was asleep at the wheel, then Apple lied to customers by Photoshopping the band color on their website. Not cool at all for something that costs FIFTY DOLLARS!!! Bait and switch bullshit.
Watch Face Builder Kit. Come on. Here we are at Series 6 and we're still stuck with only the faces Apple dictates we get to have? Granted they are beautiful and highly customizable, but I want to build MY OWN faces. Is that really too much to ask? At the very, very least Apple should allow third-party faces to be sold.
There will be more to come, I'm sure.
GOING ON ONE WEEK...
On one hand I'm sad I waited so long to jump on the Apple Watch bandwagon... it's just such a hugely useful and handy piece of tech to have. On the other hand, it's nice that I jumped on with Series 6 because some of the things I really love about having an Apple Watch are recent additions to the hardware. The good news is that this was the last piece of the Apple ecosystem I was missing, so I guess my status as a Certified Apple Whore is still in good standing. At least until they release Apple Glass, which is something I'm really excited to see happen.