As I mentioned when I ordered my Apple Watch, I am not comfortable wearing watches. Never have been. But I decided to "train" myself using a comparatively-small Wyze Band so I could eventually work myself up to an Apple Watch. They keep getting more and more relevant to me as they add new features, so I wanted to save up for one. With ECG, Heart Monitoring, and the new Blood Oxygen Monitoring, I was finally sold with the Apple Watch Series 6.
Let's just run through it all point-by-point, shall we?
UNBOXED
I ordered my watch directly from Apple. Which means my origami-style packaging arrives factory-sealed. Inside there's the band box and a watch box. As you'd expect from Apple, it's all so very clean, minimalist, and pretty...
Seems like a lot of stuff in there for a company priding themselves on being eco-friendly? Probably all recycled, so there's that. Of course there's barely any instructions (remember when things came with an entire book for a manual?)... Apple likes to think that they make things so easy to understand that you don't need instructions. And, in this case they're mostly right. Everything is found on your iPhone... when you can find it.
DESIGN
I am still a bit salty with Apple that they claim you can order any combination of watch color/style and band color/style... except I sure couldn't get the PRODUCT RED Aluminum Watch with a black Solo Loop Band I wanted, for whatever reason. Instead I got the "Space Grey" version. The watch itself is gorgeous, looking stylish and slick. That was never an issue. For me it's always been the size of the thing that bothers me. I have tiny wrists, so even the "small" 40mm option looks giant...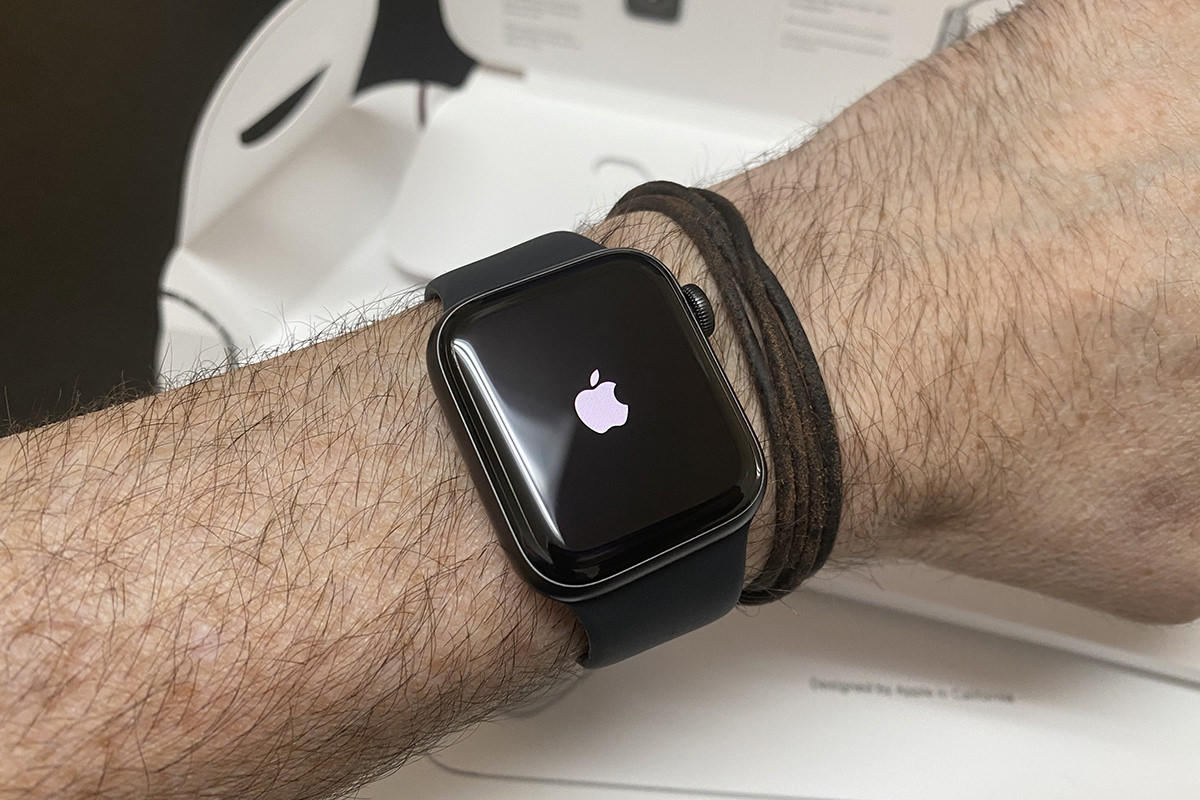 But it's the thickness that is the bigger pill to swallow...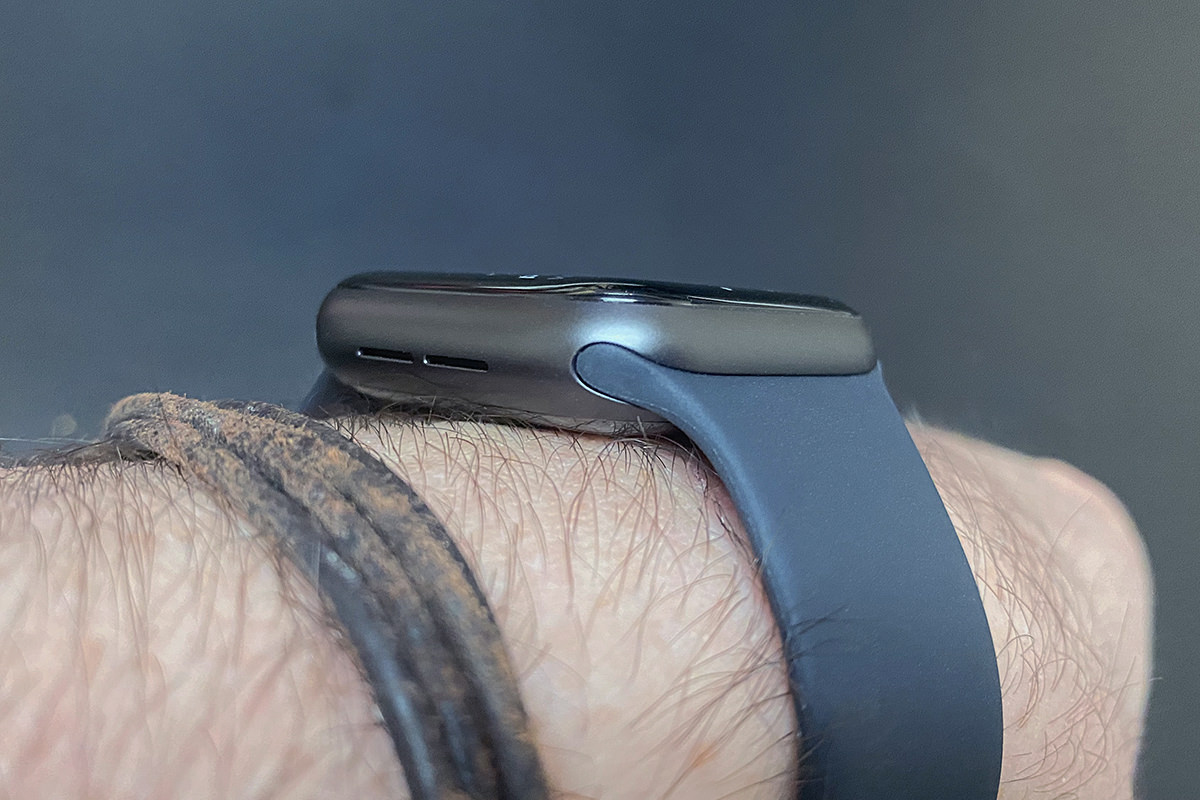 And yet, even that isn't the thing that bothers me most. Note that the "black" band I ordered is actually blue-grey. Which wouldn't be a big deal, except it's a cool grey-tone and the Space Grey watch is a warm grey-tone. Leaving me wondering who the hell coordinated this shit. My guess is that nobody did. The watch team and band team never saw what the other was doing. This color disparity bothers me. A lot. So much so that I may see if I can exchange the band for something that will actually match my watch. Note that the Apple website shows something completely different, having the color tones look the same...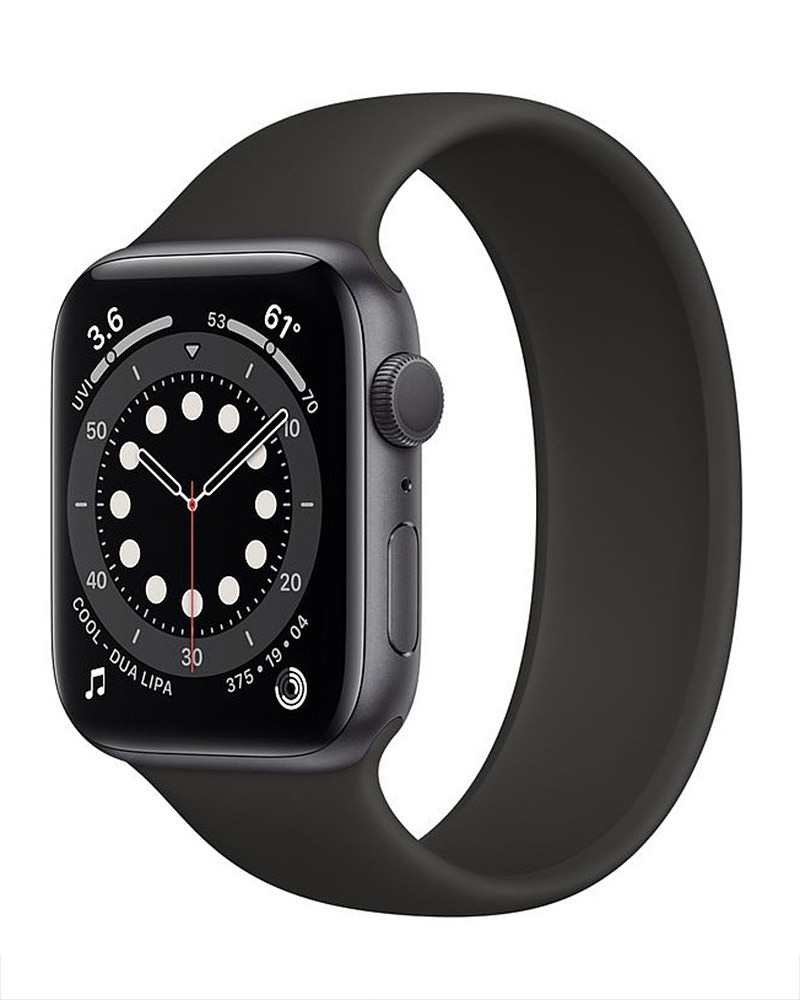 100% bait-and-switch right there. Steve Jobs is rolling over in his grave.
SOLO LOOP BAND
Other than the crap color match, what's the new "Solo Loop" like? Well, it's mostly fantastic (except for the price, because $50 is insane). I used the size gauge that Apple had me print and I think it was mostly accurate. My "size" was a 6-1/2, but since Apple doesn't have half-sizes, I ordered the 6 because that's what I read was suggested. At first I thought the 6 might be a bit too snug... but after a single day it's already loosened up a bit. Will it be too loose after a week and not stay put on my arm? I worry about that given the high price tag. What also worries me is that it will be sweaty in the heat since it can't breathe. Maybe I shouldn't have gone with a Loop given the potential problems. An old-fashioned watch band may not be as comfortable, but at least it won't be money down the toilet because it's too loose and sweaty.
WEARING IT
As I've mentioned, I have tiny arms. With a protruding wrist bone. The Solo Loop band is comfortable enough to wear above the bone, but the large size of the watch is uncomfortable there so I just wear it below the wrist bone and it's fine. I have no idea if this positioning is good or bad for the sensors to do their job. Once I get used to wearing the watch I hope I won't notice it.
SETUP
Initial setup is accomplished via the Watch app on your iPhone. Don't have an iPhone? That's too bad. You'll have to find somebody with an iPhone to do it for you. Overall the process is pretty easy, and pairing is automated by using the camera on your iPhone. Alas, some sections of the setup are tough to see clearly if your iPhone is using enlarged text (WHY IN THE HELL DOESN'T APPLE TEST THIS? THEY SCREW IT UP EVERY DAMN TIME!), but it works. Speaking of enlarged text, if you have old eyes like mine, you'll be happy to know that you can bump up the sizing...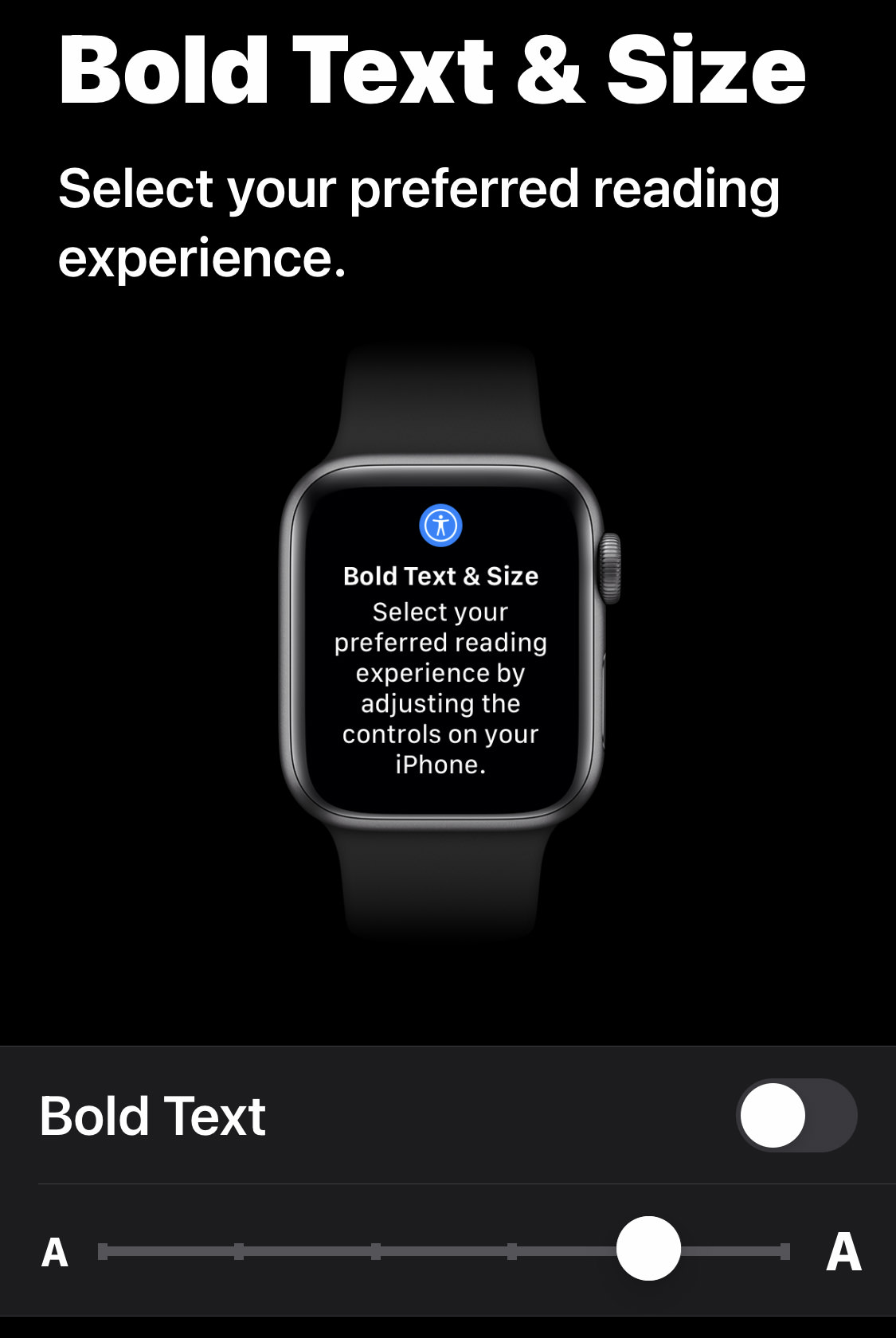 After setup (which takes a weirdly long time to process on the watch once you're done), many settings can be handled within the watch itself. Others are much easier being set with the iPhone Watch app. So far as I can tell, the only way to get new faces sent to your watch it through the iPhone app, but I guess the customization would be difficult if you attempted it on the Apple Watch.
BATTERY
This is really hard for me to figure out. Time to charge Apple Watch is 1.5 hours. Battery life is 18 hours. So there's 19.5 hours accounted for out of a 24-hour day. Keep in mind that this is a watch featuring SLEEP TRACKING! So ideally you will wear it to bed in order to take advantage of that. You'll actually want to wear it as much as possible to take advantage of all the health things it can monitor. So do I just charge my Watch for 6 hours even though that's overkill and cuts into my wear time? Or do I charge it once when I get home from work and again when I wake up in the morning so I can wear it the maximum amount of time? It's like... DOES ANYBODY AT APPLE EVER THINK ABOUT THIS STUFF? You need a battery that lasts 22.5 hours and charges to capacity in 1.5 hours SO THAT IT ADDS UP TO 24 HOURS AND YOU GET MAXIMUM WEAR-TIME!
DISPLAY
The resolution of the 40mm display is 324 × 394. That may not seem great, but the screen is so small that it works out to be 324 dpi(!). That's amazing, and even the tiniest details are crystal clear with no pixelation at all. The high resolution also comes with an apparently high refresh rate, which makes everything move buttery smooth (the second-hand sweep on the watch face is mesmerizing because it just looks so real!). Apparently the Series 6 is brighter than previous series. I have mine set to medium brightness and it's plenty bright. Like the Series 5, Apple uses an "always on" display (before that the screen went black until you raised your arm or tapped the face). The "always on" is dimmed, but perfectly readable (and is apparently 2.5 times brighter than Series 5). I don't know what more I can say... except the thing is gorgeous.
SOUND
Apple keeps pushing the enevelope when it comes to getting great sound out of unlikely devices. My MacBook Pro sounds incredible and I have no idea how they do it. My iPhone and iPad sound far, far better than they have a right to be given their size. But how could a frickin' WATCH have sound that could on any level be considered "good?" I don't know, but Apple has done it. You're not going to use the internal watch speaker for listening to music or anything, but it is wonderfully clear and plenty loud when making a phone call and listening to voicemail... using the virtual Walkie-Talkie app... interacting with Siri... or listening to Mickey Mouse tell you the time. Yet another audio feather triumph in Apple's cap.
INTERFACE
Considering I have the "small" 40mm version of the watch, I was worried that it would be entirely too small to interact with. But, not surprisingly, Apple did a great job of making it work surprisingly well. Everything is exceedingly well thought-out. I love the way the icons for the various apps float and ooze across the face as you navigate through them. Icons grow as they approach the center so you can get to the one you need. So nifty! This is the kind of stuff Apple does best...
There is a physical button on the right-side which brings up the recently-used app cards. Double-clicking brings up ApplePay. The "crown" controller is also a button and can be used to bring up the app selector from anywhere, then get back to the clock. Rotating the crown will scroll through options in various ways. It's fairly intuitive even after just a short time using it.
FACES
Apple includes a variety of watch faces... most of which can be customized to show extra information along with the time. There's some really cool options, including Mickey Mouse, the watch I had as a kid! But even better than that? You can display Mickey in black-and-white so it's less garish and more "adult." Even better than that? Tap on Mickey and he'll tell you the time! I've customized mine to have the weather in the upper-right, a "Shazam" button in the upper-left (to listen to songs and tell me what the name/artist is), and my heart rate along the bottom...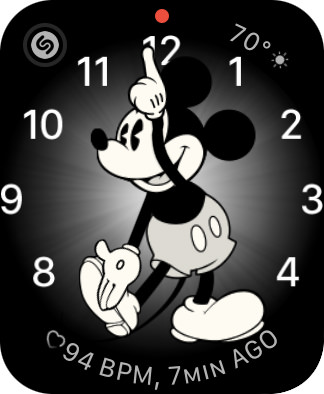 Some faces are artsy and minimalist... some are packed with information. All are beautifully-designed and you can swap between the ones you've added by swiping horizontally. When Mickey doesn't have what I'm looking for, a quick swipe and I'm in the GMT face, which has the battery level in the lower-left and a remote control for my AppleTV in the upper-right...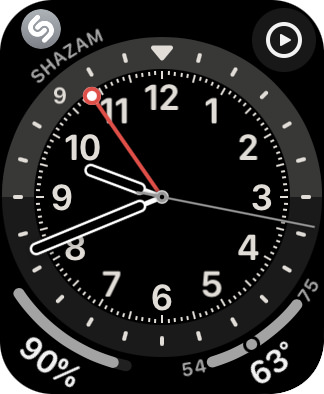 The crappy part? NO OPTION TO CREATE YOUR OWN FACES! Which is insanity. The closest you can get to creating something all your own is by using your photos...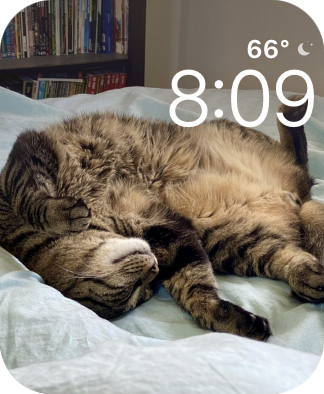 Why Apple hasn't come up with an "Apple Watch Face Construction Kit" over SIX generations is inexplicable. This just cements the criticism that Apple feels they know better than you what you need from their products.
CONNECTIVITY
The "GPS" model of the watch I have includes WiFi and Bluetooth, but mostly gets its data from my iPhone. For extra money (and a monthly fee from your mobile company) you can get a cellular version that will allow you to make/take calls, text, and access the internet even when you don't have your iPhone on you (which for me is almost never).
ALERTS
I have a myriad of alerts set on my iPhone. But they are easy enough to ignore because my phone is almost always on silent mode while I work. When I set up my Apple Watch, I just had the alerts mirrored from my phone. But this became distracting in a real hurry, as I was constantly looking to see what alerts were bombarding my wrist. Including the NestCam in my bedroom once again thinking that Jake hopping on my bed is a person...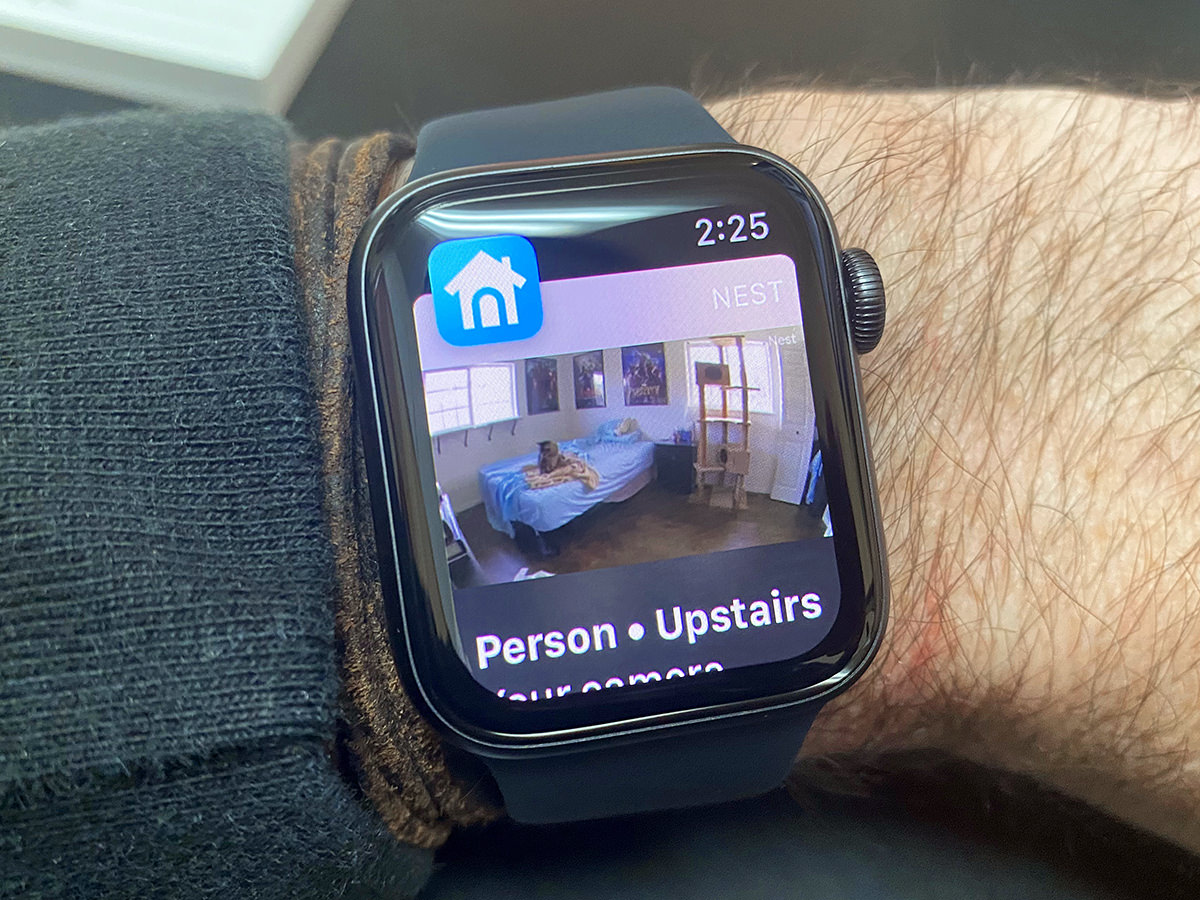 I ultimately ended up turning most all of my alerts off. Only the most urgent alerts which I would definitely want distracting me are turned on. I really wish that Apple's notifications were more powerful. I'd love to be able to schedule what happens when and have alerts that automatically turn off and on based on my location. But, alas, not yet.
HEALTH & STUDIES
The many health functions of you Apple Watch integrate into the Health app on your iPhone for an easy way to visualize all the data collected. This data, in turn, can be automatically integrated into your medical chart (assuming your doctor's office has a system which is compatible). Here where I live, Confluence Health owns the majority of doctor offices, the local clinic, the larger clinic in the next city over, and the hospitals in neighboring cities. Their system is compatible with the Health app, but it's a crap integration. From what I can tell, it's one-way. I can pull data from their "MyChart" system, but nothing from the Health app will be sent to my doctor. This is ten buckets of lame. Ideally, the data should be accessible by my doctor whenever he needs to see it. Furthermore, if there's a problem detected, the clinic should get an alert so a doctor or nurse can decide if I need to be seen. Anything less is not as useful as it should be. Oh well. Maybe one day Confluence Health will get off their asses and join the year 2020. Somebody who has joined the year 2020? Apple. They allow you to volunteer your data to various health studies you can sign up for. Naturally I want to help science make us healthier, so I signed up for every study they have available and will sign up for any future studies they offer...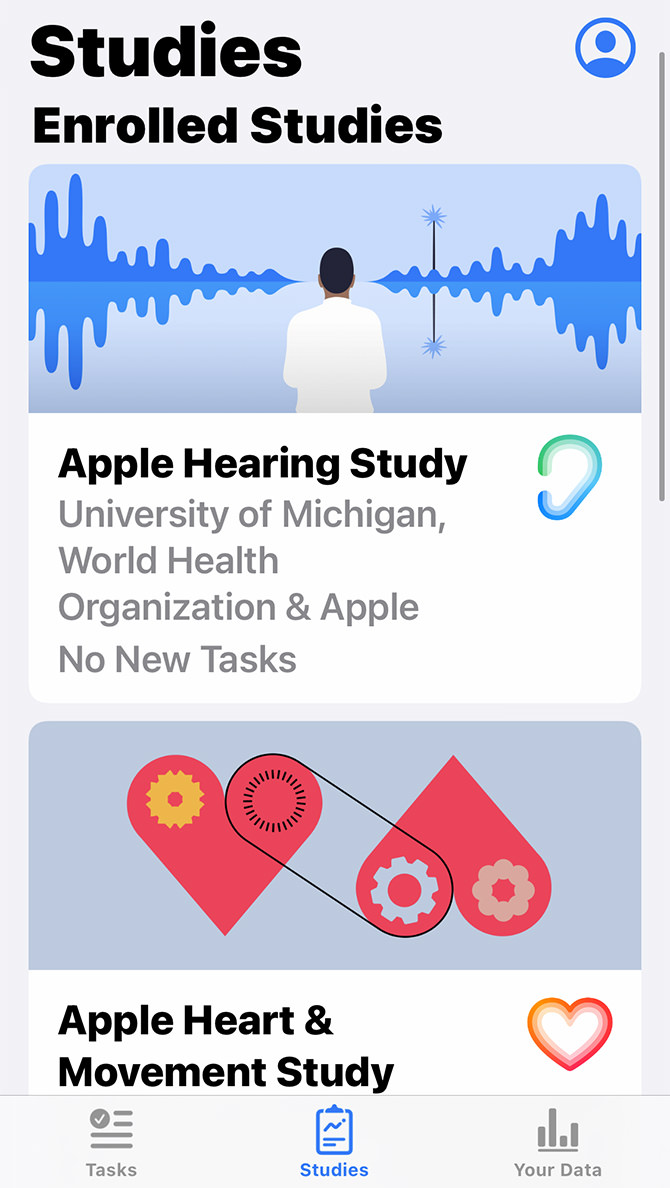 When I was researching the various studies I found that there are some people bitching that they don't get monetary compensation for submitting their data. =insert eyeroll= All I can think of is how the life that the science saves or improves from your data MIGHT BE YOURS, dumbass.
ECG
My resting heart rate is 80-85bpm, which is more elevated than I'd like but is considered "normal" as it falls smack-dab in the middle of the 60bpm to 100bpm range. One of the reasons I've wanted an Apple Watch is to help me get a lower resting heart rate and be healthier. Then Apple added an ECG (electrocardiogram) which is a smaller, less accurate version of the EKG heart rhythm monitor you see on medical dramas. It can be useful in detecting a heart problem before you have a serious issue, which is very cool. You just open up the ECG app then hold your finger on the crown so Apple Watch can monitor your heart. After 30 second you get a report...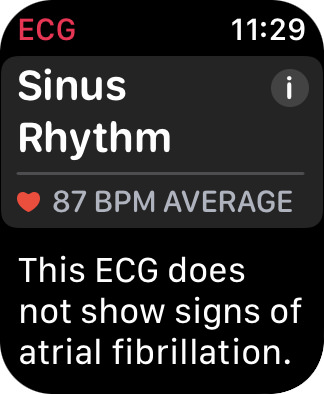 No sign of atrial fibrillation, so I guess I'm good to go? I'll likely set an alert so I remember to run an ECG once a day or something. Apple doesn't really tell you how often you're supposed to do it.
BLOOD OXYGEN SENSOR
What made me finally pull the trigger on an Apple Watch was the addition of a Blood Oxygen Sensor. But after using it multiple times, I'm not sure I can trust its accuracy. I'll run it and get 98%. I'll immediately run it again and get 100%. That's not so bad. A 2% variance isn't the difference between life and death. But then I run it again and get 92%...??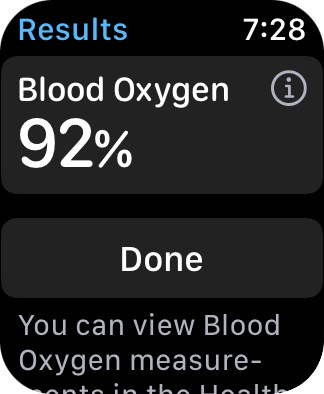 I understand that Apple is not claiming that this is a medically accurate reading (they tell you over and over again), but it seems weird that it is so wildly inconsistent. Maybe it's me. Maybe I'm not in the exact same position every time and that's a problem. Or there's some other factor. I dunno. I have it set to automatically take measurements, so maybe over time I'll have a better picture of what my blood oxygen levels are. But right now? "Normal" is considered 80% to 100%, so perhaps it's enough that I (apparently) don't have hypoxemia and (hopefully) my watch will let me know if I ever do.
SLEEP
As I've written many, many times, I am an insomniac and don't get much sleep. Three or four hours a night and maybe a nap or two (if I'm lucky). That's it. A far cry from the 8 hours we're supposed to be getting. I've been so concerned about it that I've gone to the doctor for help. But since I am fully-functional when awake... able to work and play without issue... able to concentrate... not falling asleep... and not getting sick due to lack of rest... apparently there's nothing to be done. And thanks to all the crazy shit happening in the world, things have only gotten worse. Take last night for example...
That's pretty bad, right? But average for me. The Wyze Band has sleep tracking, but it isn't very accurate. Yet at least it tries to sense all the times you sleep. Apple Watch is programmed to only look for your sleeping during a time range you set. This sucks because it doesn't recognize any naps you might take outside that range. And you can't just make the sleep range be 24 hours, because it puts your watch to sleep during the whole time! BUT IT GETS WORSE!. What if you have an early travel day or something? From what I can tell, there's no way to tell Apple Watch to wake the hell up permanently. Only temporarily until the time range you set is over. What you have to do to get your watch back is go change the time range for your sleep so it ends and your watch will wake up. This is ten pounds of stupid. And it sure would be nice if there was a "I'm gonna sleep now" button you could press before a nap so the total amount of sleep you're getting is actually counted. So damn frustrating. You can look at a compilation of sleep data when you go the the Health app on your iPhone. It not only shows your heart rate while sleeping, but when your sleep actually happened as well...
See that short break at 7am? That was when the Alexa alarm went off to feed my cats. After dishing up their breakfast, I returned to bed and was miraculously able to fall right back asleep again until I got up at 9am to answer emails, do some work, grab a shower, and head into the office. Apple Watch captured all of it. If I had to get up in the middle of the night to go to the bathroom, I have no doubt that Apple Watch would show that as well. I liked the idea of using Apple Watch to help me deal with my insomnia, but it's just so horribly brain dead and the procedure you have to take so clunky that I haven't decided if I'm even going to bother. I cannot for the life of me understand how Apple got all this so wrong.
FITNESS & ACTIVITY
The big draw of Apple Watch for a great many people is that it can be programmed to manage your workouts, track your fitness, and be generally helpful through all of it. What's so brilliant is that you can go as deep or as shallow into the fitness pool as you like. Since I am not into any of it, but want to do better, I am starting out with the bare minimum. This means using Apple Watch's Activity app to improve in three areas... MOVE, EXERCISE, and STAND. All of which are necessary for good health...
After confirming details about your stats, you enter details of a plan in each area and you're good to go. Apple Watch then keeps track of what you do and displays the data in rings. Your goal each day is to close your MOVE, EXERCISE, and STAND rings. Here was where I was at at noon today...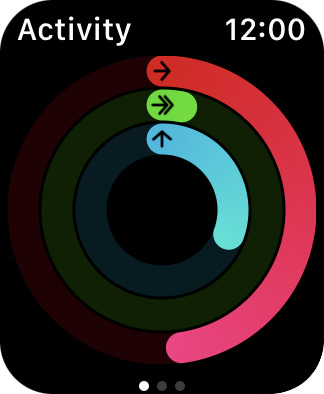 The MOVE ring (red) comes from just walking around during my day. The STAND ring (blue) is an area I really need to improve upon because I sit at a computer desk all day. The EXERCISE ring (green) is something I just don't do... but need to. And I think I will begin by walking to work each day like I did pre-COVID. Your watch can even be set up to send you reminders if you want to get things done...
And once you are regularly closing all your rings you can then increase your goals to keep improving. It's all so insanely great because it's as encouraging or passive or overbearing as you want it to be. I don't think it's inside me to become a fitness fanatic, but I would like to be more healthy than I am. Apple Watch is part of my plan to get there.
PHONE
Since I don't have the version of Apple Watch with a cellular radio, the watch has to be tethered to my iPhone to make a cellular call. HOWEVER... you can make a phone call from your watch even if you left your phone at home if you have "Add WiFi Calling for Other Devices" enabled on your account (my carrier, AT&T, supports this). So long as you can connect to Wifi, you can make or receive a call and listen to your voicemails. FROM YOUR WATCH!
This is some next-level Dick-Tracy-style amazement right here. As mentioned above, the sound is perfectly good. I can hear just fine and people can hear me just fine. I am rarely without my iPhone so the odds of me using Apple Watch as a phone are slim, but it's nice to know I can still use it for calls when I left my phone downstairs or something.
WALLET
Your entire arsenal of cards from your Apple Wallet are available on your phone, including credit cards and ApplePay. Which is to say that you can use ApplePay anywhere it's accepted without taking your phone out of your pocket. Groovy.
HAND-WASHING
A nifty idea in the age of COVID-19 is Apple's new hand-washing app. But the implementation? Kinda wonky. It uses your location to remind you to wash your hands when you get home. Yesterday it reminded me 2-1/2 hours after I arrived. Today after about three minutes. But then the stupid reminders were going off CONSTANTLY. After the sixth reminder I got since being home today I finally turned the damn things off..
Yesterday it didn't recognize the motion of my hands and the sound of running water until I was almost finished. Today it recognized washing quicker, but was still quite late. I don't know if the solution is to decrease the countdown to compensate... or wait to see if it gets better at recognizing the sound of my sink...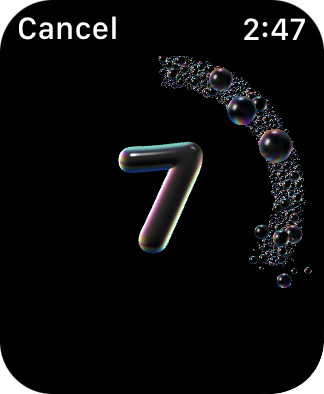 Either way, handwashing is effective in combating the pandemic, so this is a good feature to have. They just need to fix the reminder notifications so they shut the hell up once you're home.
APPS
Your Apple Watch comes with all the various Apple apps you'd expect it to... including Mail, Messages, Music, News, Calculator, Compass, Timer, Weather, and such. All of them are beautifully crafted. I really love the look of Compass...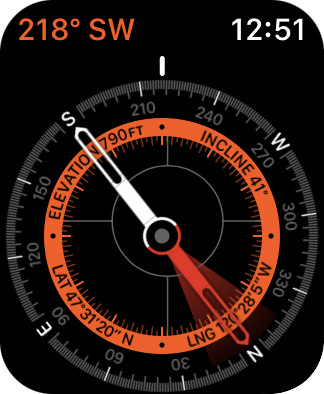 And extra information your watch has is just a scroll on the crown-knob away...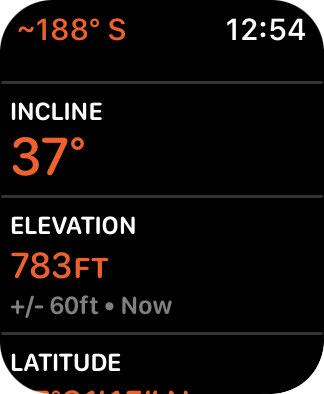 Nothing makes you nostalgia for the early-80's era of calculator watches like calling up that app...
Fortunately you have the option of deleting apps you won't use. For me that means the Cycle Tracking app which tracks your mensural cycle...
There is, of course, an Apple Watch App Store. I haven't done a lot here because I just don't see myself using an abundance of apps on my watch, but some are nice... like a SONOS controller app I picked up for a couple bucks. Some of the apps I have on my iPhone have a companion app you can get for WatchOS, which is good. A few, like watch apps for my Ecobee thermostat and Hue Lighting, may even be useful. And then there are some iPhone apps which really should have a companion watch app but don't (I'm looking at you, Schlage). It's a mixed bag all the way around.
CONCLUSION
Is Apple Watch worth it? I've only had one for two days, so I don't know if I can answer that. I suspect it could be based on the health features alone (borderline-accurate though they may be). If Apple were to address my biggest disappointments... namely creating bands that match the watches, making the watches thinner, having battery life make sense, making sure the iPhone setup app can be read if you're using large text, allow you to design your own watch faces, increase accuracy of the sensors, fix the insanely stupid sleep tracking mess, improve hand-washing so it doesn't KEEP BOTHERING YOU TO WASH YOUR HANDS WHEN YOU GET HOME AFTER YOU'VE BEEN HOME FOR HOURS... then I'd say Apple Watch is absolutely worth it. As it is though, I feel kinda like a beta-tester for a new product that's been around for five years and has gone through six revisions. Too many things are half-baked and poorly thought out for this to in any way be a homerun. Maybe with Series 7?