It's always a pleasant surprise when I watch a television show or movie for entertainment value and walk away learning something. I'm not talking documentaries and true-life story adaptations and stuff like that... I'm talking fictional stories built for entertainment purposes which have at their core some real knowledge to be had.
Most of the time, this happens with something small. Maybe you learn the capitol city of some country you never knew about. Maybe you learn some oddball scientific fact. Or maybe it's something really off the wall like the way a particular poison can be used to get away with murder. There's all kinds of small facts that are weaved into TV and movies, and it's these facts big and small which can lead your head to accepting the larger fiction.
A recent example of this is the Tulsa Race Massacre of 1921. Most people had no idea that such a horrific event ever happened until the HBO super-hero show, Watchmen, made it a primary plot point for the mini-series. I'm sure some people even thought it had been invented just for the show. That's how buried it was in our history.
For me personally, the movie that most comes to mind about learning something was a 1991 film starring Danny DeVito, Gregory Peck, Penelope Ann Miller, and Piper Laurie called Other People's Money. It was based on a play of the same name by Jerry Sterner...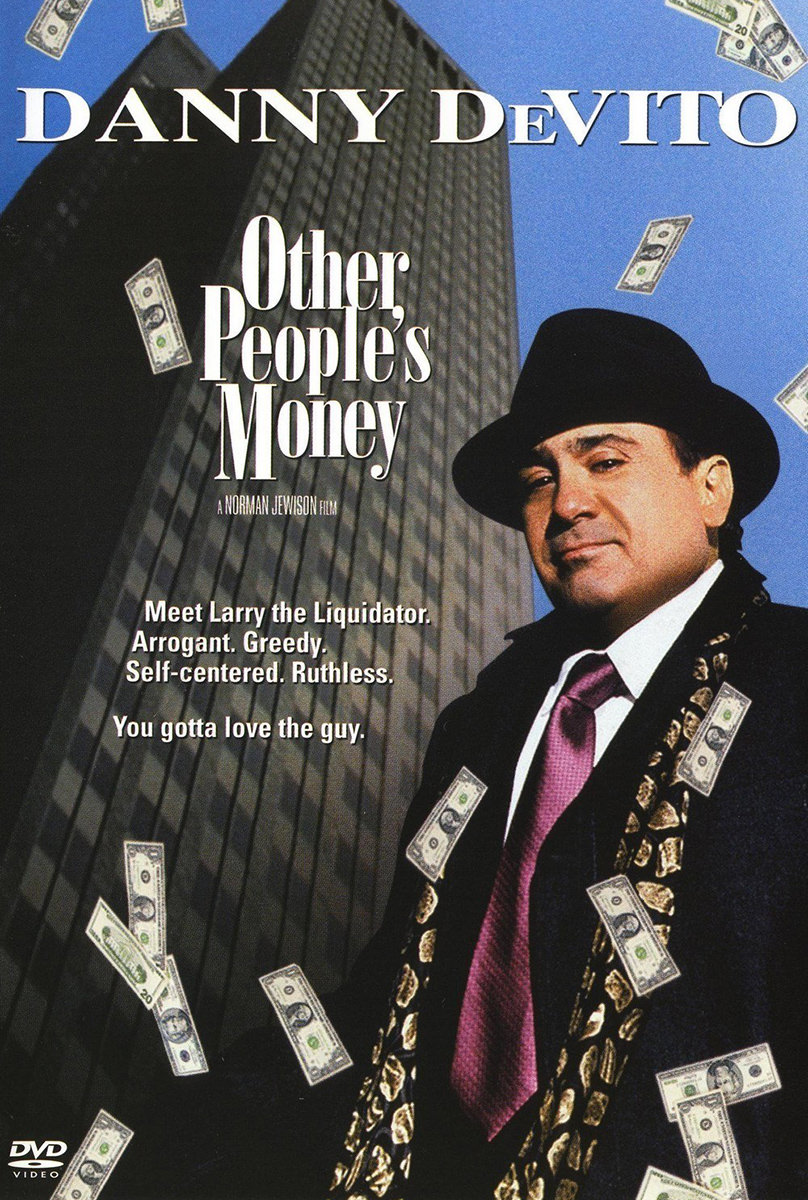 I went to the theater to see the movie because A) I fell in love with Penelope Ann Miller after she appeared in Kindergarten Cop and I realized she was Brenda in Adventures in Babysitting, and B) It was Danny DeVito starring in a movie that looked like he might be doing something along the lines of Ruthless People, a movie I love, and C) Piper Laurie was hot off of Twin Peaks, a show I love, and D) Gregory Peck...
Looking back at a film from nearly 30 years ago, you just know that there's going to be plenty of problematic moments. And there truly are. The sexism alone paints Other People's Money as a dinosaur from another age.
But man if I didn't learn a heck of a lot about how Wall Street works, how stocks and shareholders work, how hostile takeovers work, how money works. Just look at this scene that gets the movie ball rolling...
And don't think that the movie is all money talk. We got lawyer jokes too!
But the real education came at the end of the movie when I learned how proxy fights work. Now, if you have any plans to see this movie... and I suggest that you do see it... this video is a bit of a spoiler here. Gregory Peck has just made an impassioned plea to the stockholders to save his wire & cable company and not give in to Danny DeVito and his culture of greed. The room goes wild and he is lauded with thunderous applause. And then it's Danny DeVito's turn...
Fantastic performance there. And here's the thing... Danny DeVito makes an argument that is completely air-tight. You can't argue with what he's saying in the context of the movie. And the big lesson I took away from this was that when it comes to situations like this, it's not always black-and-white. It's shades of grey. Or, in this case, shades of green.
I've been thinking a lot about Other People's Money as it relates to contemporary times.
There are industries that are dying yet we keep propping them up just because it's politically advantageous to do so. There are many, many examples I could drop here. Many. But the one that got me thinking about this movie is the coal industry. Coal is dead. It's beyond dead. Many of its uses have become antiquated. Nobody burns coal to heat their home or make a train run any more. And while I'm sure there are some industrial uses for it... like coal-fired pizza ovens and such... coal has fallen out of use in favor of cheaper sources like natural gas and renewable energy sources (both of which are cleaner as well). The use of coal for electricity production is plummeting year-over-year. It's quickly getting to the point where nobody wants to buy coal any more. The pandemic has put that fact in vivid relief. Coal mining companies are declaring bankruptcy left and right.
And yet politicians keep dragging it along with their campaigns so that they can pick up some electoral votes in states like West Virginia, Kentucky, and Pennsylvania.
And it makes zero sense.
Other than the fact that voters fall for it hook, line, and sinker.
And you know who gets hurt by all of it? The coal miners. Coal miners get screwed along with all the workers associated with coal mining.
Because no matter how long politicians want to prop up coal... whether it's with subsidies or by coming up with idiotic nonsense like the notion of "clean coal"... it doesn't change the fact that coal is dead. And rather than accept that coal is dead and move forward by creating new jobs for coal workers with new renewable energy technology jobs, politicians keep dragging it along while foreign countries invest in renewable energy jobs which won't be going to American workers.
And why is that?
Lobbyist money, of course.
Big Coal and Big Oil and Big Pharma and all these "Big" companies OWN our politicians. They BUY them off to promote their bullshit so they continue to make money while American workers lose their jobs and American citizens get screwed.
And we have nobody to blame but ourselves because we keep re-electing them.
I feel badly for the people who keep voting for politicians who don't have their best interests at heart because the lie is always so much easier to believe. They trust the people who say they will take care of them even though it rarely turns out to be true... and is getting less true by the minute. I probably learned that from a movie somewhere, but the best way to learn is to just look at the news.
Assuming you can find actual news any more.
Much like the buggy whip and coal, actual, factual news seems to be dead...
So, game over, I guess.