It's funny how something can start out as a lark but snowball into something else entirely.
On Monday I wrote about how the tiny house craze might not work with me having cats, then designed a tiny home with cats in mind. The friend who asked me how I felt about tiny house communities posted my plans to a tiny house forum and, next thing you know, I've got a list of ideas from people who might actually want to attempt something like this!
As I had mentioned, I started with the idea of having a ventilated loft for the Litter-Robot litter boxes. The idea being that foul odors will tend to accumulate more easily in a tiny house, and it's better to plan for that from the start. Everything else just kinda fell into place.
There were some really, really good suggestions passed my way.
The biggest was that since I have a cat walk going all the way around the interior, I might as well add some storage underneath. I was also told that while I might not mind eating on the couch, a guest might feel otherwise, and it would be good to have a dining area... even if it was all collapsible.
And so... this morning while eating my Corn Flakes, I took the ideas that people had and revised my tiny house idea.
To make room for the dining table and add a window so you're not staring at a wall while you eat, I built cat "stairs" on the back of the door and added a pole so cats could climb up if they wanted to... along with small storage cupboards below the catwalk...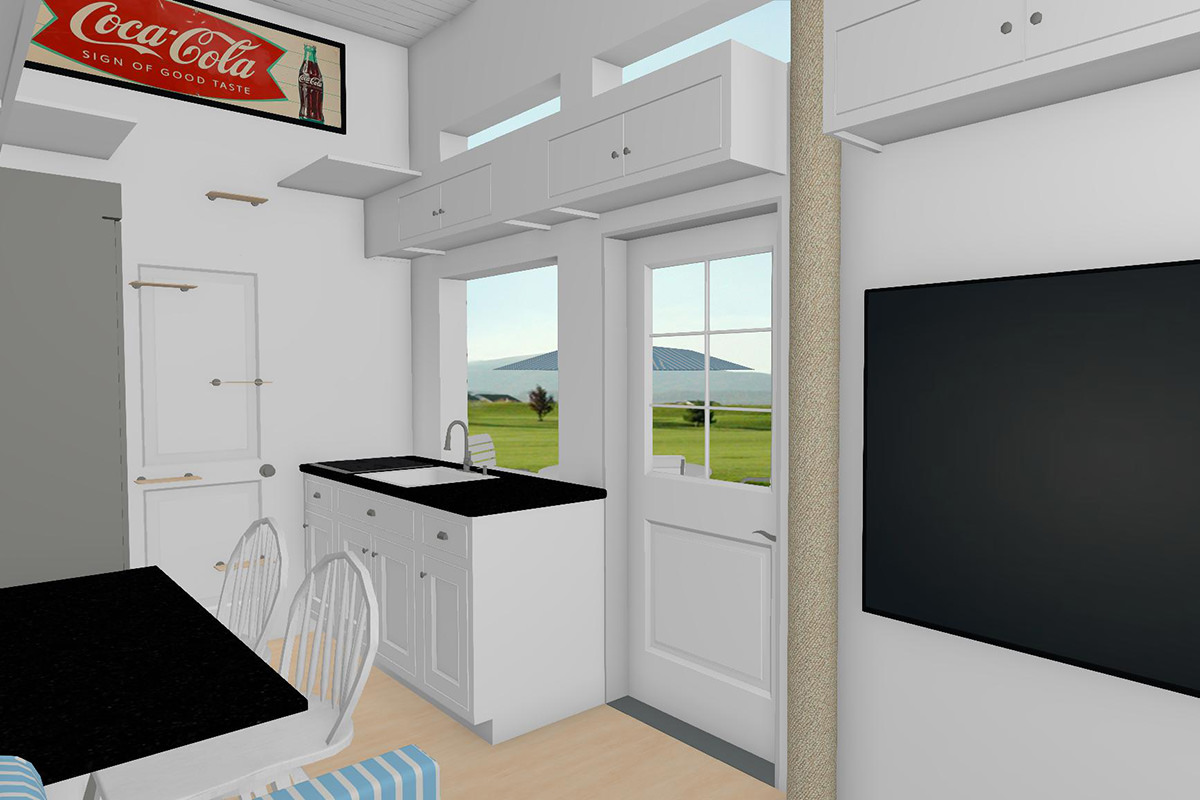 And here it is from above. Having a "catwalk" adds a lot of space for cats, and I changed the litter box loft so that they can access from both sides now, which would avoid congestion with more than one cat...
One person who was most enthusiastic about my plans asked if his-and-her closets could be added rather than hanging clothes everywhere. That sounded like a great idea, so I added closets (extending the home from 30' to 34') and also added corner shelving to the bedroom. Note that there are also cat stairs on the back of this door as well...
Plus dual poles in the corners so cats can climb up to the catwalk that way if they prefer...
I had to switch from barn doors to actual doors for the bathroom to accommodate the cat stairs, but I actually like that better. I thought that barn doors would be better because you wouldn't be opening the door into somebody but, hey, people can be careful. PLUS... now that I think about it, there's no reason the doors to the bathroom/passthrough couldn't open inward which would solve everything. There's definitely enough room for both doors to do that. Hmmmm...
And here's the updated main floor plan with the dining table, closets, shelves, storage, and catwalk access poles and stairs (click to embiggen)...
Note that the bathroom is slightly larger because I was told my electronics/water-tank closet was not big enough. Now it's plenty big enough for that and maybe some linens and towels! And now that I think about that... perhaps the washer/dryer unit would be better in the bathroom so the water tank and electronics were closer to the shower and kitchen sink. Nifty!
This was a really fun project! I may continue to tweak it as new ideas occur to me.
A pity I don't have millions of dollars laying around so I could buy a chunk of land for a tiny house community and actually build the thing. But who knows? Maybe somebody with money who wants to try tiny cat house living might take the idea and run with it?