When I was a kid my favorite restaurant in the world was Gino's Pizza because they had a Pong game hooked up to a TV you could play. I don't remember the pizza at all, but I'm pretty sure I liked it. Eventually Gino's closed. Since I had video games at home thanks to the Atari 2600, I barely noticed.
That being said, my favorite pizza on earth came from Pizza Inn, which is where we ate after Gino's was gone.
The stuff was phenomenal. The crust was crisp like a cracker and had a unique flavor and texture that made it different than every other pizza I had ever had. The sauce was likewise delicious because it had a subtle sweetness and minimized the acid component so the tomato base really hit you. Also? The pepperoni was divine. It curled up like a cup and had these amazing crispy edges that you just didn't find anywhere else.
Whenever my family ate out, Pizza Inn was #1 on my list.
Sadly, they closed up shop. Then a decade ago they came back. Then closed up shop again. Then they came back yet again. Then closed up shop... and have stayed closed ever since. For a while they could only be found in Texas, but now I think they're currently all across The South.
Ever since the last closing in my neck of the woods, I've become obsessed with making Pizza Inn pizza myself. Thanks to the efforts by DKM at PizzaMaking.com, I've been able to play around with his recipe and finally come up with something that works for me.
This past weekend I decided to finally share it with some guests I had staying with me. They seemed to really like it too, so I'm pretty happy about that. Well, mostly.
My pizza stone is fairly small and I was cooking for six people, so I made the mistake of thinking that I'd just make us six individual small pizzas. I could cook two at a time and, since they only take minutes to bake, that would be the easiest way to make sure that everybody got the toppings they wanted. So on Sunday I left work at noon to go home and roll out the crusts. My arms were rubber after two. The remaining four felt like I had bench-pressed 500 pounds a thousand times. The cracker crust is tough. It's mostly flour with very little moisture, which makes it crumbly and hard to roll out. Even worse, I didn't have a little cutter pizza pan to cut the crust to size, so I ended molding around a small plate. It didn't look particularly pretty, but it sure tasted great...
I cannot overstate how tough it is to roll out the crust. It's like taking a rolling pin to a rock. But it bakes up so beautifully that it's all worth the effort. Thin and crispy with no sag. Amazing air bubbles that give you perfect cracker crunch...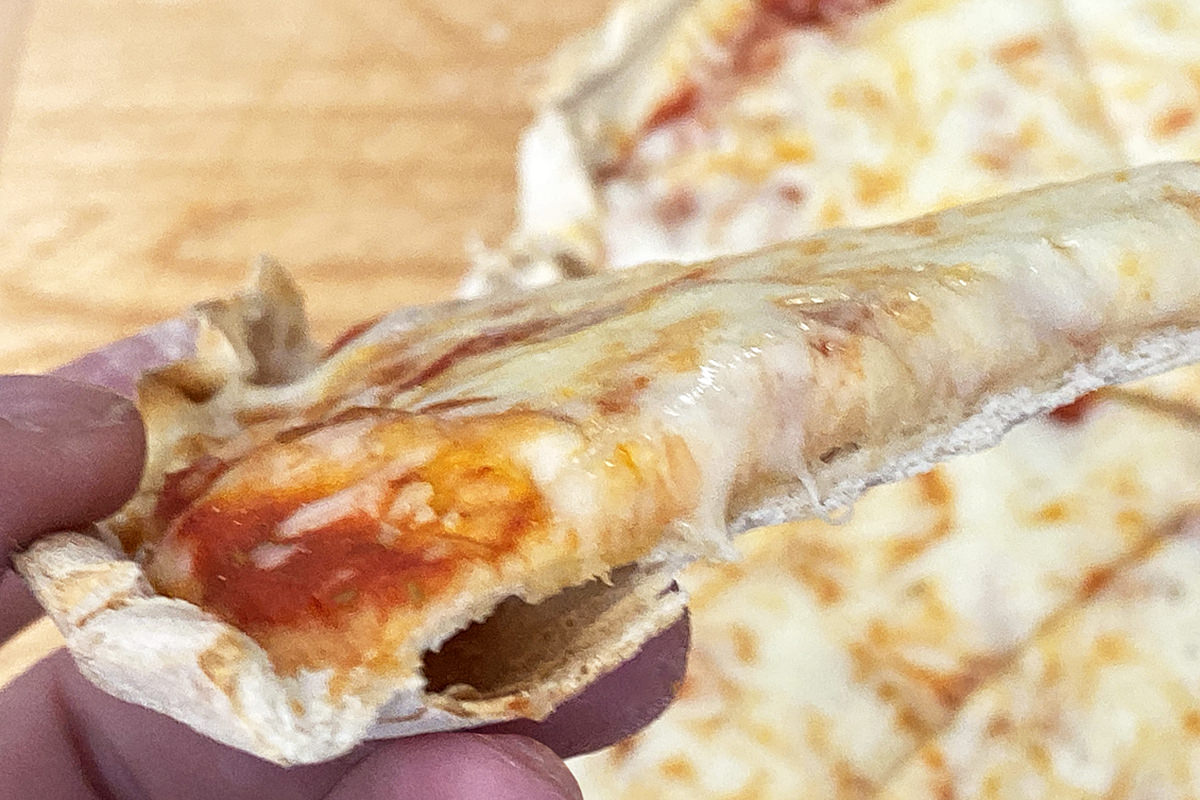 The right tomatoes for the sauce are essential. There are few brands I've found that have that hearty tomato flavor without the acidic bite (which I talk about ad-nauseam here).
As I was seeing my guests off, Jake hopped up on the table and decided to lick my last piece, so I guess it was a success for my entire household...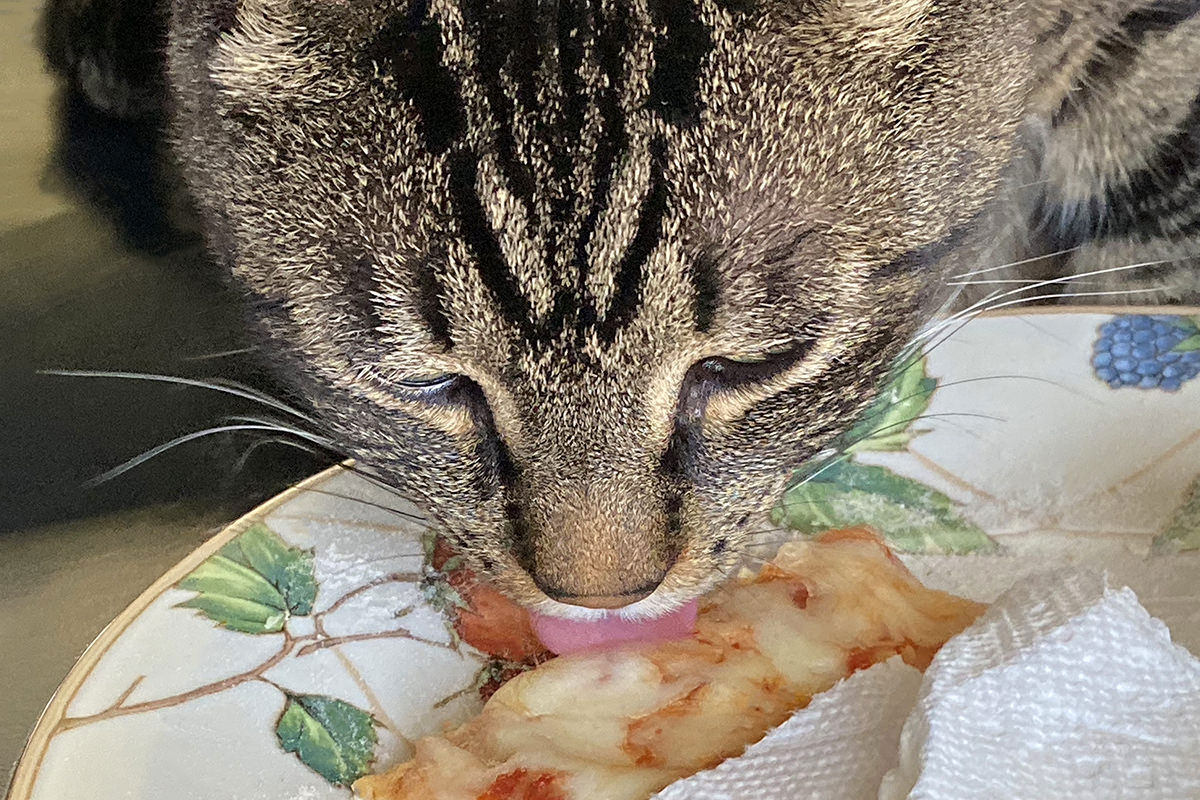 BAD KITTY!
Except I never yell at my cats no matter what they do (I refuse to punish my cats for being cats), so all I could do was wait until his tongue got tired so I could take it away.
I don't think I could do pizzas for a group again unless I buy a $5000 pizza dough sheeter that has the power to roll out very tough doughs (most I've seen under $2000 are not rated for anything less than 1 part liquid to 2 parts flour... this crust is far less than that).
Homemade pizza sauce has no preservatives and will spoil fairly soon (even when refrigerated), so I don't usually make a full 28oz. Can of tomatoes worth. I take 1/4 of it so I can experiment with making homemade ketchup. Because boy do I love homemade ketchup. "Regular" store-bought big-brand ketchup tastes like tomato water by comparison. There are a few "boutique" brands I like... Portland Ketchup Co. is great... but even they seem lacking when stacked up against homemade. Problem is that I still haven't formulated the perfect ketchup after nearly two years of experimenting.
Right now I am leaning towards a recipe with onion, garlic, cayenne, red pepper, brown sugar, white wine vinegar, ginger, allspice, celery seed, black pepper, salt, and nutmeg (in addition to tomato paste, canned tomatoes, and oil). I'm unsure about turmeric, Tabasco, bay leaf, and oregano. I've abandoned mustard seed powder, cinnamon, apple cider vinegar, cloves, maple syrup, and seasoning salt.
Maybe one day. In the meanwhile? I'm not going to complain about needing to experiment making ketchup. Even the worst ketchup I've made still tastes great!