Apparently I had some motivation in me after all?
Today was so beautiful out that I ended up floating the river with friends instead of lounging around the house doing nothing.
Though laying on a floatie drinking booze and letting the river take you is pretty close to nothing...
At the end of our float, there was a couple with their too-cute dogs out enjoying the sun. One of the pups was tuckered out and decided to take a nap under a cap...
But this is Caturday and not Dogurday, so back to the usual feline madness that Saturday brings...
I ended up having to leave the post-float party early because I have ghosts...
Asking Jenny to go close the door had no effect.
Behind my house is a big field filled with dandelions that have gone to seed. So leaving the door open like that will guarantee that dandelion fluff will fill my living room if I don't take care of it, so off I went.

Whenever I have guests staying over, my cats cower upstairs in my storage closet until everybody goes to bed... then they come out and goof around until everybody wakes up and they hide upstairs again. This morning poor Jake was lounging in the catio and didn't make it upstairs before we were all awake. This is the look on his face when he realized he was "trapped" in the catio until we all left for the day...
He didn't have to wait long, but enjoyed staring at us from behind the safety of my massive pole...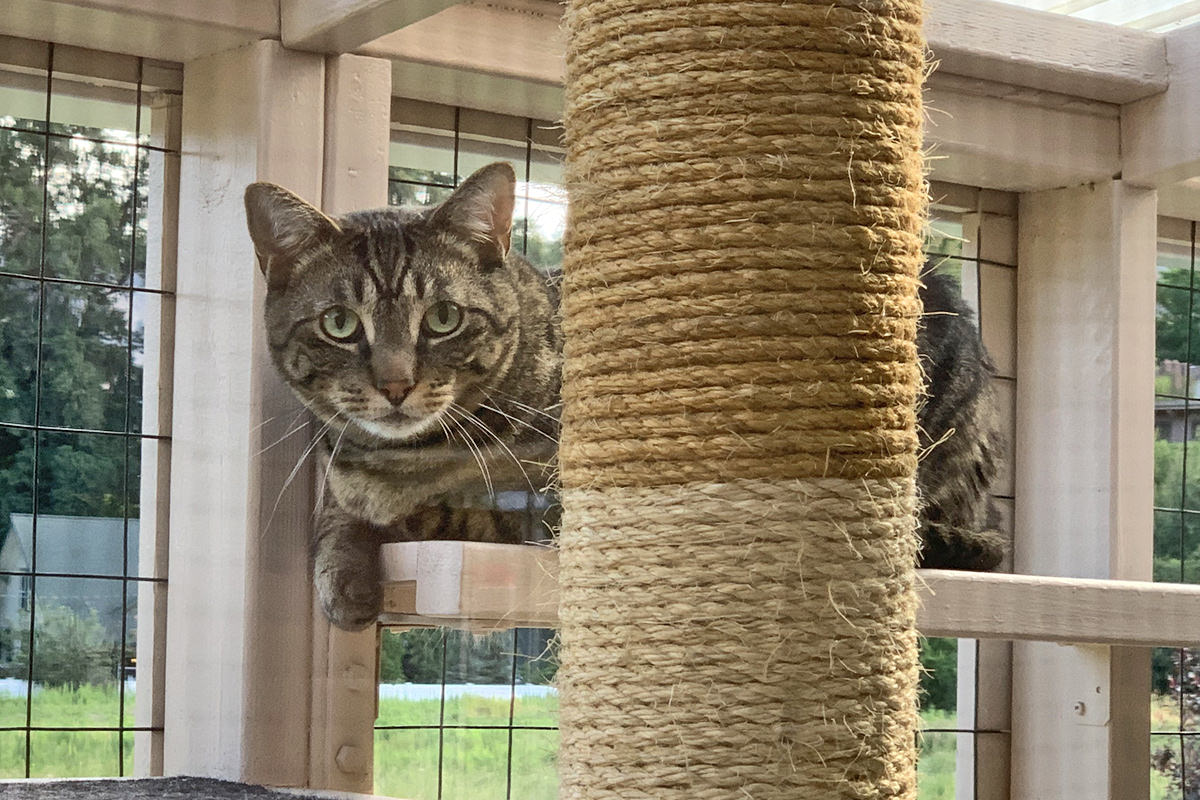 I have tried many, many times to get my cats so they are not afraid of people. It never works. After a few days Jake might come wandering out for a minute if it's quiet and calm, but he's completely scared and on edge the entire time. Jenny won't even think about it. This makes me terrified as to how my cats will manage if I'm in some kind of horrible accident. Will anybody want to adopt them if they are this frightened? Are there kind souls who are patient and caring with a feral rescue who's terrified of people? I sure hope so.
Of course, just getting ready for guests is an adventure unto itself. I try to get everything cleaned up and organized, but this is never easy. "Oh, you just made the bed? Here, let me get on that, even though I haven't been on the bed in weeks...

And now, as I retire on this fine Caturday, I leave you with this...
Oh. And this...
Cats are the best.