And lo did Apple descend from the heavens to reveal unto The Faithful a public beta of the next version of MacOS X, Catalina (which is version v10.15, if you're keeping count). And since I know everybody in Blogography Land is just dying to know what I think of this fairly uneventful release, here you go...
INSTALATION
It was a piece of cake. I logged in to the Public Beta program, registered my Mac, then clicked to install. I keep all my documents in Dropbox, so I didn't need to back up anything. If the install screwed up, all I'd have to do is scrub my machine and install my apps fresh. If you do keep data on your machine, be sure and back it up before installing any major OS release... beta or otherwise. Apple is better than most, but can still royally screw up from time to time (as I've found out the hard way).
FINDER
Apparently services like DropBox are now "more integrated" into the Finder, but I'm not exactly understanding how. Maybe it's something the services have to update their software to support? Though DropBox has gone far beyond just storing files in the cloud, and is now trying to compete with collaboration and project management services like Slack and Basecamp, which is just stupid because that's not what I use DropBox for... so I'm probably dumping it anyway. If there are other changes, I haven't noticed them yet.
DASHBOARD
Gone. Vanished. This is shitty because I actually use Dashboard widgets several times every day. It's just so dang handy to be able to swipe over to a calculator... dictionary/thesaurus... measure conversion... and what-have-you. But no more. I cannot for the life of me understand why something so incredibly useful is being dropped. I don't even know how you can replace the widgets. I'm guessing with a menu bar app, but that's just nuts when my menu bar is already packed full.
APPLE TV
Apple interface design is complete and total shit. And getting worse by the day. I have hundreds of movies. Do you know how insane it is to have to scroll through hundreds of movies to find what you want? Even simple fixes... like being able to press the R key to go to the movies starting with "R"... doesn't even occur to Apple's developers, which is both sad and embarrassing. But, even worse, Apple still has their idiotic and flawed security bullshit fucking up their apps. Any time I set up a new computer (or do a major OS upgrade) I end up having to retype my credentials over and over and over and over and over AND OVER AND FUCKING OVER AGAIN. This time? SIX FUCKING TIMES IN A ROW before it stopped asking...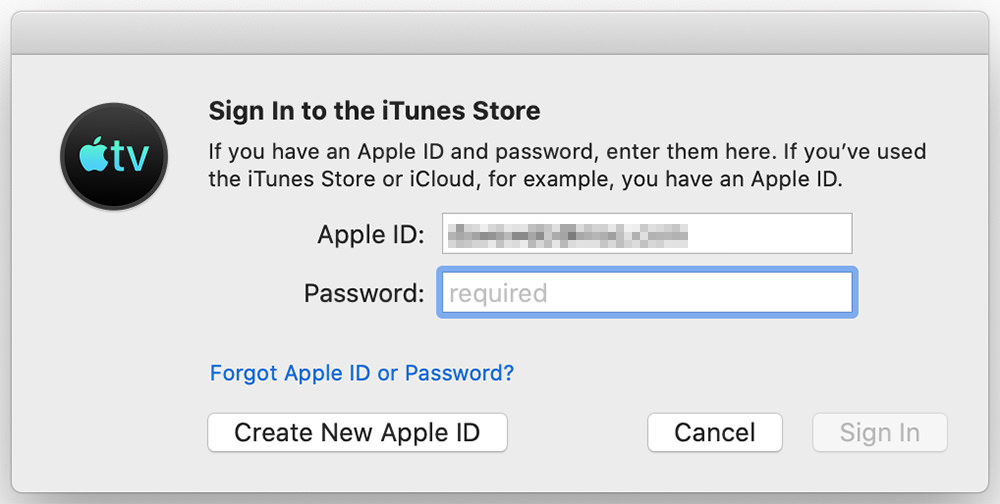 All of Apple's "concerns" about helping people maintain better security is nothing but bullshit posturing when they have idiotic crap like this happening. Who wants to create passwords that are complex and secure when you'll have to type them so many damn times? Nobody. People are just going to keep creating the same easy-to-type-and-remember, easy-to-hack passwords they always have. So congratulations, Apple. In addition to making life with your computers increasingly more irritating and difficult, you're making them less secure.
MUSIC
The (main) replacement for iTunes is Music which, as the name implies, organizes and plays all your music. Except... not really well... it's mainly designed as a gateway and access point for Apple's streaming service, "Apple Music." Since I don't subscribe to Apple Music and prefer Amazon Prime's "Music Unlimited," that means the primary purpose of the app is lost on me. But... it does organize and play all my "iTunes in the cloud" music, so I guess no harm no foul. It's just a shame that Apple didn't innovate past what I already had in iTunes. The new Music is practically the same.
PODCASTS
I don't listen to a lot of podcasts, but there are a few I do enjoy from time to time. The new "Podcasts" app seems perfectly serviceable (if a little bland), which is nice. Except... when browsing the available podcasts, I found a dumbass racist pile of shit staring at me. WITH NO WAY TO HIDE HIS DISGUSTING FUCKING FACE FROM AVAILABLE PODCASTS...
Seems like hiding podcasts you don't want to see would be a good feature to have.
PHOTOS
I use Photoshop for photo editing, so the new editing tools aren't going to be used very often (if at all). But it is nice to know that they are available. Everything looks similar to the tools on iPhone Photos, so if you are familiar with that, using the Mac Photos is the same. They added some extras for such things as retouching brush, red-eye fixing, noise reduction, and selective color adjustments (which, I'm guessing, are being added to the new iPhone version as well)...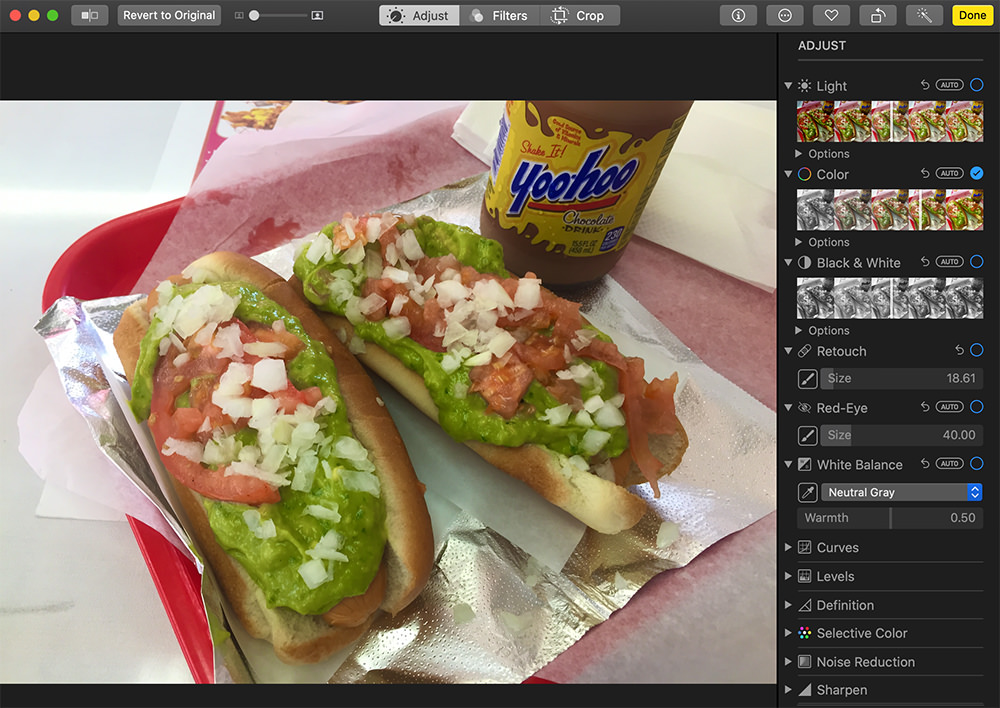 Other than that, they just made things prettier... so to speak. Videos move in preview. The "Day" view tries to logically group and display photos... that kind of thing. Apparently they are using their "machine learning" routines to group photos into events, which is handy for those times you shoot a hundred photos all the same. Photos will now group them...
Except I don't like the way that rectangular photos are sometimes cropped as squares to do this, however, so I'll probably end up in "All Photos" mode, which preserves the original photo's aspect ratio. Another way Apple claims to be using "machine learning" is to better recognize people in your photos. I'm not seeing much of a difference from how it worked previously, however.
SAFARI
Cosmetic upgrades on the start page, which is no less annoying than it's always been. Can't find anything else that's new.
MAIL
Looks to be mainly cosmetic (It does look a little different). But Apple says there are new features to be found. They must be subtle, because I ain't feeling it.
CALENDAR
Seems the exact same. Which is to say it's an underwhelming app that lacks any of the tools required for professional use. If you're just keeping track of birthdays and setting reminders for lunch appointments, you're good. But if you need more functionality, you'll be looking elsewhere.
REMINDERS
Looks prettier, has more functionality, seems smarter. I use a different system entirely, so this is not something I'll make use of.
NOTES
Looks a little different because of the inclusion of a useless "Gallery View" (too small to read anything, can't be enlarged)... but operates basically the same.
SIDECAR
Because I didn't want to buy a new MacBook with Apple's shitty, shitty keyboards... and instead paid good money to have my old 2012 MacBook Pro Retina display repaired when it broke, my Mac is too old to test this feature (which allows you to use an iPad as a second screen). It seems odd that such a simple trick would be forbidden when my MacBook is perfectly capable of driving an external second monitor, but okay. I've read that you can hack old Macs to force them to support Sidecar, but since it's unsupported, glitchy, and slow... I'll just take a pass.
FIND MY
Apple's new "tracking tech" is mostly applicable to devices like iPhone which are mobile, easy to leave behind, and have a GPS. The fact that Apple is delving into creating a global mesh of "lost and found" is a remarkable thing with some pretty great privacy securities baked in. I suppose it's only a matter of time before Apple releases tracking "tags" to put Tile out of business. On a Mac, Find My is just combining "Find My Friends" and "Find My iPhone" into a single app.
SCREEN TIME
I already know that I spend every waking moment in front of a computer. Having Apple tell me this is not helping. Fortunately, you have the option of turning it off.
ACCESSIBILITY
Apple has made great strides in making their devices easier to use with enhanced voice control and other cool stuff. Bravo.

And that's about it. Like I said... pretty uneventful. When the biggest change is that you broke a single app into three separate apps, well, it's hard to see the point. But I guess it serves to let people know you haven't forgotten about the computer-side of the business, so I guess it's all good. I just wish Apple was interested in finding something new and exciting to push MacOS X into new territory.