I've made no bones about the fact that I am profoundly disappointed with AppleTV. The interface is utter shit, it's horribly unreliable, and all too many times I can't get my purchases to stream on the device (despite the fact that I can stream from every other media content provider with no issues).
Coming very soon is tvOS which will (hopefully) change things for the better.
Or, at the very least, have a far better interface so you're not forced to scroll through hundreds of titles to find what you want.
One of the apps that was supposed to make the AppleTV experience better was AppleTV: The App which is a hub that keeps track of where you're at in all your in-progress series and acts as a gateway to all the other apps by allowing your progress in those to be managed as well. It was a great, idea, in theory. The execution was not so great, however.
Ahead of tvOS, Apple pushed an update to The App. Functionally similar, it has a new look...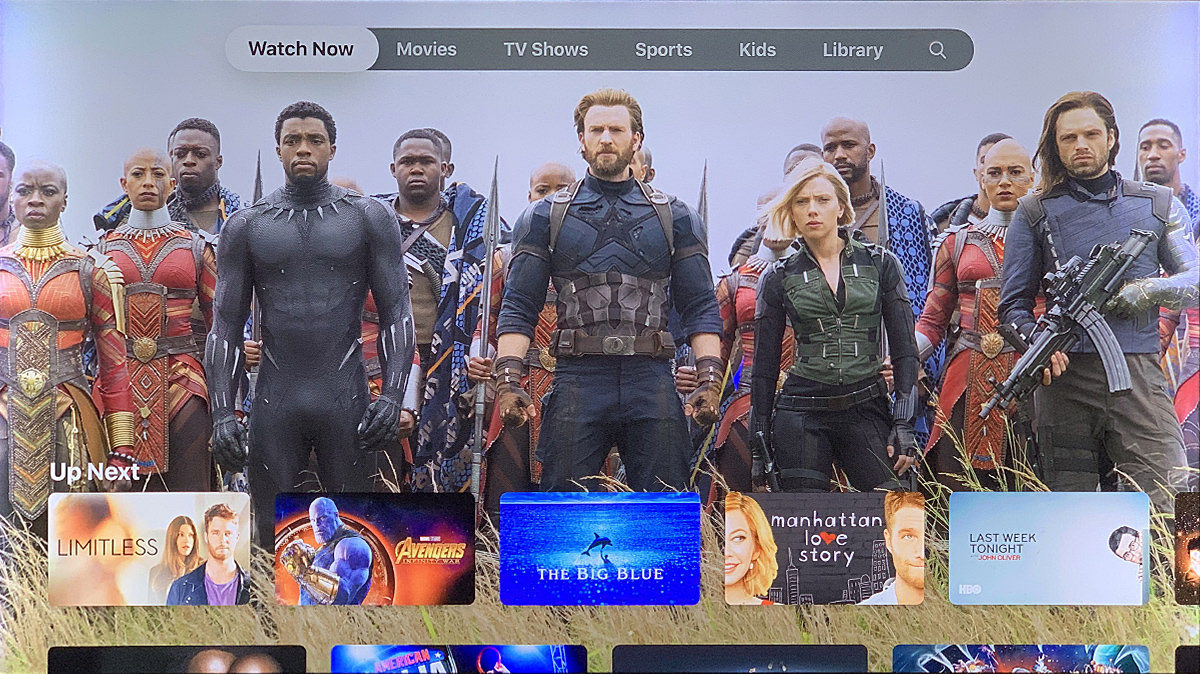 You know what else it has?
I might as well get this out of the way... IT HAS SHITTY FUCKING AUTO-PLAY TRAILERS NOW... AND THERE'S NO SETTING TO TURN IT OFF! Just like Netflix. I swear, Apple is intentionally setting out to make people hate them. Who wants to try to find something to watch when you're constantly being inundated with videos playing THAT YOU DON'T FUCKING WANT TO SEE? Remember MySpace pages with their autoplay music that everybody HATED?!? Leave it to Apple to bring it back as video autoplay that NOBODY WANTS. Steve Jobs must be rolling in his grave over Apple's non-stop parade of stupid shit. Apple makes me regret EVER having purchased anything from iTunes. I hope that TV shows get an equivalent of MoviesAnywhere so I can watched my purchased shows ANYWHERE ELSE. Holy shit what a waste.
An example. Let me take a look at the movies I got going on...
When all of a sudden... BAM! A fucking trailer starts playing while I'm looking at what's available...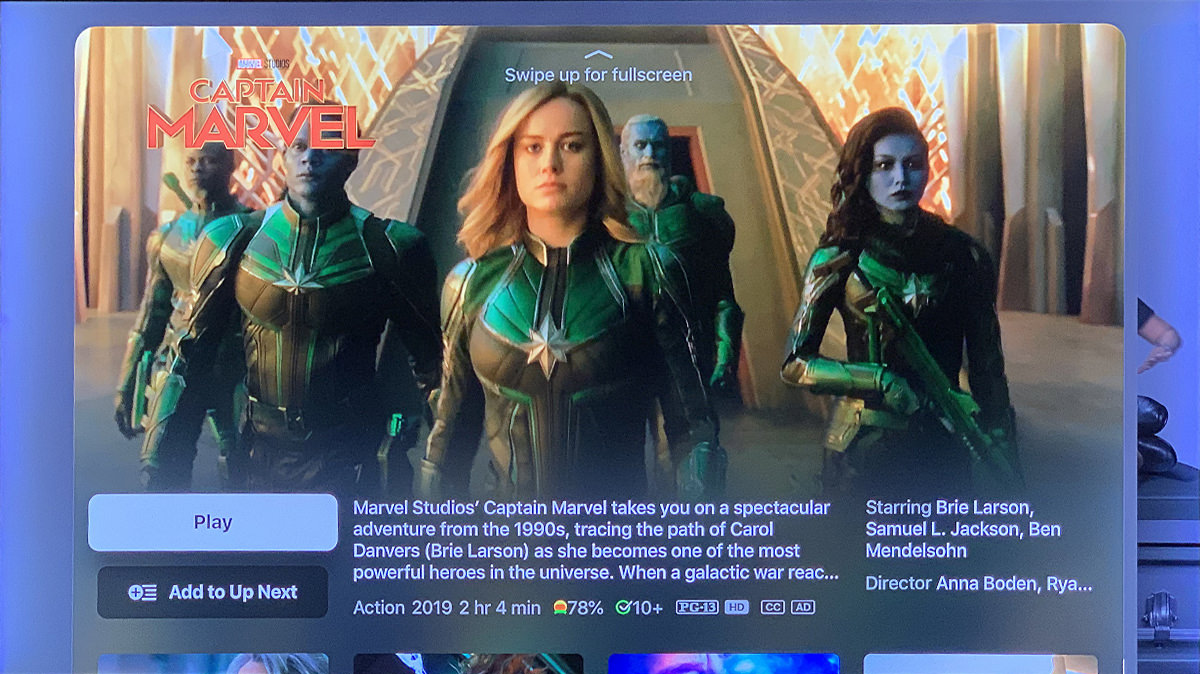 Absolutely fucking infuriating. ILET ME FUCKING CHOOSE IF I WANT TO WATCH THE FUCKING TRAILER, YOU ASSHOLES! This is rage-inducing bullshit, and I cannot believe this is what Apple has become.
But let's move on, shall we? All screenshots are taken with my iPhone, so forgive me that they're not so great-looking.
The first thing I notice is that Apple has added a "Free Episodes" section to the main screen. No clue where the episodes are coming from though. Banshee is courtesy of Cinemax. Does that mean that Cinemax is responsible for giving us free episodes? Or is Apple paying a license? What?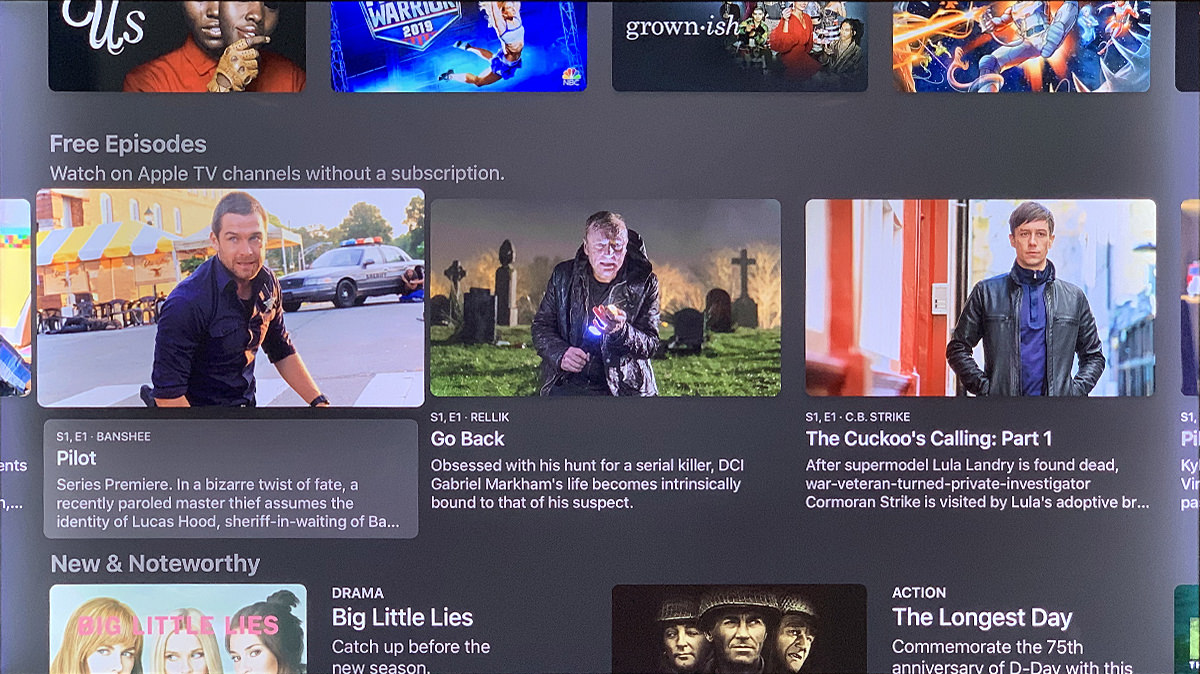 In the example of Banshee, above, I already own all four seasons, so if I want to watch the show, it's not "free," it's something I paid for. But maybe Apple knows I own them and that's where they are pulling the "free" from? Oh look... they are also available from Amazon Prime Video, which I also have. Again, I pay for it, so it's not really free, but okay? Maybe they are talking about getting a free trial of Cinemax then? Absolutely no clue...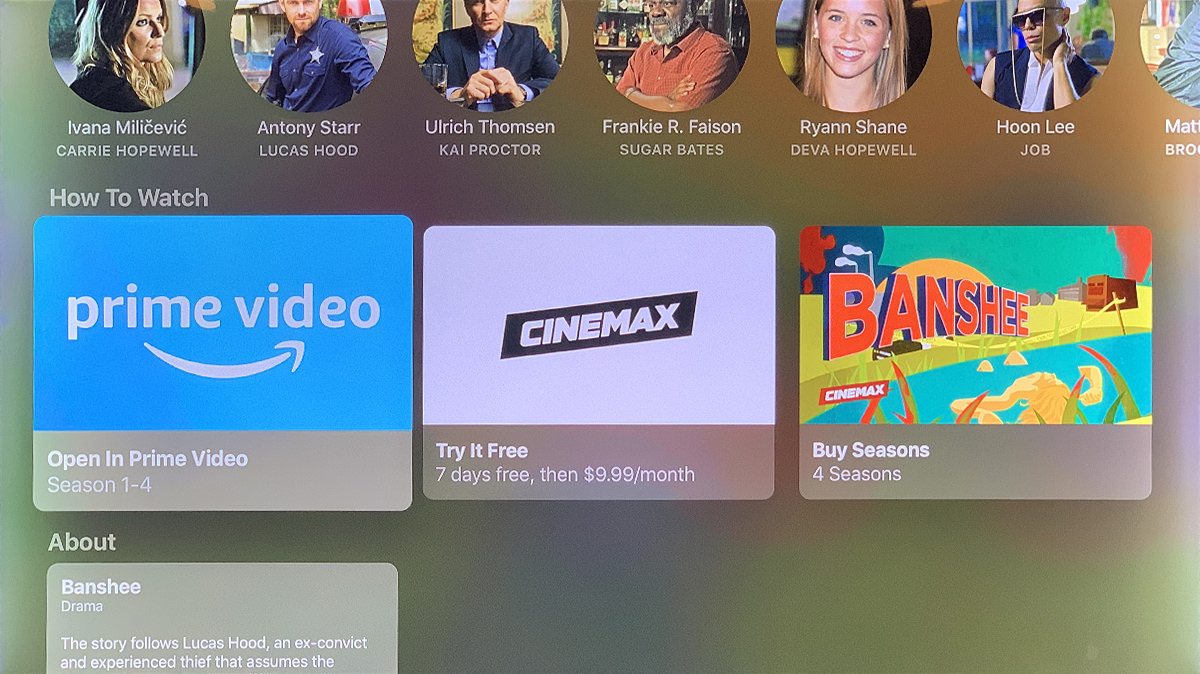 Interesting to note that they are trying to sell me Banshee when I already own it. What the heck is that about? Maybe when I click through it will refresh and show that I already bought it? Nope...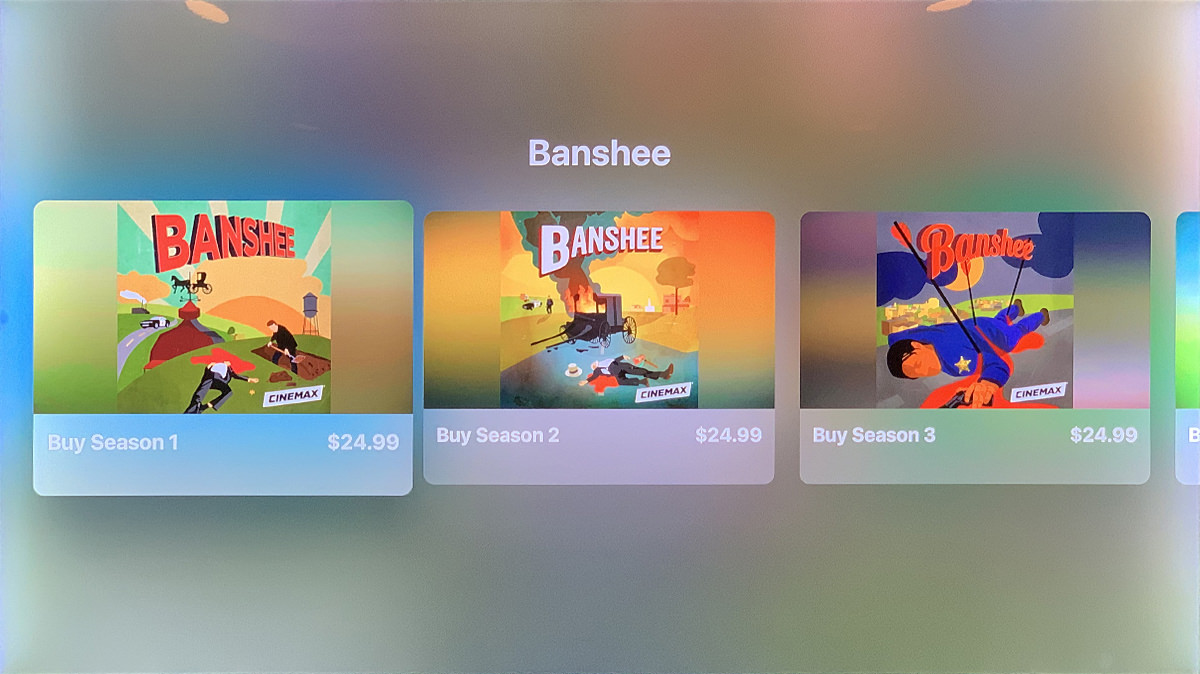 But surely when I click on a season, AppleTV will know that I bought it, right? Nope...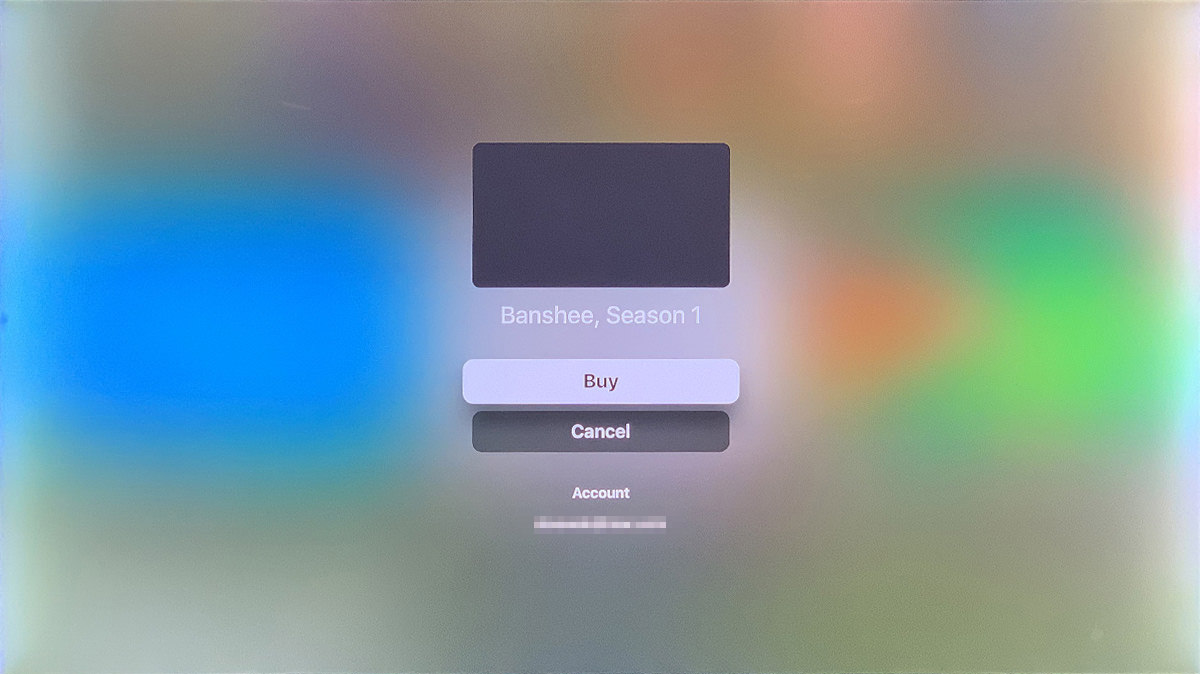 WTF?!? So I call up the series to verify that I do, in fact, own it. And I do. But AppleTV is fucking brain-dead and doesn't seem to understand that when I bought The Complete Collection of all four seasons, I own all four seasons. If I somehow forgot that I bought the collection, Apple was happy to take my money on individual seasons, thus charging me twice. Wow. So the Apple app which is supposed to keep track of everything for you can't even keep track of the shit you purchased direct from Apple. Sounds about right...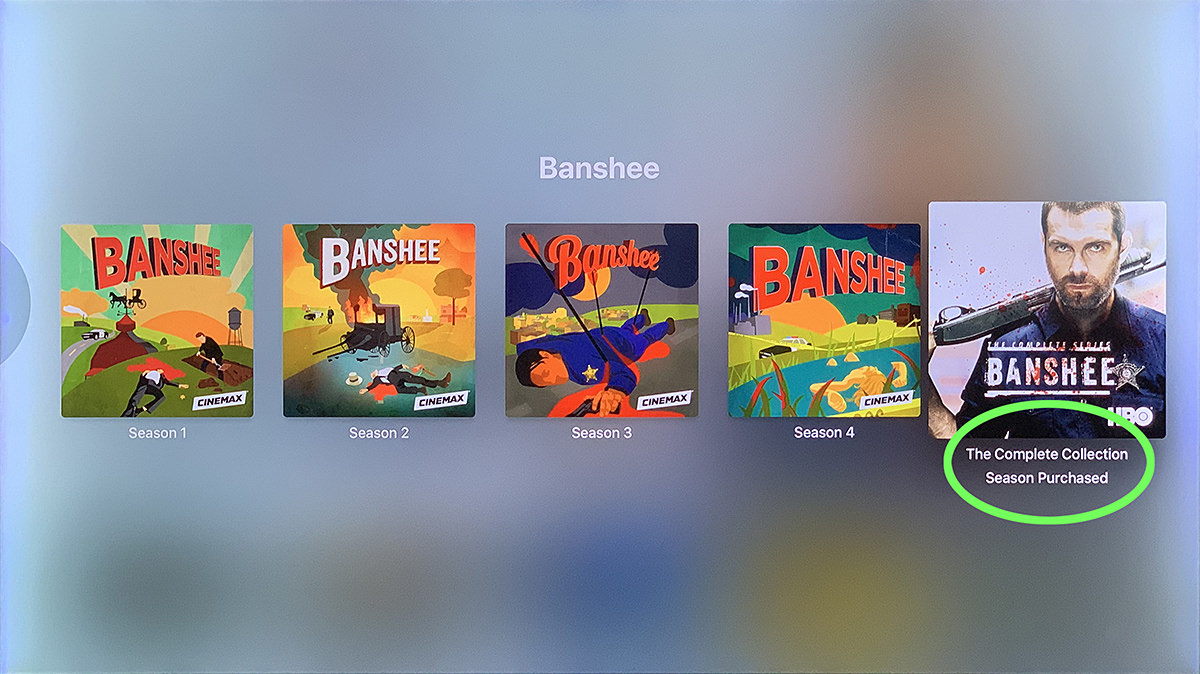 Anyway... back to the free stuff showing up which I have no idea where it's coming from...
Ooh! Look! Another Cinemax favorite... Strike Back! This Richard Armitage series is kinda famous for killing off Richard Armitage in the first episode of the second season. They then brought in a pair of new leads (Philip Winchester and Sullivan Stapleton) to take over the show. And that's them right there in the poster image... FOR SERIES ONE, EPISODE ONE?!??...
They didn't even exist in the first season! The first series was all about Richard Armitage! Maybe it was a mistake on the home screen? Surely they have it correct once you click through? Except... nope... they are calling Season One, Season Two, and completely forgetting that there was actually a season that existed before this one...
And that about sums up the latest revision of AppleTV: The App... everything it's SUPPOSED to be smart about... keeping track of what you're watching... knowing what you own and what services you subscribe to so it can give you the best option for watching what you want to watch... and knowing about the shows it manages so you can do amazing things LIKE START WITH THE FIRST EPISODE OF THE FIRST SEASON OF A SERIES... it fails at completely.
And so I guess I can just go on ignoring The App as I have been since it debuted then. Except... it still might be handy from time to time because finding the stuff I want to watch is inexplicably difficult using the dedicated "Movies" and "Television" apps. If only there was a way to turn off those fucking autoplay previews! Except... nope...
GOOD LORD APPLE IS SHIT AT JUST ABOUT EVERYTHING NOW-A-DAYS! I hope to God that the tvOS 13 update is better than the AppleTV: The App update. Though that's probably hoping for too much given what we've had to suffer through over the past eight years (R.I.P. Steve!).

Just so I don't have to end this on a sour note. Let me try to find something positive to say.
Something that appears new to me is that "Cast & Crew" links when you pop into details on the series. As an example, here's the awesome TV series Limitless...
Clicking on Jake McDorman's face shows me other stuff he's been in... without having to call up IMDB. Nice...
Of course God only knows whether or not clicking on any of those will encourage you to buy something you already own... so even my attempt at finding something nice to say is an attempt bound to end in failure.
I simply do not understand how Apple can continue to slide like this. Because surely they realize there's a problem, right? Surely they have people working there who takes a look at their crap during development to let them know when stuff is badly designed or not functioning correctly? RIGHT?!?
I'm beginning to seriously doubt it.
Or maybe they do and people like Jony Ivy and Tim Cook just don't fucking listen to them. That would explain a lot.
Until tvOS 13 then...