I typed some notes during Apple's streaming presentation of the World Wide Developer's Conference keynote this morning. Since I know absolutely everybody is dying to know my thoughts on things*, this post is for you!

• Eco-Unfriendly! And here's Tim Cook to start things off. Right off the bat he's touting how Apple is a sweet ecosystem that marries hardware, software, and services to create an experience unlike any other...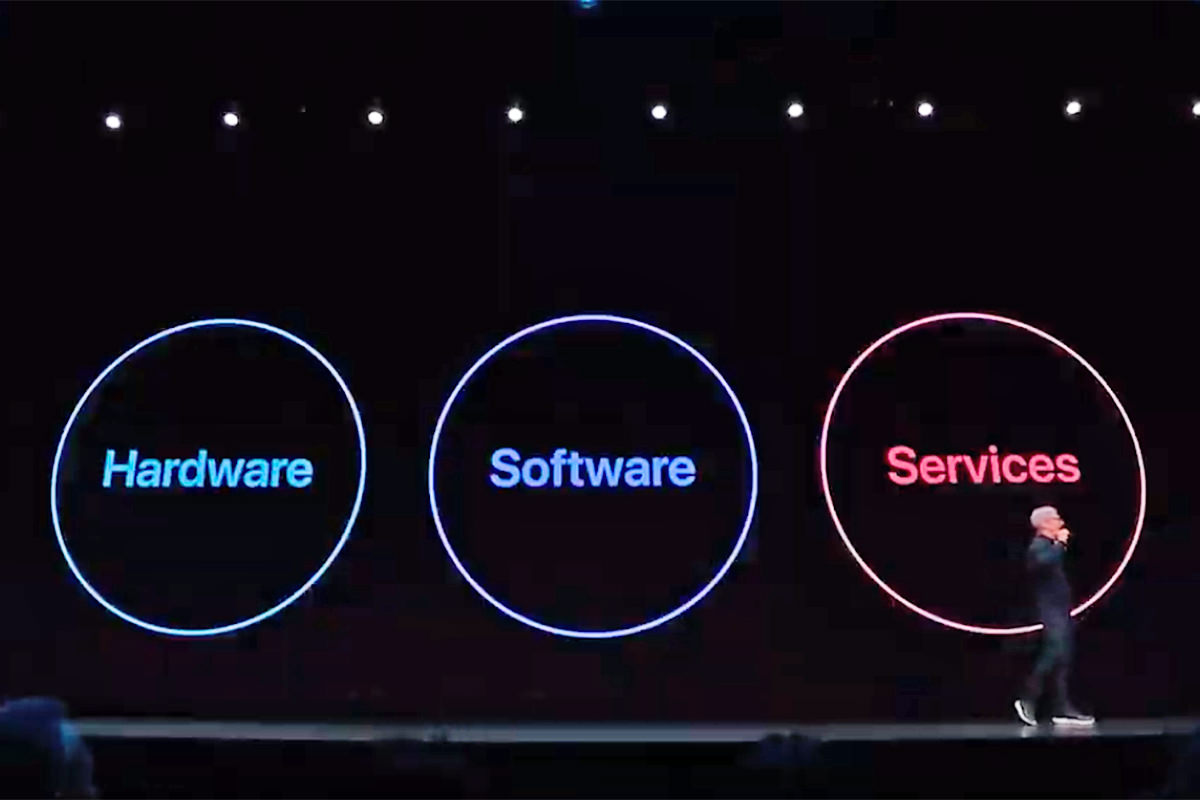 Say what you like about Apple, but it's totally true. The problem is that when one part of their ecosystem sucks, you get a bad experience. This applies to hardware (I fucking hate the MacBook Pro keyboard, and will avoid buying one of their shitty laptops for as long as I can), software (when they aren't abandoning critical in-house software like Aperture, they create fucking garbage like HomeKit), and services (their media streaming is unbelievably shitty and I'm furious that they always blame my internet, when my fiber connection streams flawlessly from everybody else). I used to put up with everything because, hey, at least it was better than Windows, but is that really true anymore?

• Apple Arcade! Now Tim is talking about "Apple Arcade"... a new membership service where you get access to a lot of cool and exclusive games. Out of everything announced, I only give a crap about LEGO Brawls, so this is probably not going to be for me...

• Apple TV PLUS! Ugh. I mean, really? Yet another streaming service? I admit that the clip shown from the alternate-history space-race drama For All Mankind looks interesting, but enough for me to pay up a monthly fee? Doubtful. Disney+ is absolutely on my radar because of all the Marvel Studios and Star Wars shows in development, but it would take a heck of a lot for me to buy into Apple's random non-catalog of shows.

• Apple TV! Apple TV has one of the shittiest interfaces in tech history. It takes forever to find the stuff you want to watch. Even if you know where to get to it, you still have to scroll and scroll and scroll. Apple added Siri to AppleTV so you can just tell it what you want, but I find it to be flakey and not always accurate. Why would I buy something from iTunes when it's available streaming from Hulu, Netflix, Amazon Prime, or whatever? I thought that "TV" was supposed to prioritize stuff you already have over stuff you have to pay for, but that hasn't been my experience. But I digress. They've apparently redesigned everything to be less shitty. EXCEPT THEY ARE USING CLIP PREVIEWS LIKE NETFLIX WHICH I FUCKING HATE HATE HATE HATE HATE!!! Fuck this. I hope to God they allow you to turn that shit off.
Ooh! And now Apple is saying that you will be able to use controllers from Xbox One and Playstation to control games on AppleTV! Yay! Except... where is support for my Nintendo Switch Pro controller? Oh well. I don't have time to play many games anyway.
Okay... I love the new underwater 4K screen saver! Reminds me of the serene scene aquarium screen saver I had on my Mac ages ago...

• Apple Watch! Ya know? I'd sure like to have an Apple Watch, but I just know I would never wear it because it's so damn thick. Until they fix that, they can throw all the new "watch faces" at me they want... I'm not biting. Except... ZOMG! A CALCULATOR APP! Just like my old calc digital watch had back in the 80's!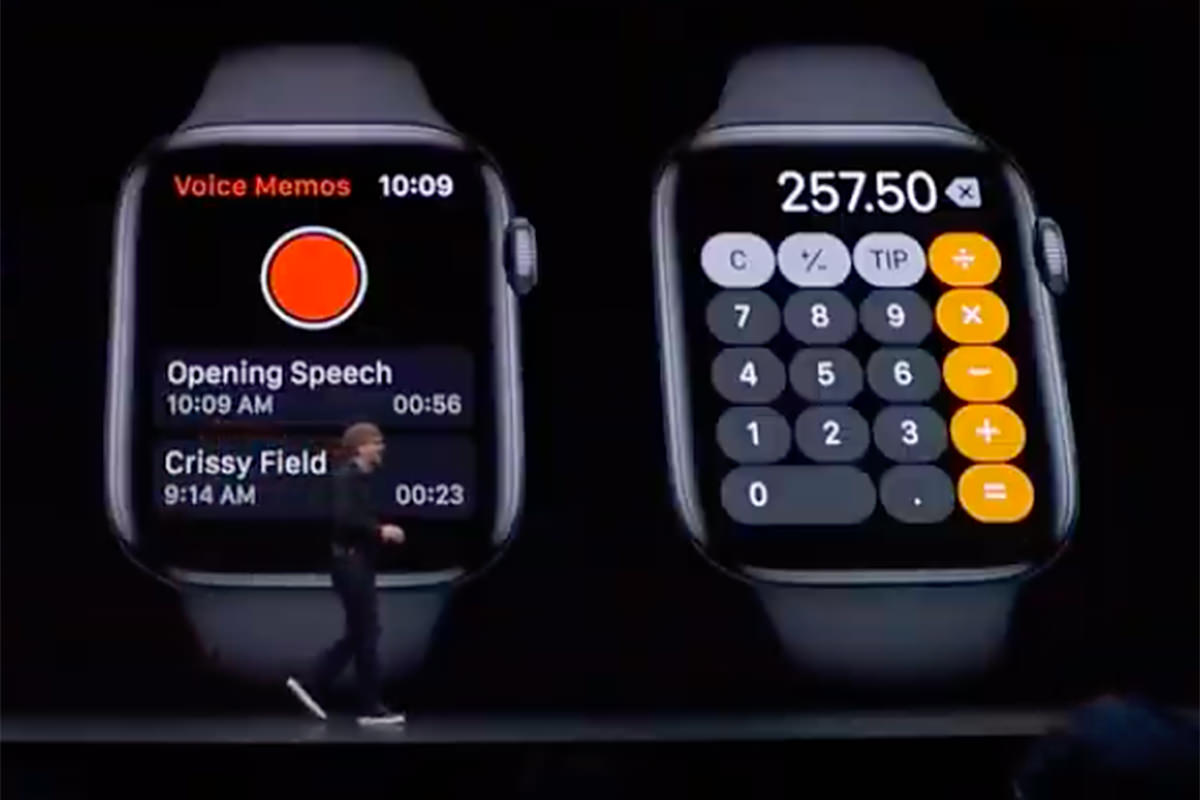 The new WatchOS will be able to run apps independently of the companion iPhone app. That seems like a pretty critical feature, but I don't know how they have the memory available for such a thing? This allows you to install apps from the App Store directly on your Apple Watch which, again, seems like a critical feature to have.
I like the idea of how the Apple Watch can help you out by monitoring your health... but I know darn well I would stop using it when I see just how unhealthy my lifestyle is, so that's not a big draw for me. For the ladies there's a menstrual cycle tracker now that will help you to know when your period is coming and when you are most fertile for the baby-making.

• iOS 13! Apparently the next version of iOS will focus a lot on speed. Face ID will unlock 30% faster... apps will install faster... apps will launch faster... that kinda thing. Naturally, it's hard not to be happy about that. And I most certainly hope that it launches the camera faster so I don't miss as many time-critical shots like I do now. A more reliable camera that isn't locking up all the time would also be nice.
I'm torn on the new "Dark Mode"... I stopped using it on my Mac because it was wildly inconsistent between apps, sometimes making it impossible to use apps that weren't patched to accommodate it. Perhaps if they did a better job of it for my iPhone I will have better luck? I dunno. It costs nothing to try. And, may I just say, that Apple using Depeche Mode's Black Celebration for their demo is about the best thing I've seen from this keynote so far?
I've been using Google's keyboard for a long time now because it supported swipe typing. Problem is, my iPhone is forever reverting back to Apple's keyboard even though I've not asked it to. Now that Apple supports swipe typing, maybe it will be a better experience? I sure hope so. All the new predictive input stuff is nice, but I often find that my iPhone gets it wrong far more often than it guesses correctly. Maybe their new "machine learning engine" will improve this? One can only hope.

• Maps! And so... shots fired at Google Maps! But here's the deal. Unless Apple gets into the traffic monitoring game like Google and Google-owned Waze, I'm probably sticking with Waze. Pretty is pretty, but I'll take the better functionality every time...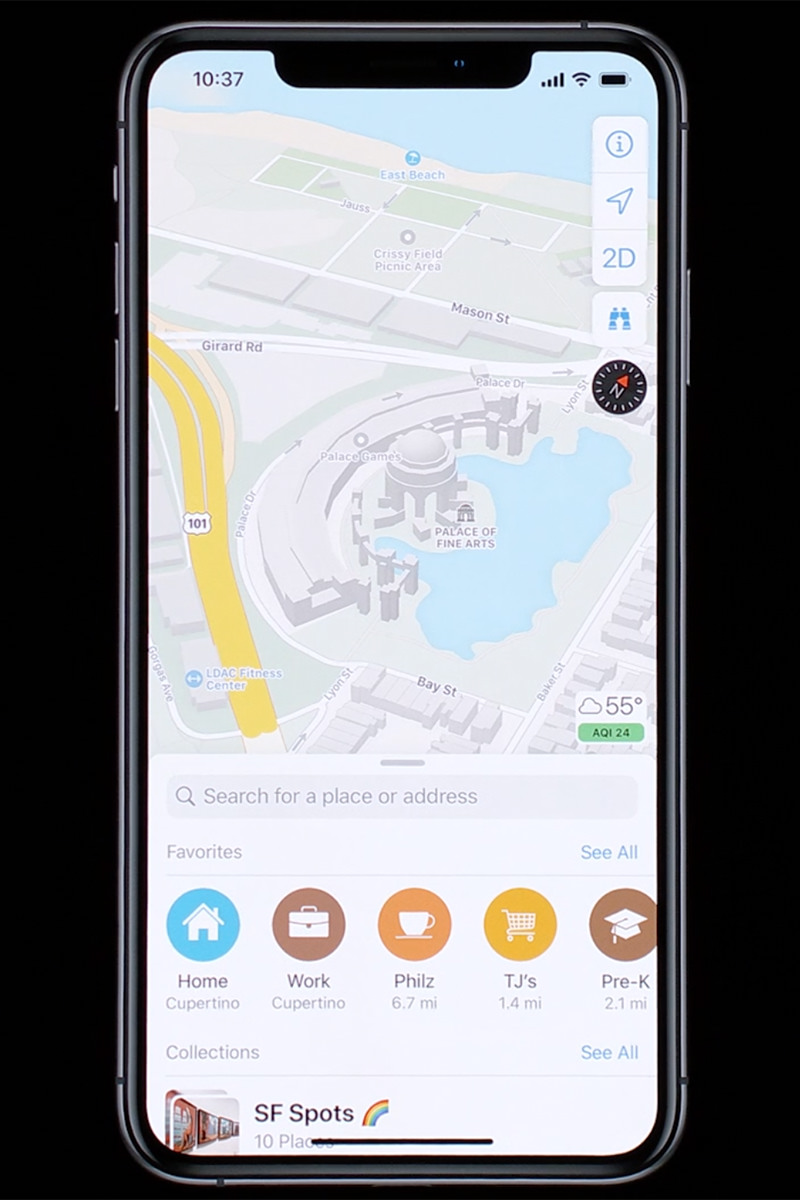 Meg Frost is up in her cool future-wheelchair to demo Maps. Holy crap is it a beautiful app! I may use it a lot more, but the navigation of Waze will be hard to leave behind...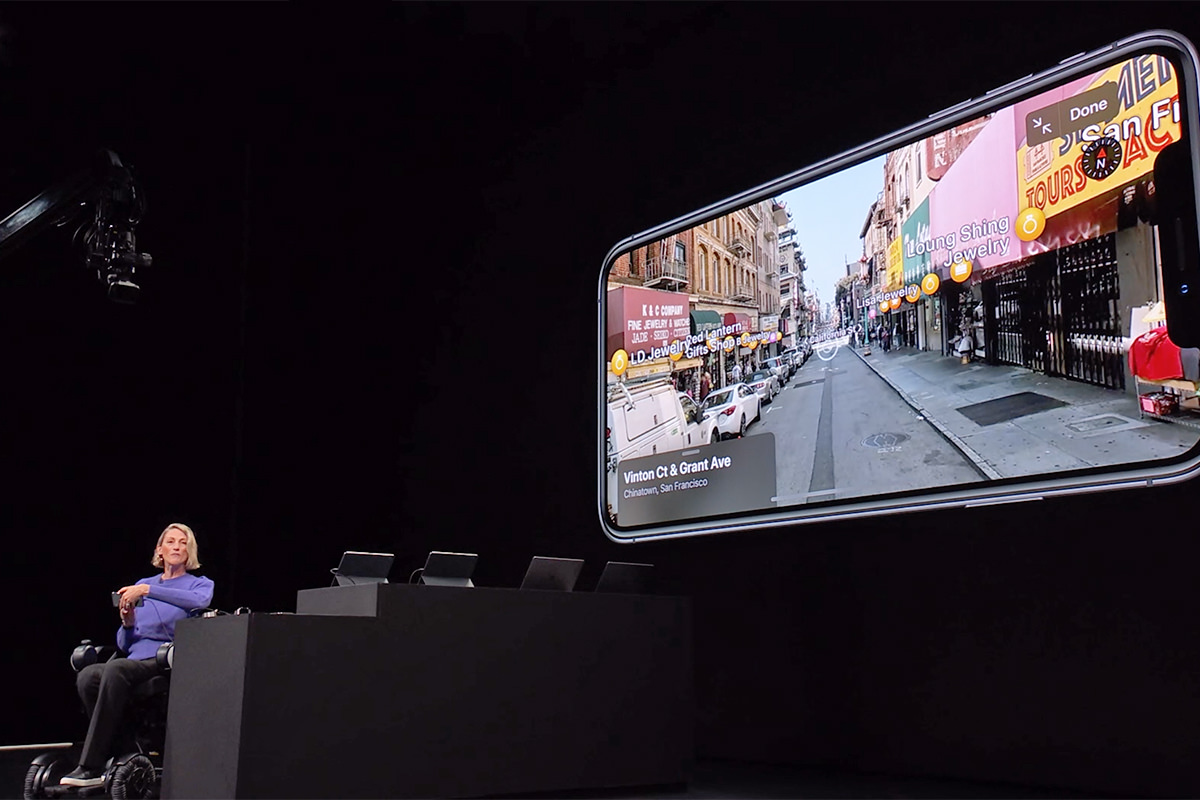 Apple is doing their OWN version of "street view" and it looks spectacular...
I'll definitely be using Apple Maps for armchair traveling, but for actual driving? The jury is out.

• Security! And here's where Apple takes an even bigger swing at Google... privacy and security. Companies like Google and Facebook track everything you do and monitor all the activity on your phone because they are selling ads. To be effective at selling ads, they need to know who you are and what you do. I don't give much of a crap about this (hey, I'm a blogger, all that stuff is online for anybody to see anyway), but I do like Apple's philosophy of erring on the side of caution. It started with ApplePay, which securely pays for stuff without tying the purchases to a credit card (which is nice), and I absolutely love the convenience of it. And now Apple is moving their privacy mandate into other areas at a system level. I approve.
Location monitoring by your phone could be a very big problem if you don't know it's happening and you're a thief or having an affair or whatever. Apple is putting the kibosh on that by being more proactive about how your location is used and how long an app gets to use it. That's totally swell.
And, as if the shots fired weren't obvious enough, here's Craig Federighi telling the whole world that they are seriously going after Facebook and Google by creating their very own "Sign in with Apple" login service! Sweet!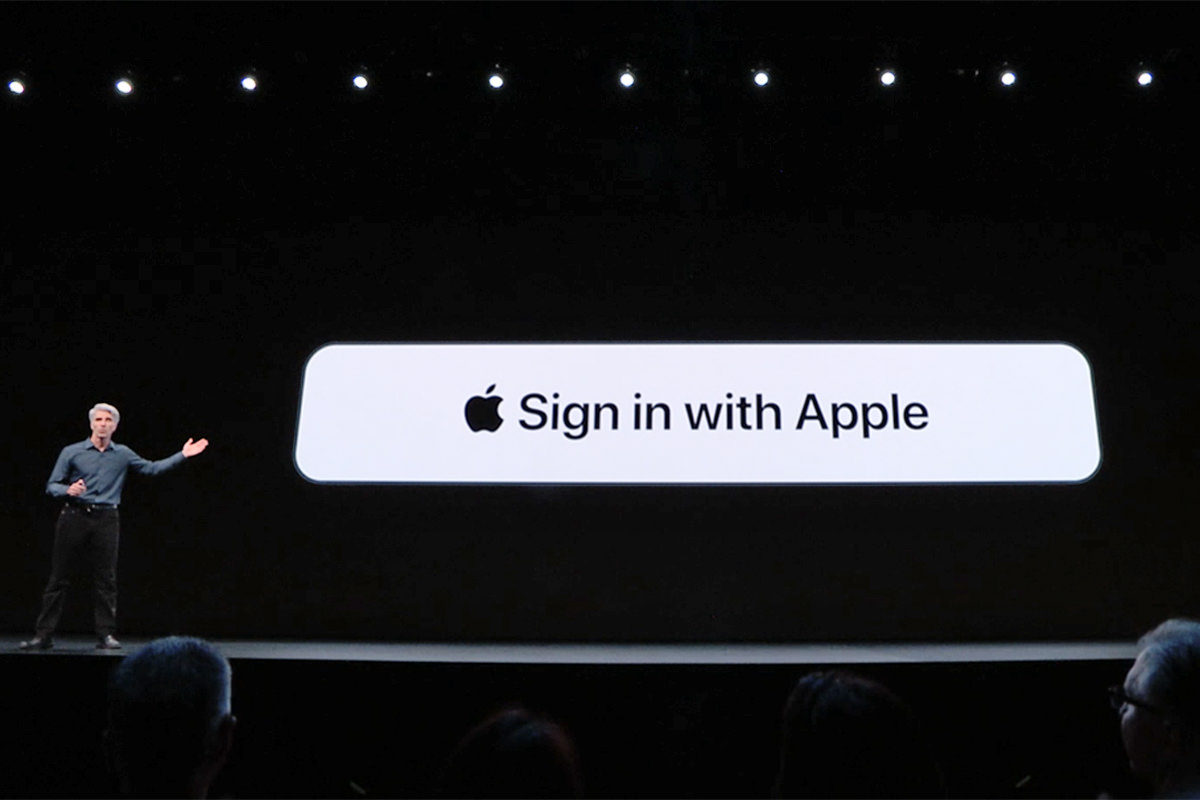 No personal information whatsoever handed over. I think it's pretty obviously that absolutely everybody will switch to Apple's login service the minute it becomes available on sites. I know I sure as hell will be.
Okay, THIS is huge. Apple is coming up with their own privacy email forwarding service! You can immediately establish a temporary email ID... then use or dispose of it for as long as you want! NICE.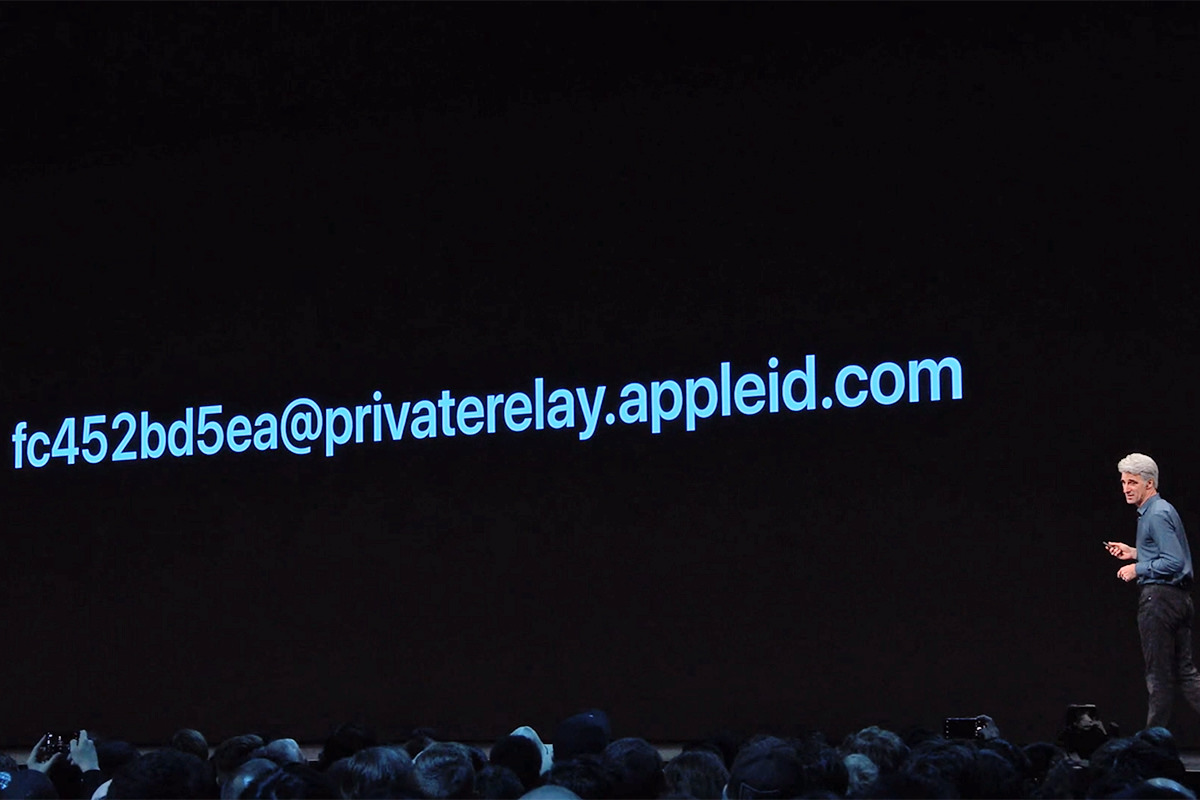 I've used random forwarding addresses for a very long time, but having to set them up is always such a pain. Now that it's an OS-level feature, it will be so much easier. Kudos, Apple!
Interesting. Apple is adding their own security camera streaming service to their heinously shitty HomeKit home automation bullshit. The privacy features are admittedly compelling, even though I just don't care that much. So people can hack my account and watch me talking to my cats... whoop-dee-do. However... On one hand, I would love to get rid of all my Google NestCam shit and their fucking "NestAware" idiocy for something better. So maybe. Except I hate hate hate shitty HomeKit so much that I just don't think it's a viable option. Maybe one day? I just don't know.

• Memoji! While I think the idea of Apple's Animoji and Memoji are cute, they just aren't something I'm interested in using. I tried it a few times just for fun, but the idea of using it day-in and day-out makes zero sense. The novelty wears off far too quickly. Except... NOW THEY'VE ADDED MAKEUP?!? And piercings? AND HATS?!? Ooh! Maybe I will have to use Memoji now that I can add eyeshadow and lipstick!
Memoji stickers are actually pretty cool. I don't use stickers very often, but I might use something like this.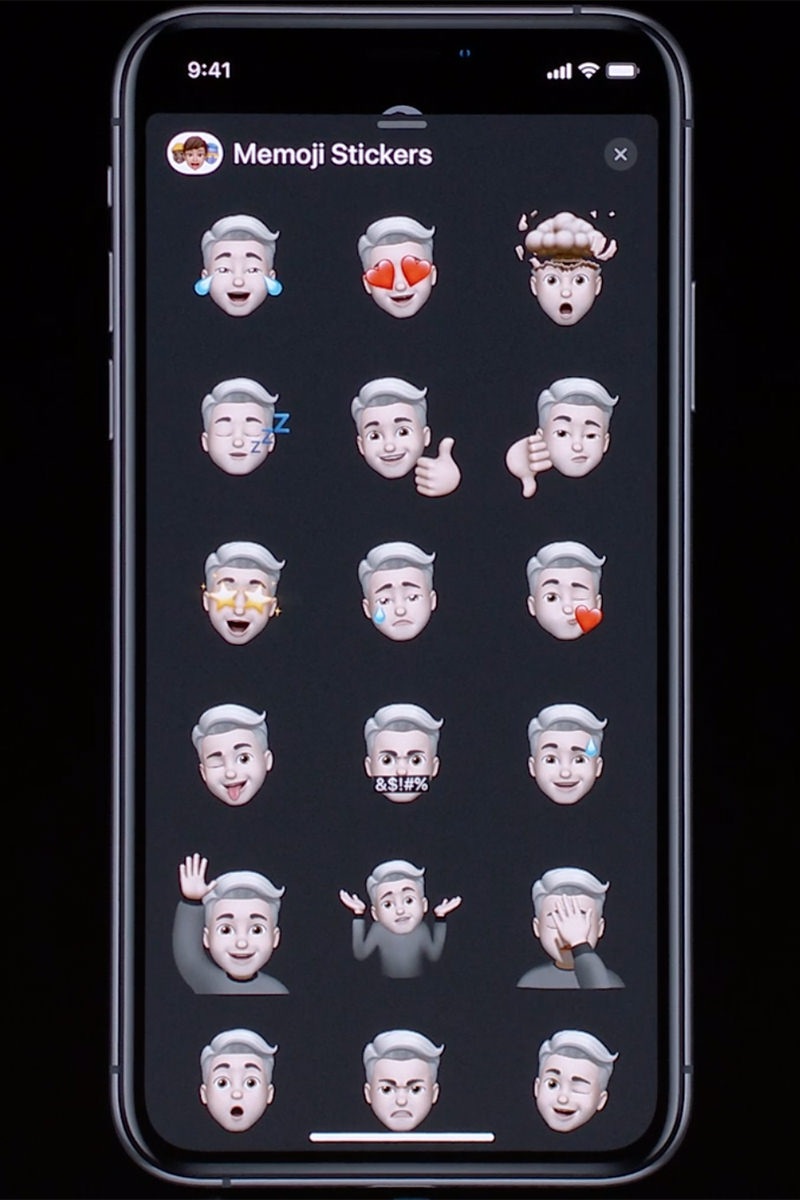 • Photos! I take far, far, far more photos on my iPhone than any camera I have ever owned. It's just too convenient and the quality is just too good (and getting better!). The fact that Apple keeps adding cool editing features just gives me even more reason to keep shooting with iPhone. I've always got it with me anyway.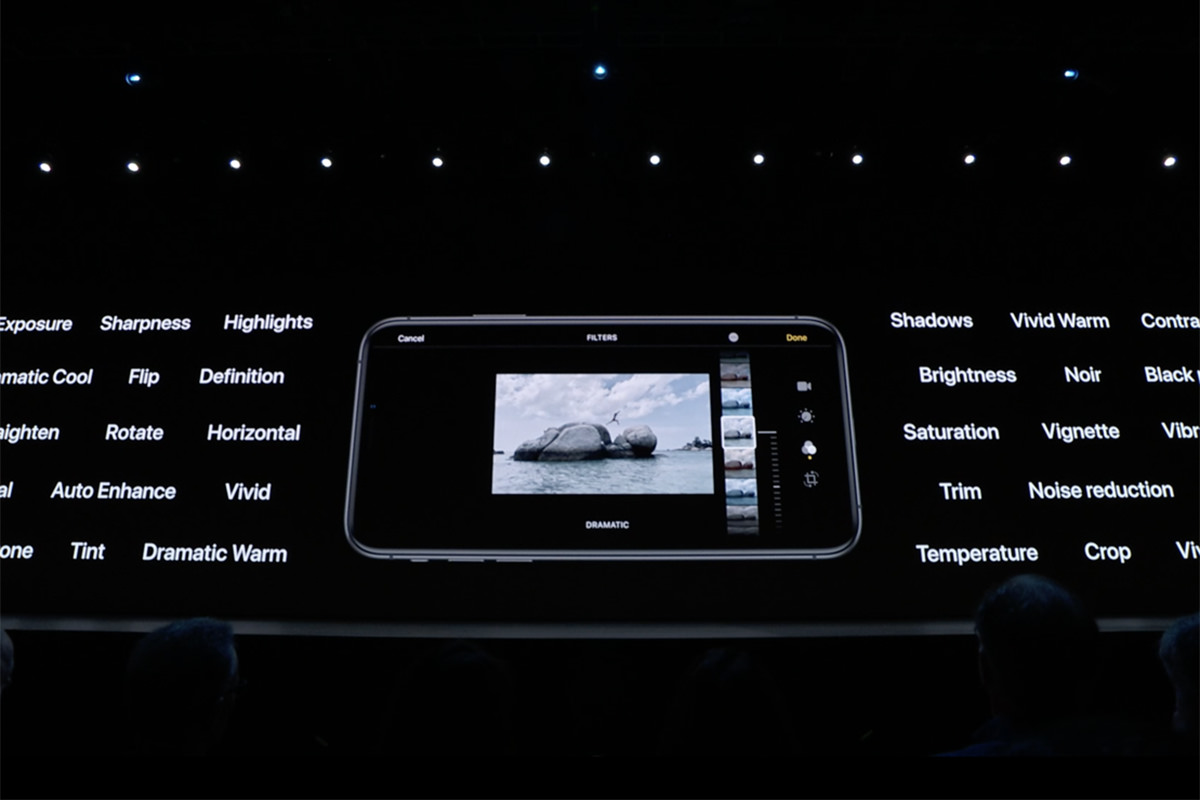 And now you can apply effects to video as well as... gasp!... ROTATE VIDEO AS WELL!
The new machine-learning photo management tools are pretty great too. I really should go delete all the duplicates and junk photos I've taken. Could probably cut the number of photos I've got stored in half. Probably more.

• AirPods! I like everything about the concept of AirPods... but hate the AirPods themselves. They absolutely 100% do NOT stay in my ears. And given the number of people complaining about losing them, I'm guessing it's a serious problem for everybody. I pretty much only use them when traveling because then it's worth the time to put the silicone tips on them so they actually stay in my ears. My thinking is that this will be the first and last pair of AirPods I buy until Apple starts making them so they fit... and are more sustainable. As it is now, there's nothing you can do except throw them away when the battery fails. Wasteful. Shamefully wasteful for a company that professes to be on the cutting edge of "green sustainability."
Having messages announced through your AirPods would drive me insane and I would most definitely not have that feature turned on. One feature I do like, however, is the AirPod Audio Sharing feature. How cool is that? So long as you both have AirPods, very cool!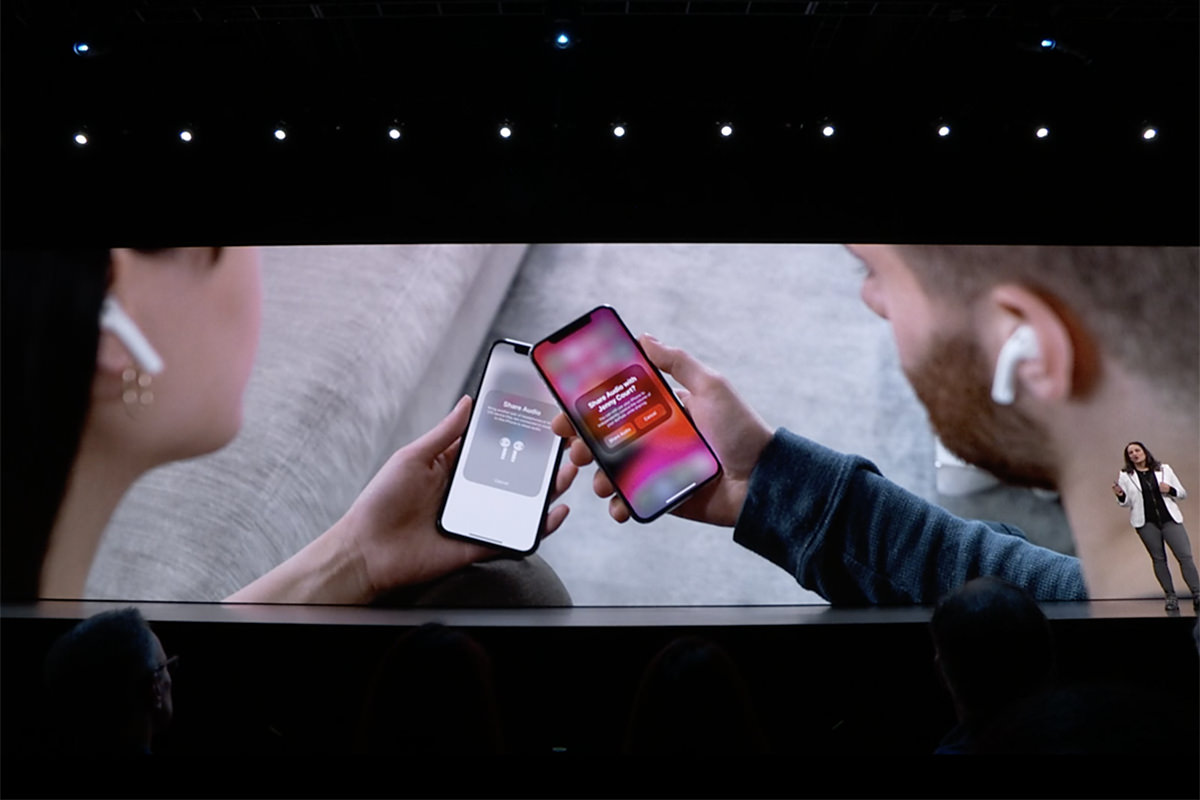 • HomePod! Whatever, dude. Drop the price by half and I might consider purchasing one. Until then? My SONOS system is doing just fine.

• CarPlay! I would be thrilled to have a CarPlay enabled stereo in my auto, because the integration features with my iPhone are just too good. But I am just not in my car often enough to justify the cost. Happy that Apple keeps improving the CarPlay experience though, because maybe one day...

• Speech! The new "Neural TTS" (Text To Speech) quality is insane. Once more update and they will probably have something indistinguishable from an actual human! Hell, my iPhone already speaks in a way that's more intelligible and human than our President!

• iPad! I may die of un-shock... iPads will no longer be using a forked version of iOS but instead run a custom iPadOS. Given how Apple keeps pushing iPad to encroach on what desktop computers do (and compete with Microsoft's Surface tablet), it was something that pretty much had to happen. And it just makes sense. iPad is more than just a big iPhone. Better split-view... gestures designed for a larger screen... drag and drop... this is all stuff that, frankly, Apple should have had years ago.
One thing that had to happen to make iPad more of a desktop equivalent is to have far better file handling. It looks like Apple realizes this and is working to add more and more functionality. All the features are nice... but nowhere is this new direction more easily understood than by the fact that you can plug a thumb-drive into your iPad now...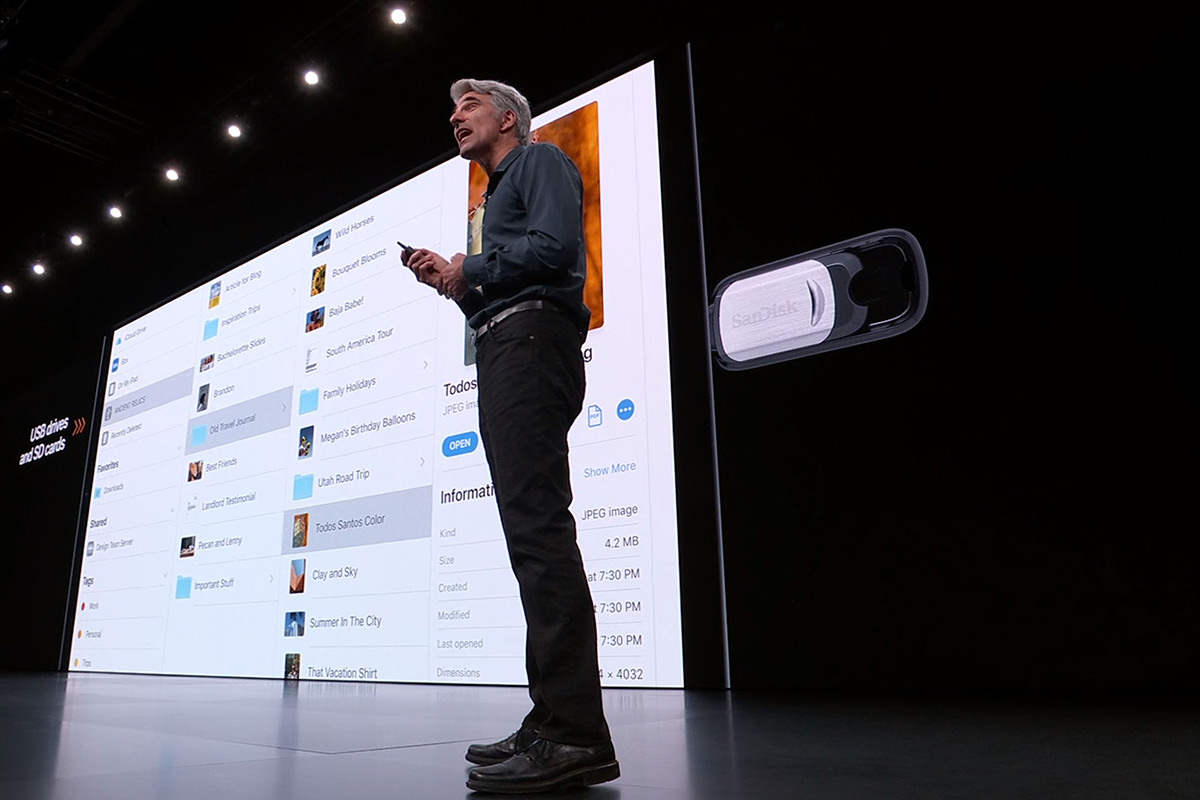 • Pencil! I love my first-generation iPad pencil and would dearly love the features of the second-gen... if only my older iPad supported it. Perhaps eventually I will use my iPad a lot more often for my artistic endeavors, so it'll be worth it to invest the money. But that's just not in the cards right now.

• Mac! "WE LOVE THE MAC!" Tim Cook exclaims! Which is hard to take seriously when they are putting shitty keyboards on their laptops that render them useless... or just make them impossible to type on. As if you couldn't tell from my numerous posts on the topic, I am fucking livid that Apple has essentially flushed their MacBook line down the toilet thanks to their "butterfly keyboards" that nobody wants.

• Cheese! Is it just me... or does Apple's new $6000 MacPro look like a cheese grater? A pretty cheese grater, yes... but a fucking cheese grater...
Would I love to own one? Of course I would. But I just can't justify the absurd cost. Yes, Apple put a lot of work into making the thing worth the price tag, but it's all stuff that's not essential to what I do. Maybe if I start composing music with thousands of instruments or editing 6K video, I'll have a need, but this is just silly. At least it's a vastly more configurable and expandable "Pro" computer than the laughably shitty "trash can" machine they released last time.

• Display! The new Apple Pro Display XDR is an absolute steal at $5,000. I sincerely doubt that there is anything out there that can touch it at any price. But, then again, FIVE THOUSAND DOLLARS FOR A COMPUTER DISPLAY!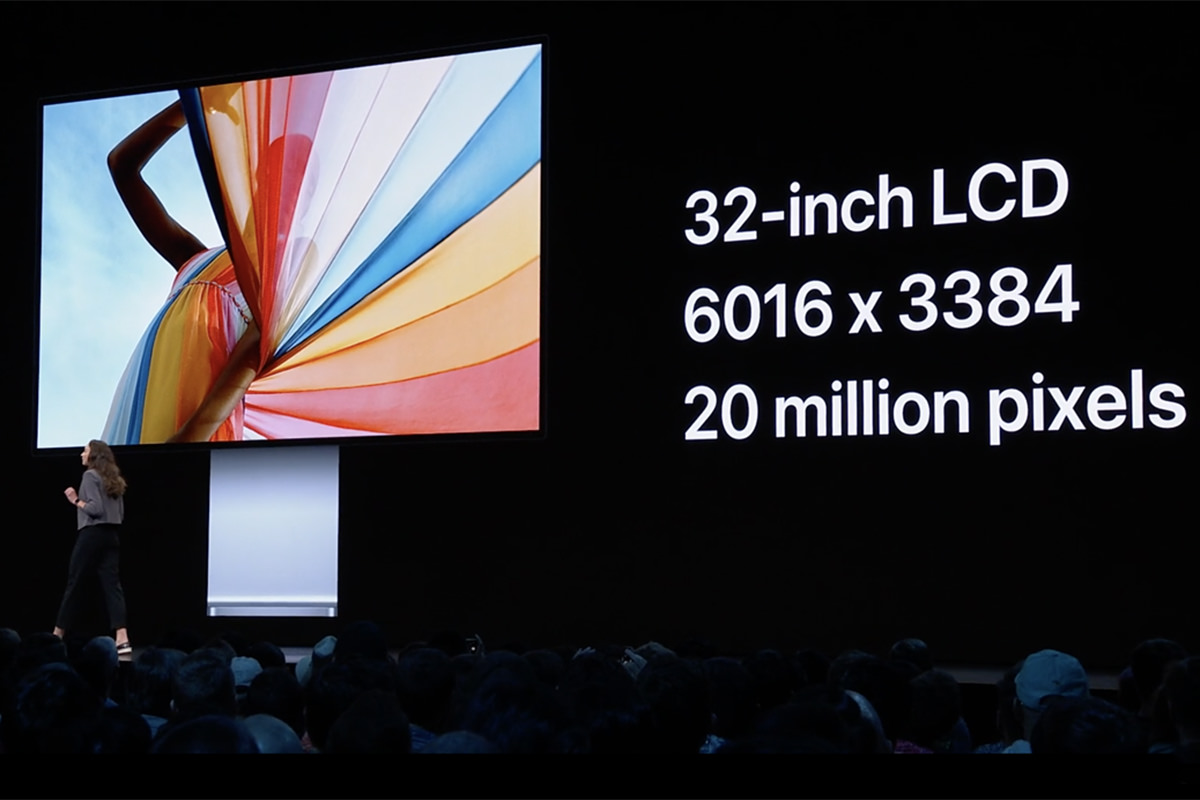 • Catalina! Keeping up with their "Places of California" motif for naming their MacOS releases, we now get Catalina. That should make for some very pretty desktop backdrop photos!

• iTunes! At least Apple is self-aware enough to realize what a bloated pile of shit iTunes has become... and can even joke about it. Except... forgive me for not finding it funny that they are only just now addressing the problem when it's been a major hassle for years. And so now iTunes is dead and being replaced with Music... Podcasts... and TV...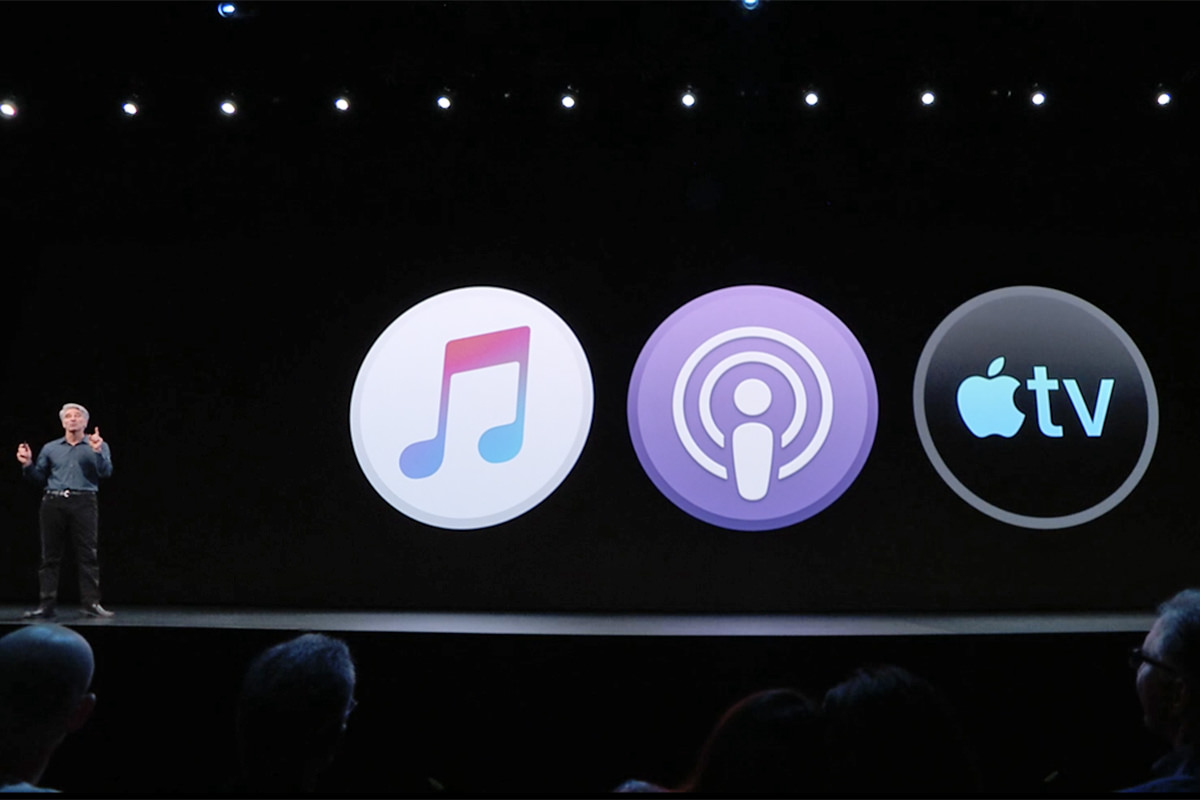 That's all great and stuff... but until the server farm delivering my Apple-purchased media content is made much more stable, reliable, and actually worth a shit, it all means pretty much nothing to me.

• Sidecar! Use your iPad as a second screen? Yes please! That could come in SO handy sometimes when I just need a readout that's not covering up what I'm working on!

• Voice Control! At home, I am talking to my house (through Alexa) all the time. She controls absolutely everything, and I'm so accustomed to it that I don't even think about it any more. "Turn on the television!" and "Turn off the porch light!" and "Lock the door!" and "Show my the Catio Camera!" are just... natural(?)... to me now. But, for whatever reason, I just don't think of talking to my Mac. Maybe as it becomes more and more voice aware, that will change. From what they showed at the keynote, however, this could be a huge help to disabled persons who can't use keyboards or mice.

• Find My! Being able to find your devices, even when they are offline? Fantastic. This is the same concept of my "Tile" trackers that I have on my keys, in my backpack and in my wallet. It talks to nearby devices with extremely low power consumption so that you have a much better chance of finding your iPhone, MacBook, iPad, or whatever, that's gone missing.

• Locked! You can remotely lock/wipe your iPhone so that it becomes useless if stolen. There's no doubt in my mind that this is curbing theft of these devices. Why risk jail-time if you can't do anything with it? And now that technology is coming to the Mac, which is nice.

• Developers! Developers! Developers! The new Catalyst project that allows you to compile iPhone apps for the Mac... plus new advancements with their Swift programming language... plus continuing advancements in allowing easy integration of new technologies like AR (augmented reality)... Apple has (mostly) always made sure that developing for their products is as painless as possible, and it looks like they are serious about making sure that tradition continues. Good on you, Apple!

• Reality! And speaking of AR... the new "Reality Composer" sure looks interesting! It can automatically extract people so that rendered objects and move around them! Cool! And the Minecraft demo of how that works is pretty spectacular. This is the future of technology, and it's only a matter of time before we see it around our home... in our car windshields... and on our glasses...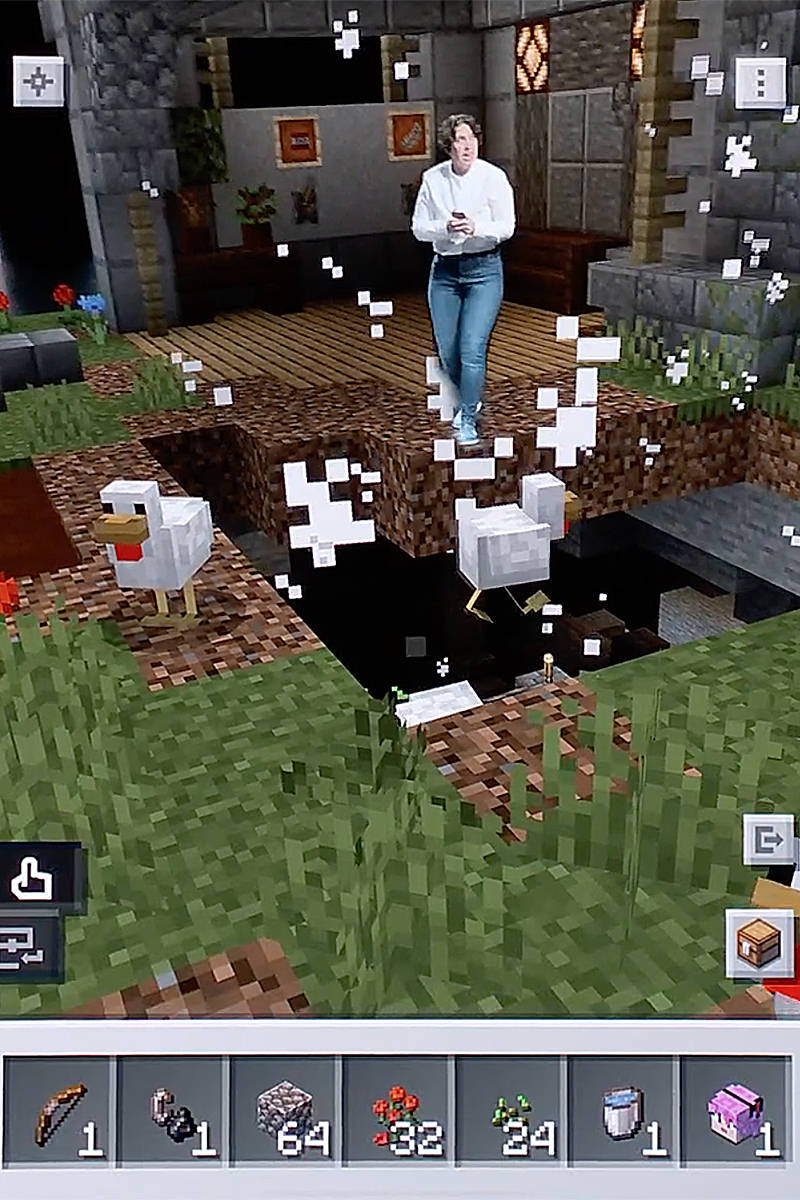 Right now it's pretty much a technology demo... but you can see where it's all going. Eventually.

And that's the end of that, I guess. This keynote seemed a lot more "evolution" over "revolution," but there's some real winners in there that have me more optimistic than I was yesterday as to how much I want to be in bed with Apple any more. Given how pissed off I've been with them lately, that was no easy task. Having to wait until Fall to get at any of it is a bit of a bummer, but that's the way the Apple falls.
*Okay, I know practically nobody actually cares what I think, but that's probably the case for most subjects I blog about... why should this be any different?