I am not a huge horror movie fan, but I do like a well-crafted story... in any genre.
For this reason I was exited to see that Jordan Peele has a new horror movie out called Us. I loved Get Out, and the reviews for Us are phenomenal. And yet... I loathe going to the theater so much that I was debating whether or not I was going to buy a ticket or wait for home video...
To help with my decision, I emailed a document to a friend who was going to see the movie last night. In it I wrote what I thought the "twist ending" was going to be. After seeing a couple commercials and clips on talk shows, it seemed pretty obvious to me what was going on.
This morning my friend opened the document and texted me that I was 100% correct with my guess. But he also said that the movie was so great that I really should go see it in the theater anyway.
So I don't know.
I'll probably wait for home video. Having to share the theater with a bunch of rude people makes me long to be watching at home.
And speaking of watching at home...
Apparently Viacom is in a fight with my television provider, DirecTV. While watching The Daily Show and The Other Two on Comedy Central and RuPul's Drag Race on Logo, there's a black box on the screen warning you that AT&T (owners of DirecTV) are going to drop the channel...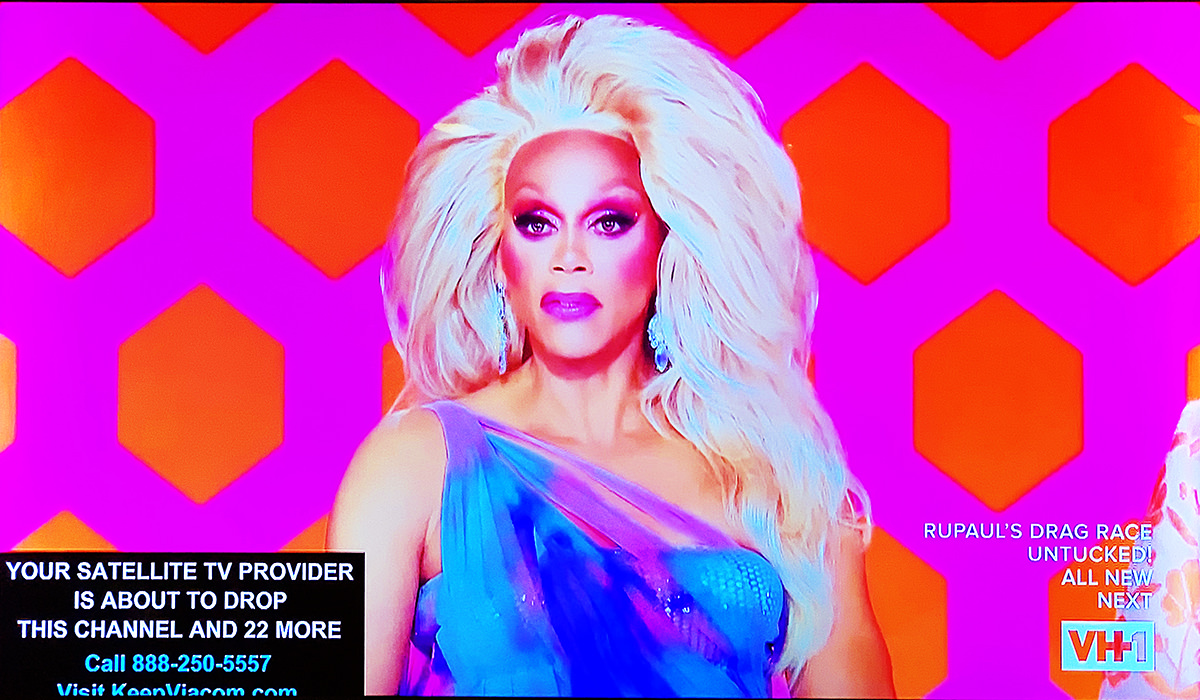 At first the box was stationary on the left-hand side. But then AT&T started putting a black box on top of it. So now Viacom is making the box jump around the screen so AT&T has to keep moving their box. Eventually AT&T gave up. It's such bullshit and trying to watch a show where a box is bouncing all over the place is headache-inducing.
Well, whatever.
All I can say is that if DirecTV drops Comedy Central, one of the few channels I watch with any regularity, I will be dropping DirecTV. As I mentioned previously, thanks to streaming services and such, I don't need DirecTV much anymore anyway.
The monopolies of cable companies and satellite companies are over and I really don't care. Couldn't happen to a nicer bunch of assholes. They've been forcing bundled channels down our throats that we don't want for decades and karma is a bitch.