For the longest time after I got Jake and Jenny, they were completely silent. They didn't meow at me or try to communicate at all. I, on the other hand, talked to them all the time.
Then Jenny started talking back. Jake tried to talk back, but he can't meow for some reason (unless he's stressed out, apparently). He kinda squawks a bit though. Especially if I look in his direction and he wants to be petted. Jenny mostly wants kitty treats when she meows.
They don't talk to each other at all. They chase each other around from time to time, however. Otherwise they just kinda work around each other. Sometimes literally.
Jenny was sitting directly in front of the cat door looking at something outside. Jake then decides HE wants to look outside, but he can't see around his sister. He tries one side... then the other side... then goes back to the other side. And still can't see out. He was not happy...
Finally he figures out that if he twists his head, he can look past her...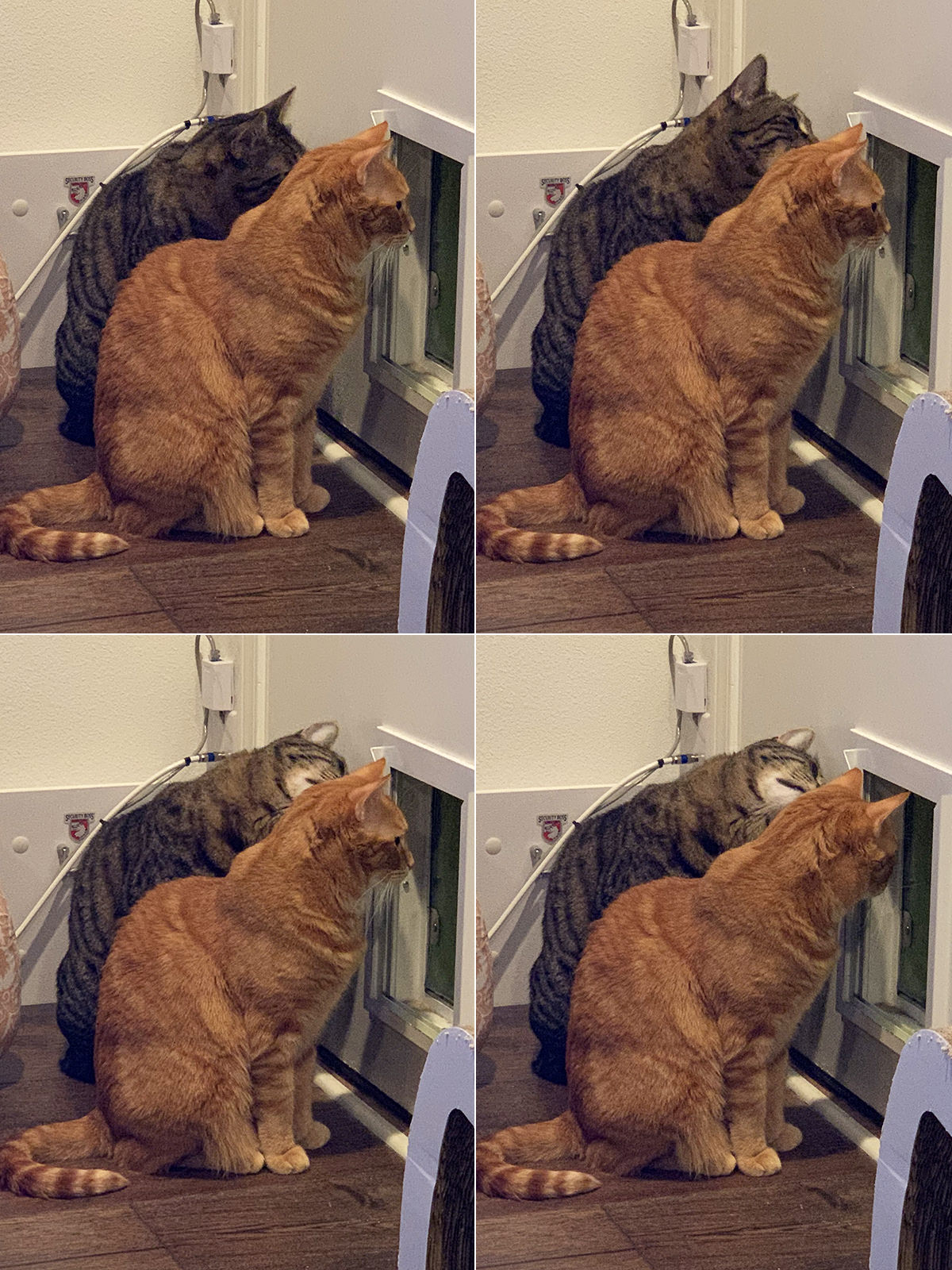 He looked outside sideways for several minutes until Jenny got bored and left.
Jenny gets bored easily. Which is why I think she likes watching television so much. Her favorite thing to watch is Rick and Morty. But I was re-watching Isle of Dogs recently and she was totally absorbed...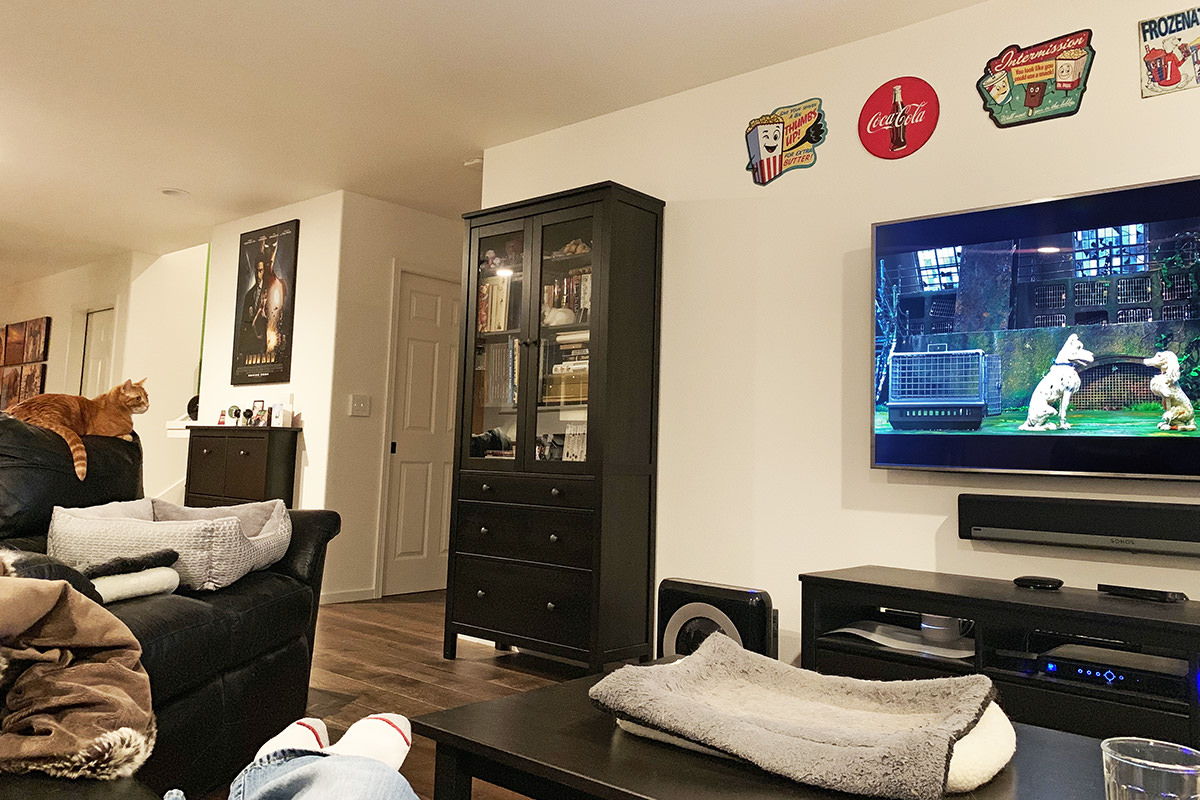 After a while she decided she wanted to sit next to me while watching the movie, which is what she usually does...
She's too adorable, even if she has a couple floopy whiskers...
She's even more adorable when she decides that the drawstrings on my favorite hoodie are more entertaining than what's on television. It only cost me $100 and I had to fly to the bottom of the earth to get it... but please do chew on my Hard Rock Ushuaia hoodie. It's fine...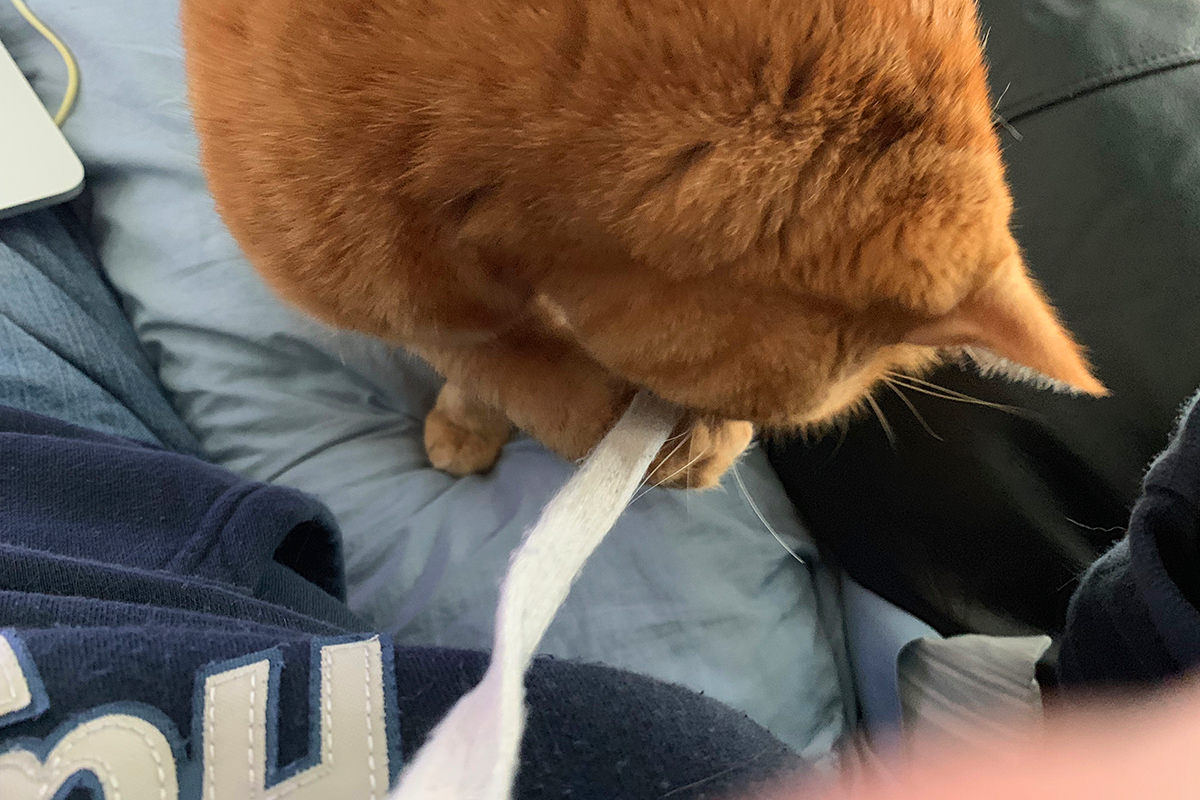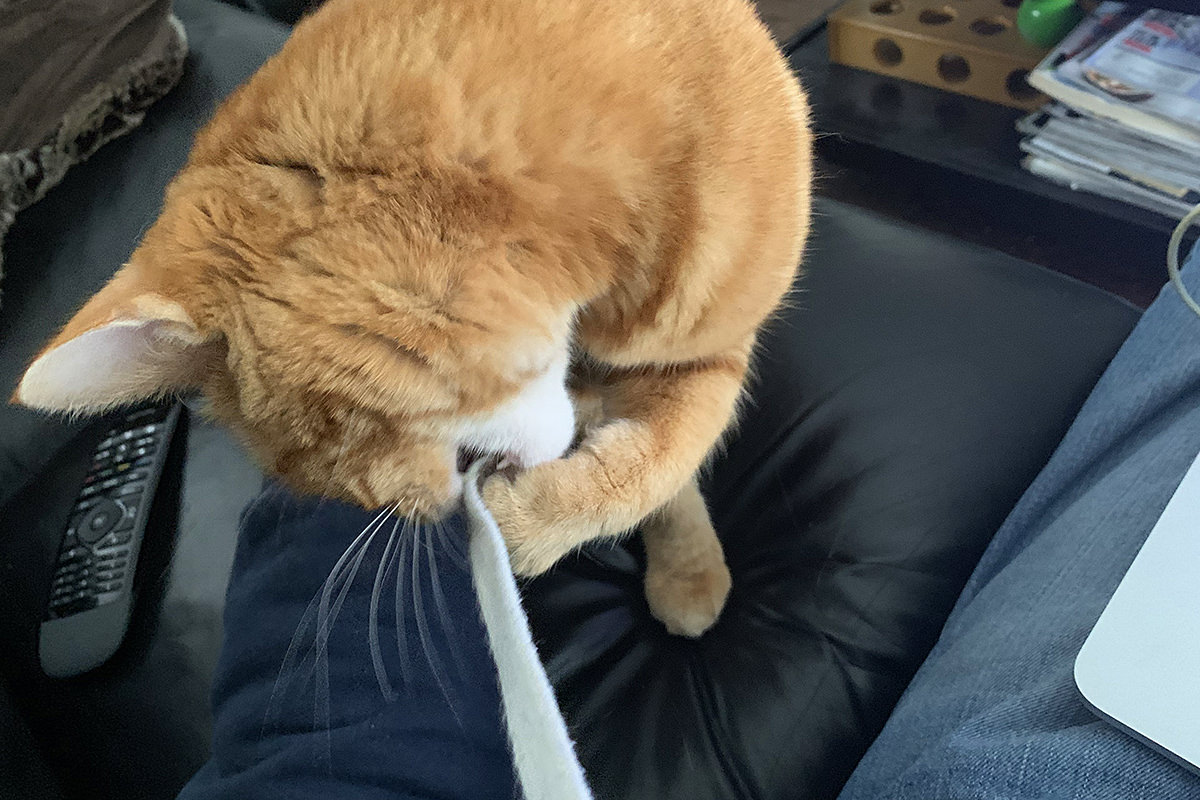 Jake never wants to sit and watch television with me. He just climbs on my lap and falls asleep. He does like my computer to scratch his face though. They both do...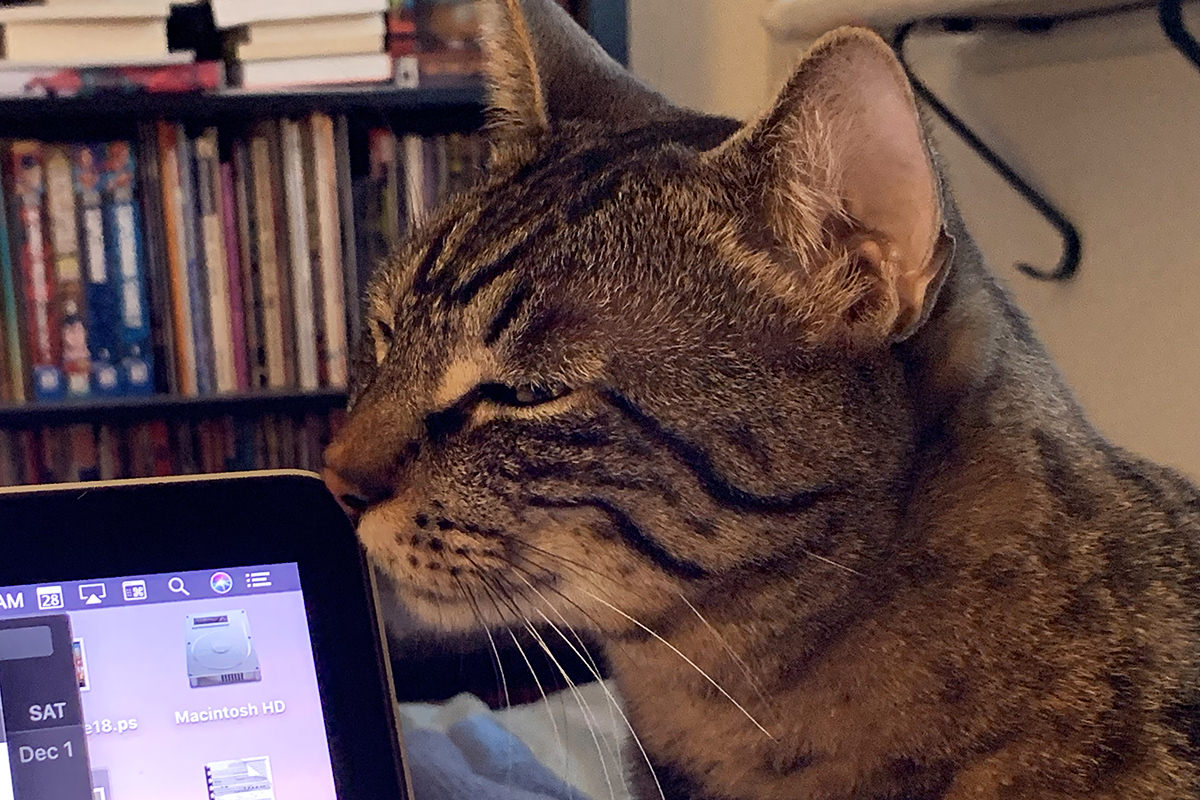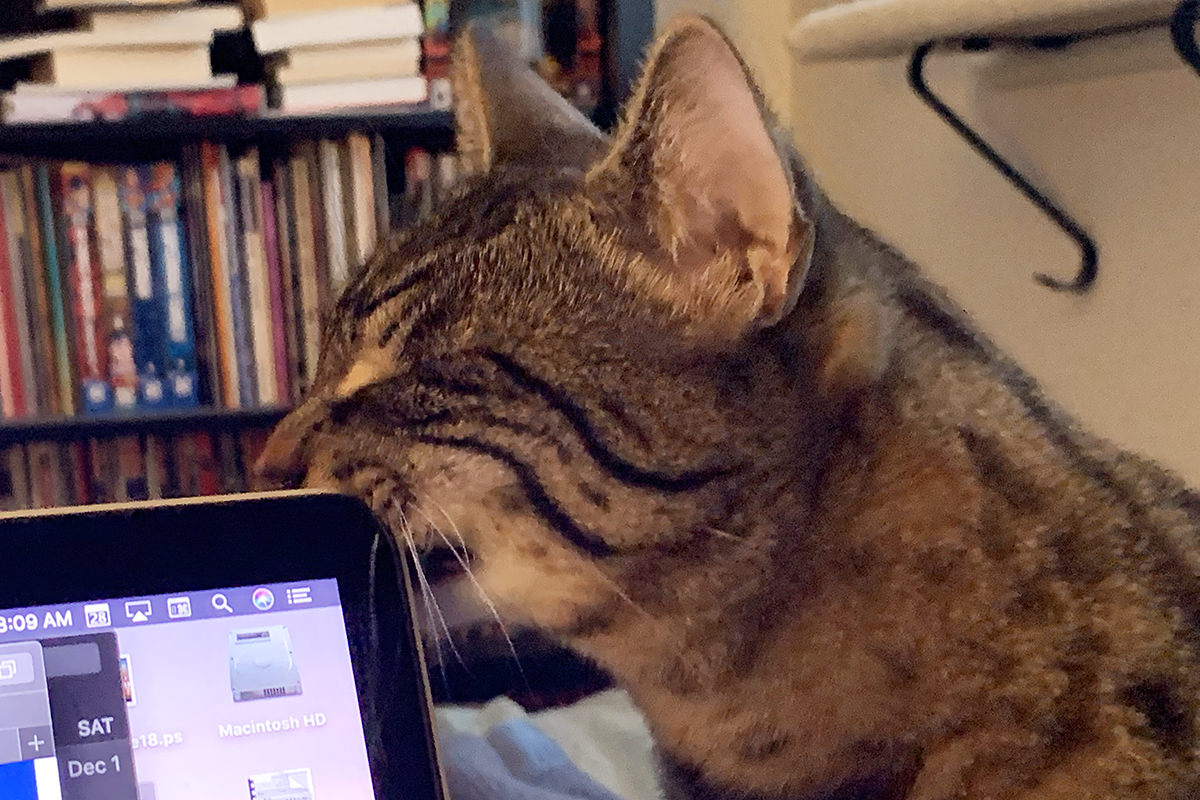 With the exception of my hoodie strings, my cats are surprisingly great about not chewing on stuff they shouldn't be chewing on. They are happy to chew on their toys when they feel the need. Assuming they let each other.
After dinner one day this past week, Jake was laying on the floor gnawing on Mufasa. Jenny comes bolting through the room, snatches Mufasa, then goes running to the stairs.
"JENNY! Why are you stealing your brother's toy?" I ask. She then drops the toy, runs up the stairs, and glares at me. I grab my iPhone to capture the moment, at which time she looks away and whistles. Or appears to be whistling. Can cats whistle? I dunno. So guilty!
Jake wasn't too bothered. A minute later he went out in the catio because he saw Fake Jake walk by.
Fickle kitteh.
See you next Caturday!