I bought Apple's "AirPods" when I got my iPhone X.
Since there was no more headphone jack, I pretty much had to. I mean, I'd purchased wireless headphones in the past... but they never had the sound I got from my faithful Sony buds, especially in the bass. AirPods were reported to have fantastic bass and nice clarity, along with being wireless, so they should be perfect, right?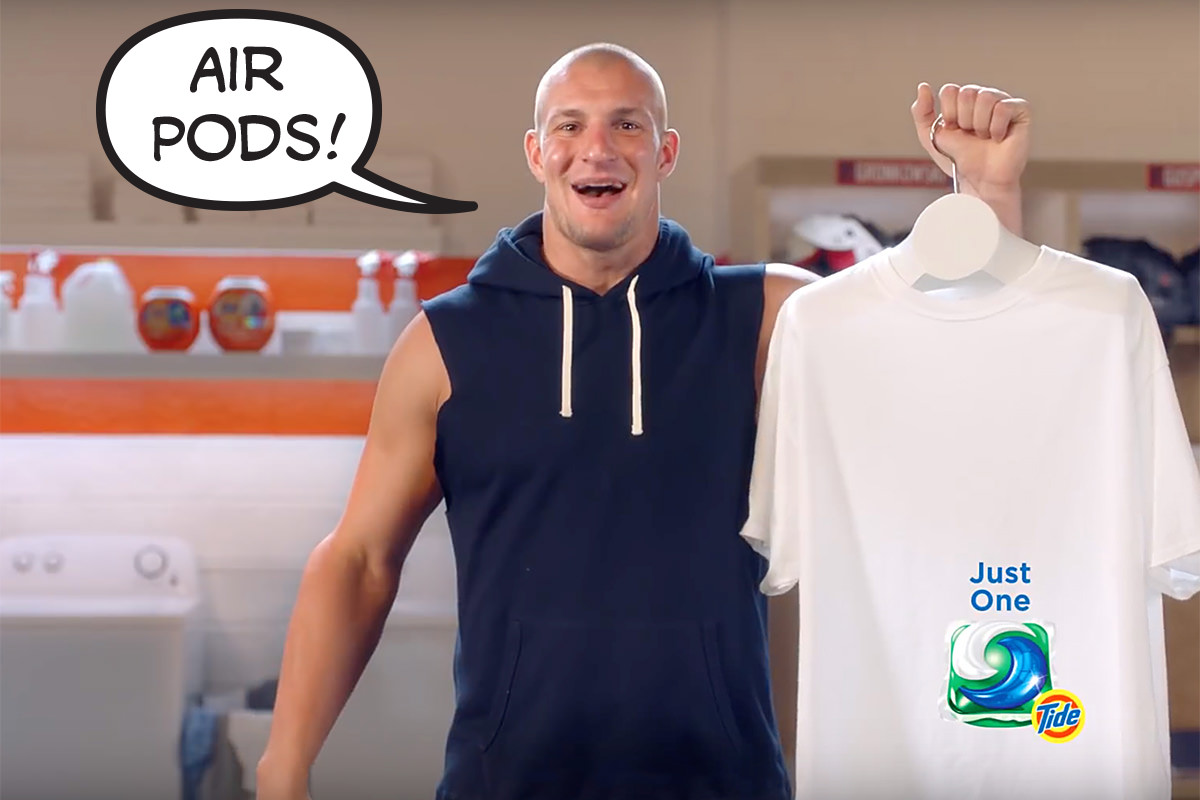 Not so much, no. I ended up returning them.
The sound was, as expected, fantastic (for an in-ear bud). But they would not stay put in my ears and fall out easily. Especially out of my left ear, which is apparently mutated or something. I was told I could buy some silicone "hooks" to wrap around the AirPods so they would "stick" better, but that was a crappy solution because then you have to take the hooks off in order to fit them in their recharging case.
I went back to the dongle adapter so I could plug my Sony buds into my iPhone X, which sucks ass because then I can't charge the dang thing at the same time. I bought a splitter, but it didn't work half the time. How much easier would my life be if Apple would just put the fucking headphone jack back in their fucking phones because I do not buy the bullshit excuse of "not enough room." Lazy. Apple just doesn't want to have an ugly hole on their pretty pretty phone.
Fast forward a year.
There I was trying to get rid of some expiring shopping points and I see that Apple AirPods are available. This was shocking because, despite being nearly two years old, they are still in high demand and sometimes hard to find. But... here they were (because I'm guessing that Apple is coming out with a new version any day now). My points plus $55 and they were mine. Never mind that I don't really have $55. Never mind that they don't fit in my ears. I figured that I'd buy them anyway then get some of those stupid silicone hooks. At $159, they were not worth that hassle. But $55? Maybe.
And that's when I decided to Google and see if other people were having trouble fitting them in their ears. Turns out I was not alone! I ran across a forum post on MacRumors that said dots of Nexcare tape can be applied and solve the problem.
I gave it a try and it kinda worked. But adding a third piece of the tape mostly worked...
All those dots and they still fit in the charging case! Perhaps with some experimentation I can figure out a better way of applying the tape so I won't have to use so much of it. As it is, I'm still incredibly paranoid about them falling out of my ears. I just hope I don't end up losing them, as that would be just my luck.
"But other than the fit, how do you like them?"
Well, they're pretty great.
The core to Apple's lone wireless earbud entry is their W1 chip, which allows for some interesting features. The best being the smart way that they pair and sync up with your iPhone automatically after they have been set up (speaking of which, setup is a breeze). The chip is also supposed to be highly energy efficient so you get great battery life (around 4 hours, give or take). Additional juice is stored in the charging case which, according to Apple, gives you a total play-time of 20 hours.
Ultimately "AirPods" are yet another case of Apple being Apple and coming up with something that is of exceptional quality and looks sublimely beautiful... but has questionable functionality because "functionality" always takes a back-seat to what Apple does. Perhaps if I come into some real money (unlikely given Jake's vet bills!) I can afford to get a pair of BeatsX earbuds ($120) or Beats Studio3 over-ear cans (AT THREE HUNDRED AND FIFTY DOLLARS!!!), both of which have the W1 chip. Or, since I'm reaching for the sky here, buy both... seeing as how I prefer cans for home or work and buds for travel.
Whether or not Apple gives a shit about what people actually need and has plans beyond AirPods is anybody's guess. If they could come up with a version of AirPods with variably-sized flexible silicone flanges to keep them in your ear... and a charging case which would accomodate them... something tells me a lot of Apple whores like me would be very happy.
Which would be a nice change of pace from how I've been feeling about Apple lately.