I bought Apple's "AirPods" when I got my iPhone X.
Since there was no more headphone jack, I pretty much had to. I mean, I'd purchased wireless headphones in the past... but they never had the sound I got from my faithful Sony buds, especially in the bass. AirPods were reported to have fantastic bass and nice clarity, along with being wireless, so they should be perfect, right?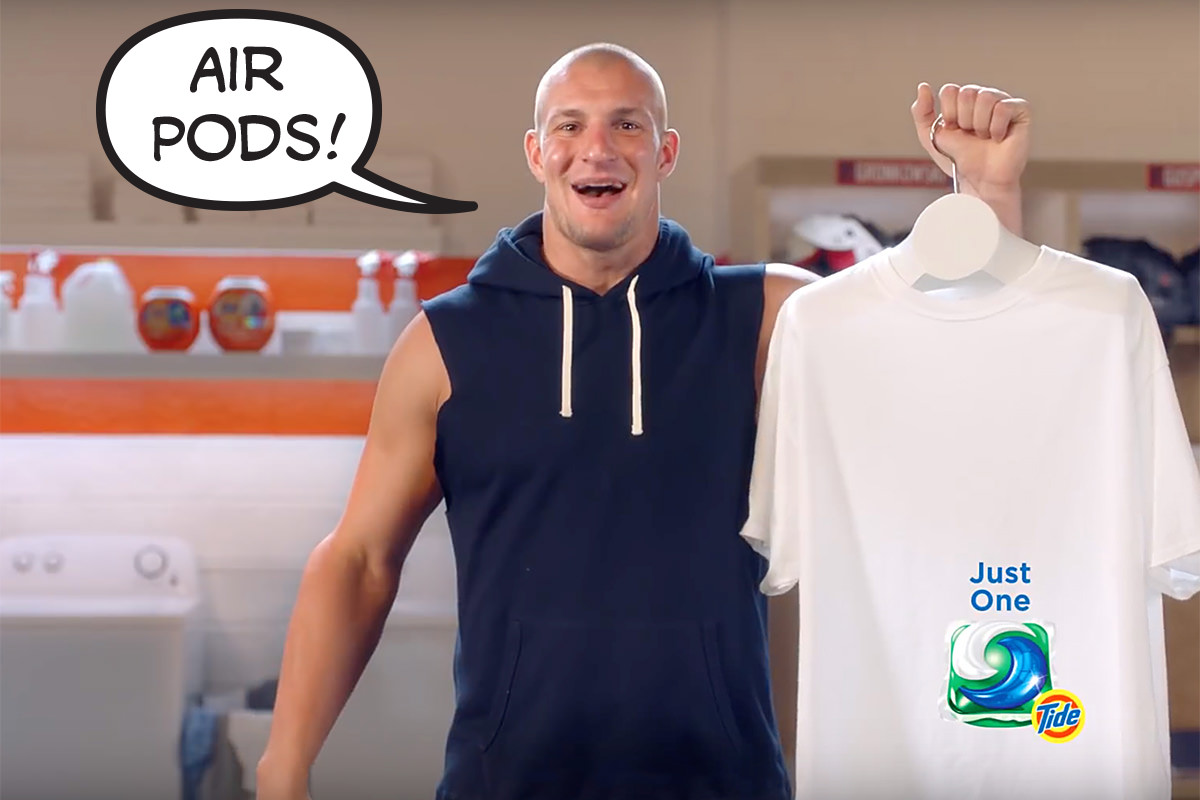 Not so much, no. I ended up returning them.
The sound was, as expected, fantastic (for an in-ear bud). But they would not stay put in my ears and fall out easily. Especially out of my left ear, which is apparently mutated or something. I was told I could buy some silicone "hooks" to wrap around the AirPods so they would "stick" better, but that was a crappy solution because then you have to take the hooks off in order to fit them in their recharging case.
I went back to the dongle adapter so I could plug my Sony buds into my iPhone X, which sucks ass because then I can't charge the dang thing at the same time. I bought a splitter, but it didn't work half the time. How much easier would my life be if Apple would just put the fucking headphone jack back in their fucking phones because I do not buy the bullshit excuse of "not enough room." Lazy. Apple just doesn't want to have an ugly hole on their pretty pretty phone.
Fast forward a year.
There I was trying to get rid of some expiring shopping points and I see that Apple AirPods are available. This was shocking because, despite being nearly two years old, they are still in high demand and sometimes hard to find. But... here they were (because I'm guessing that Apple is coming out with a new version any day now). My points plus $55 and they were mine. Never mind that I don't really have $55. Never mind that they don't fit in my ears. I figured that I'd buy them anyway then get some of those stupid silicone hooks. At $159, they were not worth that hassle. But $55? Maybe.
And that's when I decided to Google and see if other people were having trouble fitting them in their ears. Turns out I was not alone! I ran across a forum post on MacRumors that said dots of Nexcare tape can be applied and solve the problem.
I gave it a try and it kinda worked. But adding a third piece of the tape mostly worked...
All those dots and they still fit in the charging case! Perhaps with some experimentation I can figure out a better way of applying the tape so I won't have to use so much of it. As it is, I'm still incredibly paranoid about them falling out of my ears. I just hope I don't end up losing them, as that would be just my luck.
"But other than the fit, how do you like them?"
Well, they're pretty great.
The core to Apple's lone wireless earbud entry is their W1 chip, which allows for some interesting features. The best being the smart way that they pair and sync up with your iPhone automatically after they have been set up (speaking of which, setup is a breeze). The chip is also supposed to be highly energy efficient so you get great battery life (around 4 hours, give or take). Additional juice is stored in the charging case which, according to Apple, gives you a total play-time of 20 hours.
Ultimately "AirPods" are yet another case of Apple being Apple and coming up with something that is of exceptional quality and looks sublimely beautiful... but has questionable functionality because "functionality" always takes a back-seat to what Apple does. Perhaps if I come into some real money (unlikely given Jake's vet bills!) I can afford to get a pair of BeatsX earbuds ($120) or Beats Studio3 over-ear cans (AT THREE HUNDRED AND FIFTY DOLLARS!!!), both of which have the W1 chip. Or, since I'm reaching for the sky here, buy both... seeing as how I prefer cans for home or work and buds for travel.
Whether or not Apple gives a shit about what people actually need and has plans beyond AirPods is anybody's guess. If they could come up with a version of AirPods with variably-sized flexible silicone flanges to keep them in your ear... and a charging case which would accomodate them... something tells me a lot of Apple whores like me would be very happy.
Which would be a nice change of pace from how I've been feeling about Apple lately.

One thing I've been noticing lately is a lot of cars being pulled over by the police. In an age of labor cuts and dwindling budgets, it seems like even the cops are having to justify their jobs and increase revenue. This means a lot of tickets are probably being issued where they once were not. Because of this, I've been driving a lot more conservatively over the past year or so... but not everybody has gotten the message. When I was driving over to Seattle last week, I was twice passed by cars going way over the speed limit, only to catch up with them down the road after they had been pulled over.
Today it happened again. The police are not playing around. At least not in Washington State.
A part of me is happy about this, because there are people on the road who are downright dangerous and should be pulled over. But another part of me is concerned at the thought that the police may be going too far. If people are being pulled over for going 65 in a 60, for example, I don't consider this to be ticket-worthy. Even a temporary passing speed of 70 in a 60 should not be a ticketable offense if somebody is passing safely. Hopefully, things are not getting out of hand, because there's a fine line between "To serve and protect" and "To humiliate and harass."
Personally, I'd rather pay more taxes to the police so that they don't have ticket quotas and can focus on public safety and dangerous drivers... like the assholes who are slow-driving in the passing lane AND AREN'T PASSING ANYBODY! It may cost us more money, but at least it's not affecting our insurance rates, so we're saving in the long-run.
In the meanwhile... watch your speed, citizens!
Oh... for those of you who were asking which headphones I ended up with after my rant yesterday...

Blogography's Bose AE2 Audio Headphones Review
Bose is one of those companies that usually gets massacred at review sites because most everybody seems to think they are overpriced and have poor sound. This is kind of surprising because every time I've stopped at a Bose kiosk and given them a listen, I've been relatively impressed. No, they're not going to win in a contest against $1500 studio reference cans (obviously) but, for the most part, I think they're worth the money they charge.
I have four sets of earbuds, with my favorite being the Klipsch S4i. The problem is that earbuds become uncomfortable for me after a while, and I was wanting something that went over my ears like a traditional headset. Unfortunately, the three pairs I tried at the mid-low-end (JVC, Sony, and Skullcandy... each $50 or less) were not at all comfortable. It finally got to the point that I didn't even care about the sound, all I wanted was something that didn't squeeze my brain or dent the top of my head. A Google search for "most comfortable headphones" eventually led me to Bose. Target had a listening station and AE2's in stock for $20 off ($130 total). They were about $60 more than I wanted to spend, but oh well.
My thoughts on my new cans can be found in an extended entry...
→ Click here to continue reading this entry...