As I've mentioned more than a few times, I'm a huge, huge, massively huge fan of Kehinde Wiley's work. When he had his first solo exhibition in Columbus, Ohio... I flew there to see it and was not disappointed. I also attended his 2013 show at The Jewish Museum in San Francisco, which was equally amazing.
So imagine my surprise when President Obama's presidential portrait was unveiled and it was painted by... Kehinde Wiley!
It's just as glorious as I knew it would be before I even laid eyes on it...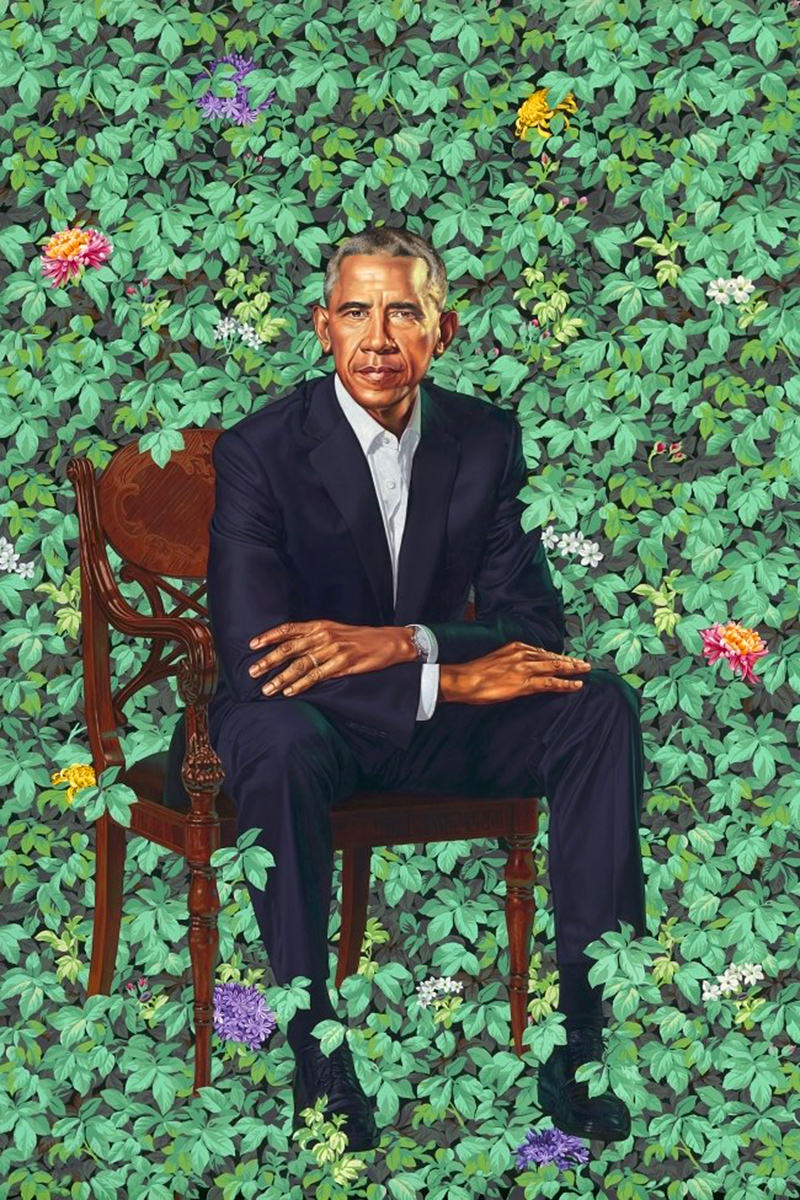 This tiny photo will not do the actual painting justice. Wiley's works are vivid, powerful, and larger than life in a way that simply cannot be captured unless you are viewing it in person.
I am also familiar with Michelle Obama's portrait artist, Amy Sherald, and find her work to be beautiful as well. And while I do think the First Lady's painting is perfectly lovely, I wish it had a bit better resemblance to her...

Needless to say, the fact that these portraits... and their subjects... are a departure from what has come before means that the Hate Brigade is out in full force.
And I get it. If you don't like the paintings, fine. If you think that the paintings stray too far from what you feel is acceptable for presidential portraits, fine. That's your opinion and you're welcome to it.
But opinions on the work was not where most of the hate was leveled.
FOX "News" personality and professional piece of shit, Sean Hannity, posted some bizarre crap to Twitter about President Obama's portrait... which was subsequently deleted and blamed on somebody else (of course). And, speaking of racist pieces of shit, a South Carolina resident who is on a city's transportation committee took the opportunity to call our former president a Muslim and the N-word.
And of course we also had to endure the whole "Reverse Racism" myth because Kehinde Wiley reimagines classical-style subjects and paintings with the Euro-centric subjects swapped out with Black men and women. This included a reimagining of the biblical tale of Judith beheading Holofernes which, despite Wiley having spoken about it on more than one occasion, was used to call President Obama a "racist" because of his portrait artist choice.
I'm seriously running out of eyerolls at this point.
Anyway, if viewing Kehinde Wiley's stunning works compells you to learn more about him, I highly... highly... recommend watching the PBS documentary Kehinde Wiley: An Economy of Grace. It's a fantastic look into his art, his process, and his world, and you can see a preview of it here...
The full documentary will probably be playing on your local PBS channel sometime soon because of this added exposure, but you can also rent it for $4 or purchase it for $10 on iTunes.
And now... time for me to revisit my exhibition guide from his Columbus art show.