Temperatures finally breached 100° this week, so the air conditioner had to be turned on. Darnit. Odds are it's going to stay on because the forecast is up there for the next ten days. Probably longer.
So much for tiny electricity bills.
Even though I set the temperature between 74° and 76° and use ceiling fans, it's a goodly chunk of money to keep everything in the house from melting.
Including the cats.
And then...
Back in 2015 when Apple released the latest and greatest 4th generation Apple TV, I purchased one to replace my aging 2nd generation unit (which I moved to the guest room). Despite the remote being shit, I was happy with the upgrade. At first. Eventually I found out that the unit had horrible problems streaming video from Apple. Other sources... Netflix, HBO, Showtime, YouTube, Hulu, you-name-it, were all working fine on Apple TV, it was just my iTunes Store purchases that were stuttering and crapping out... or not loading at all.
So when I ended up winning a second Apple TV from an incentive give-away, I just tossed it in the closet. My bedroom TV has Netflix built-in, so I figured I'd just wait until somebody came up with a hack to turn the Apple TV into a web server or something. Since it had problems streaming my rather large collection of Apple media, it just wasn't worth messing with.
Until Game of Thrones Season 7 was announced to be arriving.
My bedroom TV doesn't have an HBO app, so I decided to dig out the extra Apple TV so I can watch Thrones in bed as God intended.
But first I had to find the thing, because I had no idea what happened to it during the move. I've been searching off and on for weeks to no avail. And then this morning I finally found it.
By accident.
My cats have been acting crazy, so I decided to start putting my iPhone charging cable in the tiny empty cupboard above my range hood and microwave where they couldn't get to it... and... voilà...
My "empty" cupboard contained an old phone book, a Hershey chocolate candle, and... my missing Apple TV. In all honesty, I do not remember putting it in there. I don't remember putting any of it there. I can't even think of why I'd have done it.
Probably so I wouldn't lose it?
Jenny helped me set it up...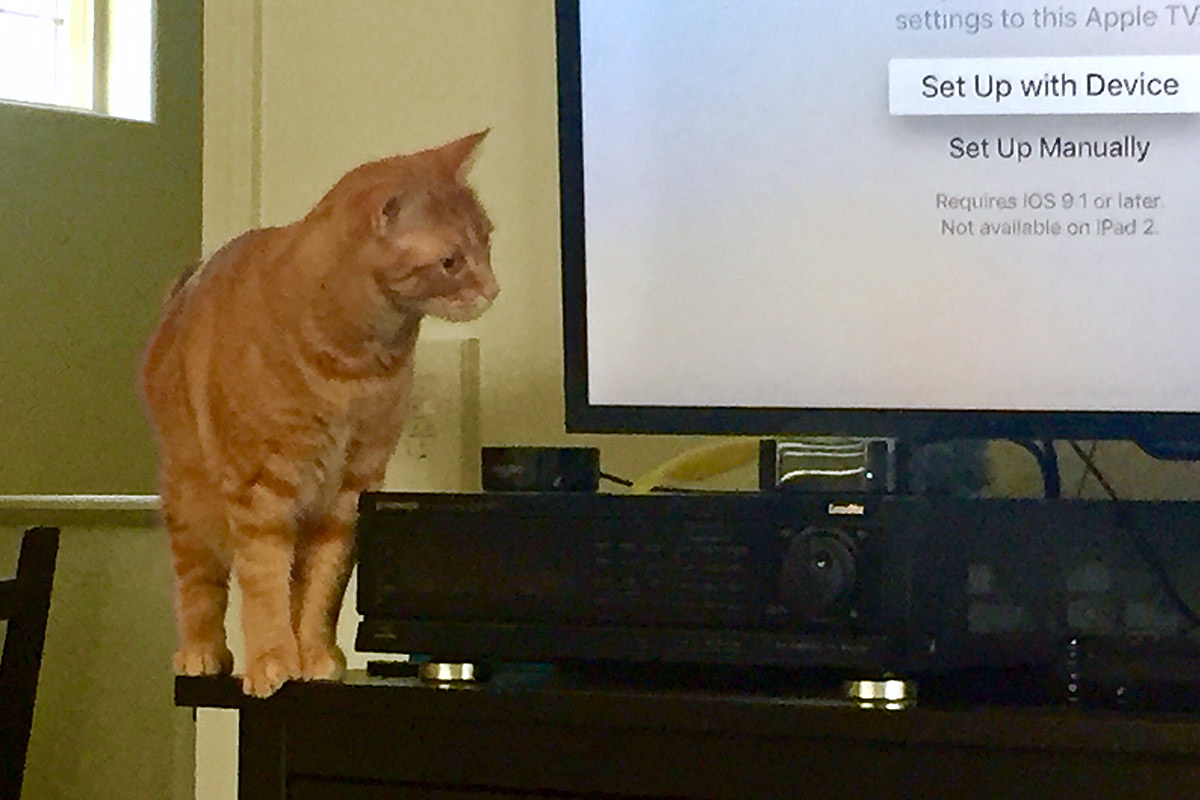 And... ready for new Game of Thrones on the 16th!