Adopting Jake and Jenny have me contemplating a lot of "What If?" scenarios.
The biggest "What If?" being... What if I hadn't adopted them? What would have happened? I came very close to not getting them because I didn't understand the rules at the Humane Society. If it wasn't me, I'm sure somebody would have adopted the kittens... they were tiny and adorable after all. But they likely would not have been adopted together, and I have a mild panic attack at the thought of Jenny having been separated from her brother at the beginning. Now she would do fine. But, as a kitten, she took a lot longer to come around. The only thing that helped keep her from being terrified for months was that she had her brother to lean on.
Another "What If?" that plagues me is... What if I had gotten to adopt Jake and Jenny's brother? I certainly wanted to once I learned there were three siblings. But somebody had "reserved" the third kitten, which was something I didn't even know was allowed...
The only thing I do know is that his name would have been Roger. The name I wanted to give Jenny before my mom forbid it.
Ultimately, two cats is what I wanted, and I do think that a third would have added some difficulty with my travel. Litter Robot would need to be emptied faster, so I couldn't be gone as long. Feeding would also be more complicated. So... all's well that ends well. At least I hope that's true for Could-Have-Been-Roger.
Anyway...
Jenny has become addicted to television. Every night she waits for me to head upstairs, then runs ahead of me... excited that we get to watch TV in bed. And heaven help me if I don't turn it on fast enough! She will start meowing at the television until I do...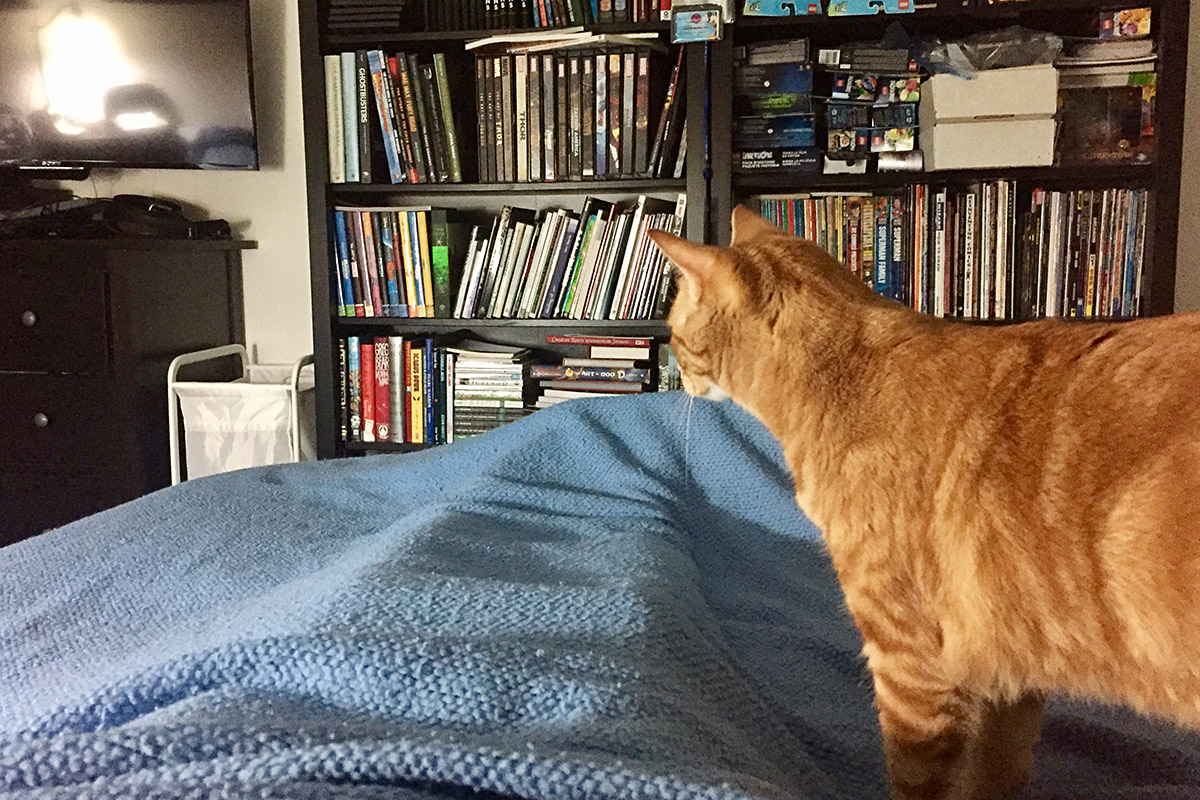 Once it's on, she'll have a seat...
And watch for an hour or more...
She likes shows with people talking the best. The West Wing is a favorite. She does not like action-packed shows very much. The noise and fast camera swaps seems to be a turn-off.
If it's too late... or I am concentrating on work and don't want the TV on... Jenny will sit and stare at me with a disapproving look on her face if I ignore her meowing...
When that doesn't work, she throws herself down and pouts...
Other than TV time in bed, Jenny doesn't hang out with me very often. Could be because Jake has been really clingy lately. He's on me in the morning before I go to work. Taking a nap while Jenny hauls up her morning tributes...
And on me in the evening when I get home from work...
Covered in cats from sunrise to sunset.
There are worse ways to spend a day.