Every once in a while it hits me just how much travel has changed since smartphones entered the scene.
The biggest change for me has been eliminating maps and guidebooks. It was something I put off for the longest time, because I absolutely love maps and guidebooks. Especially printed maps. You can get lost in a destination before you even arrive just by unfolding a map. But the benefit to having everything on a phone you're already carrying cannot be understated. Nor can the built-in GPS, which makes getting lost almost impossible now. I'm not completely convinced that's a good thing... I've discovered many a treasure while lost in foreign lands... but it sure makes getting around a lot less intimidating.
Then there's getting rid of boarding passes. How liberating is that? I never realized just how awful it was being chained to a printed boarding pass. Even when we got the ability to print them ourselves, it could still be a burden. Especially if you're out of toner or the hotel's printer is broken (which happens more times than you'd expect!).
And how about music and videos? Two pieces of equipment you no longer have to stuff in your backpack.
And then there's travel apps.
There truly is an app for just about everything, and collecting the best travel apps is an obsession that I've been occupied with since apps first appeared.
Probably my most favorite... by a long shot... is a genius app called FlightTrack and, to a lesser extent, it's companion app called FlightBoard.
FlightTrack siphons your travel itineraries off TripIt and keeps track of your flights for you (or you can manually add them to your list). When you travel a lot, that's already a godsend... but it does so much more. If you have access to internet while inflight, you can also track your progress from the map screen...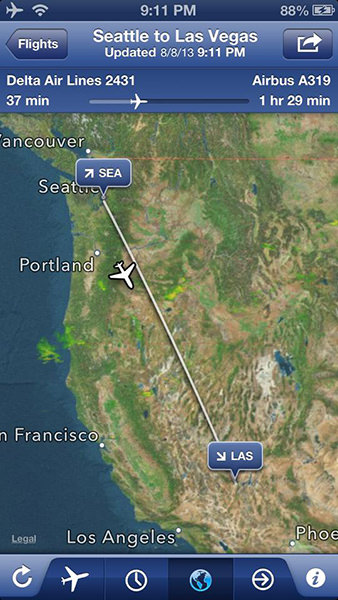 In addition, it pushes gate changes, flight status, and other useful information to your phone's messaging system... this is also a godsend when you have a tight connection and need information fast...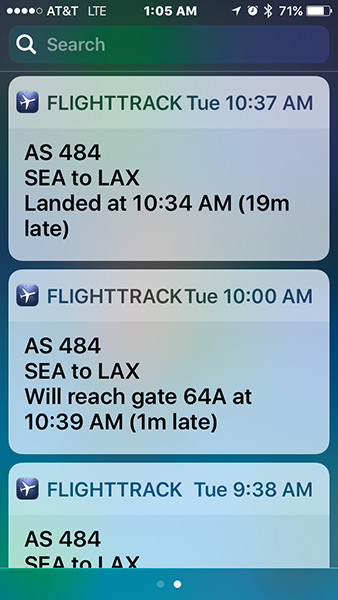 The companion app, FlightBoard gave you access to an airports flight board so you can get information on all the inbound and outbound flights. I used this a little bit for finding alternate flights... and a lot for picking people up from the airport...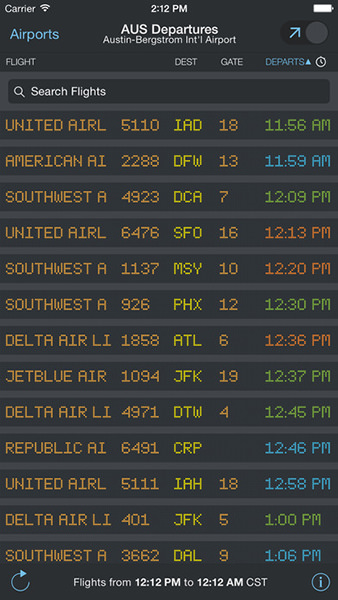 Pretty amazing, right?
Except both apps are now dead.
Expedia bought both apps from Mobiata, then purged them while I was in the middle of my L.A. trip last week. The apps worked on the way down to California... but on my way back it was non-functional. A visit to the Mobiata website told the story...
Dear Friends,

There is never an easy way to share disappointing news. So it is with great appreciation and respect for your many years of loyalty that we share the difficult decision we've made to sunset our FlightTrack 5 and FlightBoard apps.

For many of you, this isn't surprising news. We haven't provided much maintenance or improvements to either app over the past year. Regardless, you haven't faltered in letting us know how much you love the apps. Although this is sad news, our hope is that over the past eight years the apps have served you well during your many travels.

So why are we doing this? The travel market is a rapidly changing place and companies, big and small, must constantly be able to innovate in real-time and predict market trends. Recently, Expedia's mobile team conducted a critical assessment of the growing market demand for travel app products that offer one-stop shopping, itinerary management, and unique, customizable experiences.

Expedia, our parent company, is dedicated - as are we - to delivering this kind of mobile experience. To this end, we are bringing Mobiata's passion for combining beauty with technical excellence to the Expedia app. Our goal is to contribute to creating the most visually stunning and useful travel app in the world. Don't be surprised if you see a little bit of our FlightTrack and FlightBoard ingenuity appearing in the Expedia app down the road.

Needless to say, this sucks.
I have looked through every app claiming to have similar functionality, and none of them come close to the beautiful design and functionality that FlightTrack had. Just as my travel got a little bit better with FlightTrack in my life, it just got a little bit shittier now that it's gone.
I wonder which brilliant app I use will be bought out, shitted on, then purged next?