One of the first things on my agenda while in San Francisco was to see
Doctor Strange
in IMAX 3D. Apparently it's filled with trippy visuals that make this the only acceptable way to see it. So I drop off my stuff and rush to one of the best IMAX theaters in the country... The Metreon... only to find out that their
last ever IMAX showing
of
Doctor Strange
was 40 minutes ago. From now on they're only showing the latest Harry Potter film (
Fantastic Beasts?
) in the IMAX theater. What a bummer. Then I remembered that there was a "Mini IMAX" up on Van Ness, and decided that was probably the next best thing. So off I went...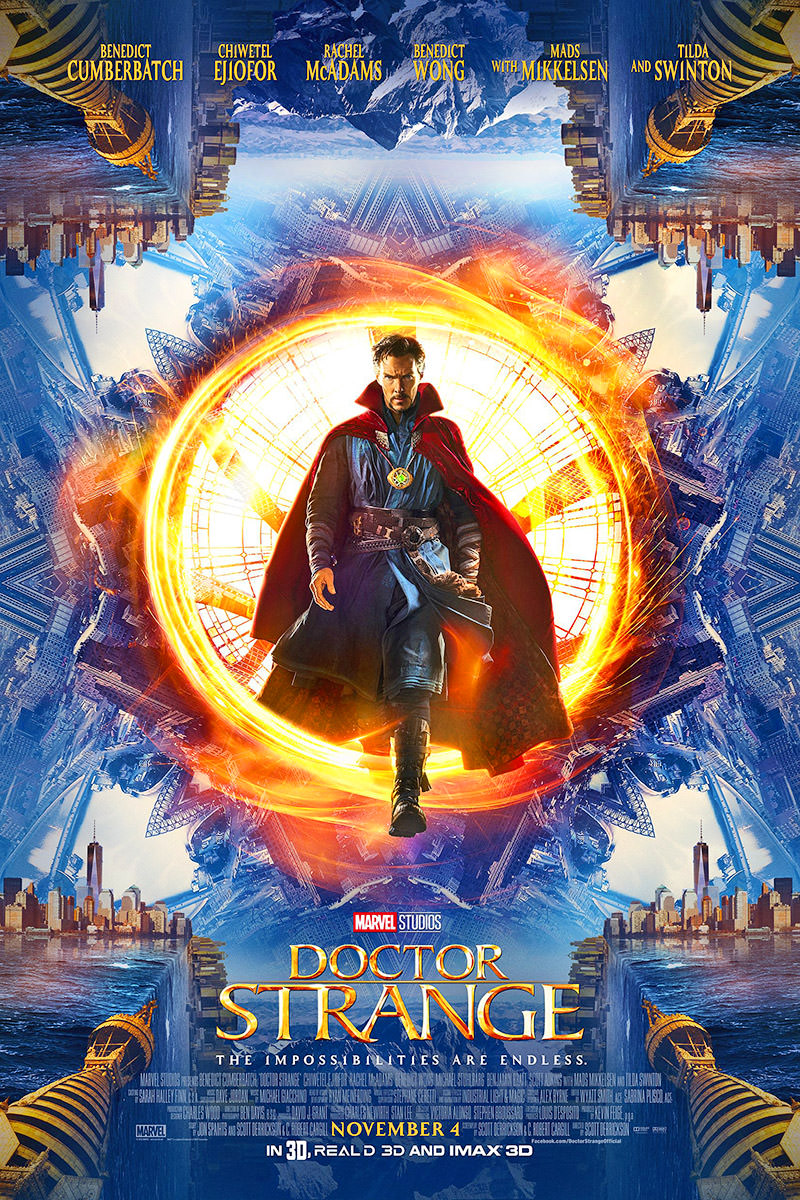 The movie was pretty darn close to perfect. Painfully faithful to the comic book character in all the most important ways... with a few minor changes that didn't spoil it for me. Arrogant surgeon Dr. Stephen Strange is at the top of his game... wealthy, powerful, brilliant at his job, and able to pick and choose where his talents will be used. But then one night he's texting while driving, gets into a devastating car crash, and his hands are ruined in the process. Desperate to become a surgeon again, he wastes away his fortune looking for a cure for the severe nerve damage that makes his hands shake uncontrollably. Then, when all hope is lost and he's on his last dollar, he travels to Kathmandu in Nepal to chase down a mystical cure he stumbles upon. There he meets The Ancient One who trains him to save lives not with a scalpel... but with the mystic arts. Thus magic has come to The Marvel Universe. Awesomeness across the dimensions of the multi-verse ensues. The biggest controversy in the film was changing The Ancient One from an older Chinese man to a younger Celtic woman (wonderfully played by Tilda Swinton). This was done partly to sidestep some stereotype landmines, at which it was mostly successful. The other elephant in the room was changing the location from Tibet to Nepal... a move which was made to appease the film board in China so it could be cleared for release in their country. This was a change that bothered me more than The Ancient One, because Tibetan mysticism is at the core of the character. But, oh well... when your budget investment for a film is this massive, I guess you can't afford to cut yourself out of a profitable market. Marvel adjusted their filming and release date for
Doctor Strange
specifically to accommodate Benedict Cumberbatch's schedule. This was an incredibly smart move, because he is flawless as the character. He
IS
Dr. Strange. This seems to be something that Marvel excels at. Could anybody but Robert Downey Jr. play Tony Stark as Iron Man? Chris Evans as Captain America? Paul Rudd as Ant-Man? Scarlett Johansson as Black Widow? Chris Hemsworth as Thor? Hell, I even have a hard time seeing anybody but Jeremy Renner as Hawkeye! Cumberbatch inhabits the character with a near-unsettling ease, and it's incredible entertainment to watch. If you have the opportunity, see the film in IMAX 3D. It's worth the effort, as the visual effects are mind-blowing to behold that way. Right now I can't decide whether
Doctor Strange
or
Captain America: Civil War
is my favorite super-hero film of 2016. It's a very close race. I rate
Civil War
higher, but
Strange
could leapfrog after being so brilliant and fresh. Time to update my "Y2K Super-Hero Comic Book Renaissance" scorecard with another brilliant Marvel effort...
The Avengers
...
A+
Avengers: Age of Ultron
...
A
Batman Begins
... A
Batman Dark Knight
... A+
Batman Dark Knight Rises
... A
Batman vs. Superman: Dawn of Justice
... D
Big Hero Six
... A+
Blade
... B
Blade 2
... B
Blade Trinity
... B-
Captain America
...
A+
Captain America: The Winter Soldier
... A+
Captain America: Civil War
...
A++
Catwoman
... F
Daredevil
... B-
Daredevil (Director's Cut)
... B+
Deadpool
... A
Doctor Strange
... A
Elektra
... D
Fantastic Four
... C
Fantastic Four: Rise of the Silver Surfer
... D
Guardians of the Galaxy
...
A+
Ghost Rider
... C
Ghost Rider: Spirit of Vengeance
... D
Green Hornet
... D
Green Lantern
...
C+
Hellboy
... A
Hellboy 2: Golden Army
... A
Hulk
... C-
Incredible Hulk
... B
The Incredibles
...
A+
Iron Man
... A+
Iron Man 2
... A-
Iron Man 3
...
A+
Jonah Hex
... F
Kick-Ass
...
B+
Kick-Ass 2
... B-
Man of Steel
...
F-
Punisher
... C+
Punisher War Zone
... C
Scott Pilgrim vs. The World
...
C
Spider-Man
... B+
Spider-Man 2
...
A
Spider-Man 3
... D-
Amazing Spider-Man
... B
Amazing Spider-Man 2
... B-
Superman Returns
... C+
Thor
...
B+
Thor: The Dark World
... B
Watchmen
... B
The Wolverine
... B
X-Men
... C
X-Men 2: United
...
D
X-Men 3: Last Stand
... F-
X-Men Origins: Wolverine
... D
X-Men: First Class
...
B
X-Men: Days of Future Past
...
B-
X-Men: Apocalypse
...
D+