Welcome to Home Automation Week at Blogography!
Probably the most famous of home automation toys is Nest, the Learning Thermostat. The brainchild of a couple of ex Apple engineers, their "smart thermostat" took home automation into the mainstream. Able to smartly control your heating and cooling system, Nest is simple to install, easy to use, and makes a real difference when it comes to saving energy and money.
So when it came time to pick a "smart thermostat," Nest was the obvious choice for me... especially since I already had invested in NestCam as my security camera of choice.
But then I started doing the research in HVAC forums and found out that Nest might not be my best choice after all.
So I went looking for alternatives.
One of the first products to jump out at me was Ecobee3. Of all the choices, it seemed to get the best mentions by HVAC technicians. And the reviews were good. And I liked that it features the ability to monitor multiple rooms to figure out a best temperature setting. And of course it has all the usual energy-saving smarts you'd expect...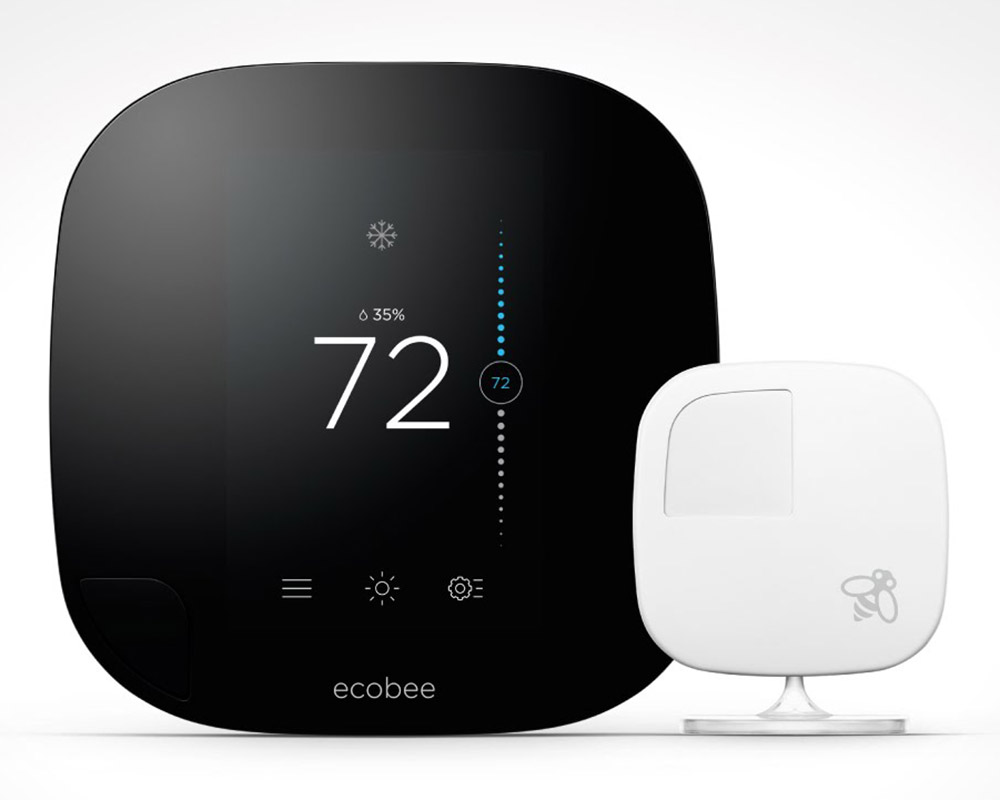 What was unexpected is that it can also control the whole-home humidifier I'm installing. I had hoped that this meant the remote room sensors would be monitoring humidity as well as temperature but, alas, this is not the case. Still, handy.
When it comes to controlling your Ecobee3, it comes with a beautiful color touch-screen and equally impressive minimalist interface. You can also use your iPhone (or Android, if you're so inclined) to control your thermostat from anywhere in your home... or anywhere in the world you have internet access.
One of the more interesting aspects of the Ecobee3 is that both the main controller and the remote monitors have motion sensors. This enables your thermostat to automatically determine when you're home and away... and also to follow where you're at so that the temperature is exactly where you want it wherever you are. The main unit's sensor activates the touch controls when you are near it and goes into a "display mode" (where the controls disappear) when you're away.
A nice feature that's so logical it seems a glaring omission for smart thermostats that don't have it... is integrated weather. This helps Ecobee3 figure out how to best use your heating and cooling resources to keep your home at the desired temperature. It also allows the unit to save on energy costs by using outdoor ventilation to cool your home when the outdoor temperature drops after the sun goes down in the summer (assuming your HVAC system can do that). And of course you can view the current weather and forecast at the touch of a button.
At first I thought the remote sensors were kind of gimmicky, but then I saw how Ecobee3 can integrate them into the system. At night, for example, you can tell the thermostat to ignore all but the bedroom sensors, because that's all you're really going to care about. Clever.
I've not had my Ecobee3 long enough to know if the "DataRhythm" technology is savings me big money (it takes a month before any of the main features are available), but the "HomeIQ" web portal keeps track of all kinds of information so you can fine-tune your HVAC system to get the most bang for your buck once everything kicks in. It seems fairly comprehensive, so here's hoping.
Overall, I'm very happy with the Ecobee3. It's easy to use, has features for days, has an excellent interface for my iPhone, on the web, and on the thermostat, and could end up saving me some money. As if all that weren't enough, it's also Apple HomeKit enabled. So if Apple ever gets their shit together, that could be a big plus.
If you're looking to dip your toe in home automation waters, a smart thermostat might be a good place to start. And if the Ecobee3 is compatible with your HVAC system, it might be worth a look.