Welcome to Home Automation Week at Blogography!
When it came to installing cameras in my newly-automated home, I thought I would use the cameras I already had. They're older, but they still work perfectly fine. Most of the time. Kinda.
Okay, they suck. They're finicky and don't always work. They have a limited viewing angle so you have to pan to see everything, which is almost impossible to do remotely. You can't store footage to review past events... at least not easily. Worst of all they are a total bitch to set up and maintain. But they were relatively cheap and capable at the time I bought them, which is why they're here.
Time to upgrade.
Of all the home automation devices I bought, figuring out which camera system to get was by far the most difficult decision.
The obvious choice seemed to be going with INSTEON, since that was where most everything else came from. Unfortunately, their camera solutions are terrible. Barely a step above what I have now. Even worse, they're not really an integrated solution at all. They're just old FOSCAM models that have been re-branded for INSTEON and slapped on to the system half-assed. Complaints are legion about how difficult they can be to set up and maintain, which is what I hate most about what I've got now. Which means INSTEON cameras are not at all what I was looking for.
Luckily, there are a lot of other options.
Too many options, actually.
But one model kept rising to the top over and over again... DropCam.
Which was bought out by the Nest thermostat people (which was, in-turn, bought out by Google). Which means DropCam is now NestCam. Which wouldn't be a bad thing, except a lot of people have been complaining about lost functionality with the Nest app compared to what DropCam had. But, in the end, the things that NestCam did right were the things I most wanted to have, so I decided to buy one and try it out.
I loved it.
So frickin' easy to set up. You plug it in, scan the QR code on the back with the iPhone app, then connect to your network. That's it. And once you get it set up, it's solid. Over the past couple weeks there has been -zero- flakiness. The camera always works, it has a wonderful wide-angle lens. It has excellent night-vision. It has motion detection alerts sent to my iPhone. It has online storage (for an extra fee) which is dead-simple to scan through... even remotely. The image quality is fantastic. There are even multiple mounting options. I cannot say enough good things about NestCam. I now own four of them...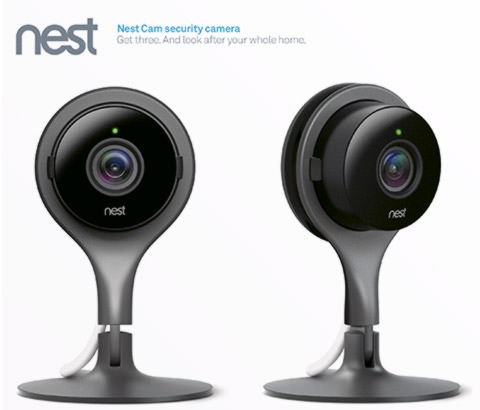 My hope is that one day Nest will offer a firmware upgrade that will allow their cameras to integrate with Apple's HomeKit. I'm not holding my breath, however, as Nest is building it's own competing architecture, and Google may not want to throw a bone that big Apple's way. Which is a bummer, of course... I'd love to be able to have my cameras be able to pass any detected motion to the rest of my home automation system... but even without that feature, they're still too good to pass up.
Not a bad acquisition for what started as a thermostat company!
And speaking of thermostats... what's in store for the final installment of Home Automation Week here at Blogography? Guess you'll just have to tune in tomorrow to find out...