Well that was... uhhh... horrible.
I had planned on doing a little serious analysis on the Republican Presidential Candidate Debate that went down this evening, but the whole thing was such a farce that there's nothing I can actually take seriously...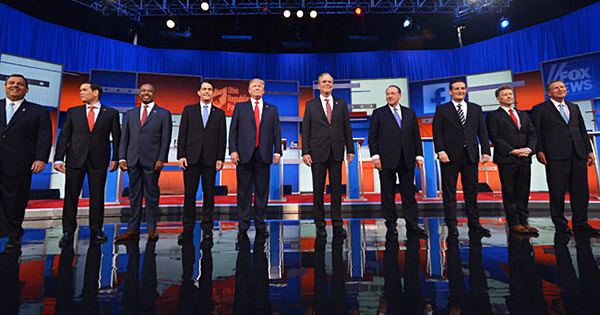 Photo from Getty Images

Though I would be hard-pressed to pick a "winner" for the evening, I think it's pretty safe to say that Carly Fiorina and Marco Rubio were the stand-out candidates. Realistically, anyways. One could make an argument for Donald Trump (and they wouldn't be wrong... he definitel stood out) but he's just not a realistic option, and most of his time was spent reinforcing why he'd make a awful president. What a petty, useless, waste of a human being.
Picking a loser is far easier. Rand Paul is such an attention-grabbing dandy douchebag that he actually makes Trump look sane by comparison. I definitely get the appeal from a Constitutional standpoint. If you're into it, that's all he does. But the guy lives in Fantasyland, and his policy positions are so unrealistic in the world we live in that he's nothing more than a pathetic joke.
The big surprise for me was just how bad Jeb! Bush comes across. For the longest time now I've distilled this race down to Bush vs. Clinton 2016... but now I just don't know. Jeb! doesn't feel the least bit presidential. Not that it matters. His brother felt even less presidential... and he was the president. Putting Ron Paul aside, nobody had a worse night than Bush in my humble opinion.
Scott Walker needs to remember that he has to appeal to women voters. I hope he and his imaginary friend fetus are very happy together, because neither of them are going to The White House.
Ben Carson impressed... but not enough. I don't see anything in him that would ignite the Republican base to turn out in droves during the big election.
John Kasich was probably the most helped by the debates because he did okay and people actually knows who he is now. Problem is... he is grossly overshadowed by just about every other candidate in attention and recognition.
As for Huckabee, Cruz, and Christie? They can go fuck themselves. Like Rubio, I think they're all self-absorbed assholes who have no interest whatsoever in representing all Americans, and I don't give two shits about any of them. In other words, they're Trump without the cash. The difference being that at least Trump is honest about what he is.
So... Fiorina vs. Clinton?
Blech.
I have no qualms... none whatsoever... about us getting a female president. On the contrary, I welcome the idea of a woman Commander in Chief with an enthusiasm that I can barely contain. But these women? Not on your life.
Fiorina ran HP into the ground on a bunch of shitty decisions that have me questioning her sanity... let alone her ability to run the country. On top of that, her tirades against Planned Parenthood and women's reproductive health have me seriously questioning her commitment to her own gender.
Clinton's tenure as Secretary of State was a massive failure and I've slowly come to loathe everything she stands for. Her meddling fucked up Libya beyond repair and is indebted to foreign interests and defense contractors up to her eyeballs. Despite all her proclamations, she is the very essence of the political establishment we need to be rid of.
Right now there isn't a Republican or Democrat in the running that I want anywhere near The White House.
Good thing the office of the president is growing more and more irrelevant as The Powers That Be who actually run this country let their money make all the decisions. That makes me less depressed that somebody entirely unworthy is going to win the election and pretend to run the country.
Or is that more depressed?
I can't really decide.