My plan for today was to do nothing. It's rare that I actually have the opportunity to do nothing, so it seemed like the right thing to do.
Or not to do, as it were.
But then I felt bad about squandering an opportunity that I might not get again, so I decided to do one thing. And since the #1 attraction on TripAdvisor's list is the Anchorage Museum, I decided that would be the thing I do...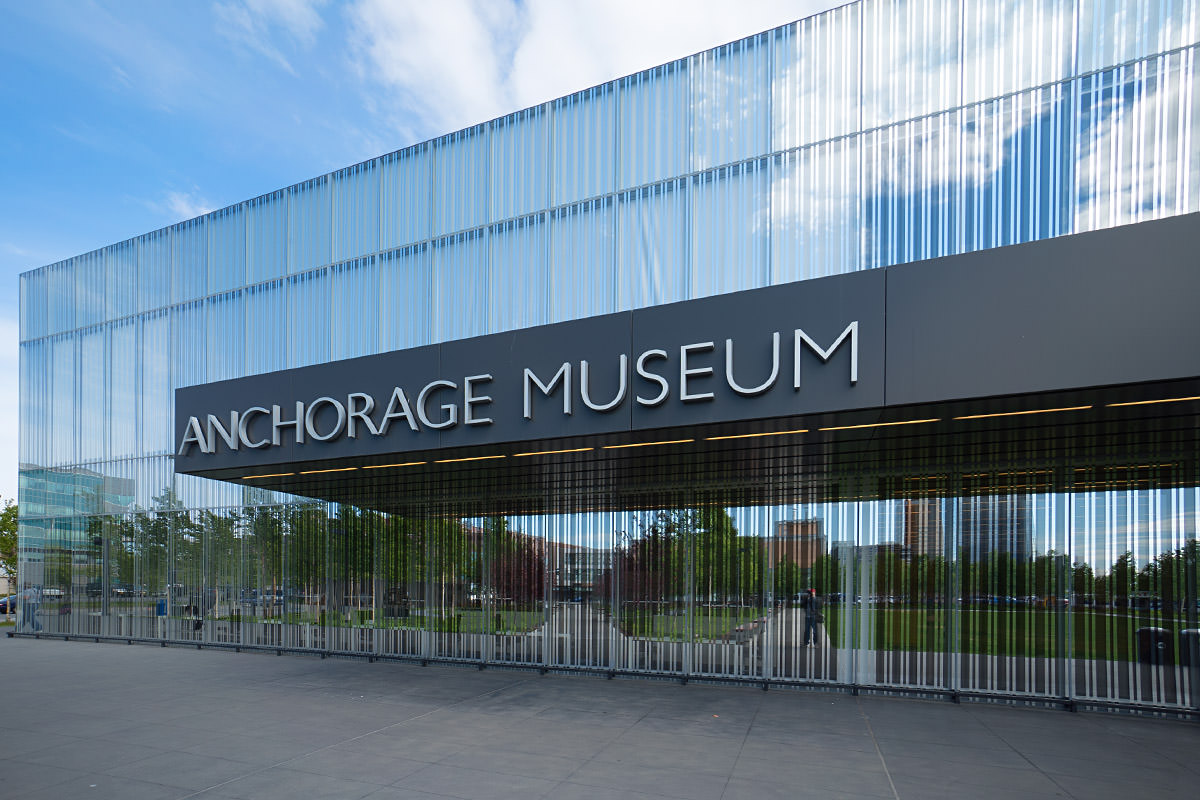 The building is very cool-looking from the outside. It's got these mirrored strips running up and down, so it kind of blends into its surroundings.
The price of admission is FIFTEEN DOLLARS, which seems a bit excessive. But I had walked all this way, and so...
The first display I saw was on graphic arts in Anchorage. THey included T-shirts and beer cans, so I was already pretty impressed...
From there I wandered into a cool cartography display that showed how the city has changed over the years...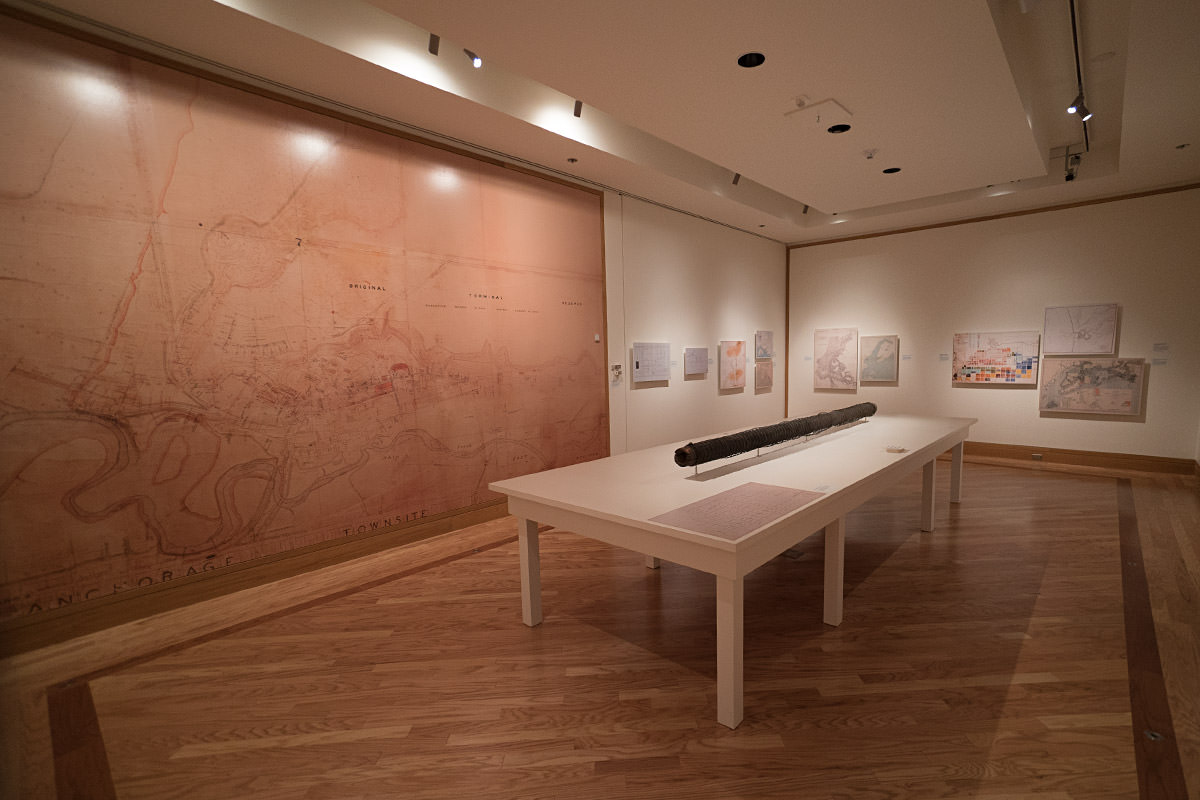 The grand atrium in the middle of the museum is massively huge. Which is impressive, I suppose, but it seems like such a waste of space...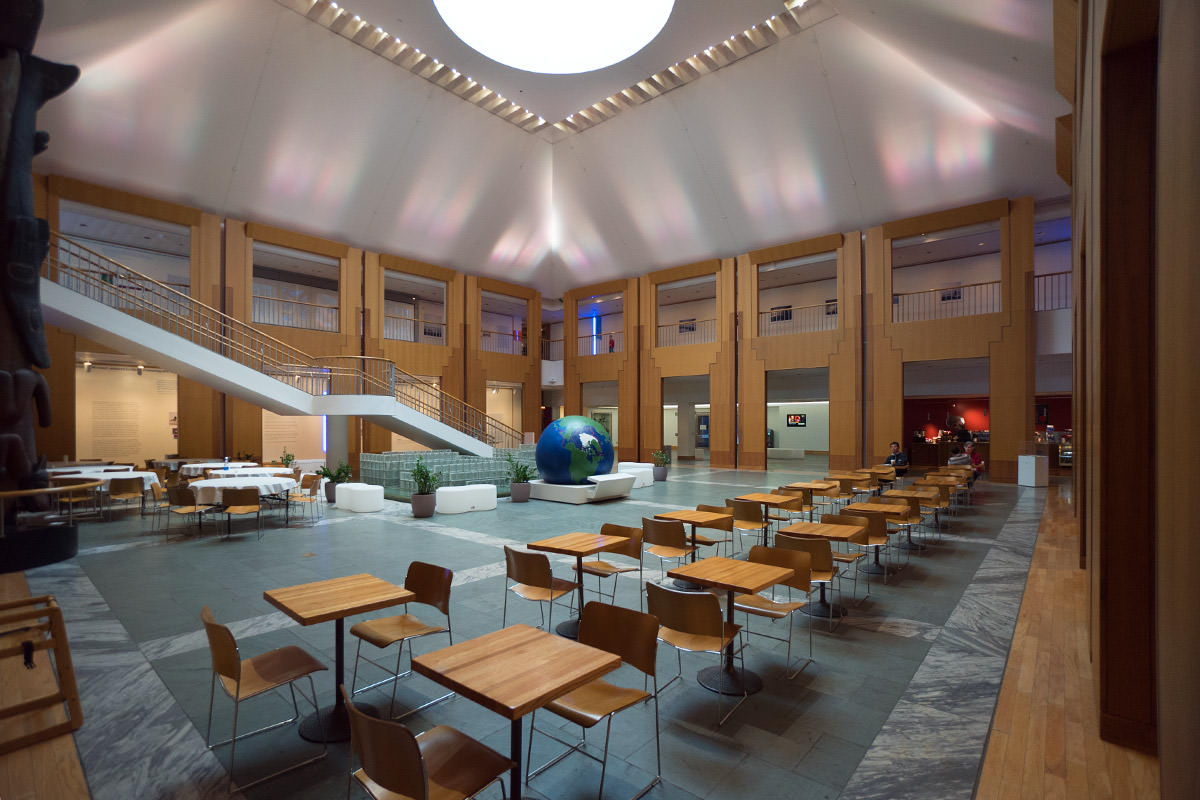 And then it was time to visit the Anchorage gallery which had all kinds of exhibits about the region. My favorite was a look at local homes through the ages that had full reproductions on-site...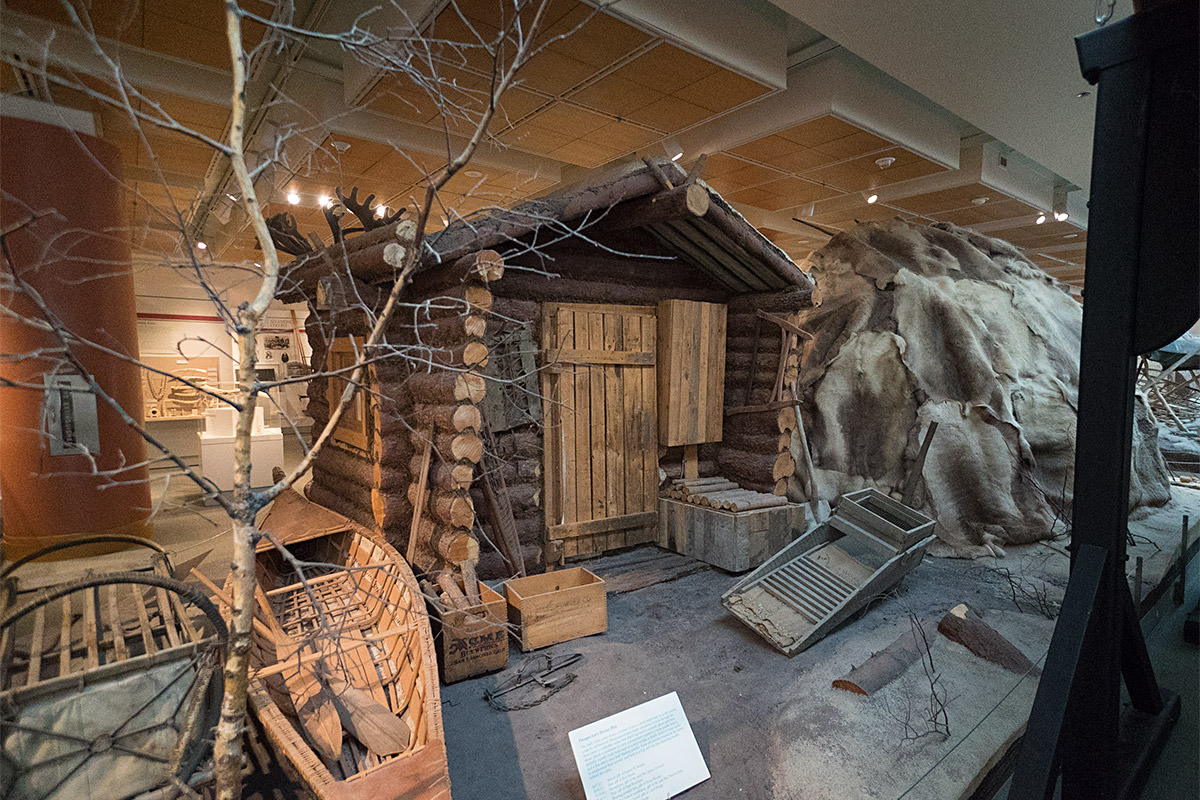 What was so cool is that if you walk around to the other side, they had cut into the structures to show you how they looked on the inside...
And in case you didn't know what dead animals look like, they've got that covered...
As I walked over to the other wing of the museum, I couldn't help but feel a bit cheated. Sure the exhibits were nice and all, but it just didn't seem worth the $15 I had paid. Things looked up a little bit when I got to a photo gallery featuring beautiful images of the arctic...
...but I still wasn't feeling as though I got my money's worth.
Until I walked into the next room and bathed in the majesty that is the Smithsonian Arctic Studies Center.
Holy cow...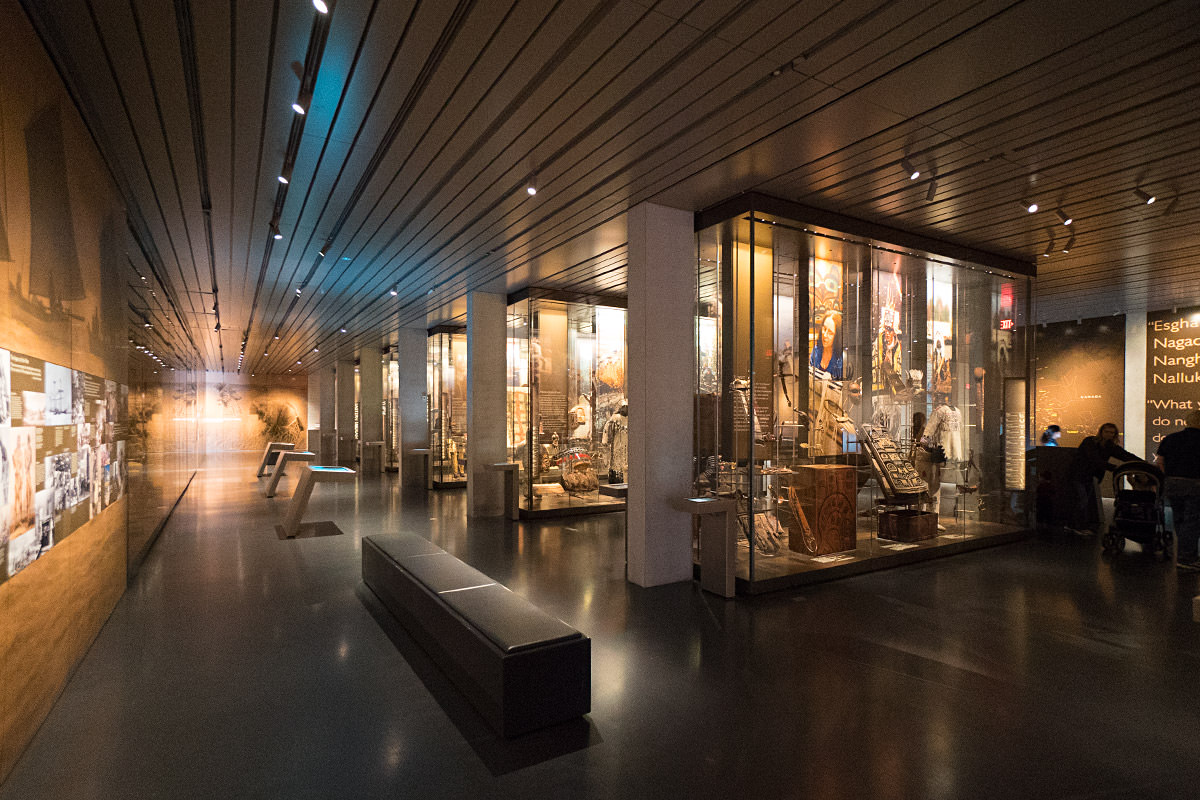 This mind-bogglingly beautiful space is filled with artfully-constructed showcases featuring artifacts from the indigenous peoples of the arctic...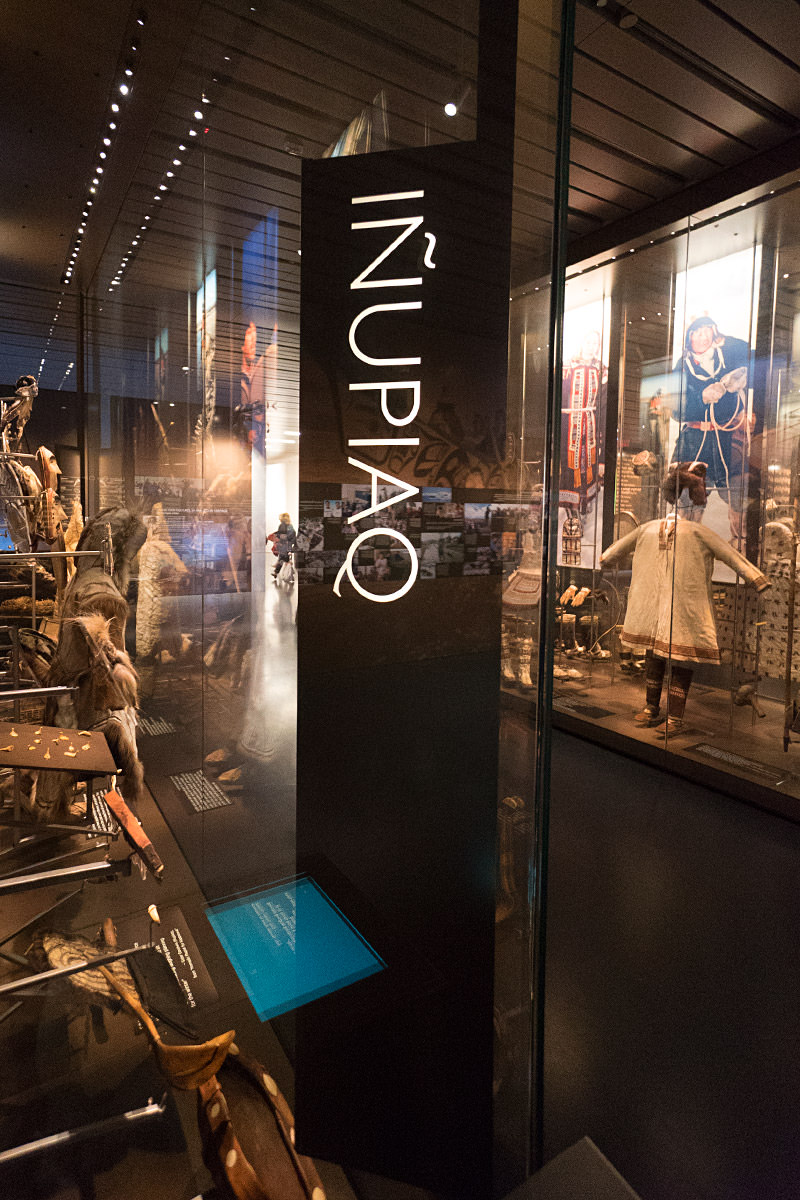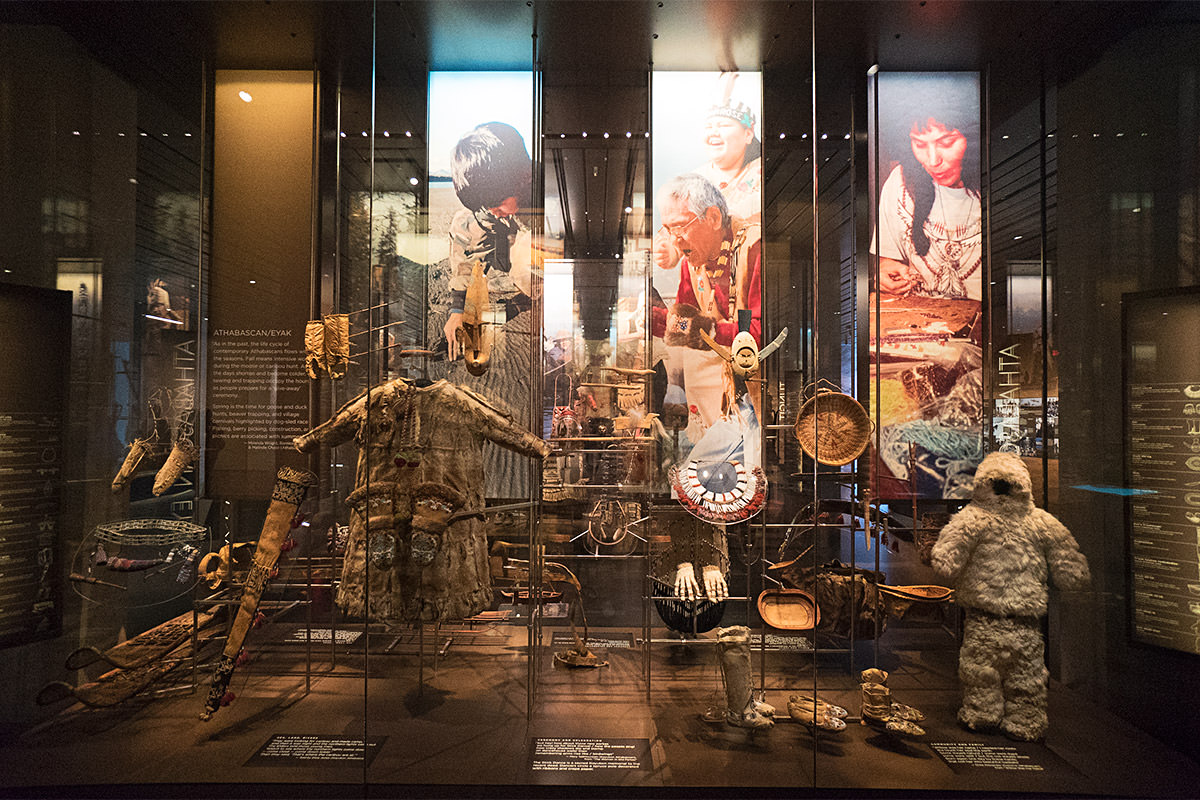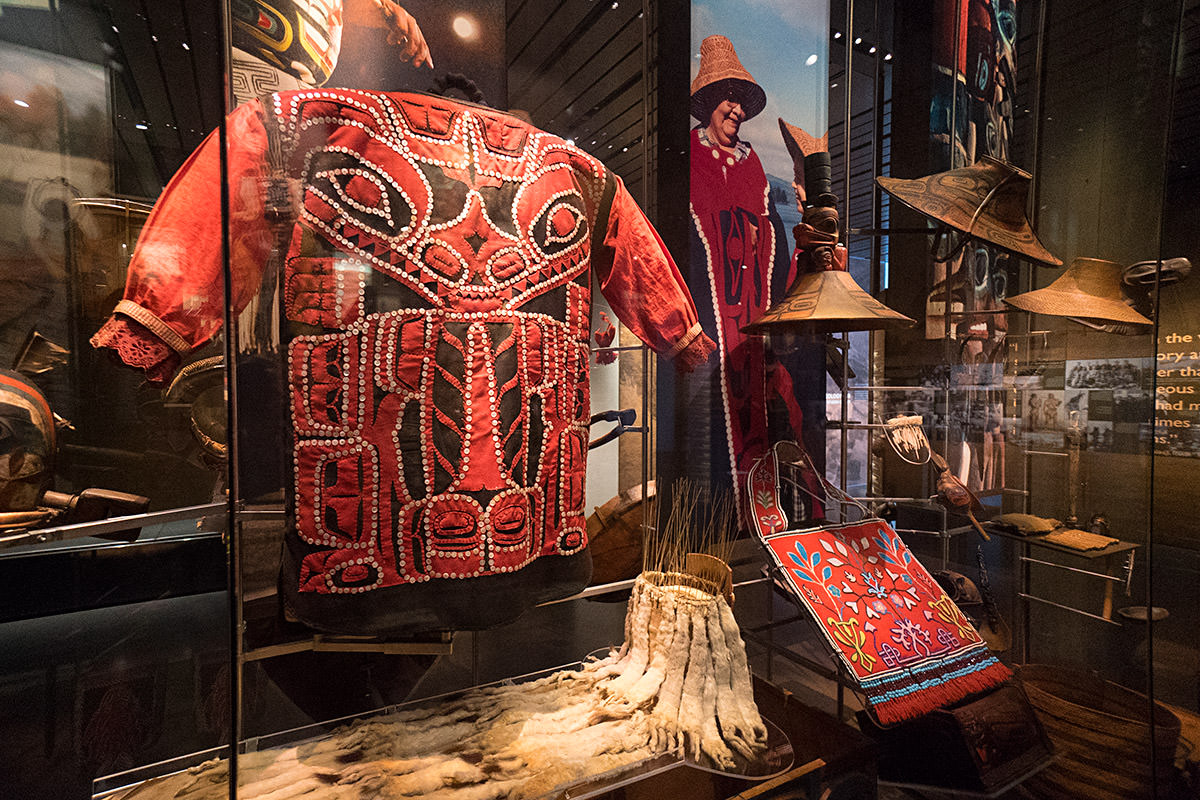 It's such an amazing display. I loved it so much that I spent a full hour absorbing every last piece of information they were sharing.
In all seriousness, no photos could ever do the exhibit justice. This one section of the museum is worth the cost of admission all by itself and well worth your valuable time to visit. If you're ever in Anchorage, just hand over the $15 and see it.
The third floor of the museum has temporary exhibits that change from time to time. When I visited today, it was Arctic Ambitions: Captain Cook and the Northwest Passage. And it was utterly fascinating...
Most of what I know about Captain Cook comes from my visits to Hawaii, as he's kind of a big deal there. Turns out that what I know about the man is just a tiny fraction of his fascinating story. Captain Cook's legendary explorations completely revolutionized how we look at the world, and this fascinating exhibit focuses on his search for a "Northwest Passage," a sea route through the Arctic Ocean. I was so impressed with the displays and artifacts that I'm a little saddened they're only temporary. And I'm a lot saddened that no photography was permitted on this level, because now when it's gone come September it's gone for good.
Next up on the exhibit calendar? Van Gogh Alive... where the museum will display his epic masterworks at larger-than-life sizes! If it's even half as brilliant as the Captain Cook exhibit, it's going to be amazing...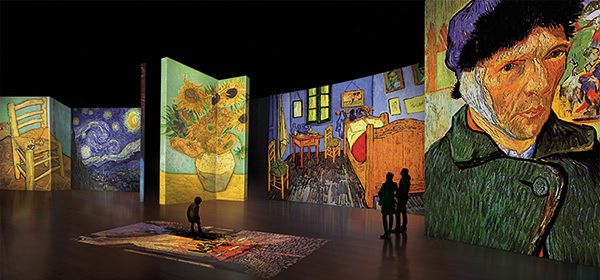 It's only running October 9th through January 10th. Such a short window but, given that Van Gogh is one of my most favorite painters, perhaps it will be worth a return visit this Fall? I can dream, can't I?
The top floor of the museum has an observation window...
And a surprise exhibit focusing on baseball Alaska that was pretty sweet...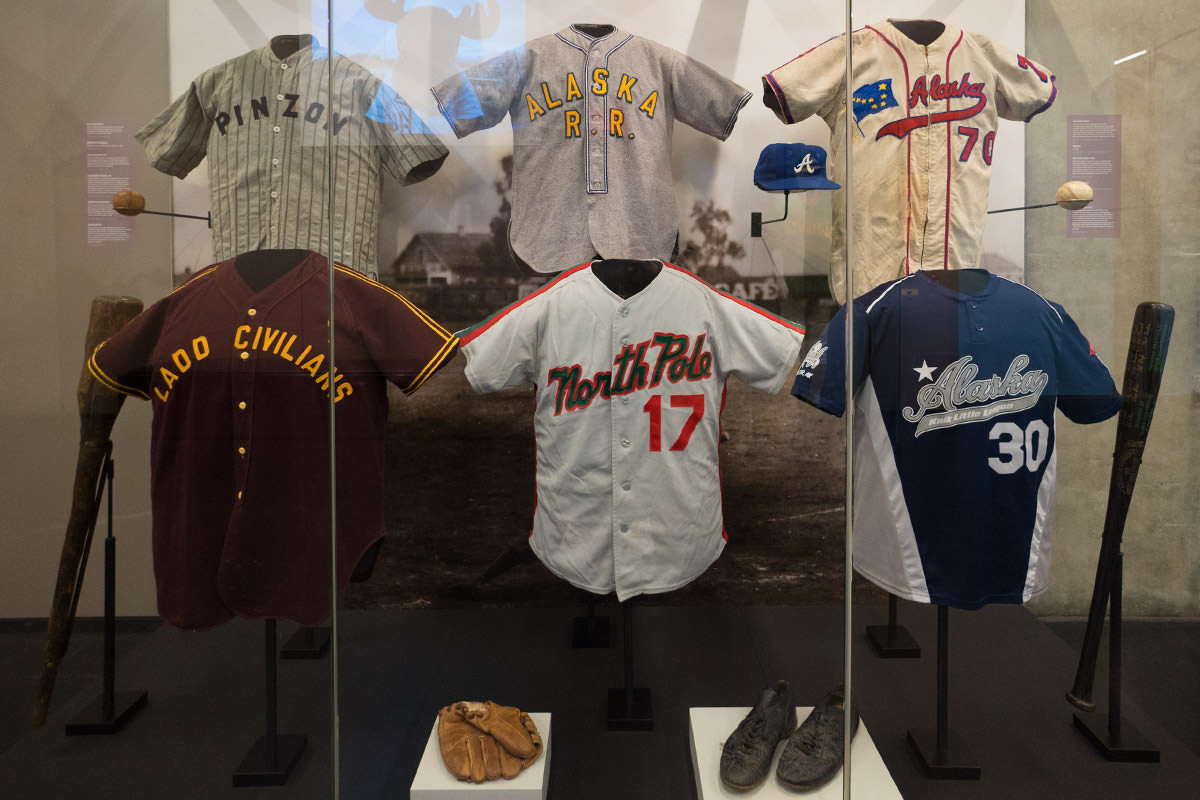 All in all? A great day at the museum. Despite my initial reservations, it exceeded my every expectation and should be on a short list of must-see places when visiting Anchorage.
On the walk back to my hotel, I passed one of Wyland's Whaling Walls (a series of 100 massive paintings created by the marine artist Wyland in order to raise awareness about our oceans and the creatures who live there)...
Not one of my favorites, but still pretty impressive.
And that's a wrap! Tomorrow my Memorial Day holiday is over and I'm flying back home. Many thanks to the city of Anchorage for the fine hospitality.