Lucky you! There's a brand-spanking-new (and FREE!) issue of Thrice Fiction out today!
As usual, I'll be discussing the artwork that went into our latest issue. This may or may not include spoilers for the stories, so I urge you to please read it before proceeding.
All done? Then off we go...
Our Editor at Large, RW, has long been lobbying to add some comics to Thrice Fiction. On the surface, this sounds easy. But finding the right comics to include in our pages is easier said than done. My first choice was the brilliant stuff that Reza Farazmand is doing over at Poorly Drawn Lines. Not only because I'm a huge fan... but because his work seemed the perfect "fit" for what we're doing.
Not that I expected he would say "yes," of course. Surely he has better things to do than hang out in our little lit mag, right? But nothing ventured, nothing gained, so I worked up some samples of how his work would be presented in Thrice and dashed off an email.
Much to my surprise and delight, Reza not only agreed to let us re-print some of his strips... he also agreed to re-work a panel from one of my favorite Poorly Drawn Lines comics as our cover! And that's how Small Cat came to end up fronting Issue No. 13...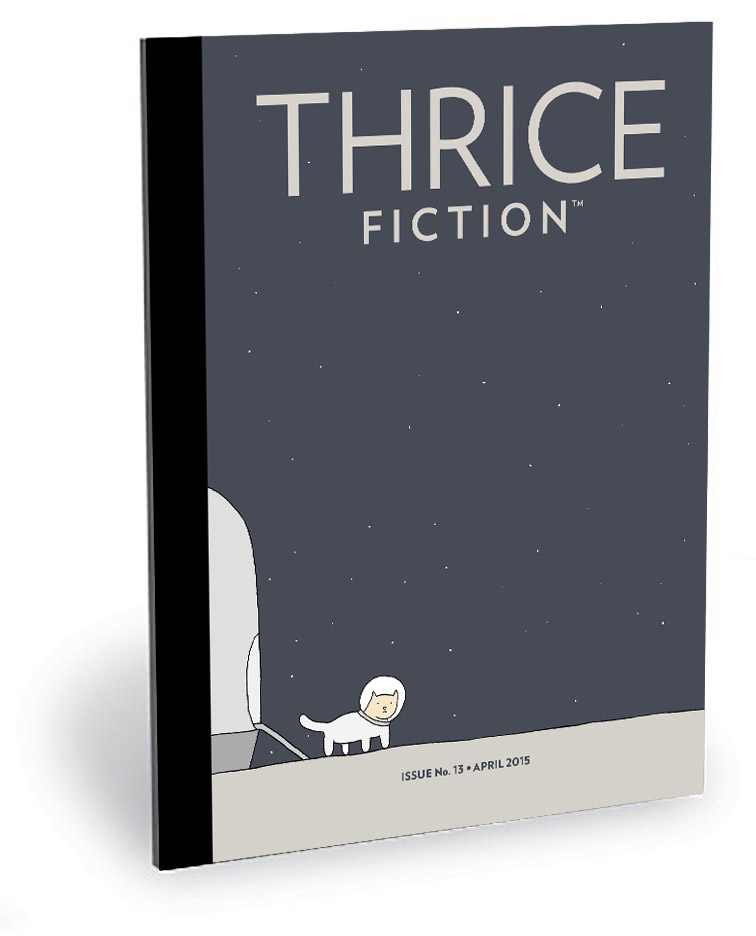 Glorious, is it not?
And now, for a look at the first half of the art included in this issue, read onward in an extended entry...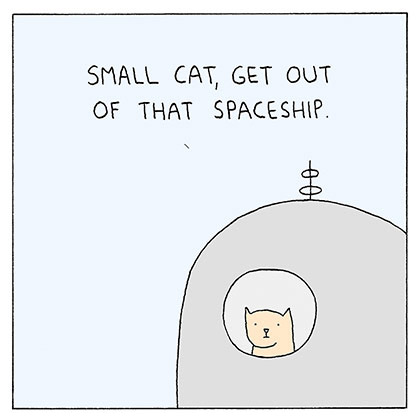 THRICE 13 NOTES. Since I wanted Reza's comics to be buried in the magazine (thus surprising the reader when they came across them), I had the brilliant idea of putting the original "Small Cat" strip next to RW's notes for the issue. Not only does it explain the cover, but it kicks things off so perfectly.
PAGE 3. I loved Samantha Memi's brilliant Words that are angry wipe a smile from your face but had no idea how to approach the artwork. Going literal seemed like such a cop-out, but I just loved the imagery of it all. I tried several versions where I printed out words in BOLD TYPE so I could add eyes, arms, and legs, but it never seemed to fit with the story. Eventually I decided to give the words little bodies and see how that worked out. My first efforts were disc-shaped, but I didn't like how they looked like pills, so I modeled them after poffertjes (little Dutch pancakes) instead. The word I started with was "metamorphosis," but "would" looked cuter so I went with that. Disgruntled "metamorphosis" was too good to discard, however, so I put him after the story. INTERESTING NOTE #1: I originally misspelled "metamorphosis" as "metamorphasis," so if you downloaded/purchased an early copy, my horrible spelling skills are yours to treasure! INTERESTING NOTE #2: If you look carefully, you'll see that the book Samantha is holding is Tarzan of the Apes. Partly because I love that book... but mostly because it's public domain.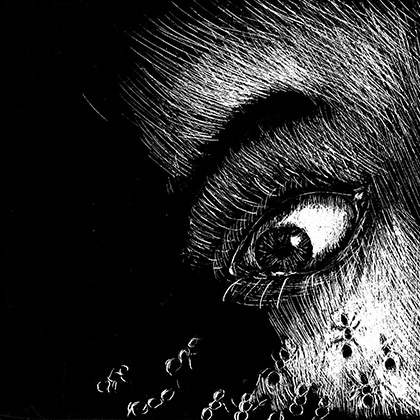 PAGE 5. Aleah Sterman Goldin unleashed a terrific ride that needed more than my cartoony brand of artistry as accompaniment. So I handed it off to Chad, who turned in something expectedly perfect for Ants.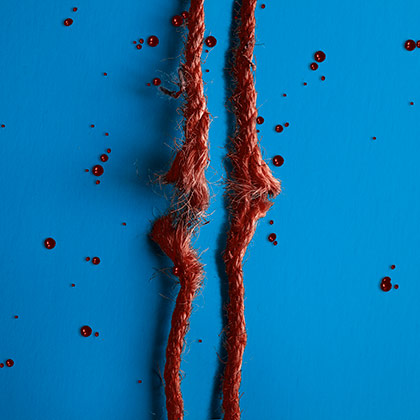 PAGE 8.. Nested Story in Falluja was a stunner from the first word to the last, and entrusting Katelin Kinney with Gloria's powerful words seemed the best care I could give them. After seeing what she came up with, I knew it was the right choice. Symbolic... but not in a way that forces a conflicting interpretation of what's been said.
PAGE 9. Melissa Ostrom's How to Entertain the In-Laws couldn't be further in tone from the story that preceded it, but Katelin managed to use color to tie them together beautifully. Note that "But the baguettes will startle them with their shattering crusts, with their interiors of blessed flesh." has to be one of my favorite passages in Thrice history. Well played, Mrs. Ostrom. Well played.
PAGE 10. Jackie Davis Martin took me completely by surprise with MechaniCat, and preserving that feeling for our readers became my overriding priority in finding art to go with her story. To do that, I was convinced that MechaniCat can't be shown. It's critical to the story that what MecahniCat looks like be left up to the reader's imagination. The ending would be ruined if the art told you what to picture in your head when you read that final line, so I wracked my brains trying to figure out how to include MechaniCat without actually showing MechaniCat. Eventually I landed on the box he came in. The illustration style is inspired by Chris Ware (a big hero of mine), which has the minimal, futuristic look I wanted. I added the cricket to get some foreshadowing in there... but also because he looked cute.
PAGE 10. I was happy to see Scott Archer Jones return to our pages, and even happier that he returned with such a terrific story in Contentment. When it came to the art, I knew I wanted to play off the "balloons" that appear over everybody's heads. Specifically, I wanted a word balloon with "The Big C" for the second piece. But what to do for the main visual? At first I tried going fairly serious with the illustration style, as the story seemed to demand it. But after multiple readings, I latched onto the phrase "A cartoon forms over her head..." and went full-out cartoon instead. Usually I try to avoid depicting characters from the story in the art for fear of coming up with something that doesn't match what the writer intended. But Scott described everybody so perfectly that I almost felt I had to give it a shot.
PAGE 17. It took me all of three paragraphs to decide Kirk Boys' Like Heroin was a terrific fit for the kind of storytelling that Katelin seems to excel at with her photography. She, of course, completely nailed it in two shots... as I knew she would.
PAGE 19. Gwendolyn Joyce Mintz is one of those rare people who leaves me in awe over their ability to express themselves with such a brilliant economy of words. She spins a complete story in a fraction of the space it wouldn't have taken most people. So I paired it up with Like Heroin knowing that Katelin could figure out a way of encapsulating it with an economy of visuals. She went for a double exposure. A simple (and oh so effective!) solution that never would have occurred to me in a million years.
PAGE 21. Stephanie Dickinson returns to Thrice Fiction with North Platte: Postcard from the Big Rig. I didn't have to think too hard on where to go with this one. Googling "North Platte postcard" resulted in the perfect solution. Not wanting to copy an existing design completely, I tried to shake things up a bit, but stay true to the original idea. Then I plopped it down on a truck-stop diner counter and called it good. Since North Platte's claim-to-fame is "Buffalo Bill's Home Town," I put Bill in the second piece.
Annnnd... we're at the half-way point. I'll run through the remaining pieces tomorrow.