The first time I had nachos was back in the late 70's. My family was invited to dinner at the house of one of my father's work colleagues and they were served as an appetizer.
But they were a far cry from what most people call "nachos" now-a-days.
Instead of tortilla chips swimming a massive glop of orange stuff with olives, tomatoes, onions, beef, beans, salsa, sour cream, peppers, and guacamole dumped on top, they were artfully constructed. Each chip was individually topped with a small cube of orange cheese next to a small cube of white cheese then finished with a small slice of jalapeño and heated until the cheese melted. They were sublime. And any nachos I've had since then have paled in comparison. Especially the awful, awful, "nachos" I had in Australia...
Or the even worse nachos I had in the Cayman Islands...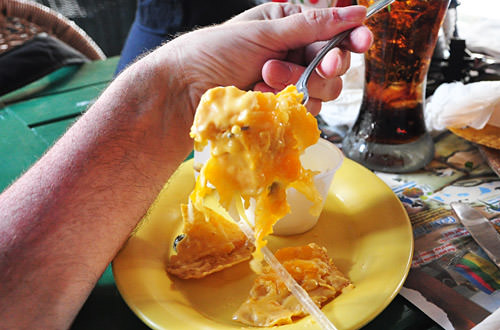 The reason I have nachos on the brain now (and every time I eat them, really) is because of something interesting I saw in the news this morning: Deep-Fried Nachos on a Stick at the Texas Renaissance Festival...

Photo By Texas Renaissance Festival
Apparently I have until October 24th to dust off my pirate costume and get me a plane ticket to Todd Mission, Texas.
Or more likely Houston. Something tells me that Todd Mission doesn't have direct flights from anywhere I'd want to be.