You're a typical American teenage girl who just wants a normal teenage life where you do typical teenage things and deal with typical teenage stuff. But your dad is the President of the United States, so that plan goes right out the window. Instead you lead a life that's anything but typical. Instead of going to the mall to hang out with friends, for example, you're dragged to some boring press event where your father will be... wait for it... pardoning a turkey. You don't want to spend a chunk of your day listening to dad make groan-inducing cheesy one-liners over a big bird, but you do it anyway because you're told to. Ironically this actually is a "typical teenage experience," because every teenager has to do stuff they don't want to do because their parents tell them to do it.
The difference being that typical teenagers don't have to do stuff in front of the entire country.
So you resign yourself to the fact that you have no choice but to attend the turkey thing and once again set aside your typical teenage dreams so you can live up to the unforgiving expectations of an entire country, if not the entire world. You check to see that your hair is presentable... you make sure you haven't spilled anything on your clothes... and you damn well cover up that zit that mysteriously appeared last night... this is going to be televised nationally, after all.
And then you show up to the stupid turkey event that you didn't want any part of from the very beginning... the same boring turkey event that you've had to go to for the past five years.
Hopefully your friends aren't watching this embarrassing situation.
Hopefully you remember not to pick your nose.
Hopefully it will be over with soon.
Hopefully...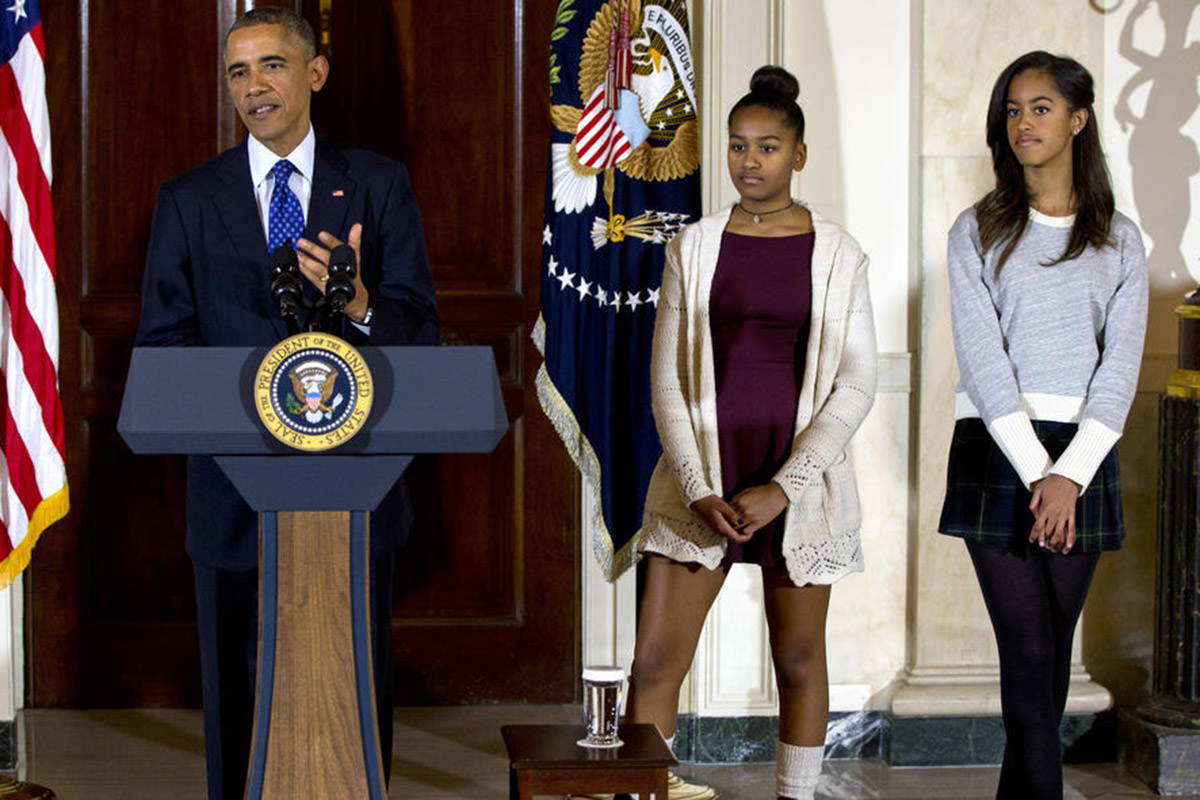 Photo by Jacquelyn Martin/Associated Press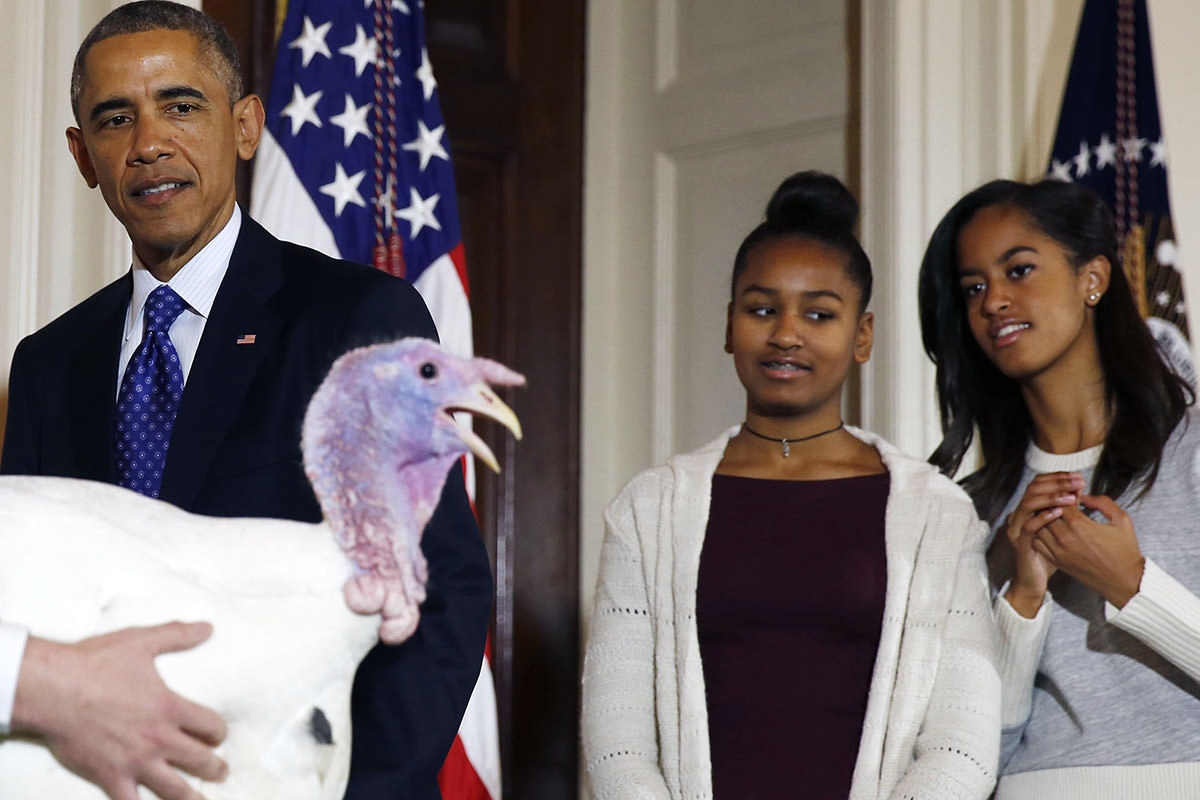 >
Photo by... I don't know photo by because Daily Caller doesn't credit people for their work?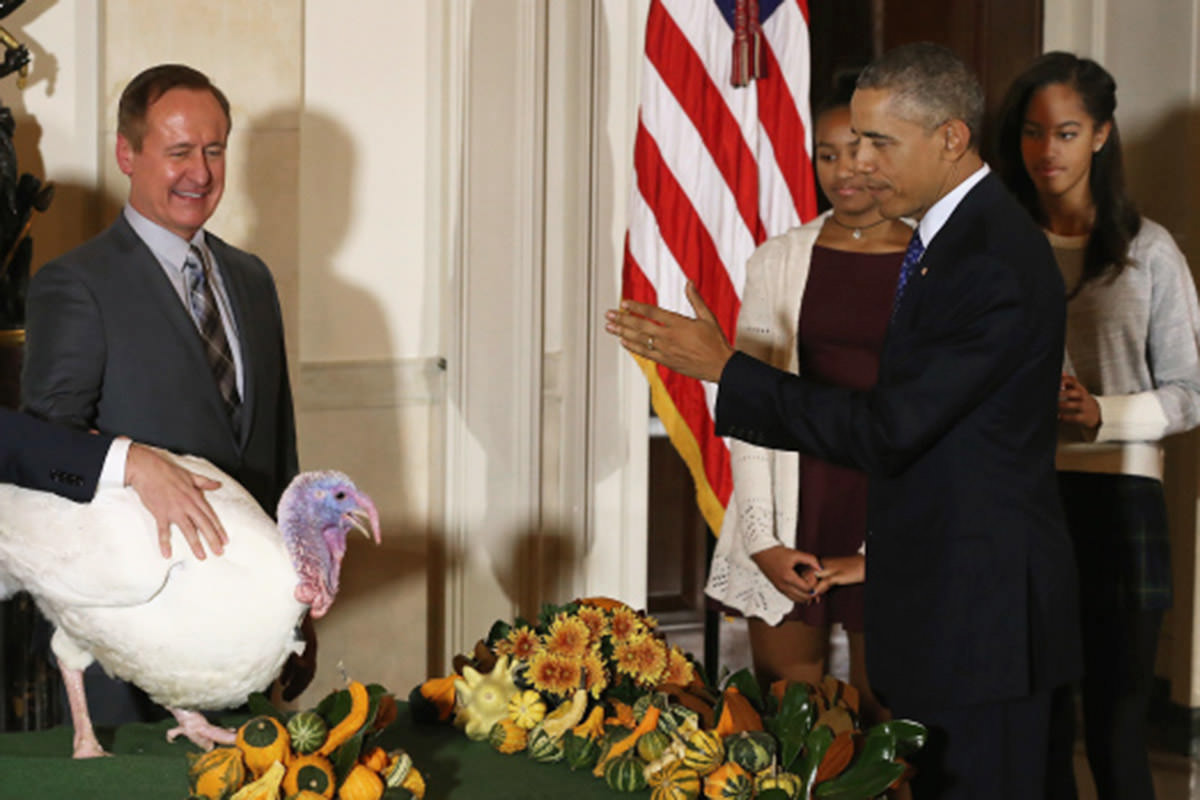 >
Photo by Mark Wilson/Getty Images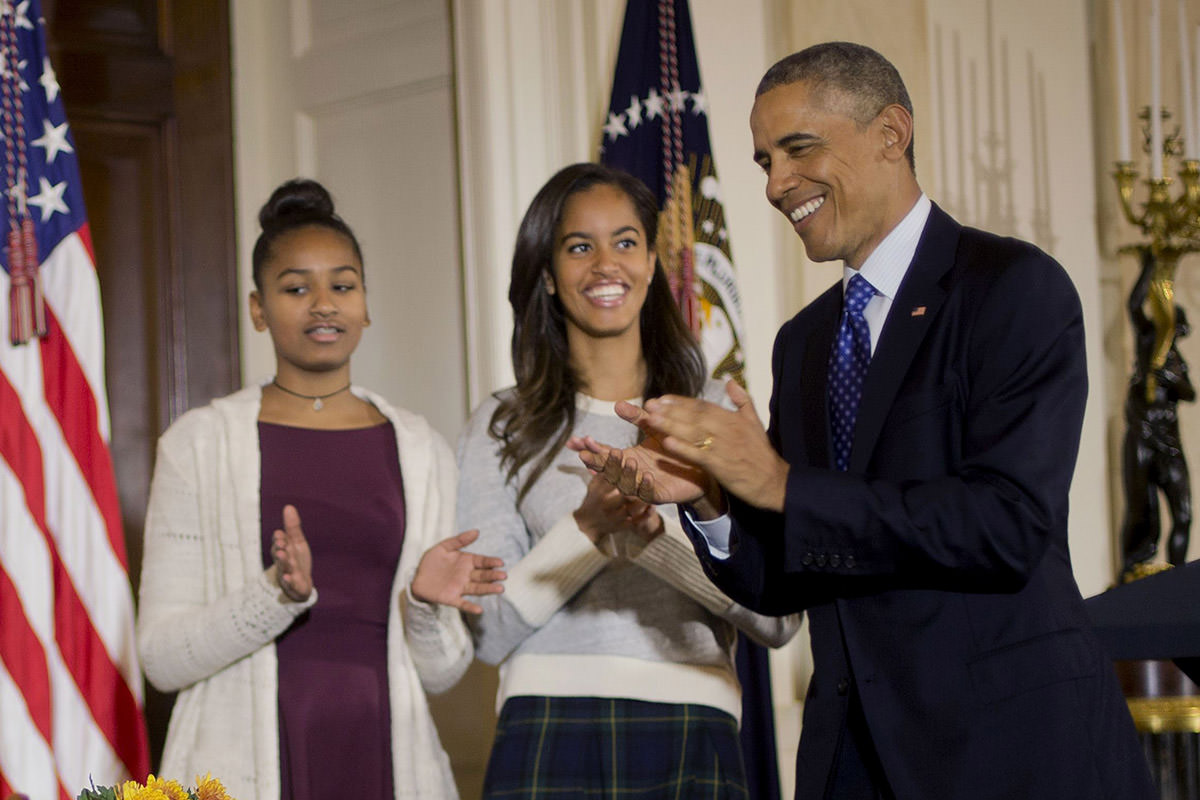 >
Photo by Pablo Martinez Monsivais/Associated Press
Whew. Thank God that's over.
Six down. Two to go.
Now back to your efforts of being a typical teenager try... trying... t...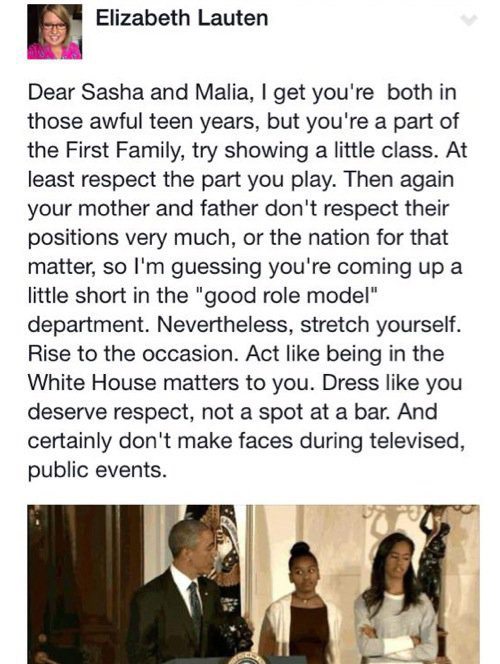 Wow. That was kinda harsh. You did your duty to show up. Your clothes were clean. Your hair was presentable. You covered up that zit. You didn't pick your nose. You clapped in all the right places. Sure, you looked bored in spots... you were making bored faces... but this turkey thing was boring as hell. Who can blame you? You did your best to make lame jokes with a big bird look interesting, even this isn't really your thing. You'd rather be at the mall with your friends, right?
But haters gonna hate... so what can you do?
If some staffer for a Republican politician with an axe to grind wants to pathetically unleash her vendetta on a rival politician's kids, That's the way it goes, isn't it?
That's the game you signed up for, right?
Hey! Wait a minute... you didn't sign up for this! Your mom and dad did.
Oh well. You get to live in a really great house. You get to travel the world. You have opportunities that other kids can only dream about. It may not seem worth the trade-offs now, but I'm sure you'll come to appreciate it some day. Maybe.
And maybe... just maybe... next time you're forced into some boring-ass press event you will learn from your critics and live up to the lofty expectations of "class and respect" that people like Elizabeth Lauten expect of you.
Wow. That Elizabeth Lauten is really something, isn't she?
You're guessing that Elizabeth Lauten must have been a model teen, right? To be an authority on "class and respect" for teenagers, she must have been a regular Doris Day for crying out loud! Donna Reed could take lessons from Elizabeth Lauten! If only you could be like that! Perfect in every way at every moment like Elizabeth Lauten was as a teen. Forever having that perfect smile on your face like Elizabeth Lauten must have had. Always knowing the classy thing to do like Elizabeth Lauten did. Consistently ma... making... m...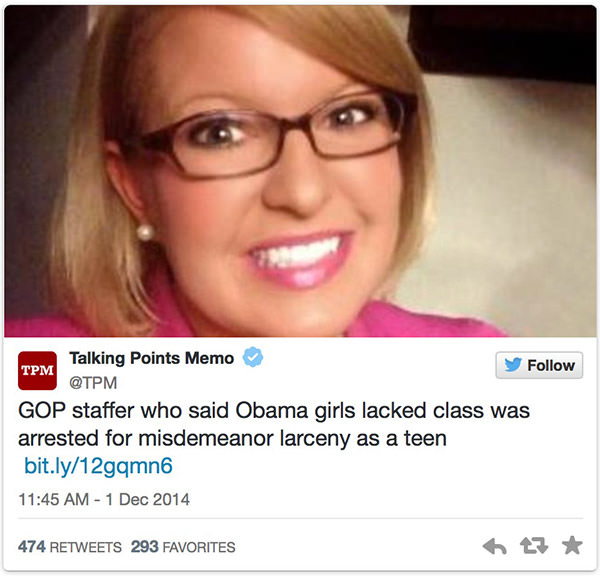 Ooh.
So this is what she meant by "class."
Or do the rules only apply to teenagers who have a parent that's the president?
Except...
It doesn't seem right that the crazy stuff you did as a teenager should be tied around your neck for all eternity. Sure Elizabeth Lauten was busted when she was a juvenile, but should that be her defining attribute for the rest of her life? When your family has left The White House and you've grown up and started your own life, is the media going to dig up photos of you being bored at the turkey pardoning event every time you make a public attack on a couple kids whose dad you hate? Because that would be awful.
Despite her being a total hypocritical ass, you kind of feel sorry for Elizabeth Lauten now, don't you?
I mean, all she did was say some mean things to a couple of kids. Now she's out of a job.
Probably not for long though... I'm sure there are plenty of people who will make her out to be the total victim she is and give her a new job. After they let her down from that cross they've hung her from, of course.
Perhaps she'll be a new FOX "News" personality.
Because if there's anybody better at pardoning turkeys than your dad, it's FOX "News."
But anyway...
Best wishes to you. Hopefully you'll get a few days off before some other adult who hates your parents decides to pick over your every move and crucify you on the internet because they don't like what you're wearing or how your face looks when you're bored (SUCH a classy thing to do, by the way... I wonder how Bristol Palin dealt with this stuff?).
Oh... and good luck with that whole "typical teenager" thing you're shooting for. Let me know how that works out.