And so the time I had been dreading since the minute I stepped foot in Ruckomechi has come... it's time to leave. All morning I've been fretting over needing just one more day here to make sure I've gotten the most from my visit to Mana Pools National Park.
Just one. More. Day... that's all I need.
Which is pure fantasy, of course. If I had stayed four nights I would have wanted a fifth. If I had stayed five nights I would have wanted a sixth. The truth is that my visit would always be too short, because the magic here is something you just can't get enough of.
I debated over going on a morning game drive, but ultimately decided against it. Being able to sleep for another hour... being able to pack without being in a rush... and having time to look around the campsite a bit... it was all too compelling.
Besides, I could have a game drive without leaving my tent because I had an elephant out my front window...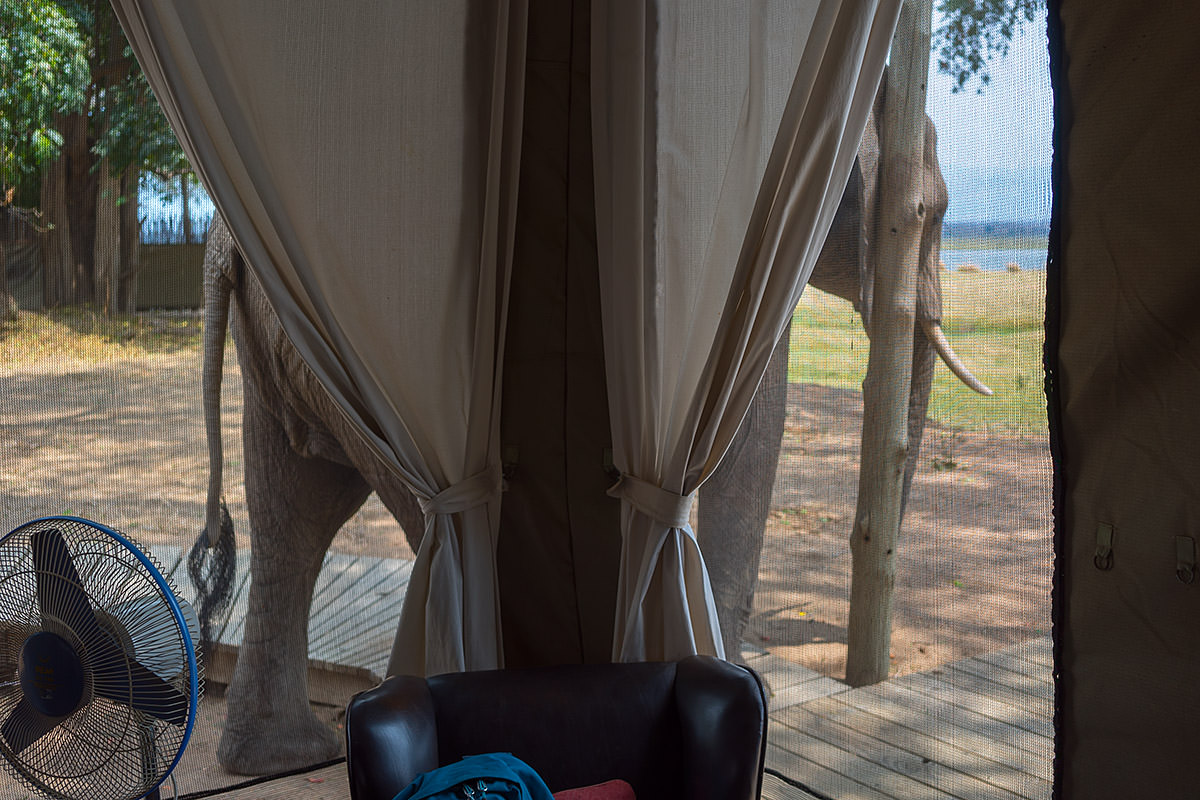 And my back window...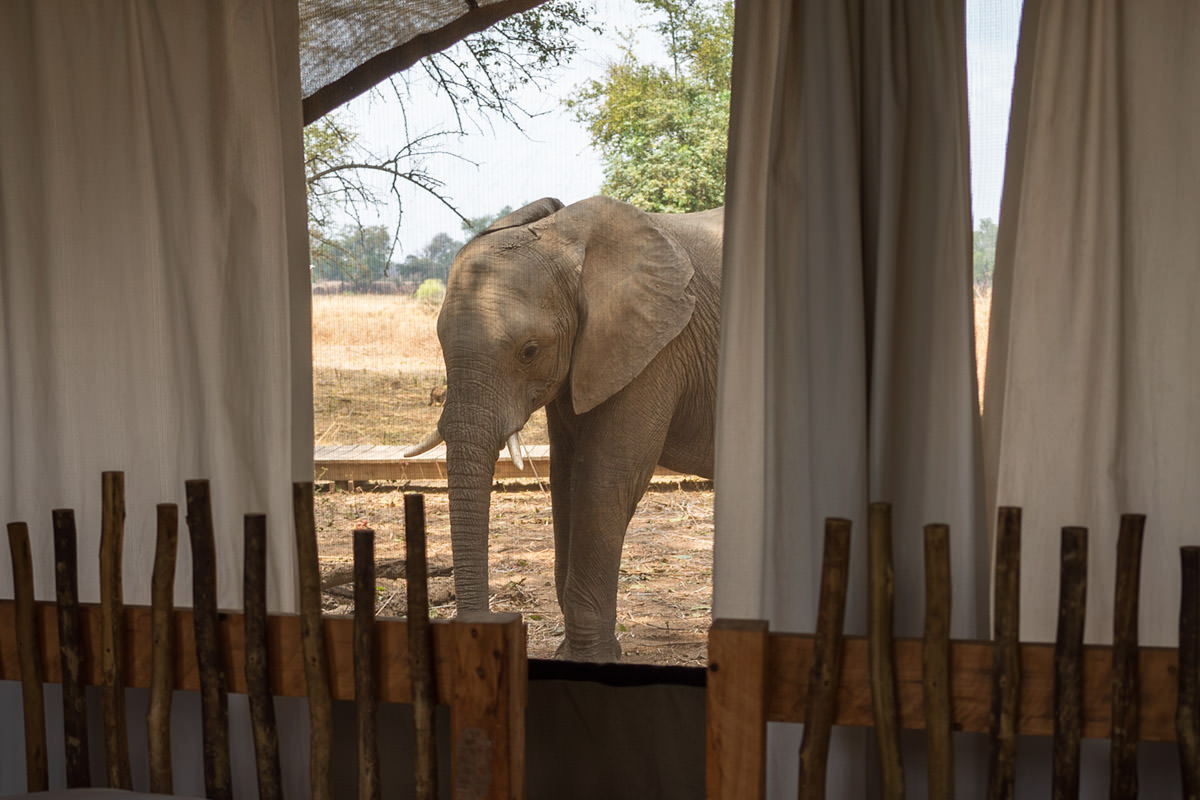 And my side window...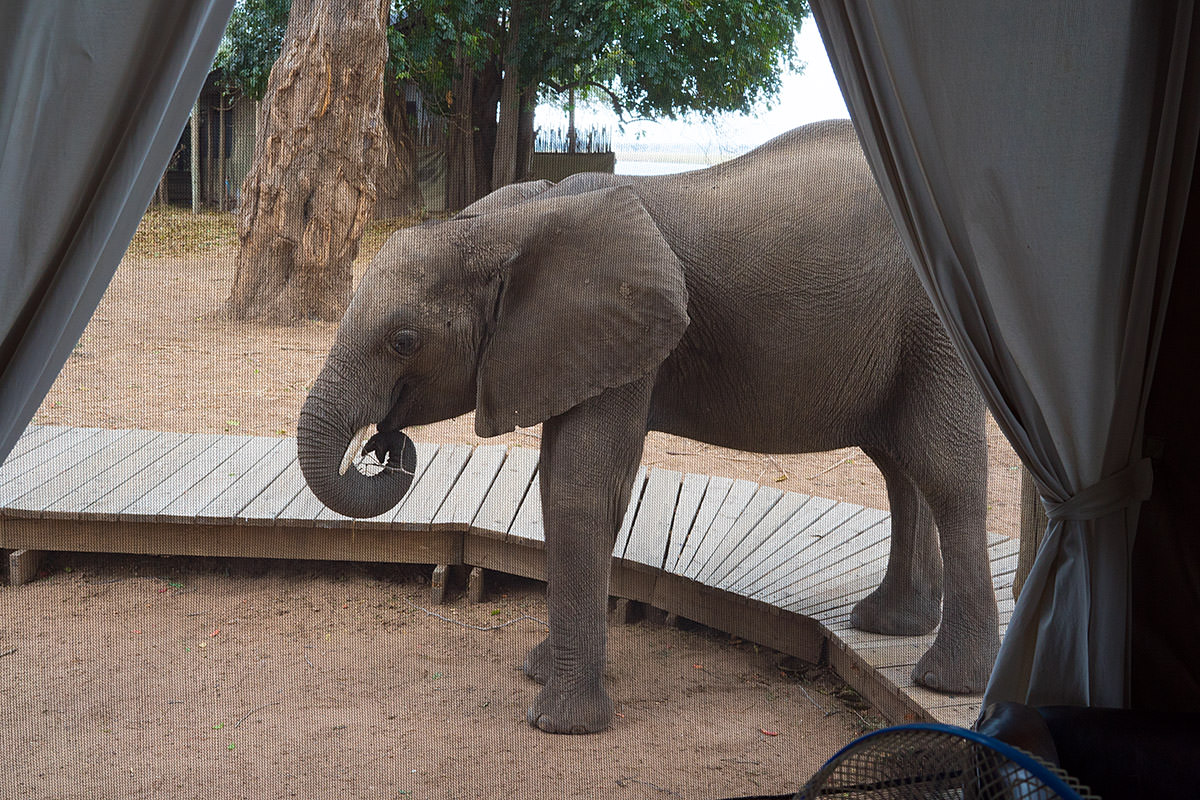 And even more elephants on the path to the dining room for breakfast...
I had already tried the "Bath with a View" yesterday... Ruckomechi also has a "Loo with a View"...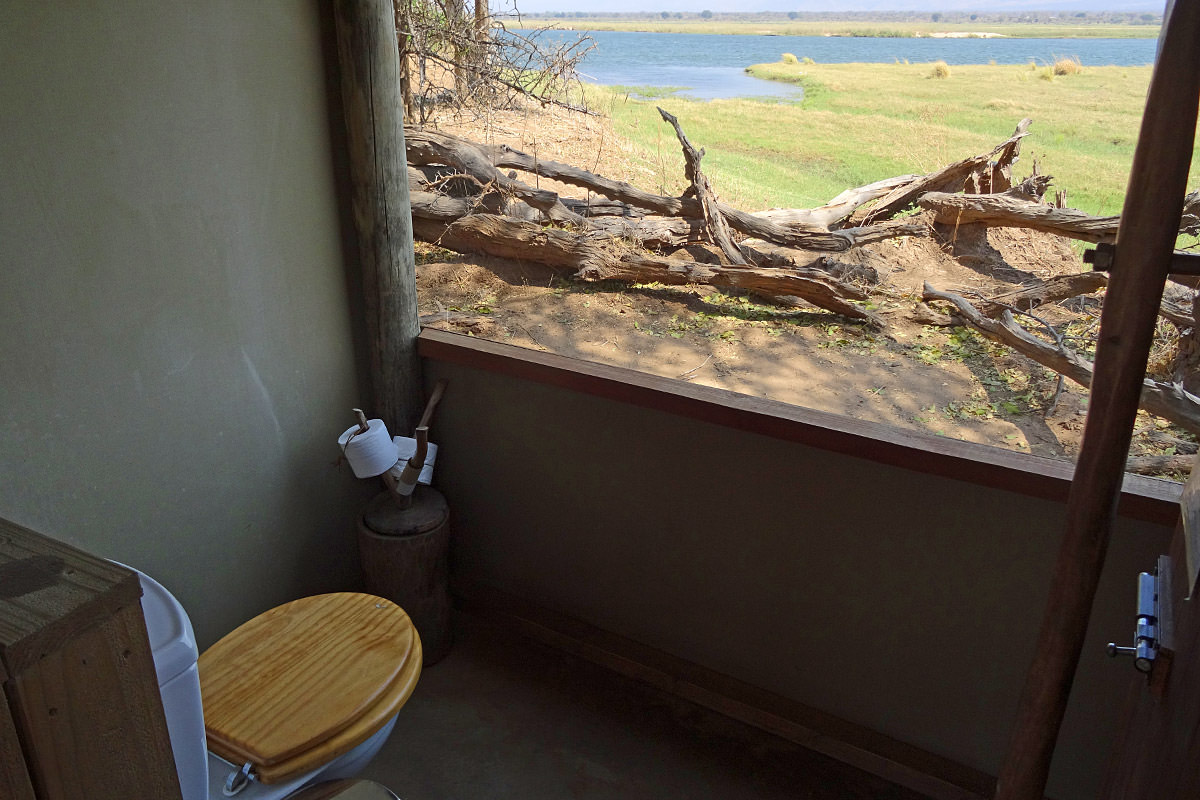 When I went back to my tent to pack, a troop of baboons were wandering around my porch... including a mother and baby, which is always an entertaining sight...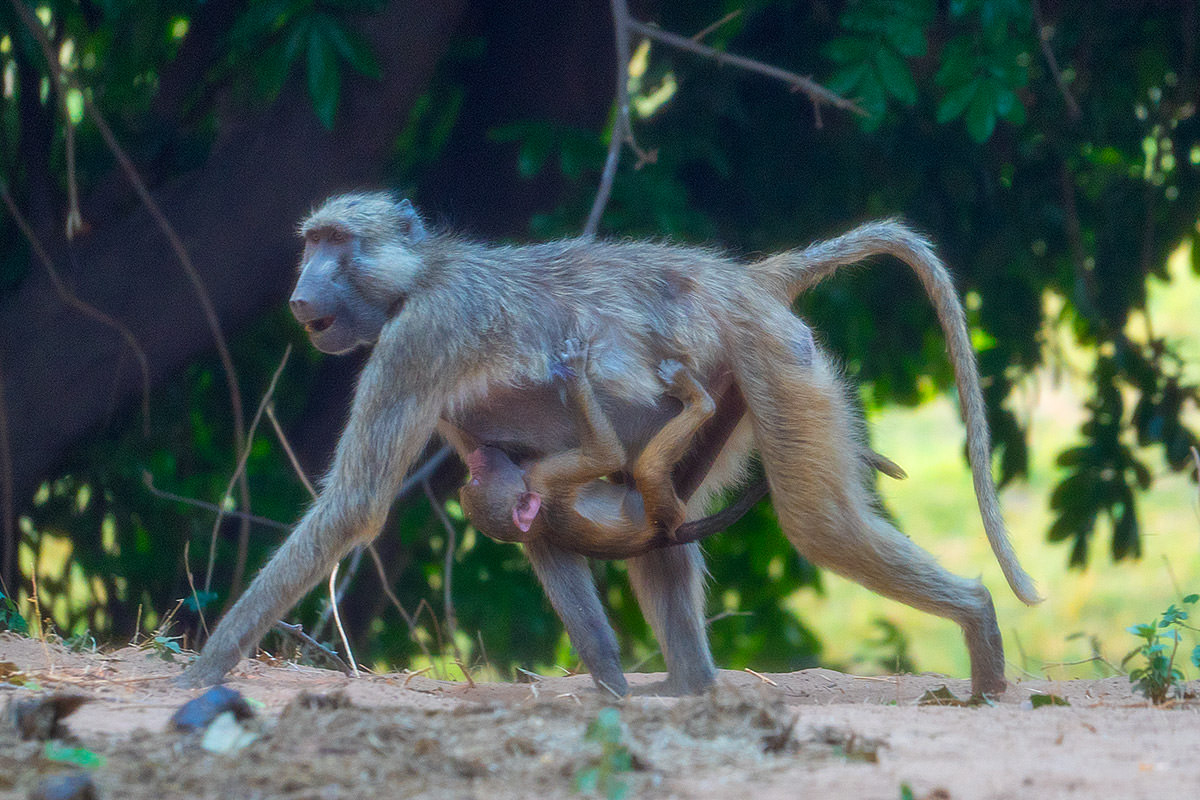 How the babies have the strength to hold on like that all day long I don't know. But they somehow manage, even with their mother is in a full run.
After saying goodbye to the amazing Ruckomechi staff, I was off to the airstrip for a flight to the next camp. This time I got to be the co-pilot, which was pretty awesome...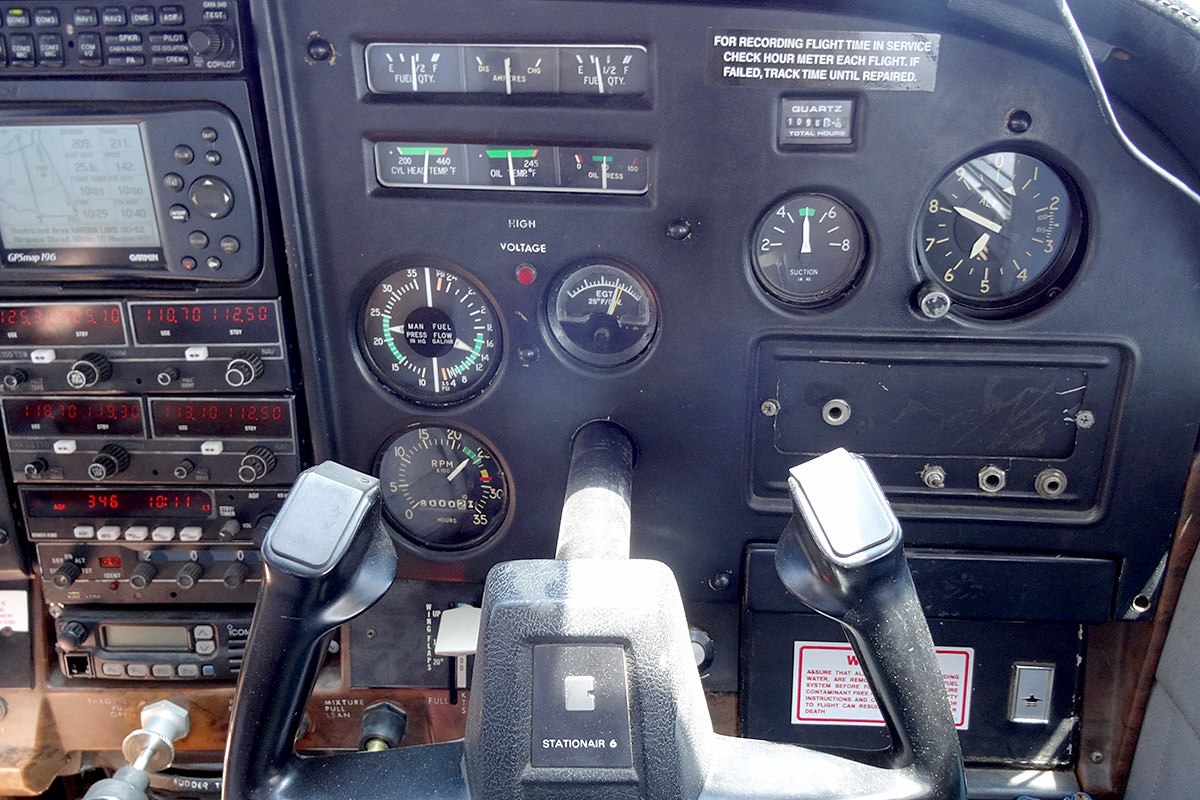 We didn't have enough fuel for the entire flight, so we ended up stopping in Kariba. I always try to take photos of airports I visit, but the pilot warned me not to take a picture of the control tower, as they get pretty upset when people do that. So I zoomed in on the passenger terminal sign in the hopes I wouldn't get shot or or have my camera confiscated or whatever. Kariba's airport, while small, is actually kind of nice. They planted a flower garden out front to look at and the staff was friendly, so I had no complaints...
The city of Kariba sits on the shore of beautiful Lake Kariba and is very near Kariba Dam, which is said to be in danger of collapsing...
I noticed that some of the small islands in the lake were inhabited, which makes me wonder what would happen to them if the dam breaks and the lake drains...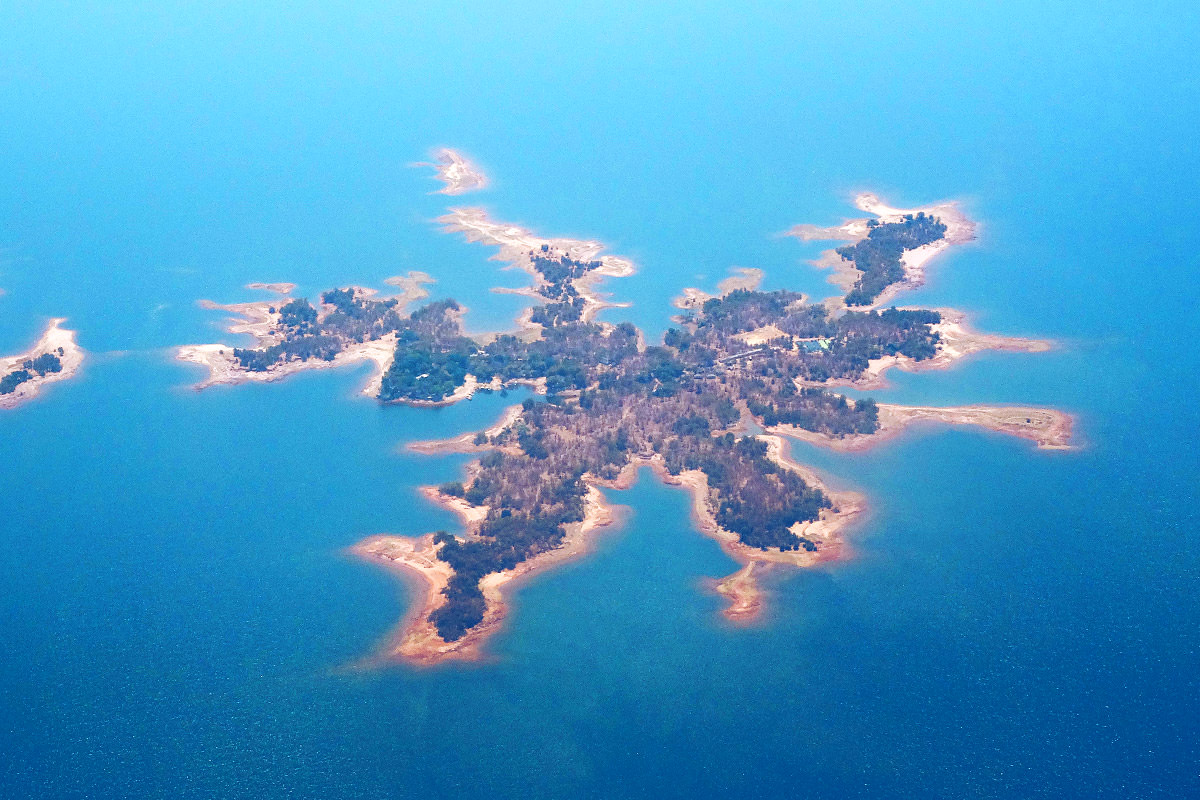 I'm guessing this really cool splotchy island would no longer be an island. At the very least, the size of their beach would increase dramatically.
UPDATE: Now that I'm back, I used Google Maps to find out this is called "Spurwing Island," and looks to be home to a very nice resort property.
The final hop of my flight wasn't very exciting... but there was an occasional watering hole to break the monotony. Like this one, where a heard of elephants was just leaving. You can spot a jeep on the opposite side of the hole, so there must be civilization around here somewhere...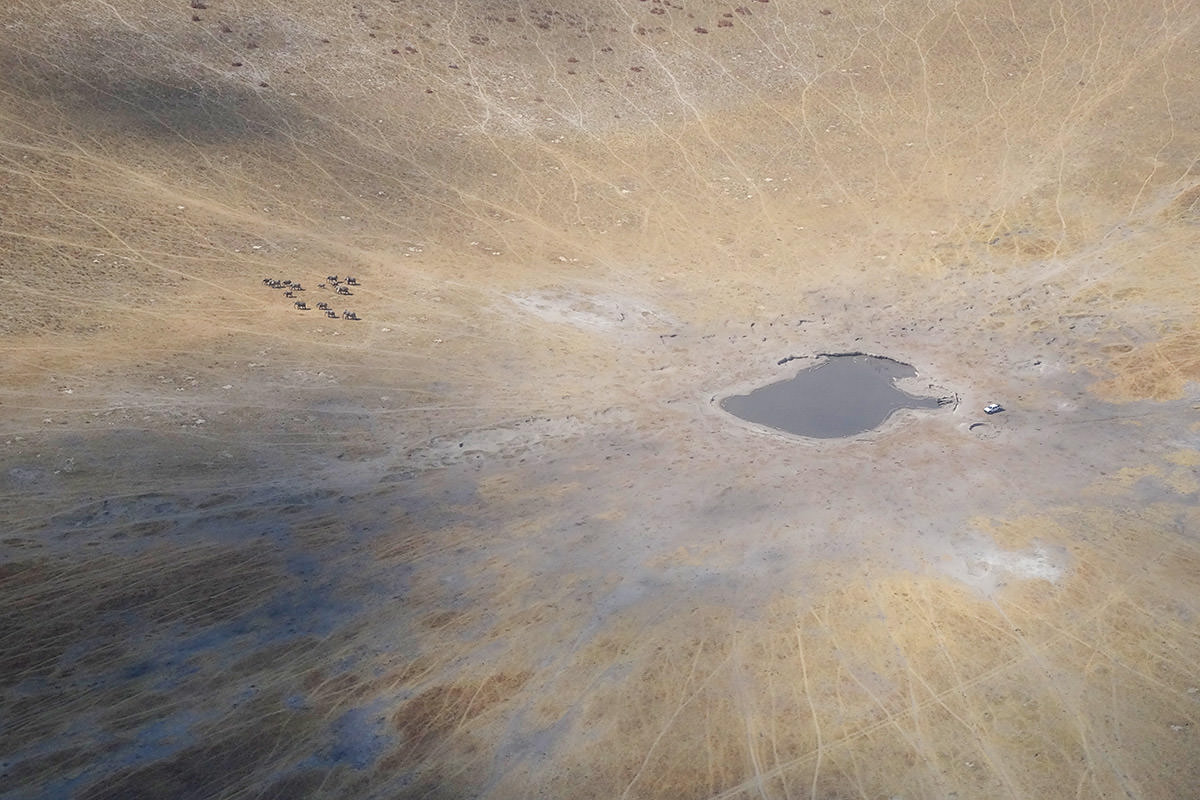 After landing at the Linkwasha airstrip in Hwange National Park, it was time to take the hour drive to Davison's Camp (named for the first park warden at Hwange, Ted Davison). At first the drive looked like it was going to be pretty boring...
But looks can be deceiving. Within five minutes, our guide spotter some really pretty antelope...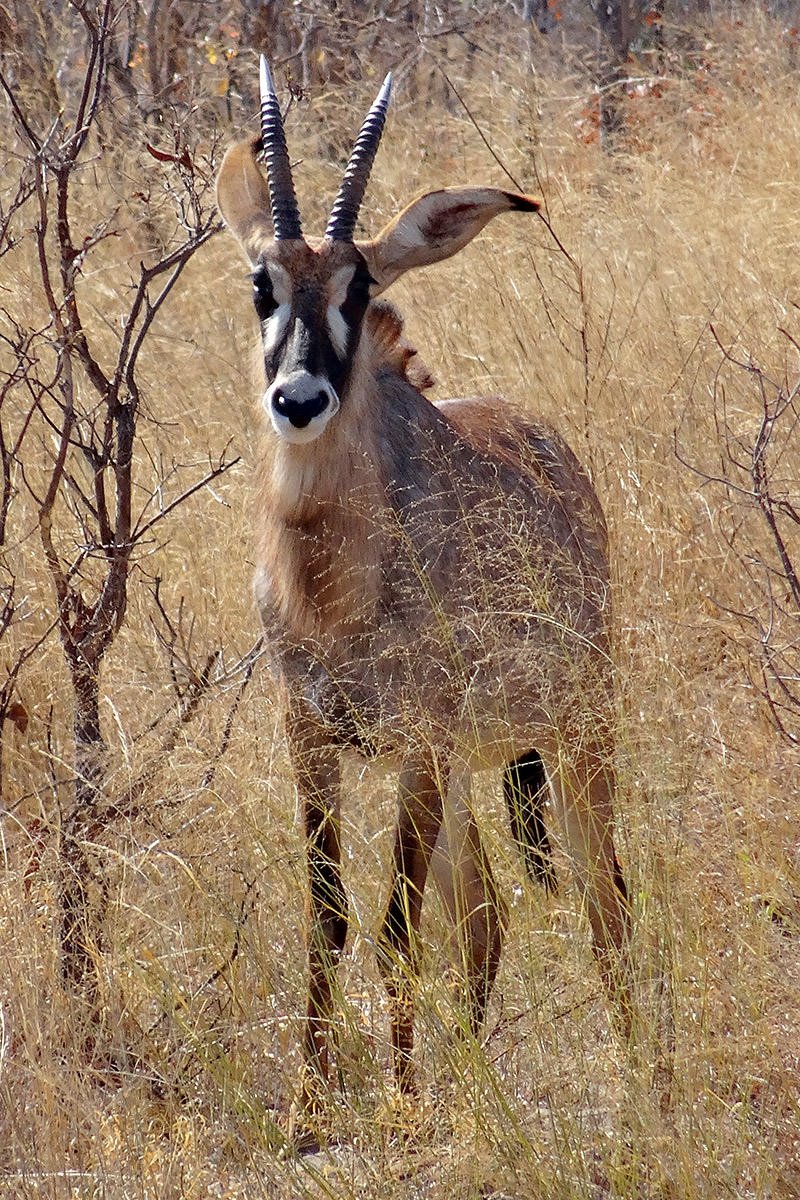 Then zebra just minutes after that...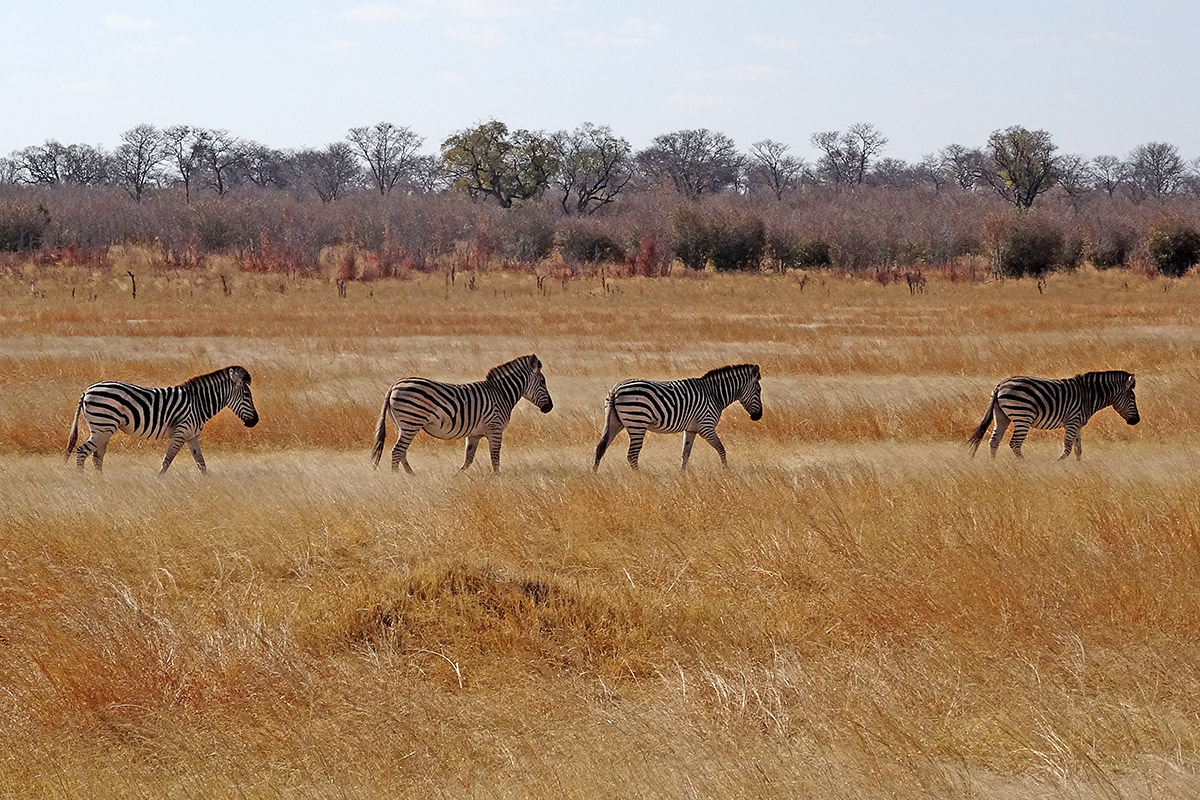 Turns out there were all kinds of animals to look at on the drive, and it ended up being anything but boring.
One of the species we spotted was lions, which means I have been lucky enough to see them every day I've been in Zimbabwe. That's pretty amazing...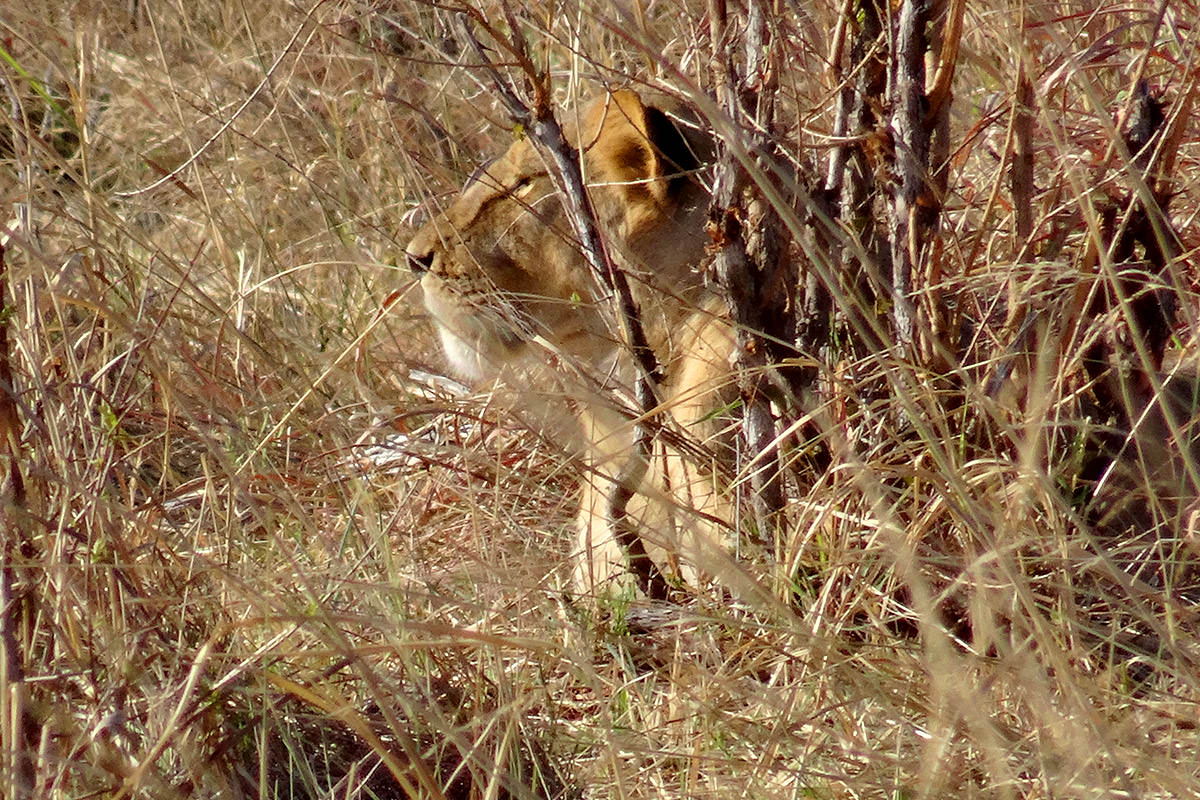 And then there was this guy, who was rolling around in the grass like a kitten...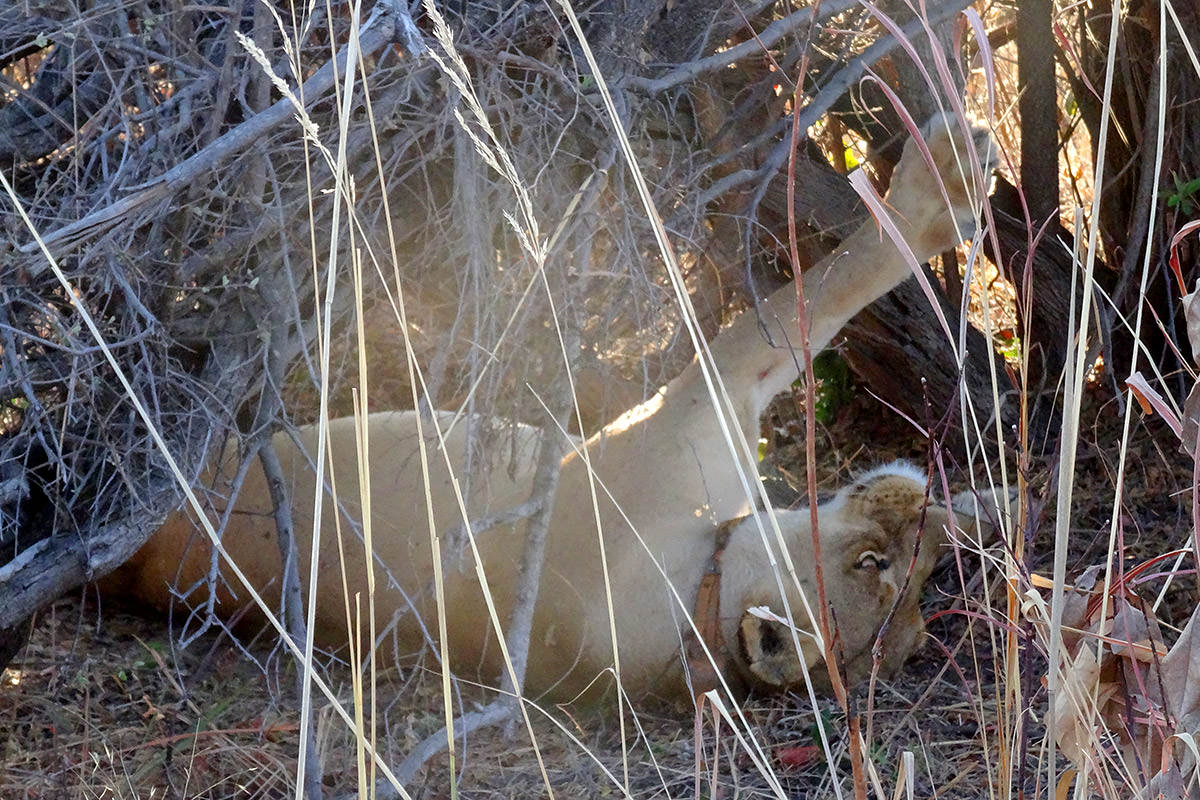 As I mentioned when arriving at Ruckomechi, Wilderness Safari camps are divided into Premiere, Classic, and Adventure categories. Ruckomechi was a "Classic" property... whereas Davison's Camp is a notch lower, and considered to be an "Adventure" property. I had prepared myself for a drastic step down in quality, so you can imagine my surprise when I was shown to my "tent"...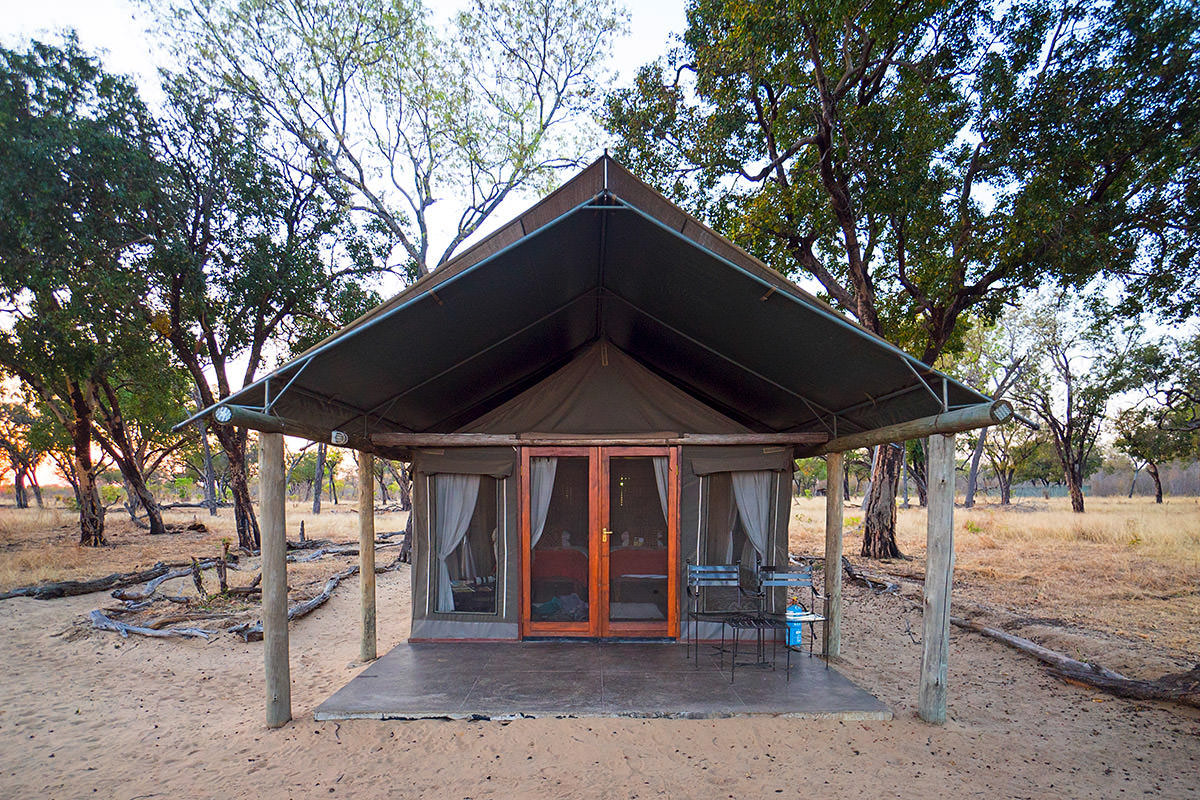 Absolutely amazing.
What's nice is that the toilet/shower area offers a bit more privacy than the wide-open spaces in the tent I had at Ruckomechi...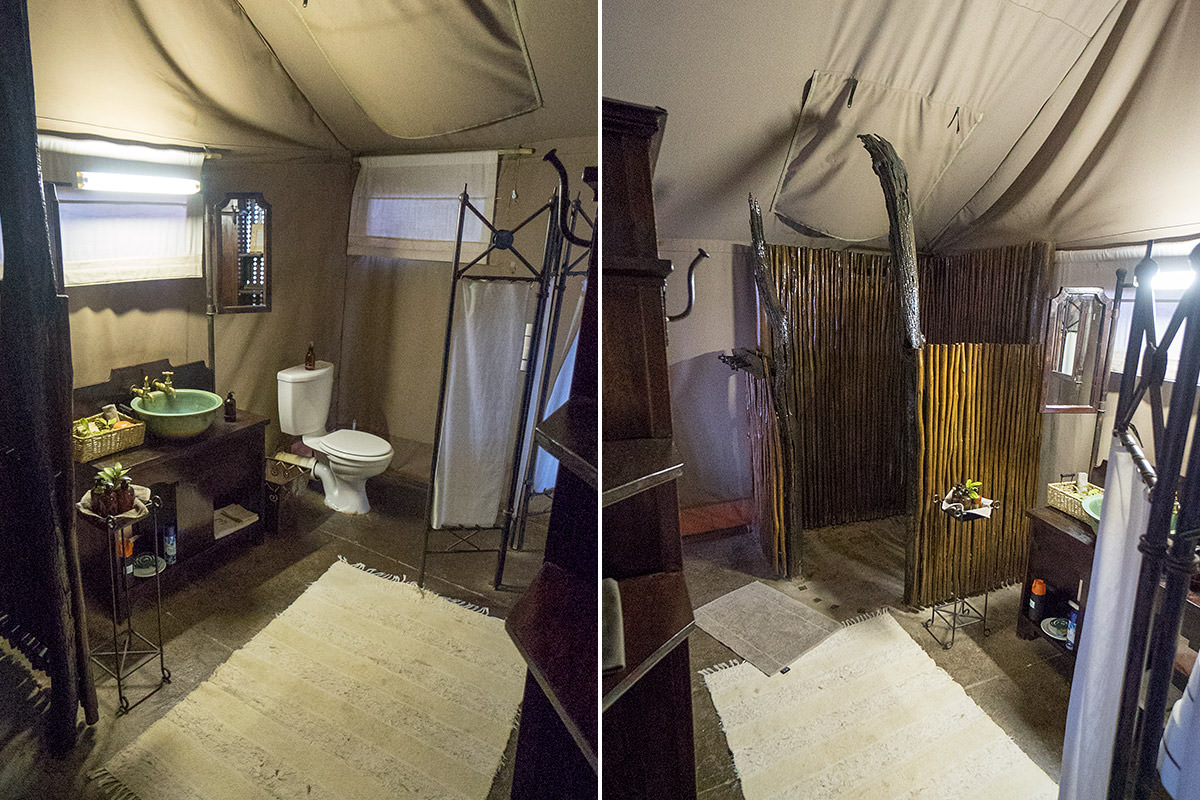 As if that weren't enough... NO PAINFUL ROCKS IMBEDDED ON THE FLOOR! and... ZOMG... ELECTRICAL OUTLETS IN THE ROOMS! No more running to the dining room to charge my camera batteries!
It took me all of ten seconds to fall in love with my new home.
Since I arrived late in the day, everybody else at the camp was out on a safari game drive. This meant I got to explore the site a bit and visit with the wonderful staff at the camp. As dinner time approached, we could see the jeeps returning to Davison's, their night-red spotlights ablaze in the distance. But they all stopped short of arriving back at camp because a pride of lions showed up just a short distance away. You could kinda see the animals with your naked eye from where I was standing, but my zoom lens wasn't bright enough to photograph them...
The lion-sighting pushed dinner way, way back and I was exhausted, so I grabbed a snack and returned to my tent.
My 5:30am game-drive wake-up will be here all too soon.