Last night was much quieter so I actually managed to get some sleep, which was nice.
On this morning's game drive, our guide decided to head out to a giant tree that has a massive hole in it. I fully admit that this didn't seem like much of a destination-worthy sight, but if there's one thing I've been learning over the years, it's to trust the local guides.
And so off we went to see a hole.
But before we could get there...
We spotted some elephants destroying a tree. Usually, for a tree this size, they'll just strip the bark off the thing... but this time they decided to knock it over for some reason. Our guide said that this is unusual but, now that it's down, the elephants will keep eating it until there is nothing left...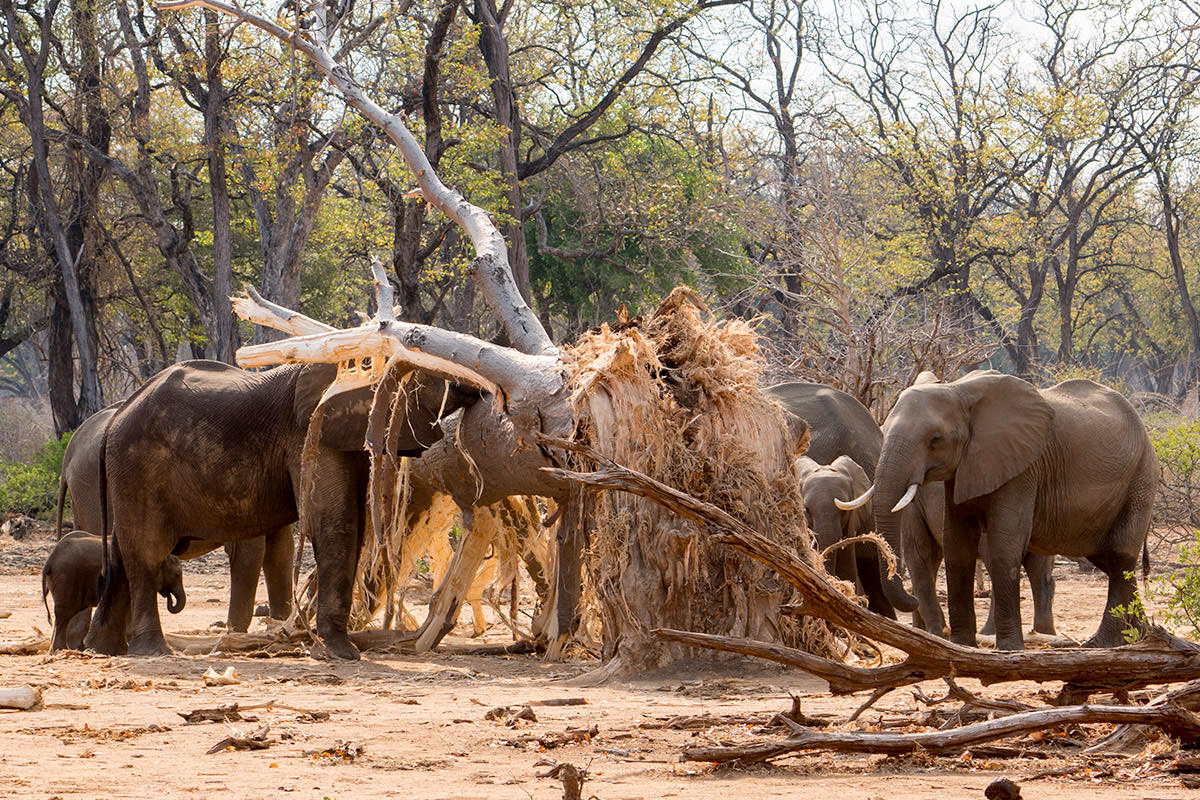 And I believed it. The elephants just kept ripping off these huge strips of tree with their trunks and chowing down...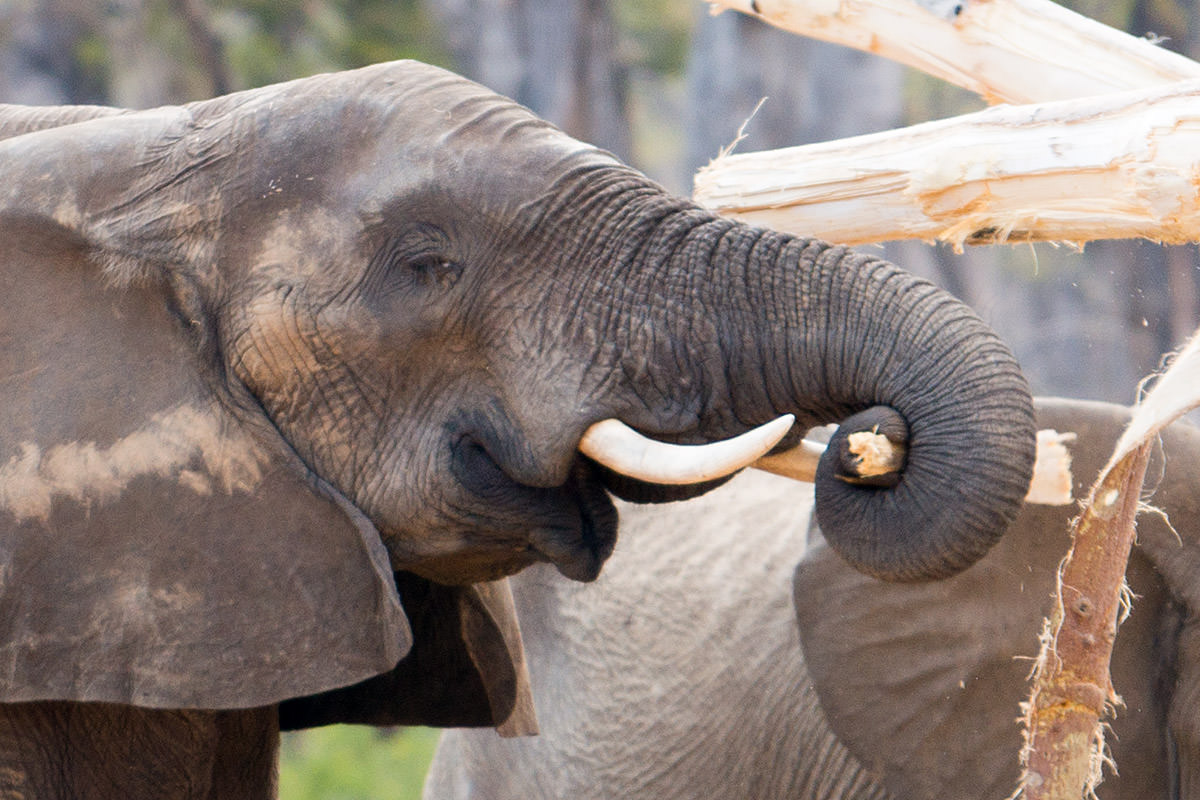 Maybe they knocked it down so the baby in their group could have some. He was munching away just like the adults...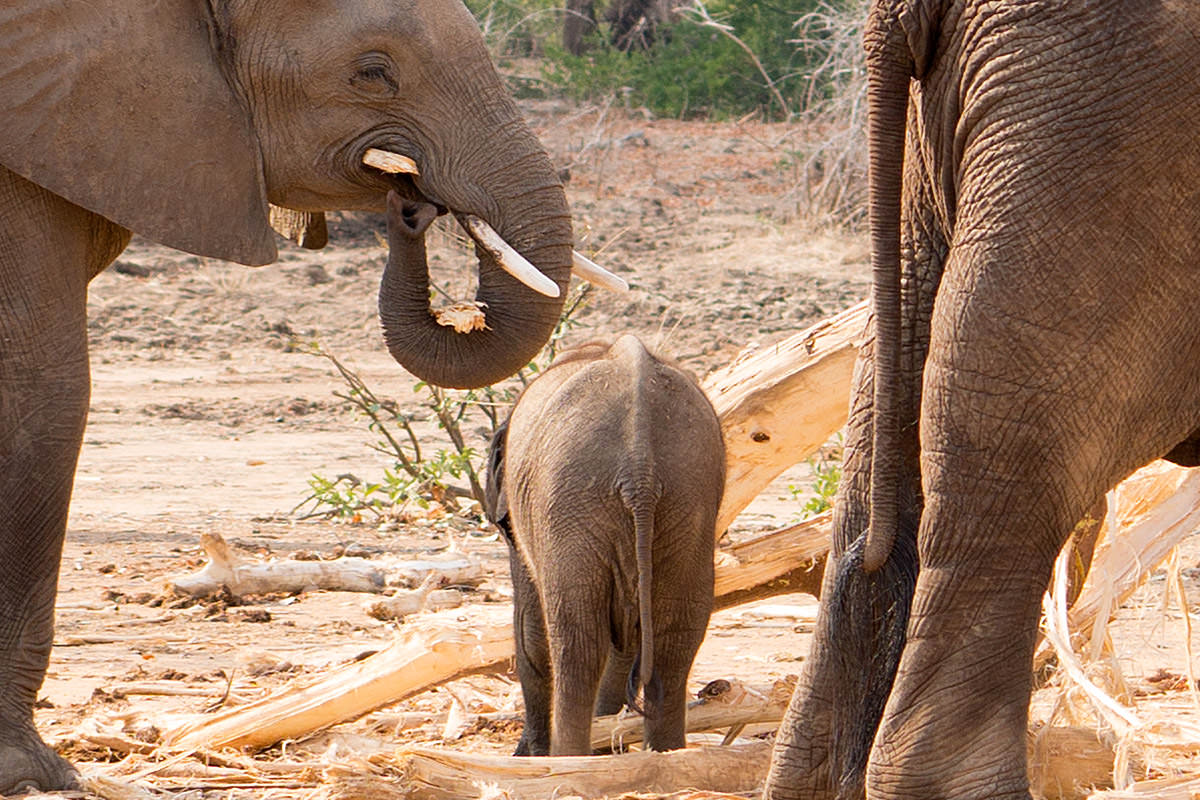 After watching the tree carnage for a while, we headed to the tree with the hole in it... but ended up driving right on by because our guide got a call that three male lions were in the area! A quick five minutes later and one of the others in the jeep spotted them trying to escape from the sun under a bush...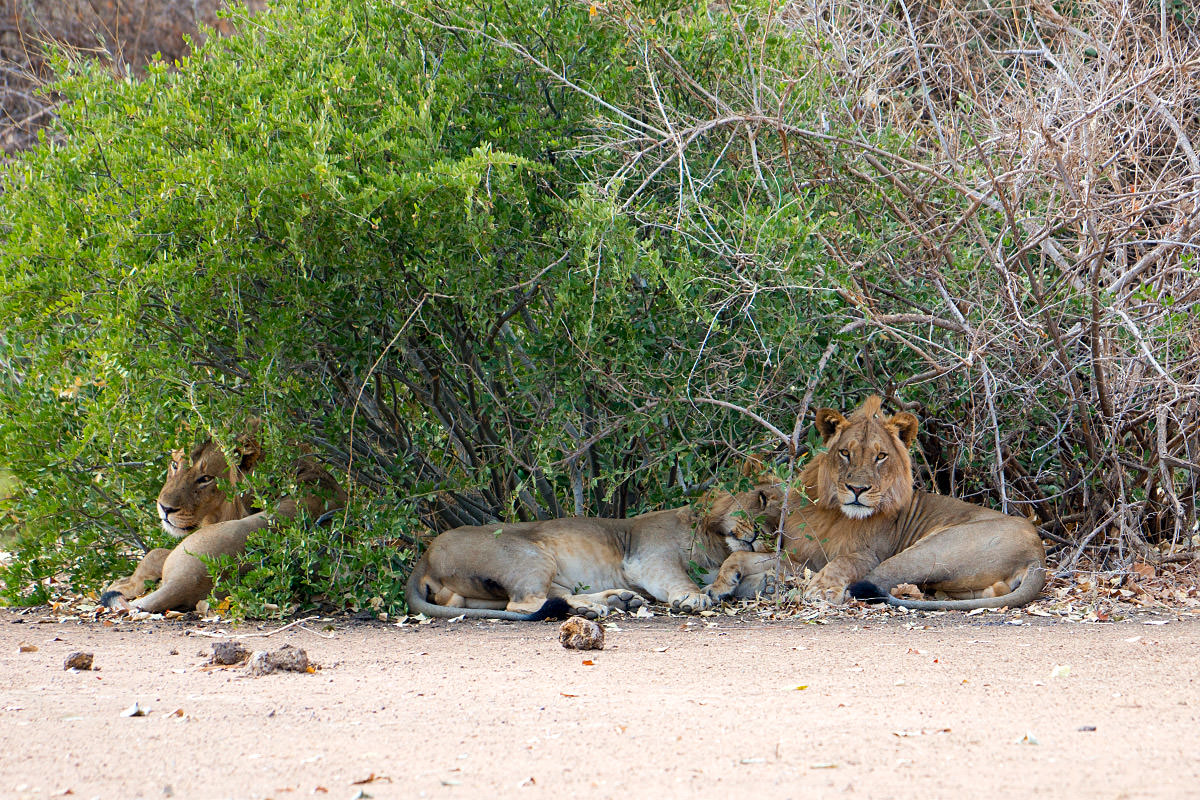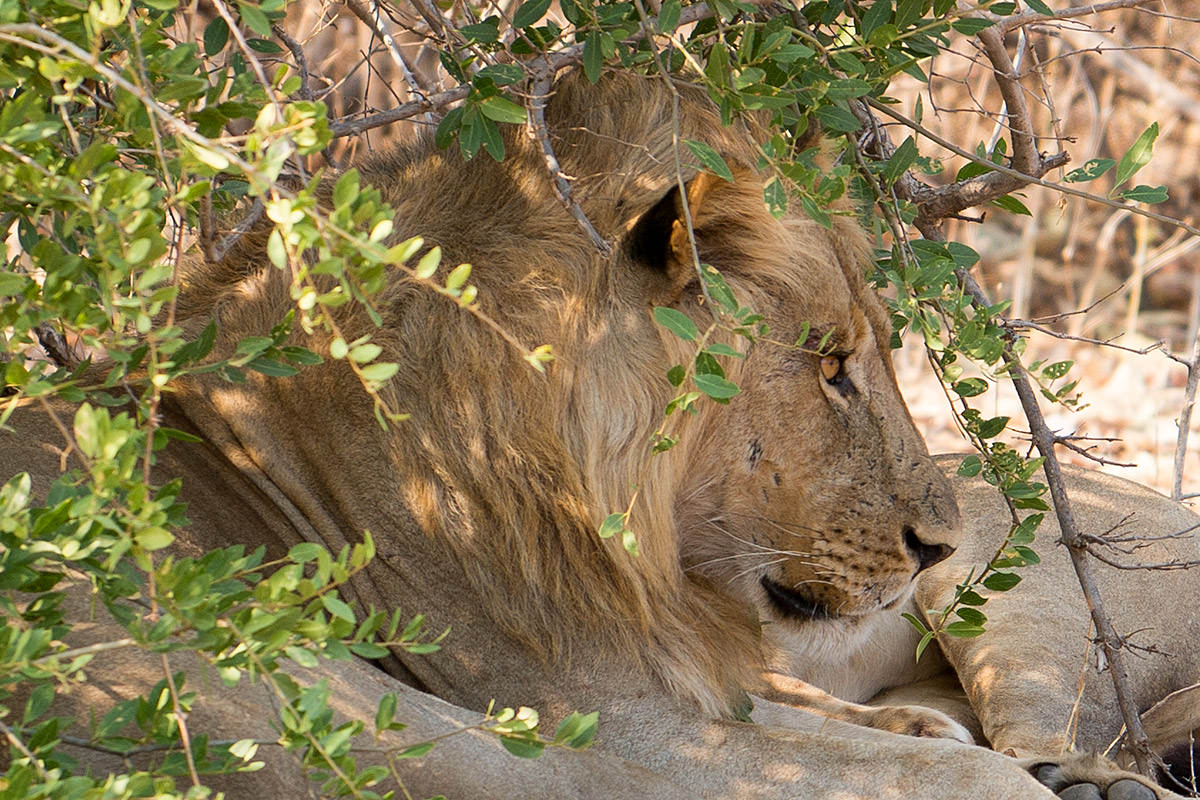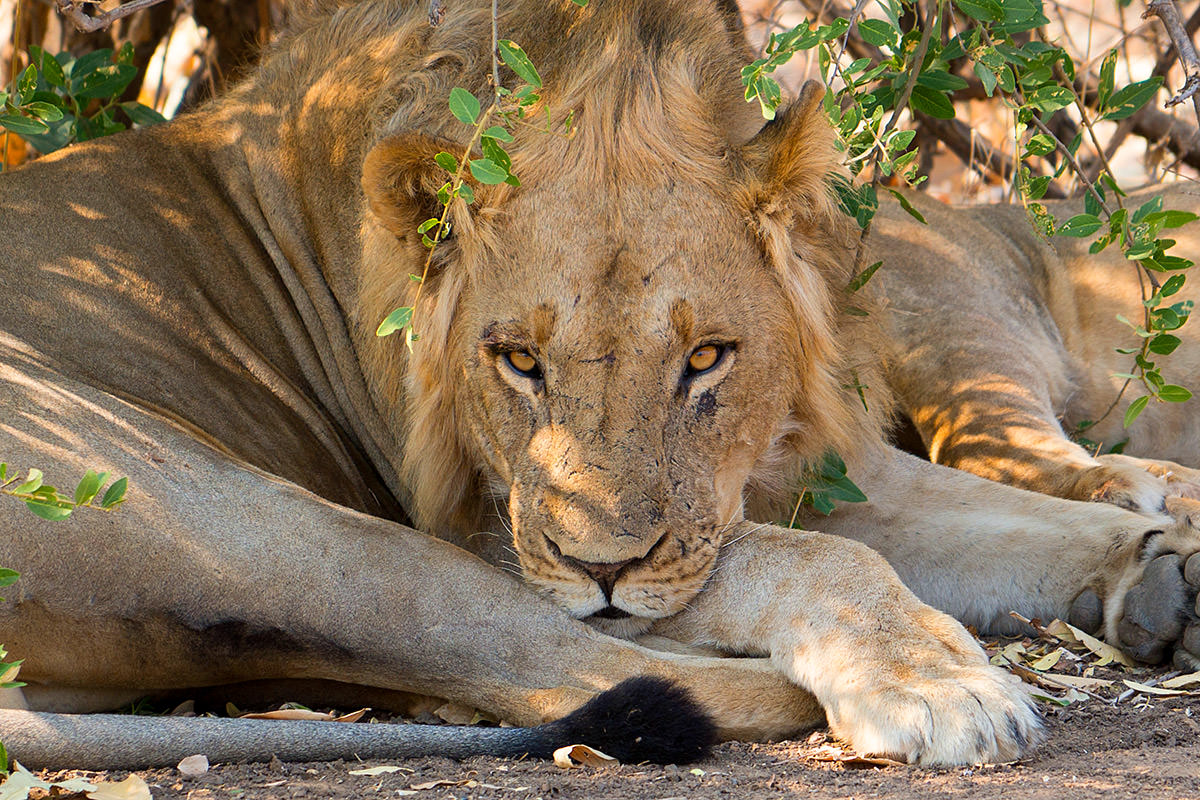 Even doing nothing, these are beautiful, beautiful animals. And how insane is it that I've been lucky enough to see them three days in a row when there are people who come and see none at all?
After staring at lions for a while, our guide decided to head back to the tree with the hole in it.
Until one of the other jeeps that showed up just as we were leaving reported that an elephant had showed up and was CHASING THE LIONS OUT OF THEIR BUSH! Insane! We pull up just in time to see the last lion get chased off...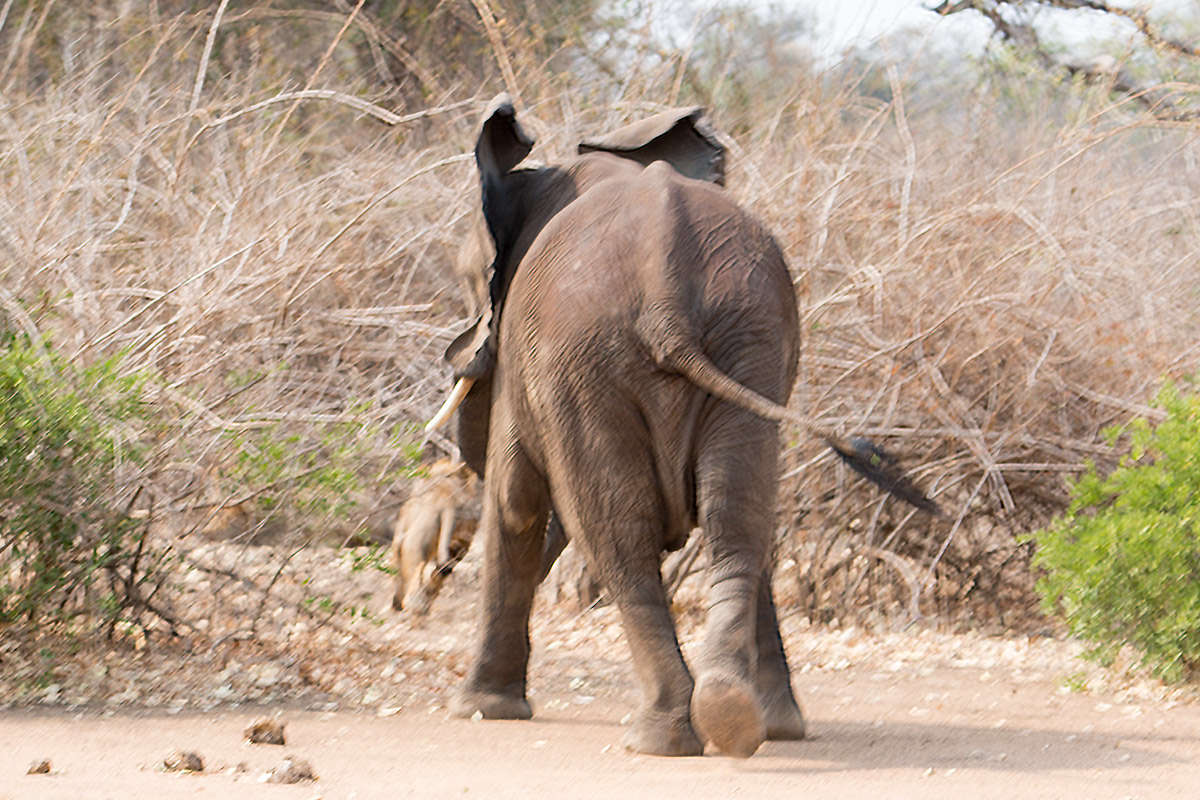 Then the elephant was all like "Yeah, I just made three lions my bitch! as he turned towards the jeep and gave us a sideways glance before trumpeting and wandering off... assumably to take on a heard of rhinos or something...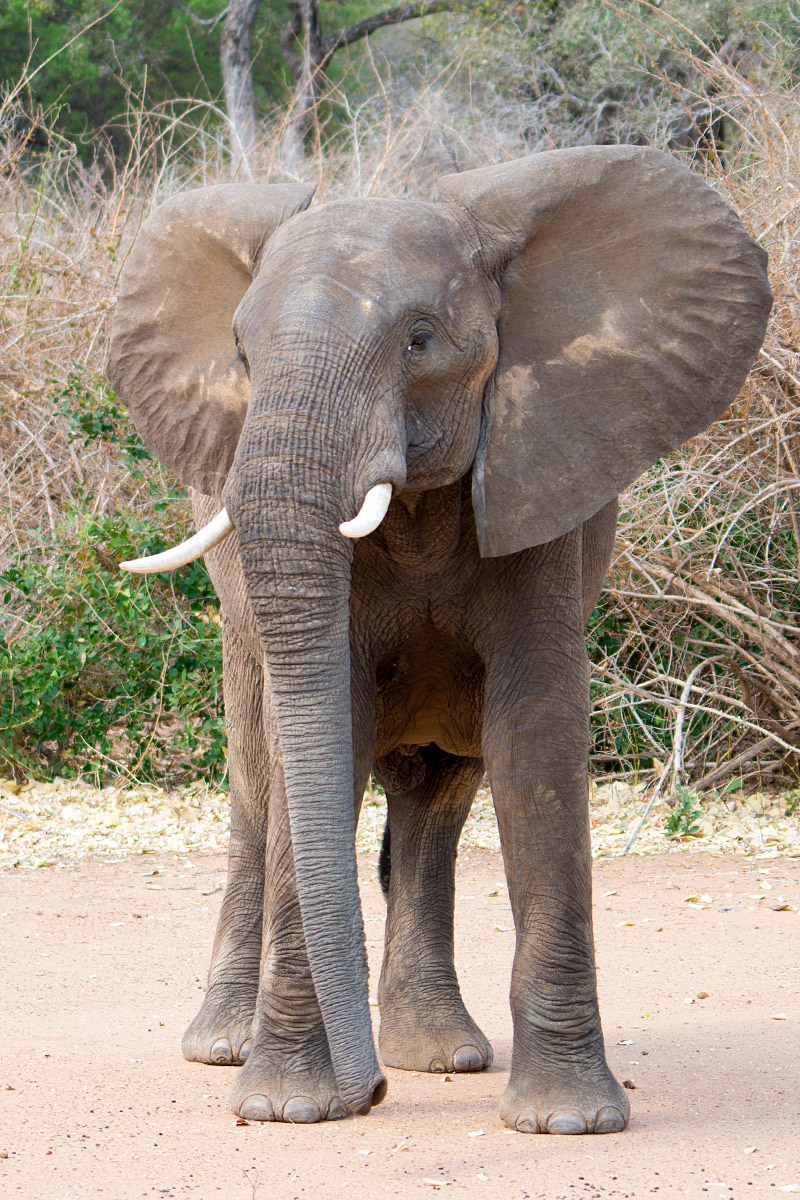 Anyway... we finally made it to that tree with the hole in it...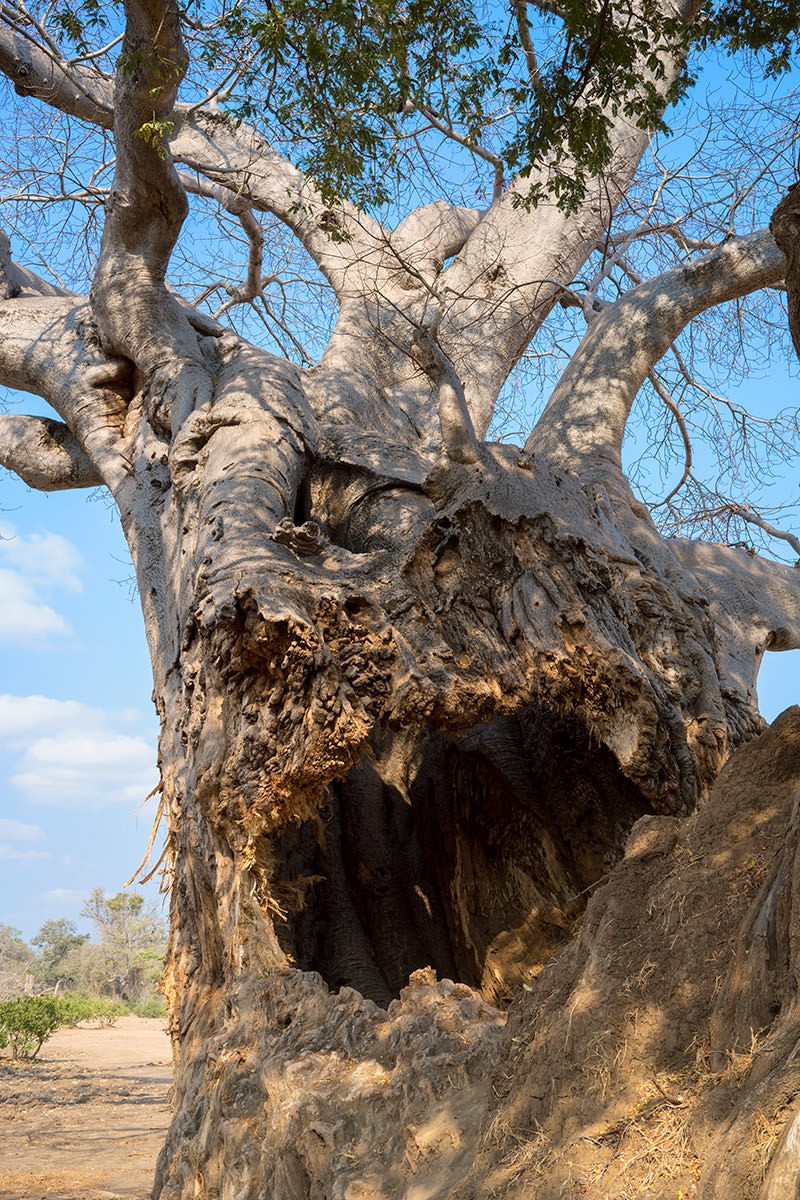 Kind of anti-climactic after the stuff we had just witnessed, but okay.
Then we drove around a corner and saw... CROCODILES!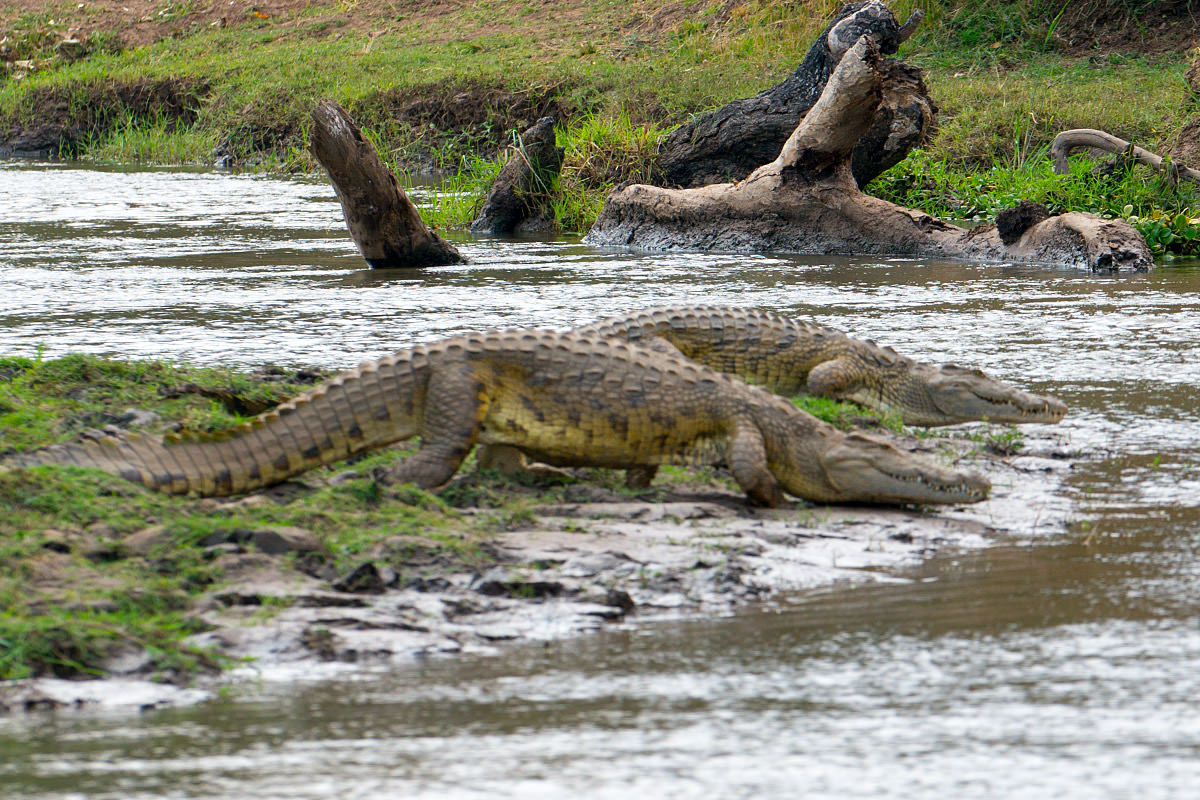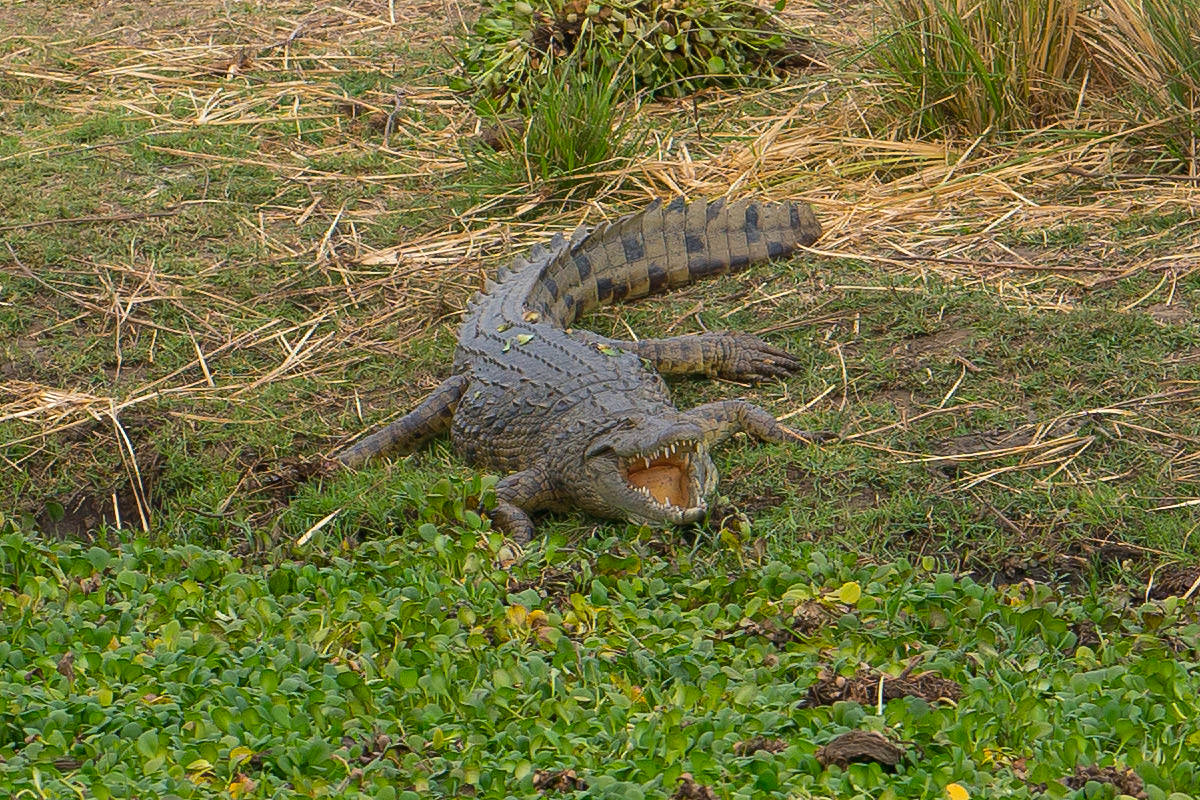 This guy decided to be all fancy and make himself a jacket with water hyacinths...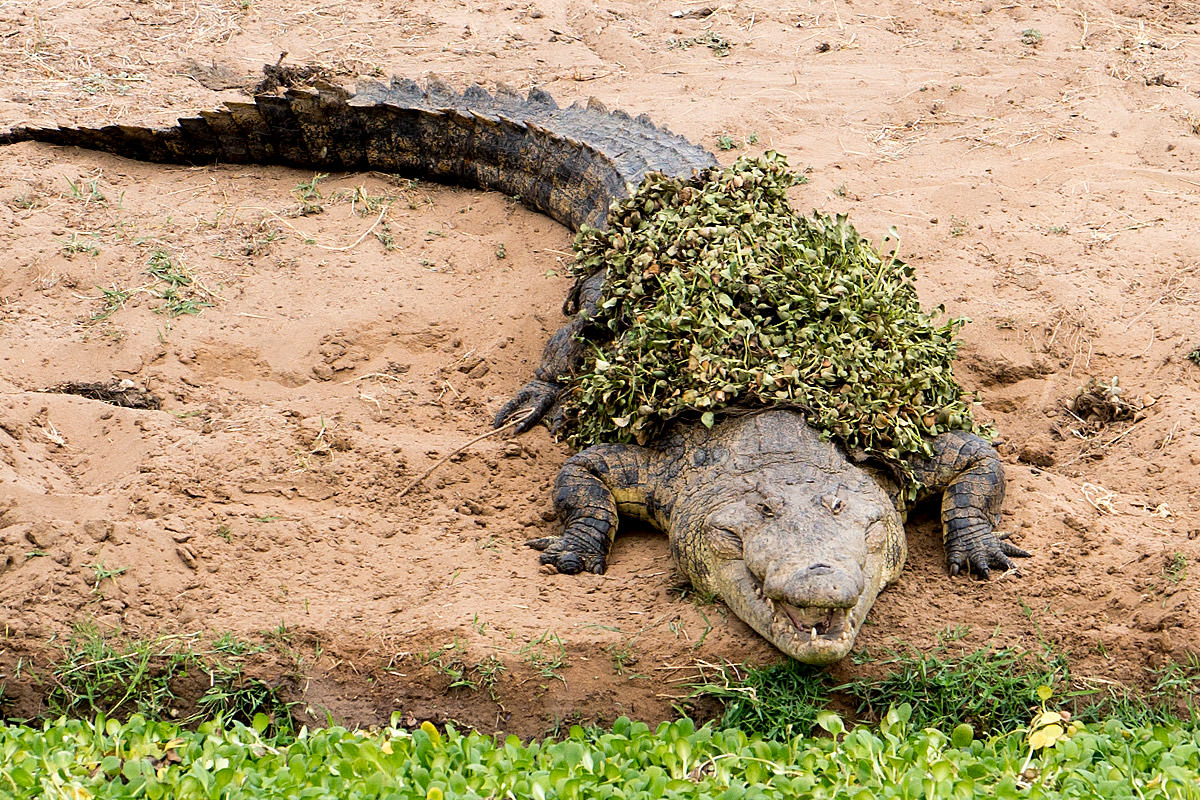 He seems happy about it too!
With all the cool animals around, it's easy to overlook the amazing birds hanging around Mana Pools but, luckily, we have a great guide to point them out...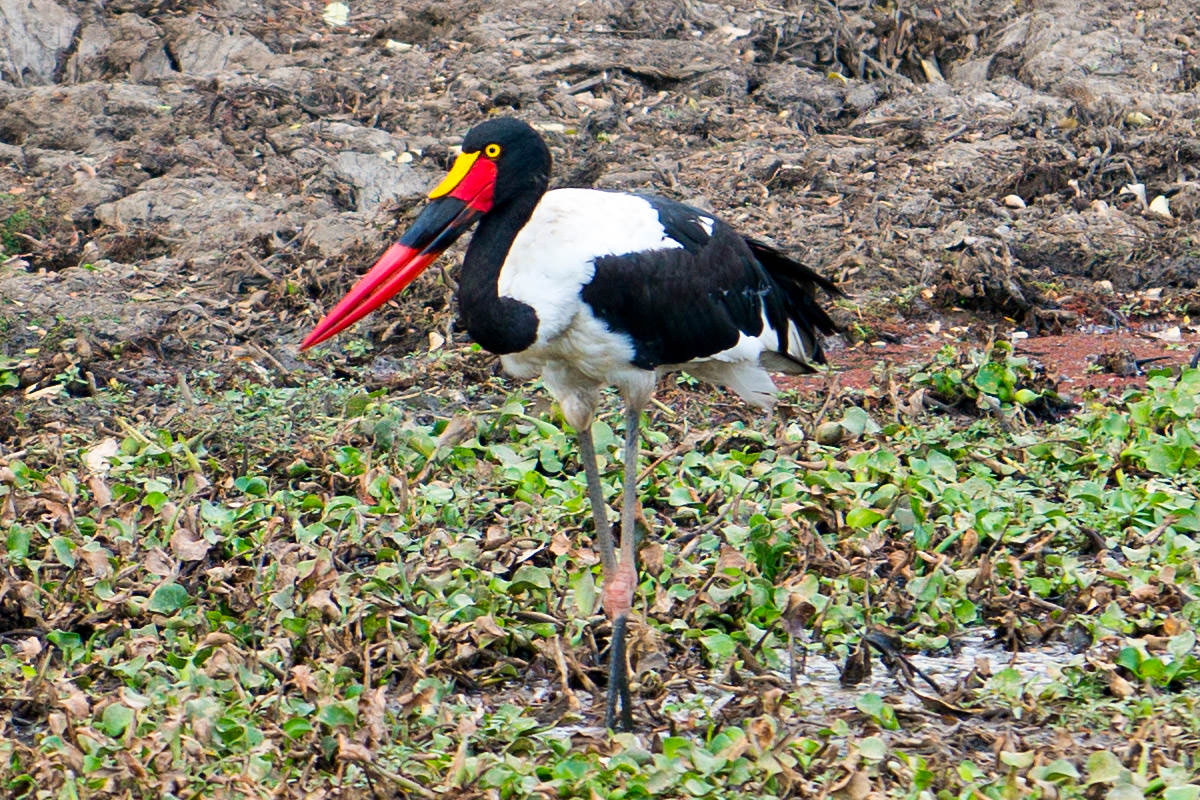 Warthogs are everywhere, though they tend to be a bit shy so I haven't gotten many photos. This guy decided to strike a pose for me before running off, which was nice...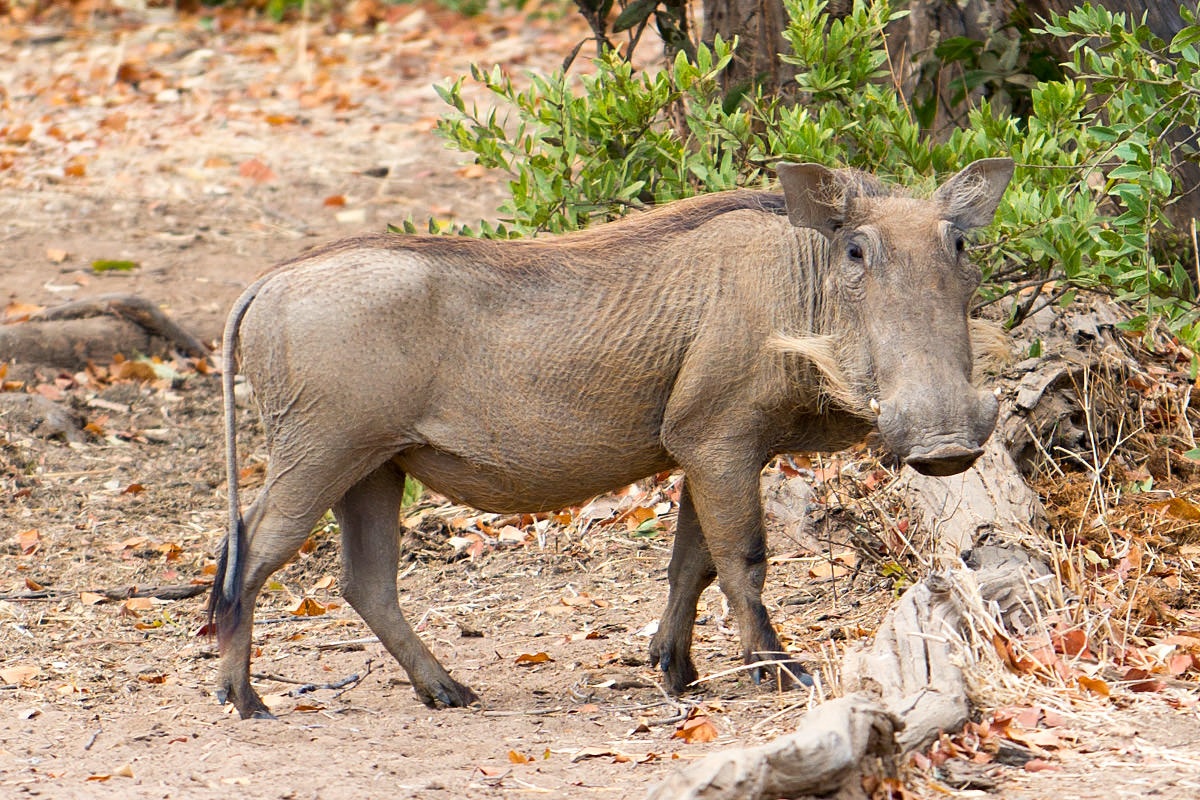 When they run, warthogs stick their tails straight up in the air. It looks pretty funny, so I'm definitely going to try and get a picture of that.
Today I learned that the beautiful red and blue birds we keep seeing are called "Carmine Bee-Eaters." Apparently they only show up in this area once a year to mate, so I consider myself lucky to have seen so many of them...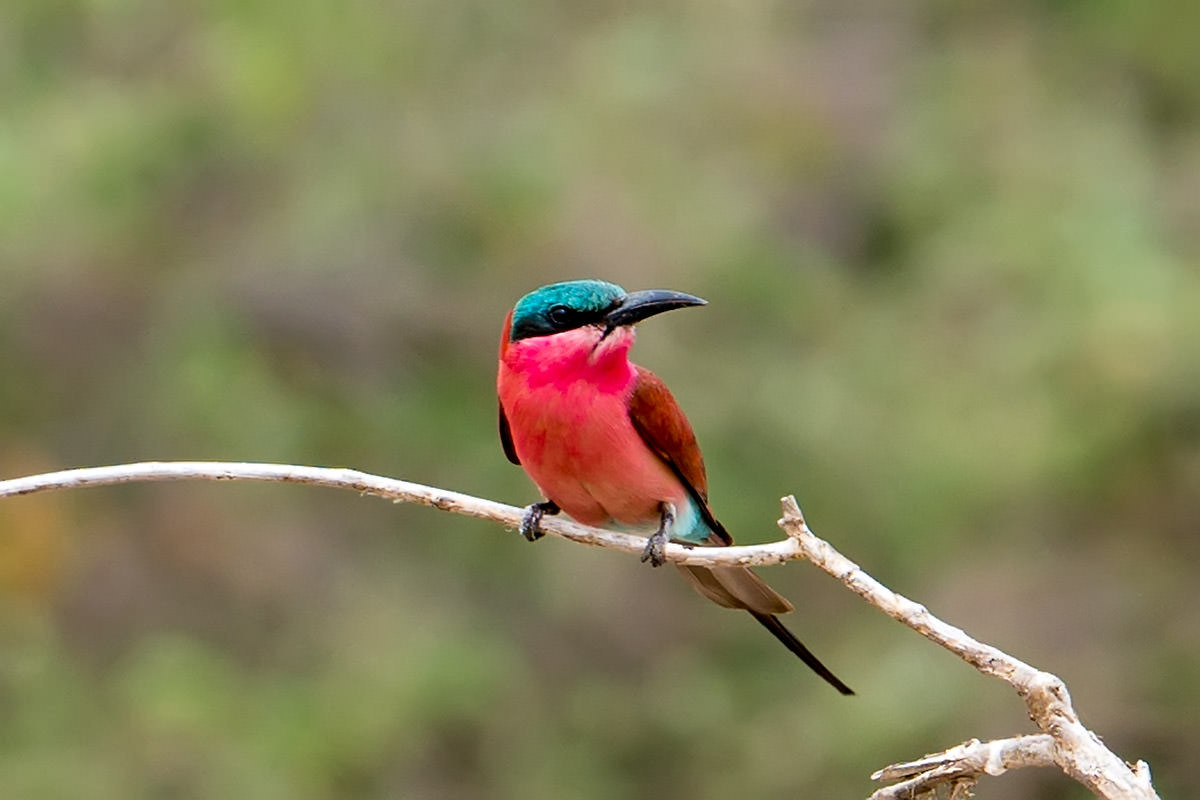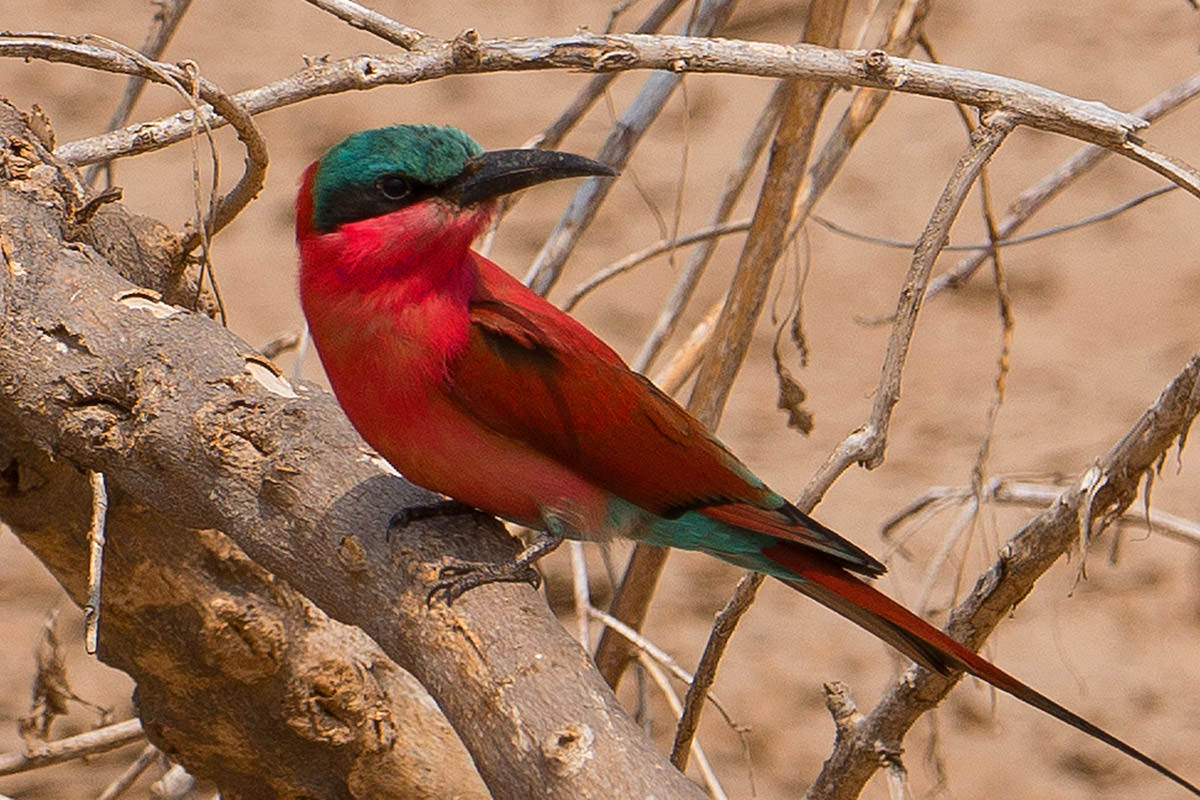 And now, for no reason at all, a baboon running with impalas while eating leaves...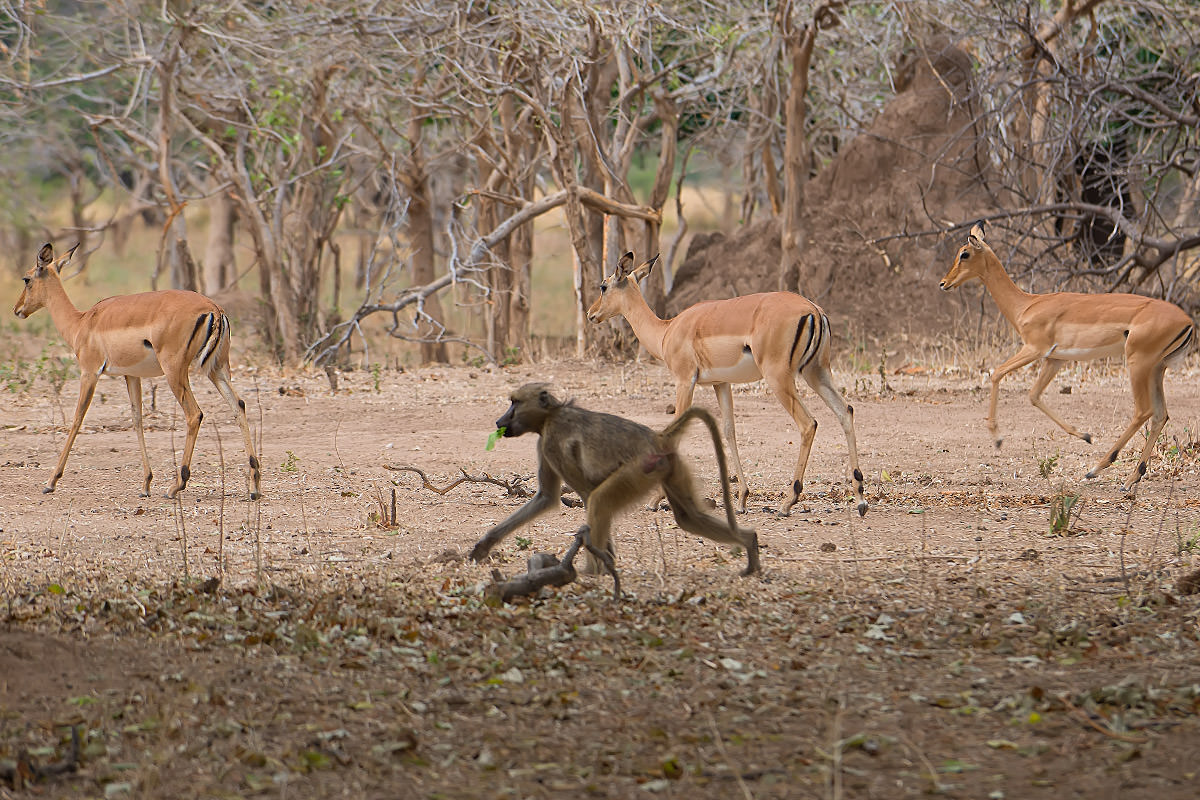 And here's the male of the group, who decided to stop and stare us down as we drove by. Isn't he beautiful?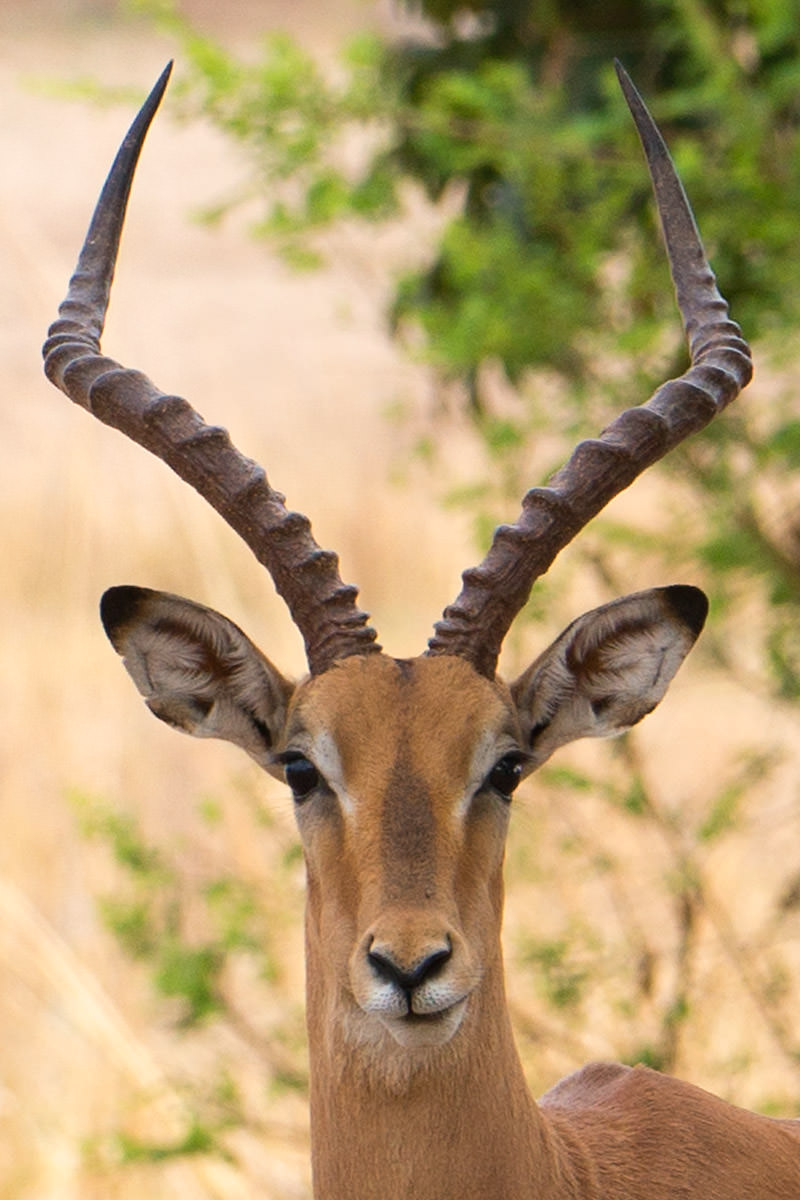 AFRICAN WATER BUCK!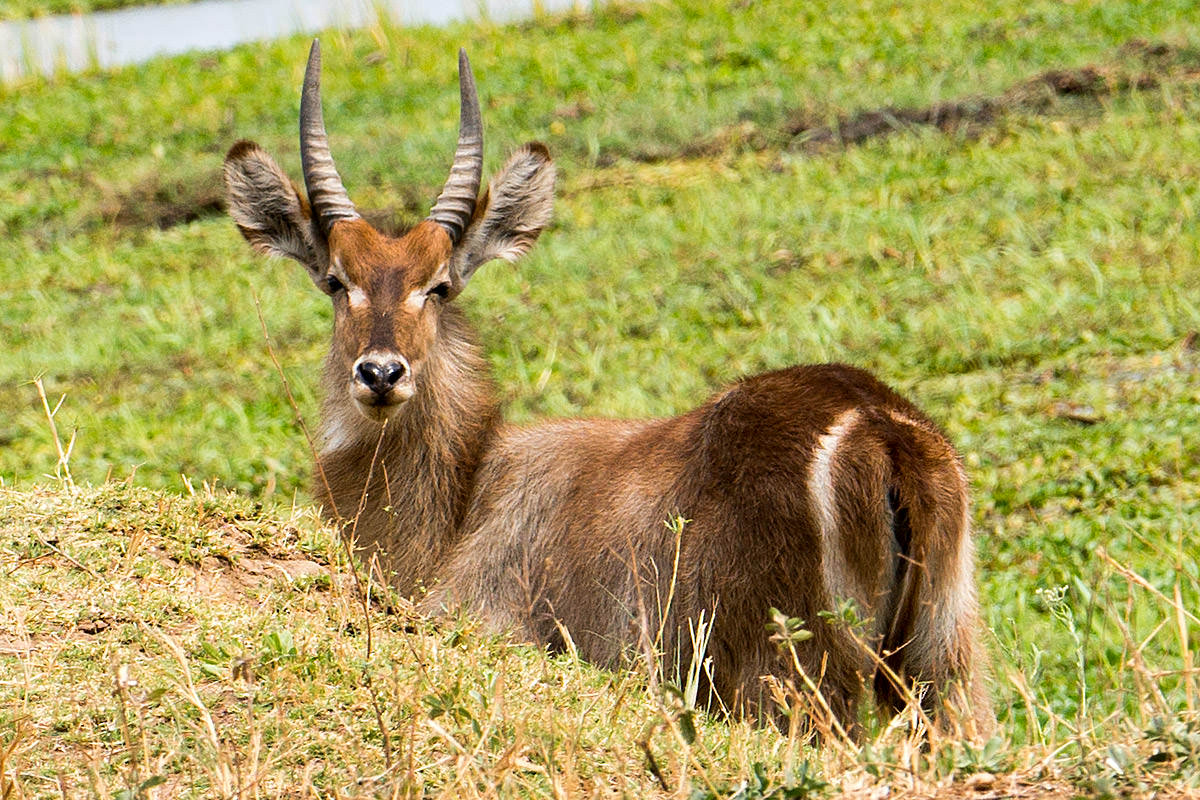 Not cool that they've evolved to have a target painted on their butt. Not cool at all.
And... we're done.
Since it's too early to take a shower when I get up at 5:00am, I've gotten in the habit of taking one when I get back to camp after the morning game drive. Today I decided to try my outdoor shower, which is attached to each tent in the camp. Not that I'm any kind of exhibitionist, but it seemed like it might be a unique experience.
So there I was, towel and shampoo in-hand, walking around the corner of my tent when... BLAM! There's an elephant in my shower.
After nearly dropping a load in my pants, I backed away slowly so I could get my camera. Who would believe it otherwise?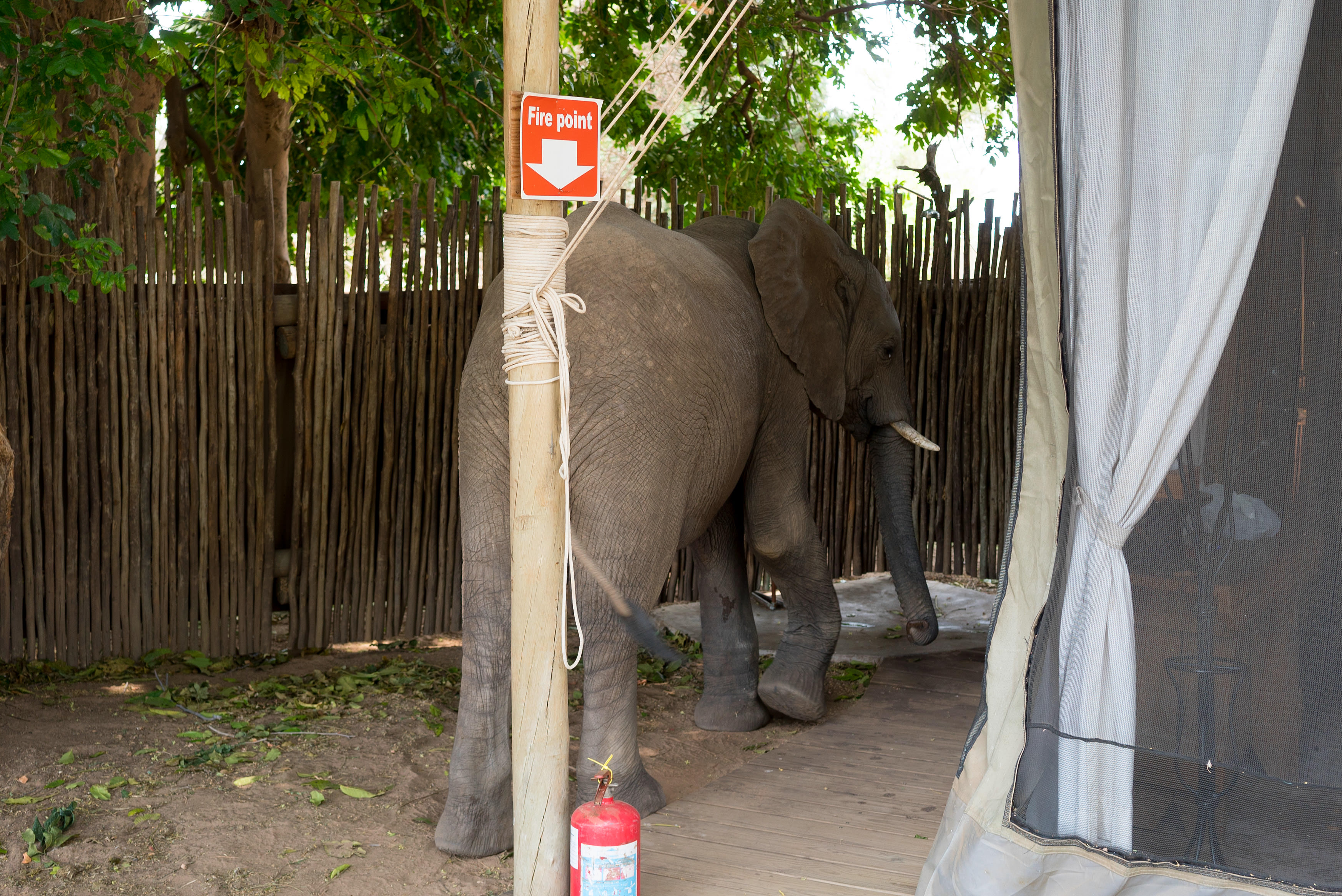 After he cleared out, I was able to take a shower. If you ever have a chance to experience an outdoor shower, I highly recommend it. Not just because your dick gets to air-dry in the wind, but because of the feeling you get of becoming one with nature. Or something like that.
After a nice nap, I headed back to the dining room for lunch and the evening game drive.
You would think that the constant presence of elephants in the camp would be something you get used to... but I assure you that you do not. Especially when the babies are around, as they are one of the most adorable things you'll ever see. This little guy was walking on the path back to camp, so I patiently waited for him to wander off...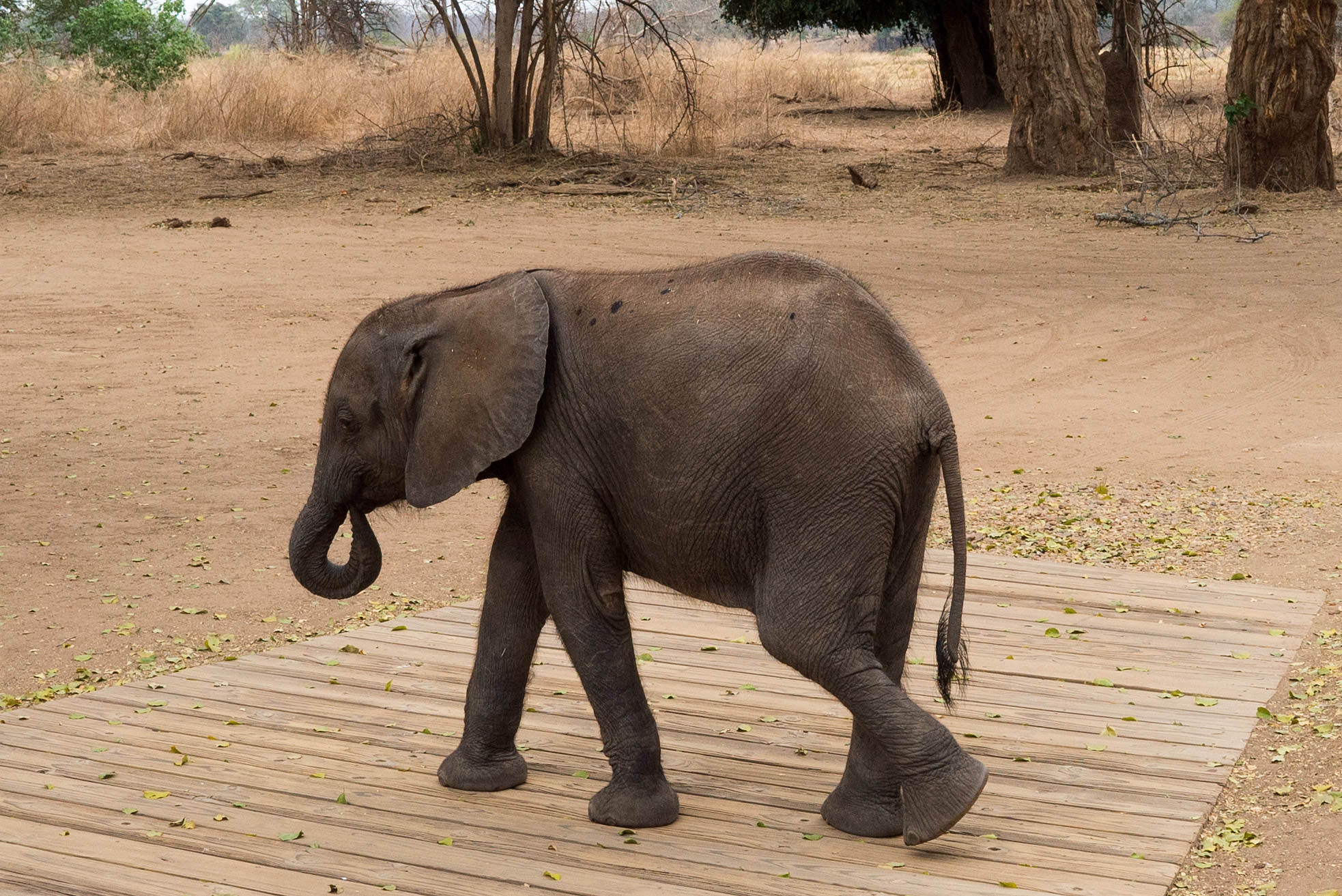 After he left, I came across another baby almost immediately. And even though I kept my distance, momma showed up to let me know that her baby was hands-off. They are very protective that way...
Tonight I decided to take my game drive via boat, which is a nice option to shake things up a bit.
My adventure started before I even climbed onboard, because there were some zebra, warthogs, and baboons hanging around the dock...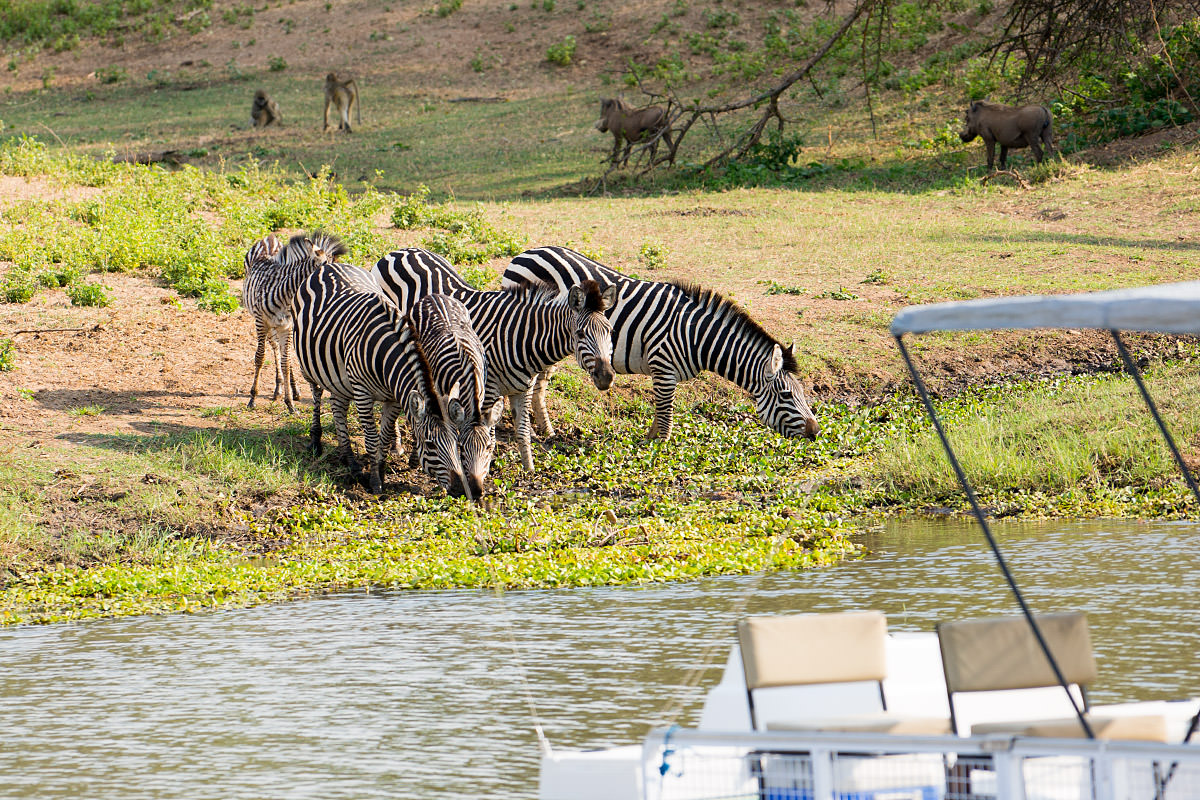 As we headed out onto the Zambezi River, we noticed crimson bee-eaters everywhere...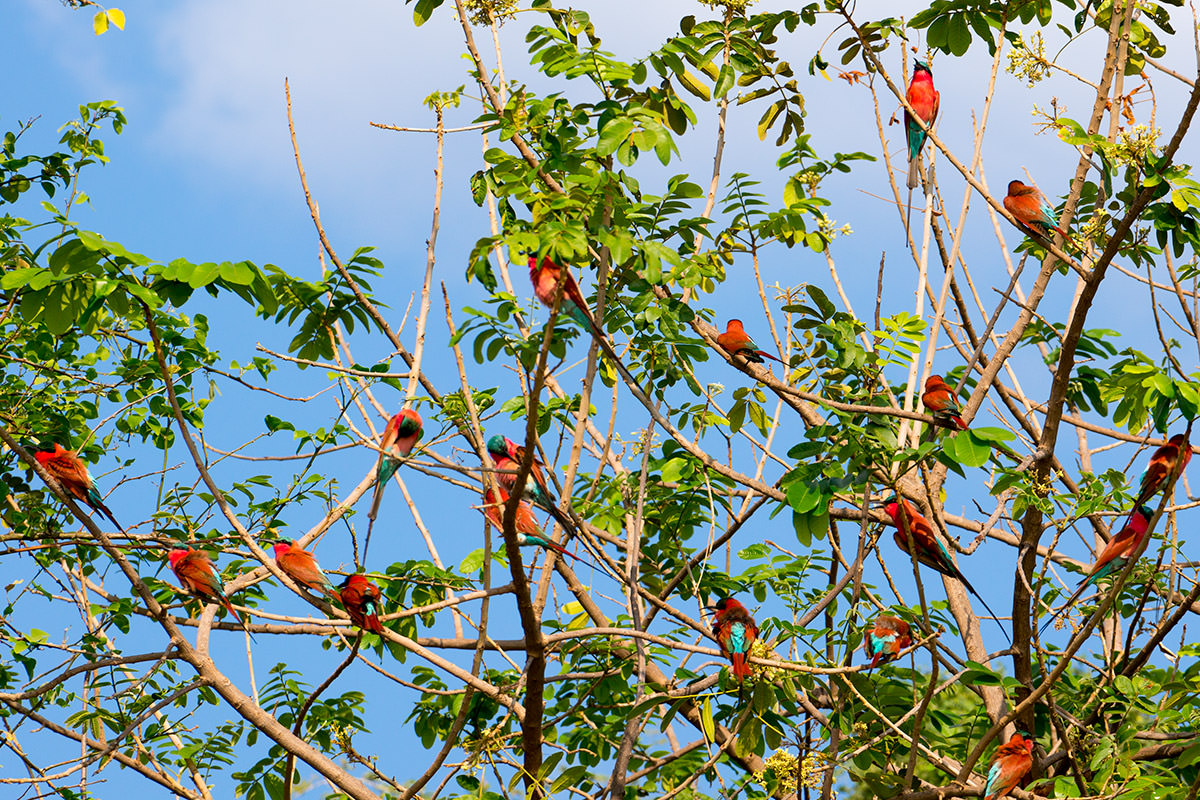 Turns out that they nest in tiny caves they carve out of the river banks...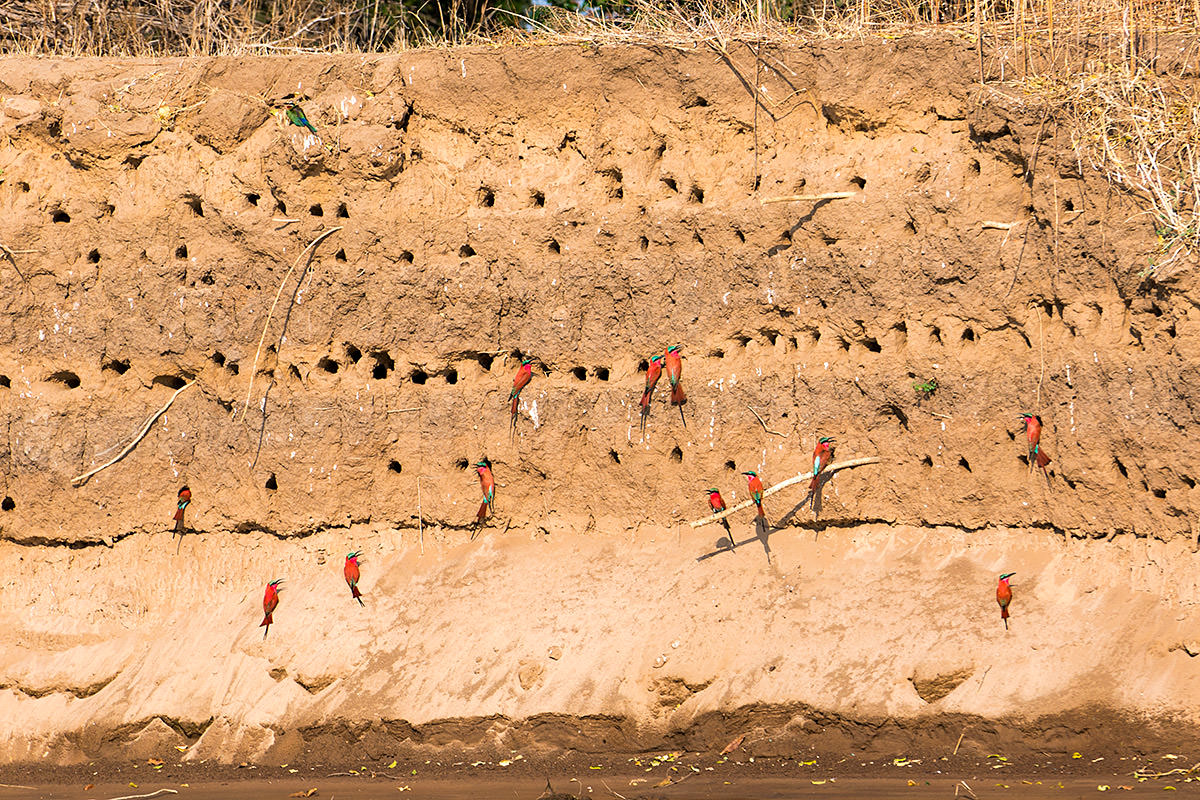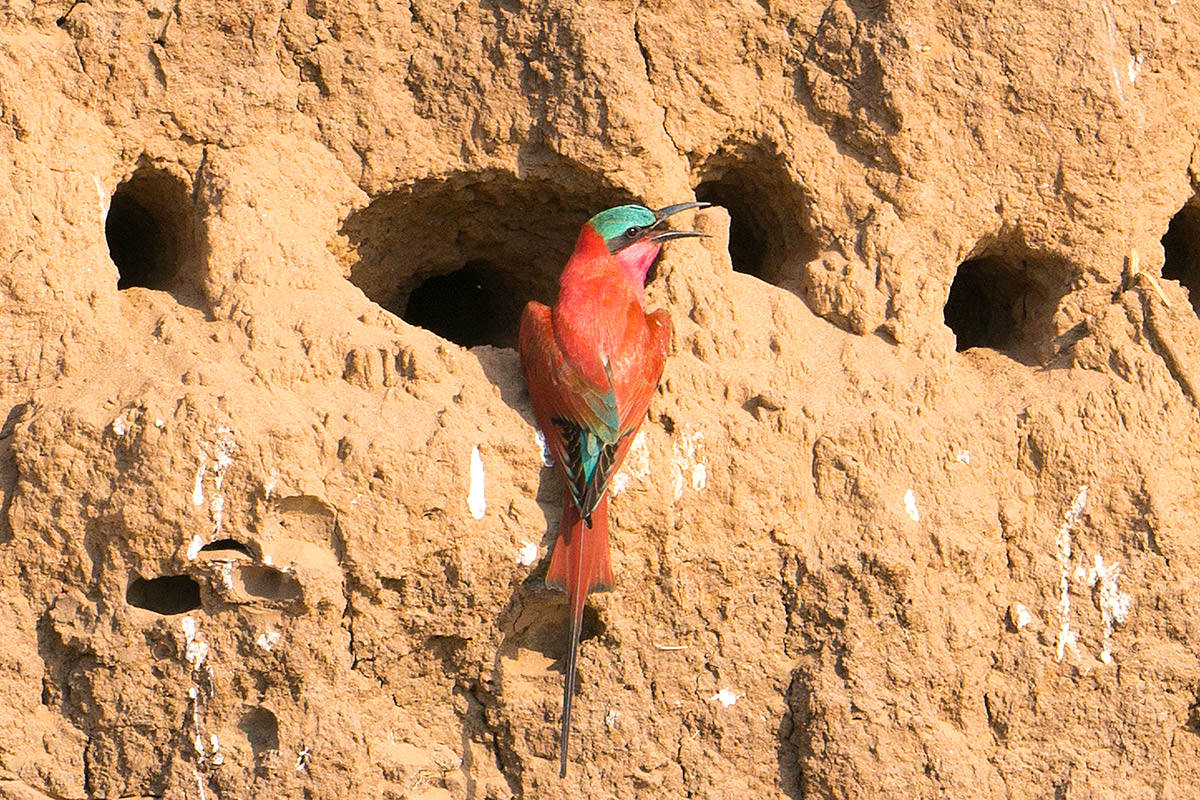 HIPPO ENCOUNTER!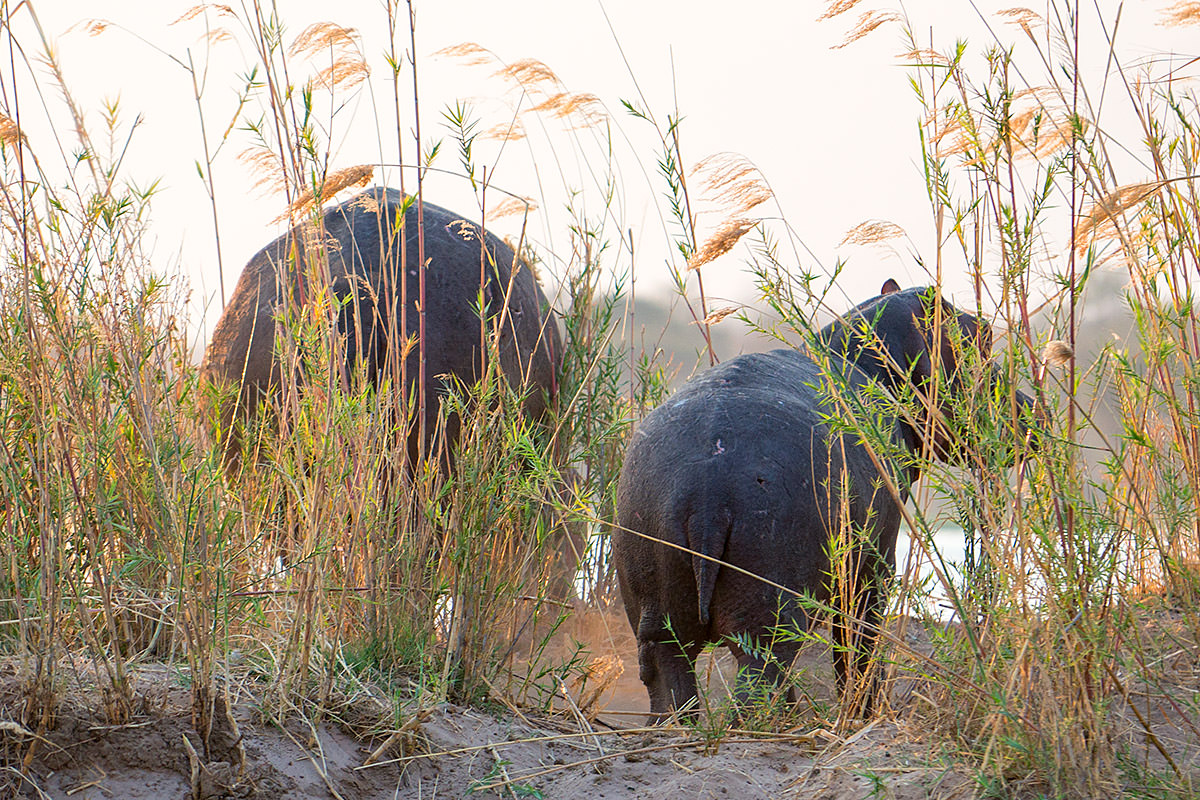 The river cruise was nice, as it allowed you to see animals in a different context. Elephants, for example, aren't scrubbing around the ground looking for seed pods... they're ripping up grass in big clumps to eat. What's fascinating about this is that they wash the dirt off the grass before eating it by dunking it in the water several times before slapping it on the ground to dry it off...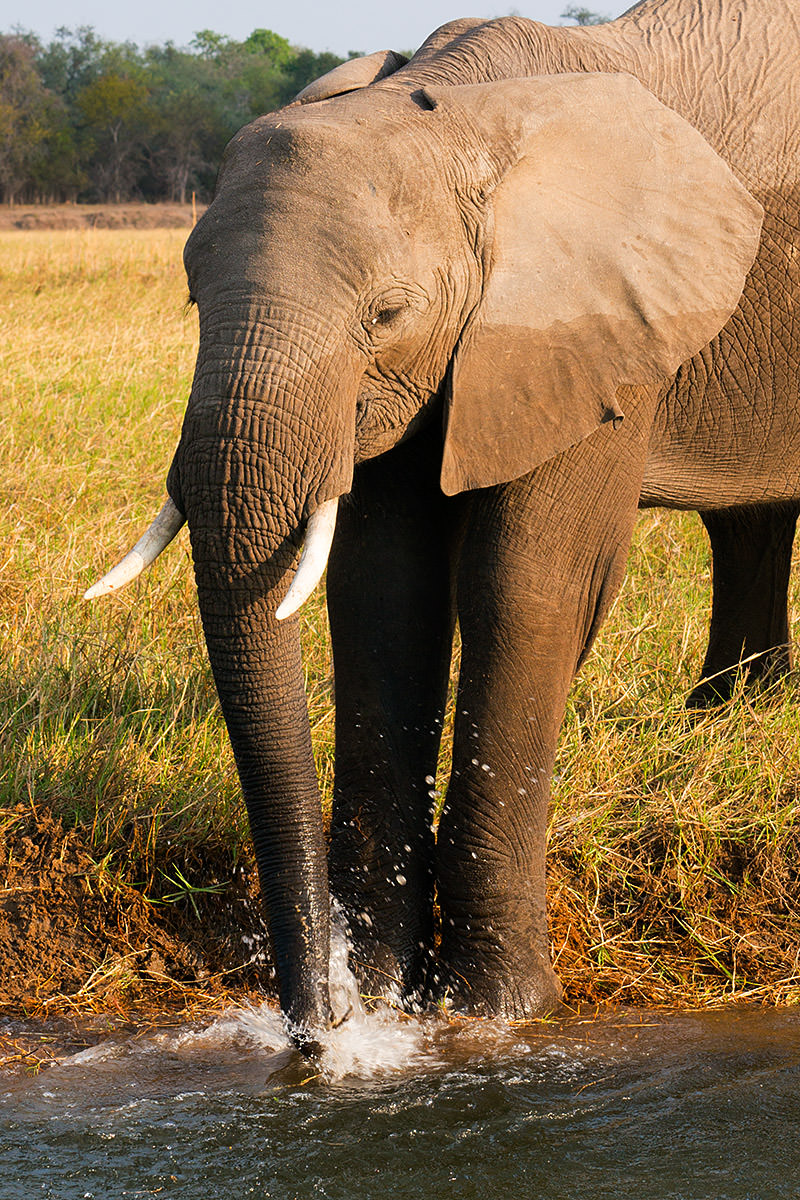 There were two elephants teaching a baby how to wash grass. The poor little guy was having a tough time of it, as most of the grass got washed away because he wasn't that skilled at gripping stuff yet. Still adorable...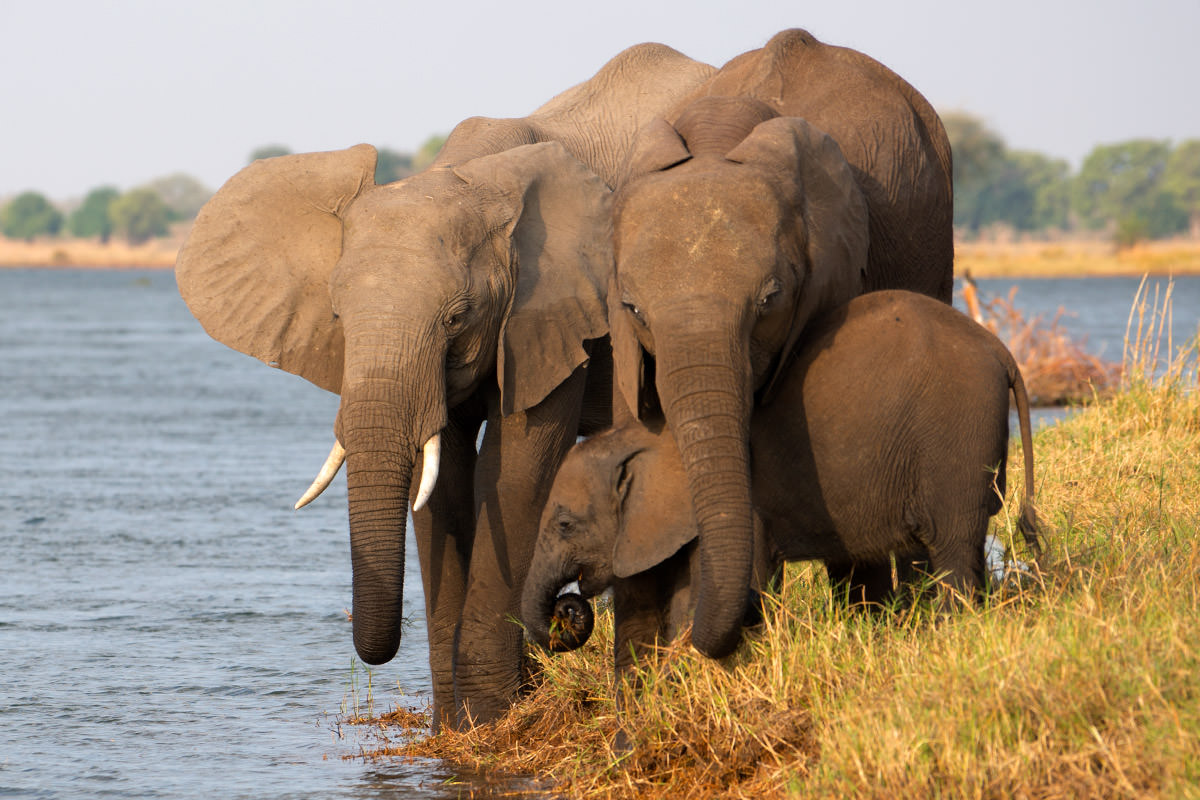 The sunset was, as expected, glorious...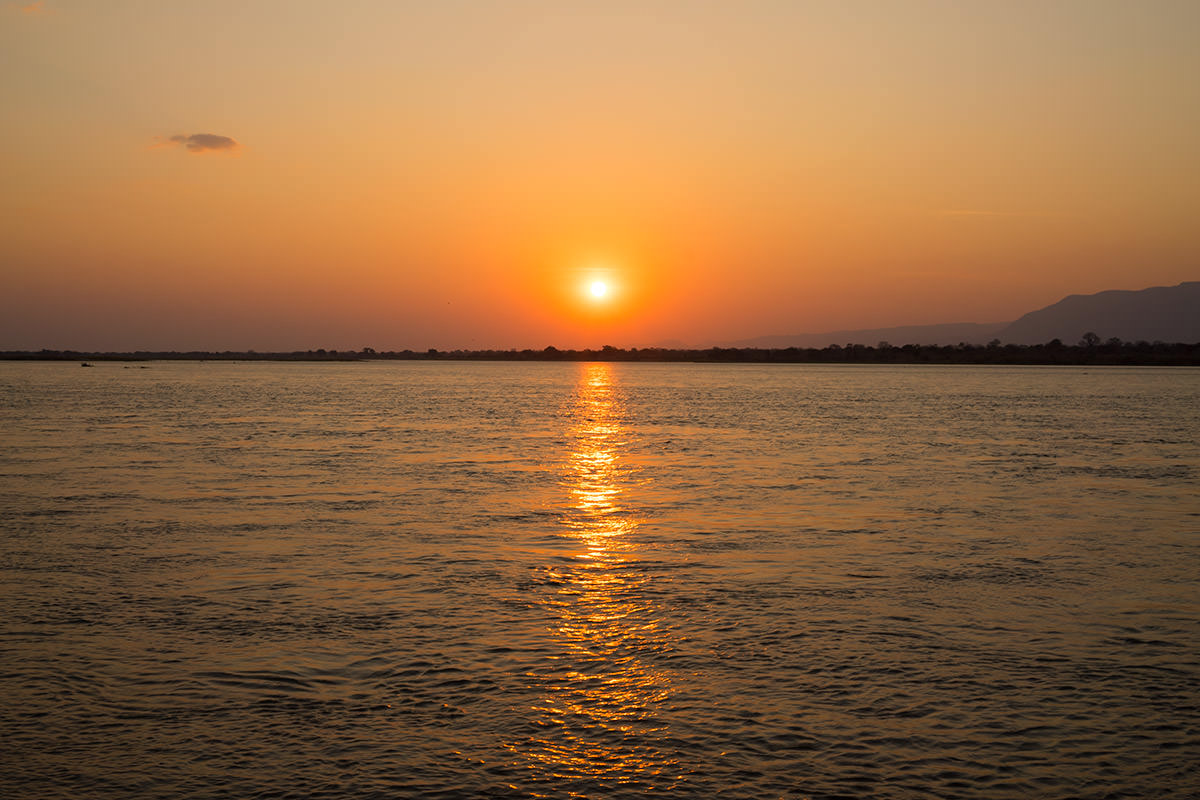 Not a bad way to spend my last night in Ruckomechi!