Put on your Sunday's finest... because Bullet Sunday starts... now...

• Home. I am fascinated by the trend of "micro-living"... otherwise known as really, really small houses. Over the past couple years I keep seeing more and more stories of people giving up on larger homes, simplifying their lives, and moving into tiny places that are perfectly livable thanks to amazing design choices. It's all very zen, and appeals to my desire for living a less complicated life. Now it looks like apartment living has gone micro too, and an article on "The Karl" shows that micro-apartment complexes have some terrific advantages over micro-houses... like communal rooms on the top floor with space that can be used for socializing... something that's tough to do in a micro-home. I have to say, I sure like the floor plan...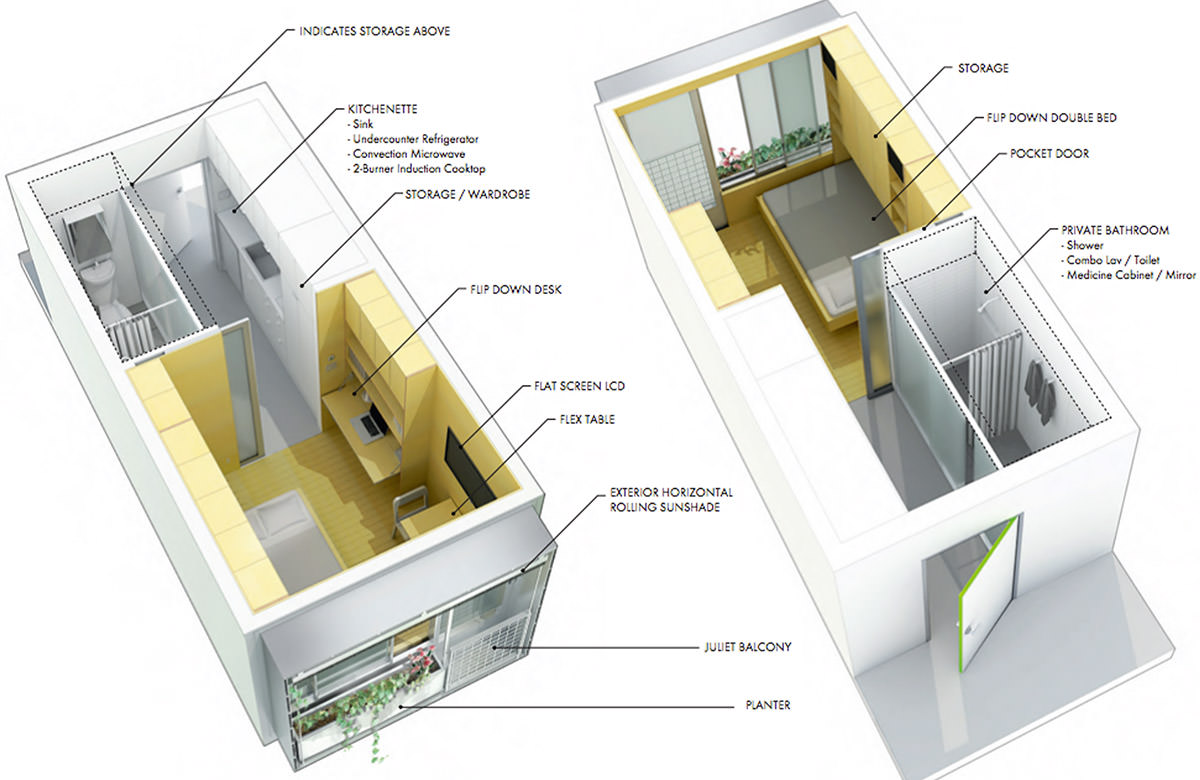 Small. Yes. But it's got everything you need, really. I mean, you're not going to raise a family in there, but for a single individual or a couple just starting out, it's perfectly livable. If you're in the city, most of your time will be spent at work and out with friends... all you really need is a place to sleep, poop, change clothes, and eat a meal every once in a while. I don't know that I would want to go quite this small... but the idea of it all intrigues me.

• Onziem. John Oliver has very quickly become an essential voice on world affairs, and it's shocking to see just how easily he is able to take a serious look at complicated issues while adding a comedic slant that in no way diminishes the gravity of the issue. Tonight Oliver had a fascinating take on the horrific level of hate that has been exported to Uganda by US assholes (USholes?)... PLUS an interview with the amazing Pepe Julian Onziema.
This is essential viewing material...
Be sure you watch Part 2 of the interview.

• Fraud. And speaking of John Oliver...
Turns out that "Dr. Oz" actually is the fraudulent piece of shit everybody thought he was all along...
Shocker. I still don't understand why people listen to raging douchebags like this asshole in the first place. Wasn't his motivation for crap like this totally obvious from the start?

• Amy. As if I didn't already have enough reasons to love Amy Adams... here's another one. I've been able to swap my seat a couple times when I've spotted a soldier flying alone, and it's about the best feeling you can have. The first time I gave up my seat it was to a young kid flying back for deployment after a visiting his wife and young daughter (which I leaned from overhearing a conversation he was having with a man next to him). After getting his name off his uniform, I went to the ticket desk and had the gate agent make the swap. I thought it was an anonymous deal, but he wanted to thank me so he waited in First Class after we landed where a flight attendant pointed me out. It was such a little thing for me... but it meant the world to a soldier who was headed back to a job nobody wants to do but, for whatever reason, risks his life to accomplish.

• Falafel. The grocery store here in my little corner of Redneckistan is now selling falafel mix... something I've attempted to purchase locally for years...
Given its Middle East origins, I am sure this will be taken as a sign that sharia law will be enacted any minute now. Oh well... I no longer have to buy falafel via mail order or when I'm in Seattle, so I'll take it.

• LEELOO DALLAS MULTIPASS! I love The Fifth Element. Seriously one of my favorite films of all time. And I loved Gary Oldman in the film, where he played the villainous Zorg brilliantly for all his oddities...
Which is why I was truly hurt when Gary Oldman decided to trash the film in a controversial interview he had in Playboy. Fuck you, Gary Oldman... The Fifth Element was one of the most interesting roles you've ever played!

Enjoy what's left of your weekend, everybody.