I'm going to just come right out and say it... I love McDonalds.
And that's no hyperbole, it's the truth. Sure I wish that they would take the McVeggie Deluxe national so I had a burger I could eat there but, even without a veggie option, I still like the chain. I love their fries. I like their egg & cheese breakfast biscuits. I like their side salads. I like their shakes. I like their McFlurries. I like their hot caramel sundaes. I like their fruit-n-yogurt parfaits. I even like their apple pies (just not as much as when they were fried). They've got food I like that's served fast at decent prices. What's not to love?*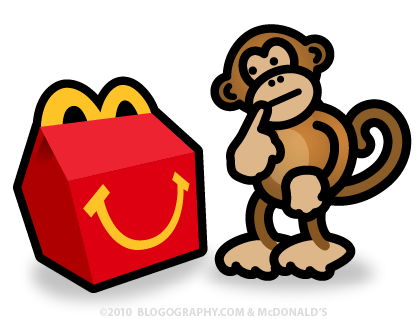 But heaven forbid I ever mention liking McDonalds. Even hinting at having eaten there brings out all the people who think it's their mission in life to tell people what they can and cannot like...
"McDONALD'S IS TOXIC GARBAGE! I WOULDN'T FEED THEIR 'FOOD' TO MY DOG!"
"McDONALD'S IS DESTROYING THE PLANET! WHEN YOU EAT THERE, YOU'RE HELPING THEM!"
"ARE YOU STUPID? WHY NOT JUST EAT RAT POISON IF YOU'RE INTENT ON BEING SO UNHEALTHY?"
"WHAT KIND OF IDIOT RUINS THEIR BODY WITH FAT, SUGAR, AND CHEMICALS BY EATING AT McDONALDS?"
"McDONALD'S TARGETS CHILDREN FOR UNHEALTHY EATING HABITS WITH TOYS!"
"SO GROSS! THEIR CRAP ISN'T EVEN REAL FOOD!"
Etc. Etc. Etc.
Well, whatever. I honestly don't give a fuck. You don't like it? DON'T EAT THERE! You think it's unhealthy? DON'T EAT THERE! You have a problem with the food? DON'T EAT THERE! As for me? There's nothing wrong with an occasional bag of fries and a chocolate shake at McDonalds... AND I enjoy it, so just leave me the hell alone. I mean, thanks, but I am fully aware of the nutritional content (or lack thereof) of what I'm eating.
And then today a McDonalds post pops up in my Facebook feed.
The number of hateful comments shouldn't have surprised me, but it did.
For reasons completely unknown, there are people who hate McDonald's so much that they spend their valuable time ripping McDonald's to shit IN FACEBOOK COMMENTS! Which probably ranks right up there with "screaming into a pillow" when it comes to effectiveness, but whatever. At least when people feel the need to rip into me personally for my food choices, they think they're helping me out (or something) so they can feel good about doing me a solid. What possible benefit is there to leaving nasty comments for McDonalds on Facebook? Could there be a bigger waste of time?
Probably.
Like blogging about it, I suppose.
* Well, okay, I DON'T love McDonald's clown figurehead, Ronald McDonald, who is terrifying...