As much as I would have loved to lounge around the resort at Hội An for a day, this morning was an early wake-up so our group could fly to the Vietnam capital of Hanoi (or Hà Nội, as it it known to the locals).
Our first stop in the city was lunch at a restaurant called KOTO. This is a pretty special place, as KOTO stands for "Know One, Teach One" and is built around a working cooking school started by an Australian Vietnamese man named Jimmy Pham to help disadvantaged kids build a career. As if that weren't enough, the food was incredible, and the place is hugely popular. If you're ever in Hanoi, KOTO has my highest recommendation...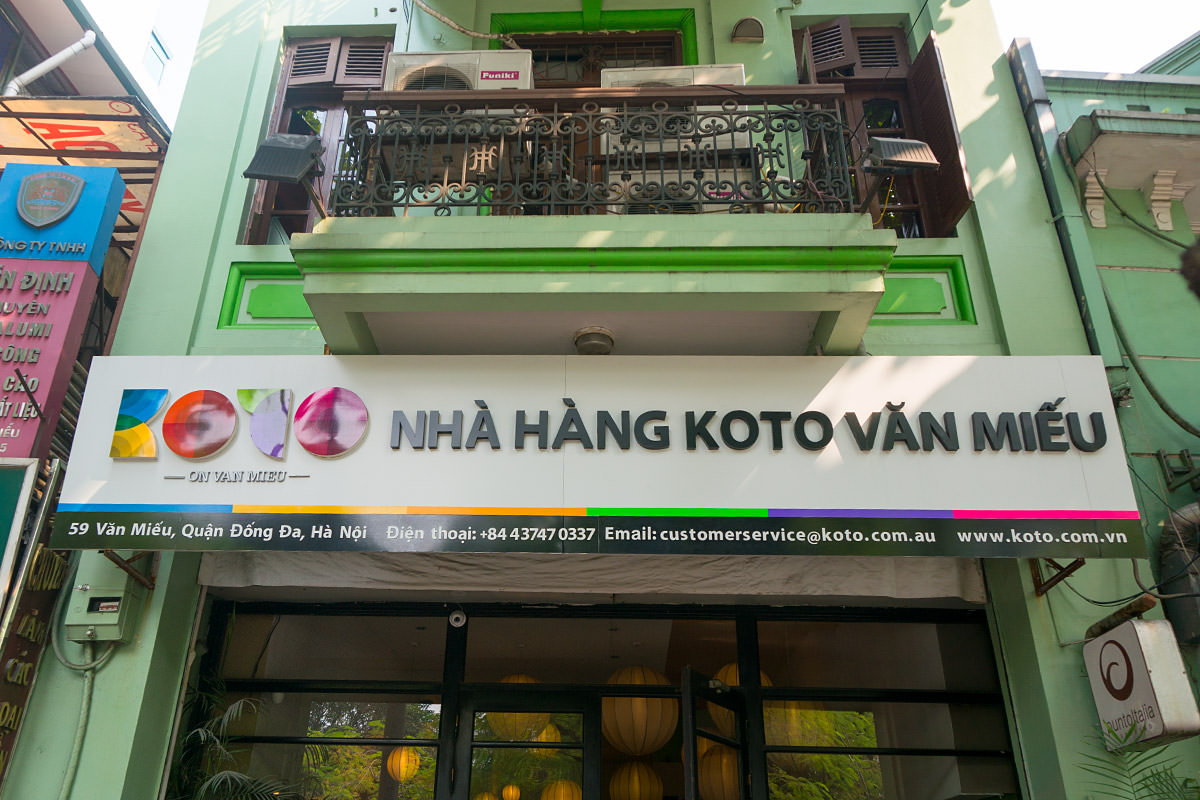 Our next stop was to the Vietnam Museum of Ethnology, which explains the various cultures and peoples of Vietnam. It has numerous displays, like this one about how the popular conical hats are made...
But the real gem of the museum is the outdoor displays of many of the various house and building styles of Vietnam. You've got a tall house... a long house (where each time the family expands, then just knock out the back and add more room)... and an interesting crypt-type building...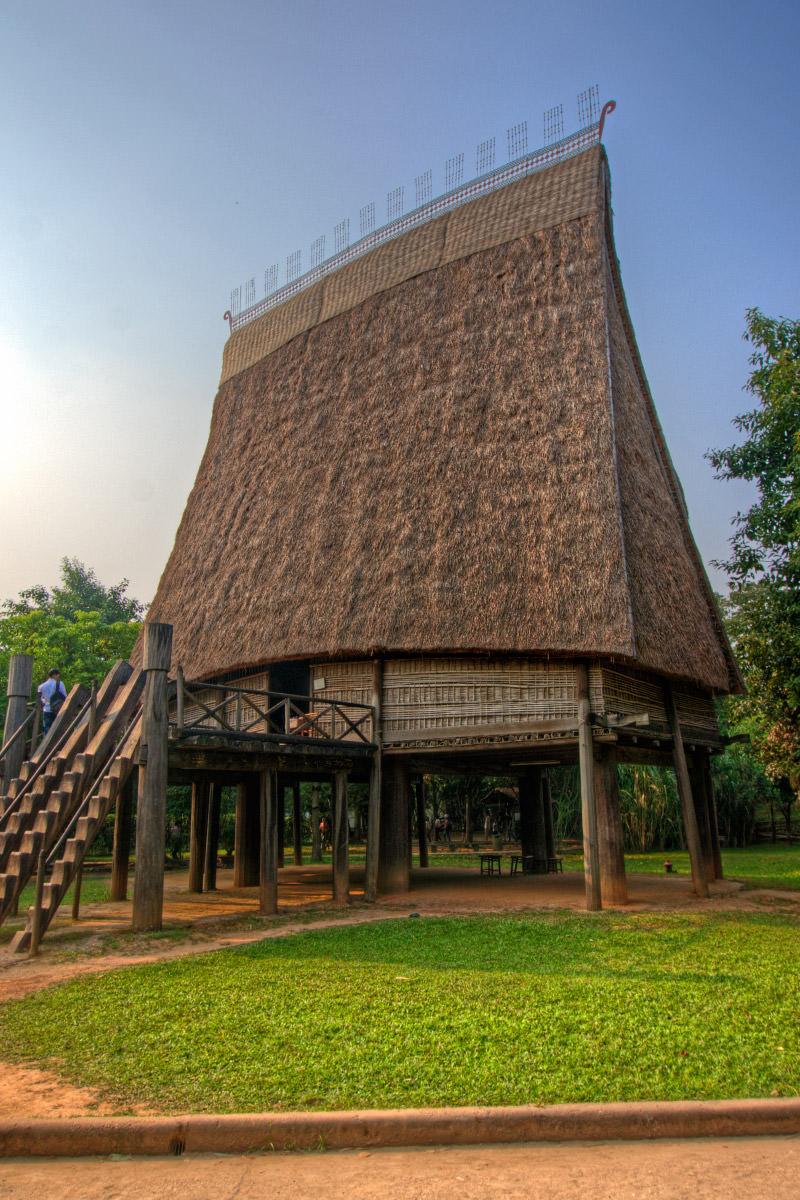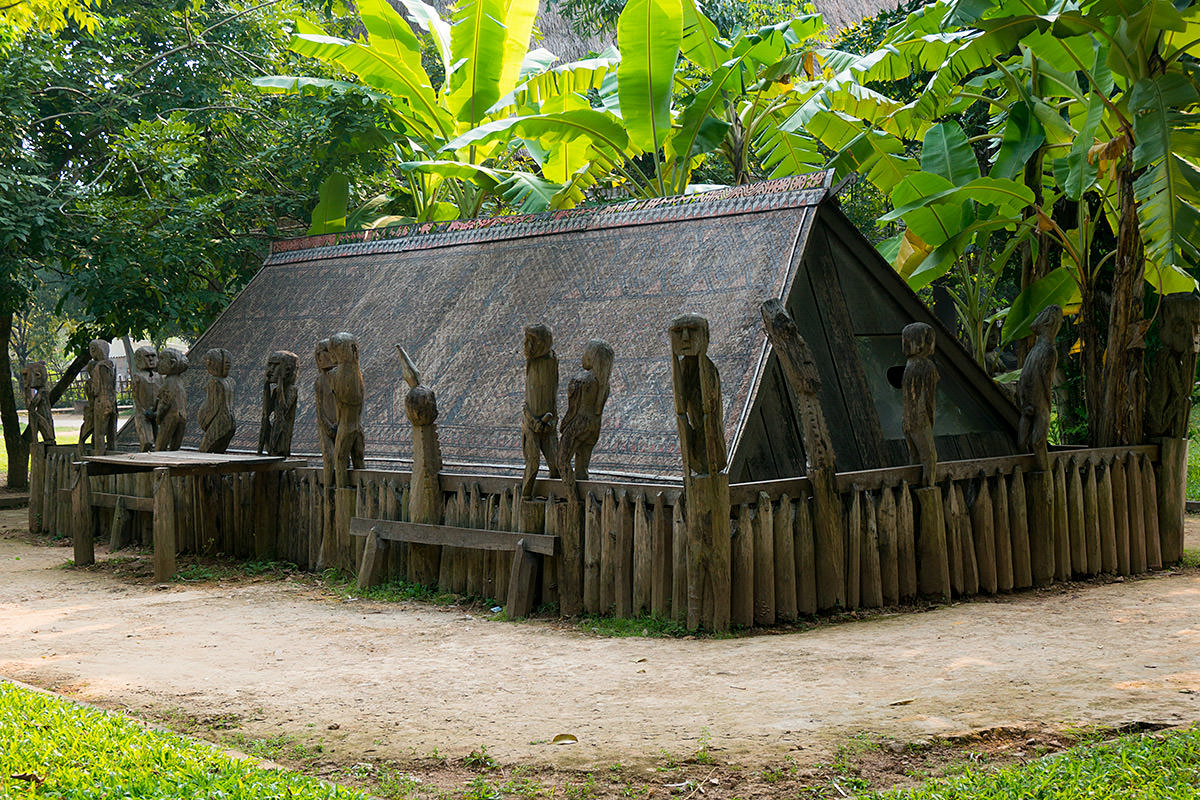 The crypt is interesting, because it features symbols of rebirth around the edges...
As this is Disney, the day wouldn't be complete without some kind of cool activity. This time it was Vietnamese mask-making...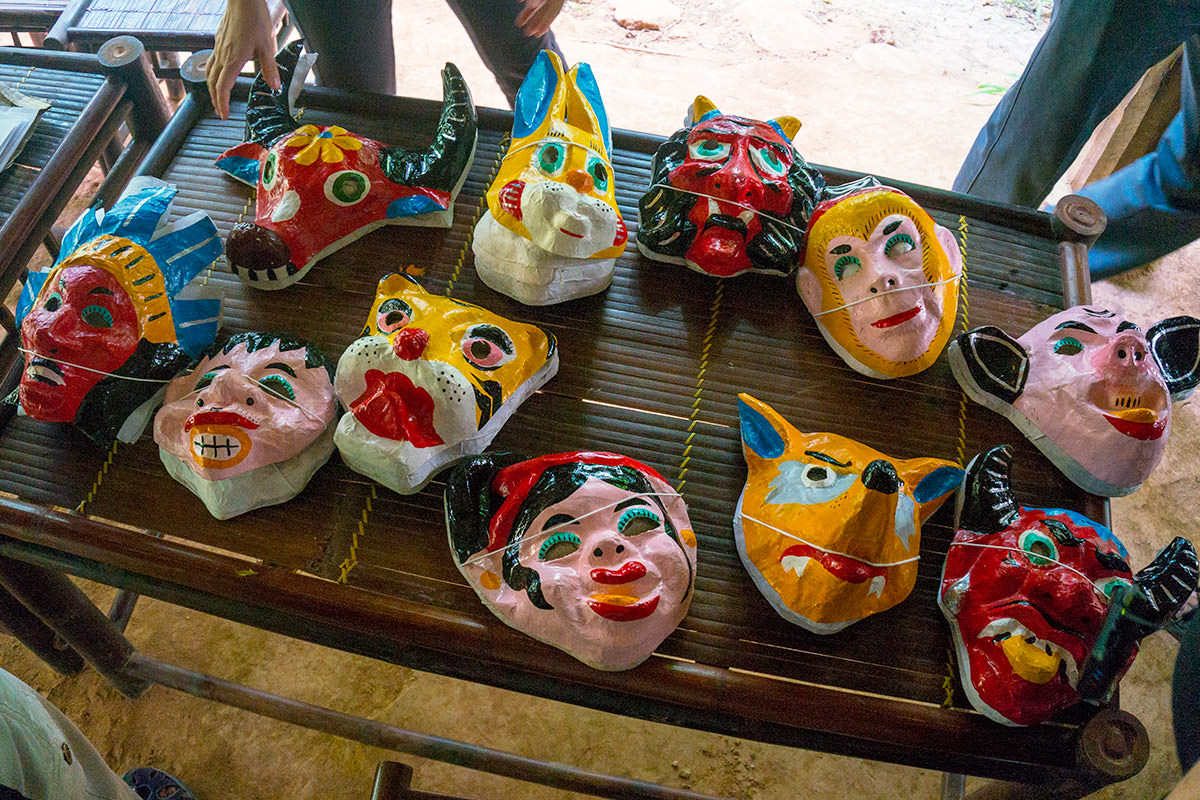 I made a red dog...
Pretty sweet!
After leaving the museum, we passed by an interesting set of buildings...
The width of the building there is about 4 meters... 13 feet. Apparently when the city government decided to turn the two-lane street into a four-lane street, they took the land on either side of the road, leaving the owners with just a tiny strip from what they once had. Not ones to let valuable land go to waste, they constructed impossibly thin buildings to fit on it. I would love to see inside. I'm guessing there's a spiral staircase at one end to move between floors, but it wouldn't surprise me to find out they came up with something more ingenious than that.
Our group ended up staying at the premiere hotel in Hanoi, the Sofitel Legend Metropole. It is heavily influenced by the French (as many things are here), having been constructed by them in 1901. Everything has a very European feel, including the staff, who address everyone as "madame" and "monsieur." The rooms are beautifully appointed, and the grounds of the hotel are worth a look...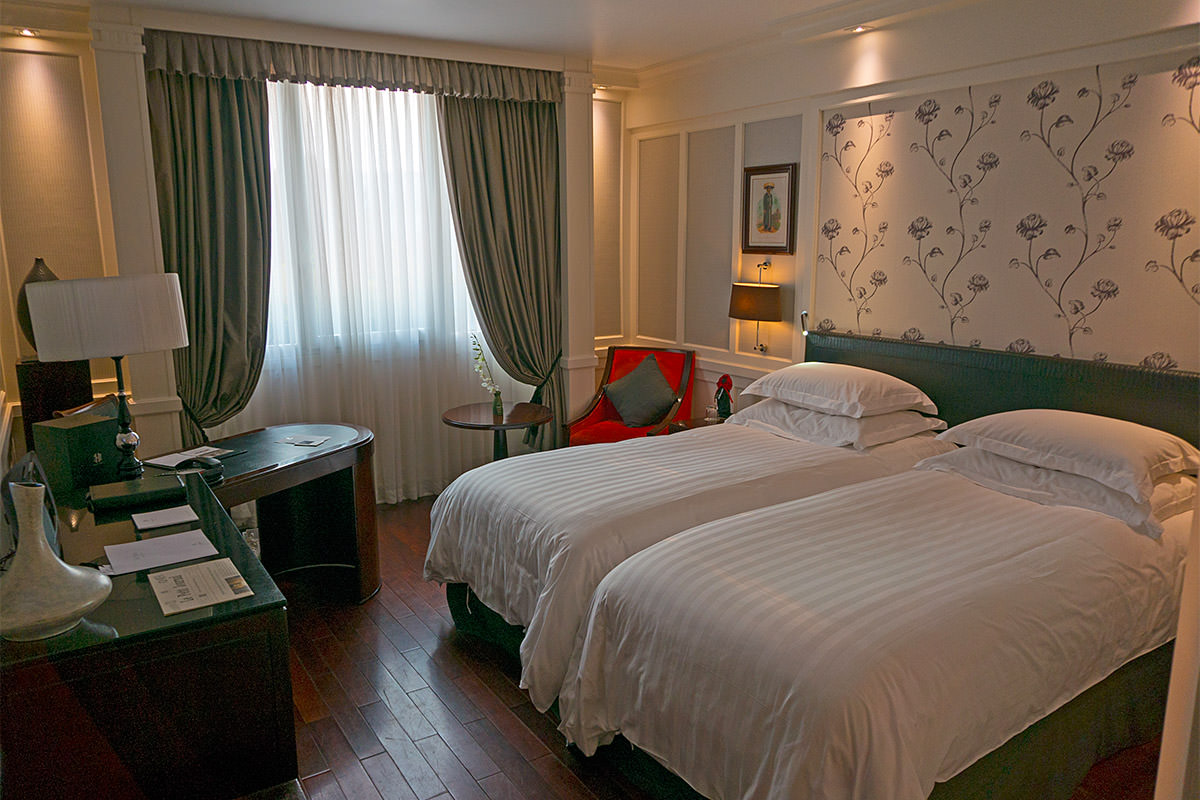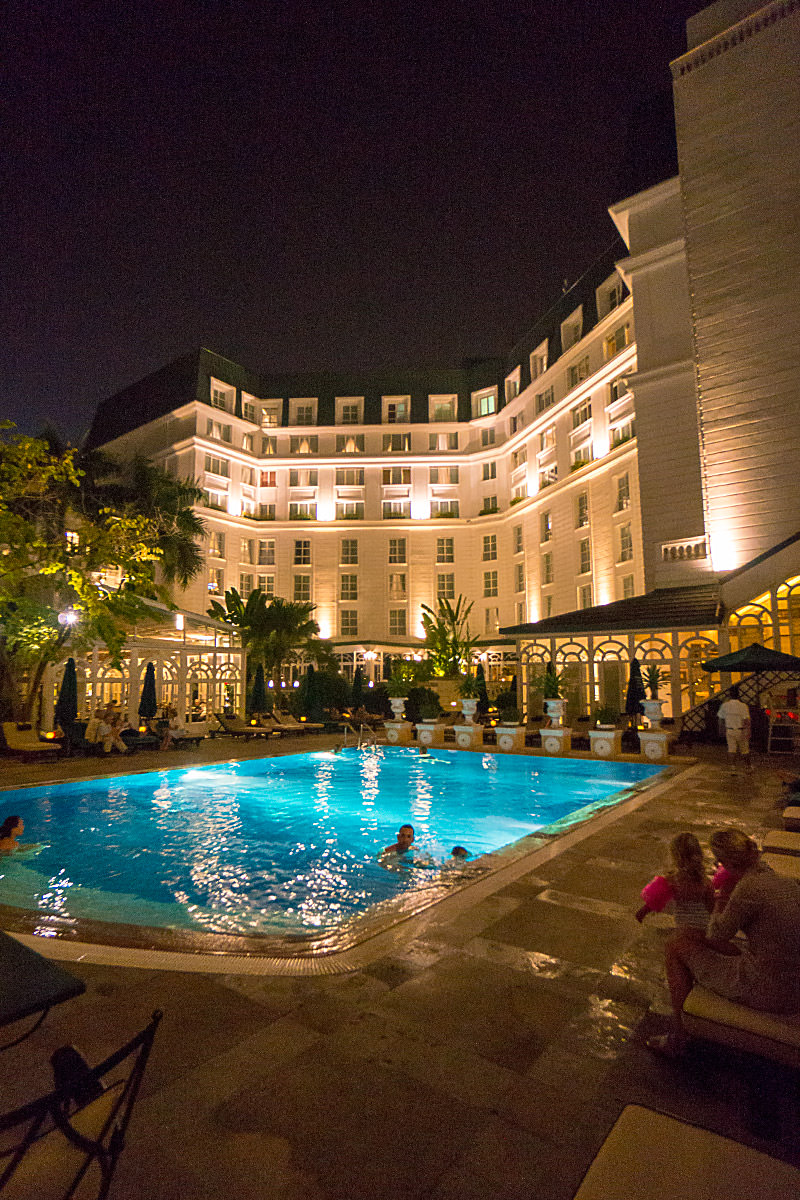 That last photo is of the Bamboo Bar. And just in front of the Bamboo Bar is a staircase leading down to the bomb shelter that was left over from the Vietnam War (or, the American War, as it's known here). If you're lucky, you can make your way onto a list to take a tour...
The hotel itself is home to a lot of history and has been host to many, many famous people from around the world. Joan Baez recorded the song Where Are You Now, My Son? during the bombings that took place around Christmas of 1972 after spending some time in the bunker. And Jane Fonda stayed here on the second floor during her infamous "tour" of Vietnam during the war. Which isn't exactly something I'm excited about, because I still think she is a total asshole for having done it, regardless of her regrets or how many times she apologizes. Opposing the war is one thing... I totally get that... but Fonda worked non-stop to make life hell for American kids fighting and dying far from home by opposing them, and that's unforgivable. As if the guys drafted into service wanted to be there. Unlike Jane Fonda, they didn't have money or privilege, so buying their way out of a war they didn't ask for wasn't exactly an option.
Dinner was at an Italian restaurant called "Angelina"... and can you guess which famous guest inspired the name?
The pizza and pasta I had were okay... not great... but the ambience can't be beat. At the end of your meal you get a tiny juice drink that has a splash of incredibly pricey Remy Martin's Louis Tres cognac. That's about as good as it gets right there.
And now, the moment you've all been waiting for... it's time for the DISNEY PIN OF THE DAY!
No offense to Mickey Mouse, but my mask is way more awesome than his.