Don't touch that dial... because Bullet Sunday starts now...

• Nanny! I'm what could be considered "middle-of-the-road" when it comes to politics. Yes, I think that there's some things the government should be doing to look after us and keep us safe... like making sure the water supply isn't going to kill us... but, for the most part, I feel our government should stay the fuck out of our lives when it comes to personal freedoms. Like being able to marry the person you fall in love with... regardless of whether or not you have the same genitalia. And being able to buy a Super Big Gulp if you feel thirsty enough to consume 40oz. of fizzy sugar-water. AND GETTING A TATTOO WHEN YOU FUCKING FEEL LIKE IT. But here we go again... Washington, DC is contemplating a mandatory "tattoo waiting period" to minimize the risk of somebody getting a tattoo they'll regret... by making them wait 24 hours. Which is just a nice way of saying "people are too stupid to make their own decisions." Which is 100% true. Except it should be their stupid decision to make! Now, granted, my first tattoo had a waiting period of 26 years before I would commit... and my subsequent tattoos have a waiting period of weeks because my artist is 700 miles away... but if I wake up and decide I want a new tattoo right now, I think it is categorically absurd that there are people who feel I should be legally denied it. Getting a tattoo affects nobody but myself. And if I make a mistake, I'm the only one who has to live with it. Just as it should be. So if our politicians feel that they should start regulating stupidity, I'd encourage them to start with themselves.

• Katy! When it comes to music, Katy Perry is kinda hit-and-miss with me. I like some of her stuff okay... and thought her tour-movie Part of Me was great... but I never became a huge fan. Until the video for the first single off her new album was released...
Pretty amazing, actually. And the song ain't bad either. This is a Katy Perry I can't wait to see more of.

• FARTPOP! In contrast to the beautiful pop treasure that is Katy Perry, we now turn to Lady Gaga. I never much cared for her music... and positively loathe the first single off her forthcoming ARTPOP album, Applause (currently blasting from my TV in KIA Soul commercials). But I thought I'd give her the benefit of the doubt to see if she could win me over with her new material. Then came her iTunes Music Festival appearance (currently streaming for free in iTunes)...
Holy crap what a boat-load of shit. She should have stuck to ripping off Madonna. Her tedious "music" takes a back-seat to her "art," which couldn't be less edgy or relevant. And just when I thought things could possibly get worse, she comes out in a rhinestone-encrusted pig mask to sing Swine. Hopefully with this disaster, Gaga's 15 minutes will be up. Maybe then she'll get over all this laughably absurd "artist" persona and start making actual music. Which I honestly think she has the talent for if she'd focus on it. In the meanwhile, I'm preparing myself for an onslaught of FARTPOP idiocy come November.

• Reeves! And speaking of actual edgy and relevant musical artists... the song He'll Have to Go by Jim Reeves popped up as I was searching through YouTube earlier this week, and I couldn't believe what I was hearing...
This guy is totally bad ass! He's calling up the woman he's stalking and tells her to have her boyfriend get the fuck out so they can have phone sex. Ah, the good ol' days when something like this didn't result in a restraining order! On top of that, the guy's got an awesome singing voice!

• Blasphemy! One of the Worst People on Earth, televangelist Pat Robertson, is the subject of a new documentary detailing how his "Operation Blessing" program is more of a money-making scam than a charity... taking credit for work done by others, including my favorite charity: Doctors Without Borders. All so he could bail out his diamond mining operation...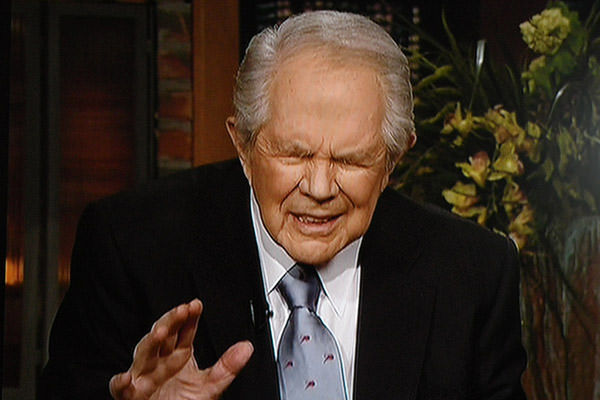 And now God is telling me... that you should send me more money!
Disgusting. But he's denying it, of course.
Is it too much to hope that he finally ends up in jail? Or, at the very least, his supporters will finally realize that he follows much more closely in the footsteps of the Antichrist than Jesus Christ?

And... it's now 9:00, but feels a lot more like 11:00, so I may have to think about packing it up for the night.