Better renew that passport... because another special TRAVEL edition of Bullet Sunday starts now...

• George! For anybody outside the UK wondering if theirs was the only country obsessing over a new royal baby in Britain, the answer is no. I saw it everywhere I went, and I think every single newspaper in Helsinki announced the birth while I was there...
Not quite sure why it's Great Britain's monarchy that gets people so obsessed when there are plenty of other royals in other countries of the world, but there you have it.

• McBathroom! Much like all forms of DRM, this ridiculous protection racket that the McDonald's near my hotel used to keep their bathroom "for customers only" was grossly ineffective...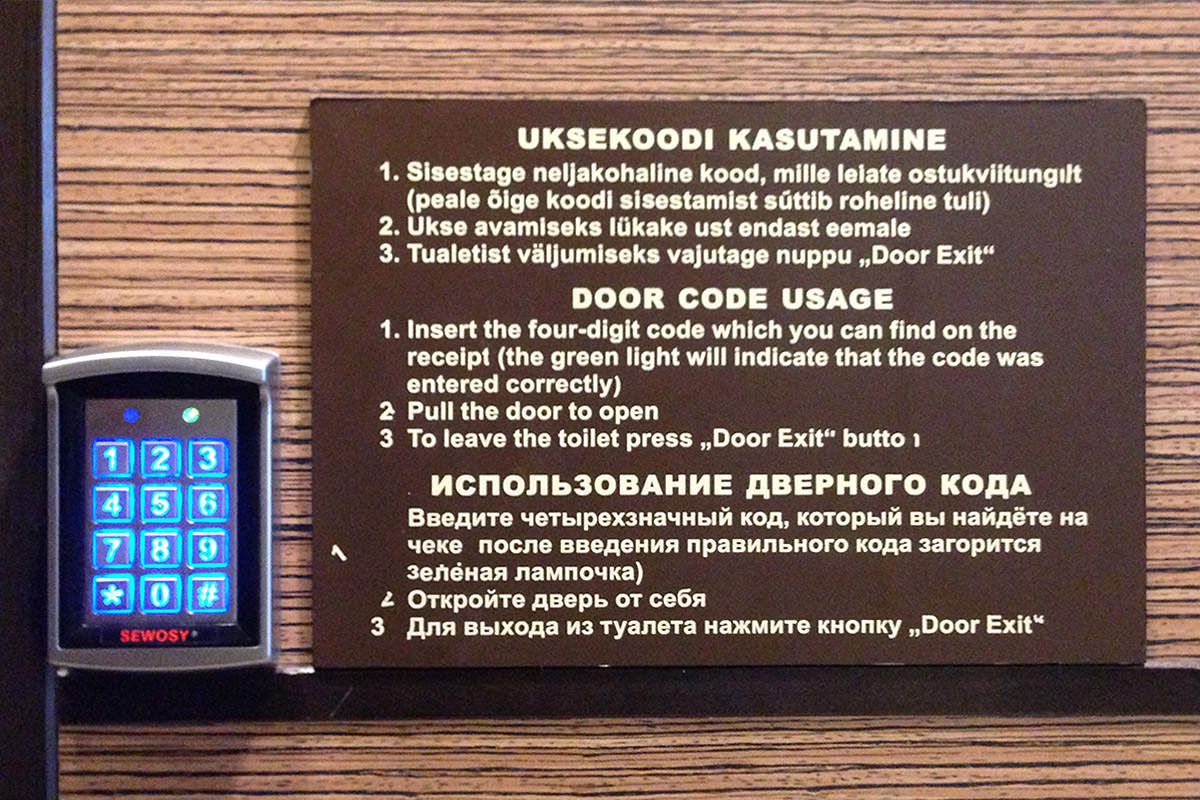 As I sat eating my fries and McFlurry, I saw person after person hold the door while exiting so that people could go in without having to use the code. Which makes me wonder why McDonald's bothered at all.

• Frommers! My go-to travel guides have always been Frommers. And when I started transitioning from printed books to online guides, it was always Frommers.com that I went to first. Their information was so professional, informative, and trustworthy, that I didn't feel the need to go anywhere else. But not any more. Just about everything there is badly out of date. As an example, I almost skipped going to Estonia because Frommers had this to say...
Arranging a visa for a visit to Estonia, across the water, is time-consuming and requires planning prior to your arrival in Helsinki. But once you're there, the rich, once-forbidden majesty of this capital of the Baltic republic opens before you, at prices, at least for souvenir goods, that you'll find surprisingly low.
And, in another section, this...
Don't think you can jump on a ferryboat for a spontaneous excursion to Estonia. At press time, despite the fact that Estonia is a semiautonomous nation, visas were mandatory and required applications submitted days or even weeks in advance, preferably from the Estonian embassy or consulate in your home nation.
Well, their "press time" must have been before December 2007... six years ago... because that's when Estonia became a Schengen Country, which means no visa is required for countries mentioned in the agreement (like the USA). Not only did I not need a visa for a visit of up to 90 days, nobody on either side of my excursion to Tallinn bothered to even look at my passport.
Even more embarrassing for Frommers? They don't even have the currency right...
Currency -- The national currency is called the kroon, abbreviated as EEK, and is made up of 100 sents. The kroon is pegged to the German mark, 1DEM = 8EEK. The rate of exchange at press time was $1 = 17.03 kroons.
It's been two-and-a-half years since Estonia adopted the Euro. Do they not even have a single person employed at Frommers to keep track of major events like this so at least the travel basics are correct in their online guides? Apparently not, which means that Frommers is essentially useless for travel planning. Kind of sad that this once-great bastion of travel advice has fallen so low.

• Beer! The Tallink ferry I used to get from Helsinki to Estonia has a duty-free supermarket onboard. Yes, supermarket. I was a little surprised to see such a huge alcohol section there... especially for beer, which was stacked in cases on pallets. Well, it turns out that the reason they have so much beer is that they sell so much beer. Everywhere I went onboard people had cases and cases of the stuff with them. Even the elderly lady sitting next to me in the lounge was not immune...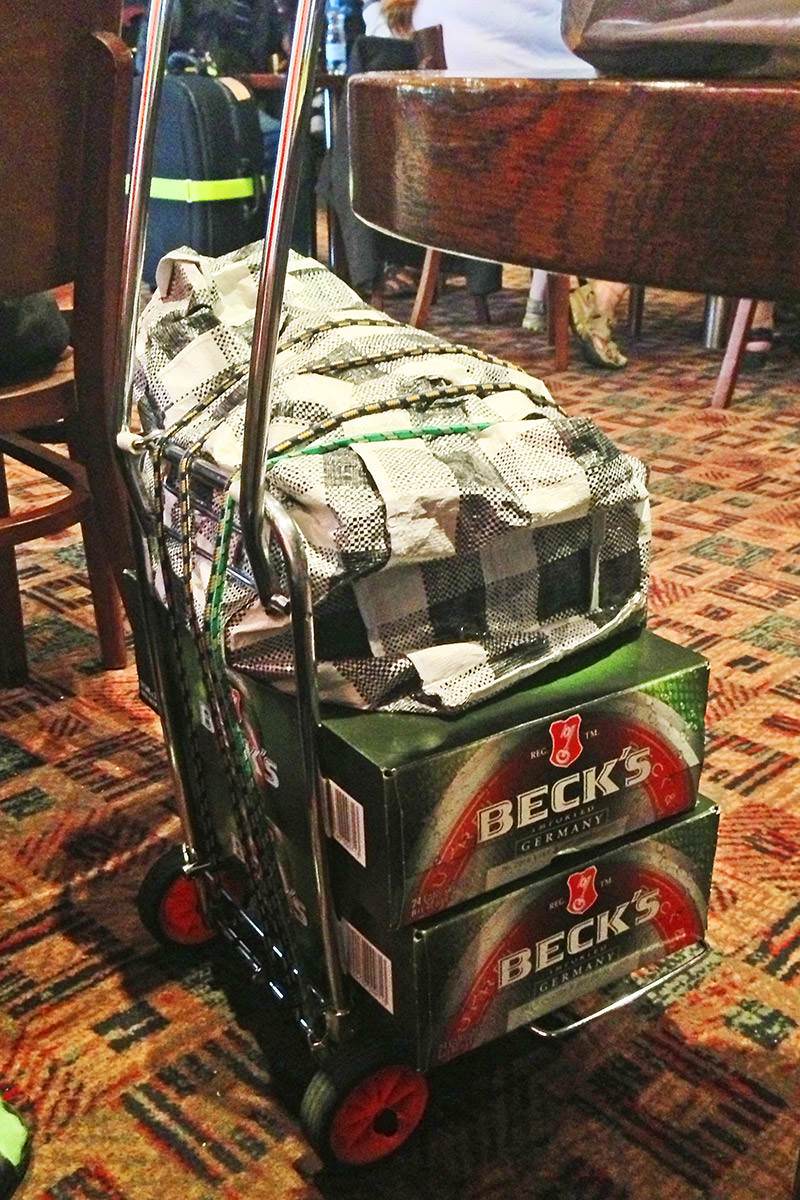 Give that I saw people with shopping carts hauling dozens of cases of beer off the ship, I'd say her two cases of Beck's was rather restrained.

• Chair! Just because I can't help myself... here are the chairs in the waiting lounge at Helsinki's West Terminal...
Surprisingly comfortable!

• Finnish! I've seen a lot of foreign languages in my travels, but Finnish is the most perplexing yet. Just look at this dialogue box that popped up at my hotel when connecting to the internet...

Those are some really, really long and complicated words!

• Machine! And speaking of dialogue boxes, this idiotic crap kept popping up on my Mac while I was away...
Well, dumbass, the reason you haven't backed up is because my Time Capsule is 4700 miles away! Can't you look at what IP address you're using and figure that out so I don't have to be interrupted by your stupid shit? I swear, for everything Apple does that's amazingly smart and convenient, there's at least one other thing that's hugely stupid and inconvenient. The thing I (usually) love about Apple is the tiny details they handle that takes crap out of your way. Why they can't apply a little of that logic here is a mystery.

Annnnd... that's a wrap. Please put your tray tables up and make sure your seat back is in an upright position for landing...