Thanks to the non-stop excitement of four days in Pittsburgh, it was going to be a Bullet-Sunday-On-Monday kind of situation. But there was so much Pittsburgh that it's ended up being a Bullet-Sunday-On-Wednesday situation. So hold on to your hats... because a special ALL RANT EDITION of Bullet Sunday starts now...

• AT&T Assholes. I'm not the kind of guy who jumps on the lawsuit bandwagon because, often-times, I think the lawyers are the only ones who really benefit. But if AT&T gets sued because they PROMISE high-speeds, but then LIMIT the speed on your device, then SCREW THAT. I'd join that lawsuit in a hot minute. What assholes.

• Apple Bullshit. Remember when buying Apple was a guarantee of quality that was a step above what you'd get from other tech companies? For the most part, it's still true. But for an increasing number of things... particularly with Mac OS X... it's not true. And their "Messages" app is a perfect example. The app has been a pile of shit since day one. It's supposed to sync messaging between your iPhone, iPad, iPod and Mac... but it doesn't. At least not very well. Messages go missing. Messages get lost. Messages display out of sequence. It's complete bullshit, but that's where Apple is at now.
But then, miracle of miracles, AFTER NEARLY A YEAR OF WAITING, Apple has released a bug fix for the out-of-sequence messages problem. Yes, I was pissed that it took them so damn long but, hey, at least we finally had a fix, right? Well, so far so good. Or not. Because they've introduced a new bug. The badge counter doesn't zero out, even if you've read all the messages in Messages...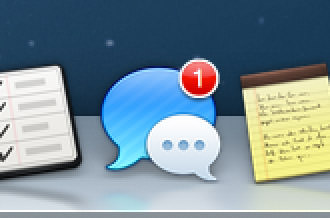 Look, Apple is sitting on =literally= billions of dollars. With all that money, can't they fucking afford to beta test their shit? This is amateur hour. This is Microsoft. This is everything Apple is not. And if it keeps up, Apple's going to eventually lose to a company that's more like Apple was than what Apple is now. And they would totally deserve it. STOP DICKING AROUND AND FIX YOUR SHIT, APPLE!

• Trader Joe's Disgust. I am a huge, huge fan of Trader Joe's. I would go so far as to say that I adore their vegetarian food selections. Most everything I've ever tried has been high-quality and delicious. Which is why it sucks so hard when you buy something with high expectations and get burned. Namely, their "Fettuccine Alfredo"
When I saw the "IMPORTED FROM ITALY" line on the bag, I assumed I would be buying the flavorful pasta that I get when I'm actually visiting Italy instead of the boring cream-based shit we call "Alfredo Sauce" here in the states. So imagine my disgust when it ended up being that same bland, tasteless, watery, slop I can get out of a frickin' box. So very sad. Even sadder that I bought three bags of the crap.

• getEQUAL Rudeness. One of the current news items making me much angrier than usual comes from a Michele Obama fundraiser. The First Lady was speaking when all of a sudden some asshole decides to heckle her over government contractors discriminating against gays and lesbians. And whenever something like this happens, the first thing that flashes through my mind is what an incredibly huge douche the heckler is for disrupting EVERYBODY ELSE'S PEACE. I don't give a shit how important your message is... or even how much I might agree with it... it's just fucking rude. Well, Mary Elizabeth Williams has written a brilliant short article on the subject that I consider critical reading and the final word on the matter. Well worth your time. And, as a side-note, congratulations to Mrs. Obama for being one heck of a class act.

• Peter LaBarbera Hilarity. No gay man I know obsesses about gay sex as much as anti-gay crusader "Porno Pete" LaBarbera. The guy regularly goes to gay events so he can "document" the "disgusting and immoral behavior" he finds there. But, odds are, he just likes to look at half-naked men and add them to his private video collection.
Today he decided to speak out against homosexuality in front of The Human Rights Campaign's headquarters. It was yet another embarrassing "press conference" that nobody gives a shit about, because this kind of bigotry and hatred just isn't playing well in 2013. I used to find LaBarbera's antics funny and a little pathetic. But it's getting old, and is obviously a sham to cover his obsession with penises. How I wish all these bigoted assholes would just shut the fuck up already so we doesn't have to deal with their obvious overcompensation.

And... breathe...