And I'm in Boston for one day so I could attend a party for a very good friend who had some extraordinary news that was worth celebrating. Yes, a day trip across the country probably seems odd to most people, but I make trips like this all the time for work, so it's old hat to me.
But before the party tonight, I had an entire day to goof off in Boston.
I started out in Boston Common because there's an Earl of Sandwich shop there. They discontinued The Greatest Sandwich on Earth... The Earl Veggie... but I was hoping to add/subtract ingredients on a boring Caprese sandwich to recreate it. Unfortunately, they didn't have half the stuff to do it, so my day began in failure. Fortunately, it was a beautiful day to walk around and see the monuments...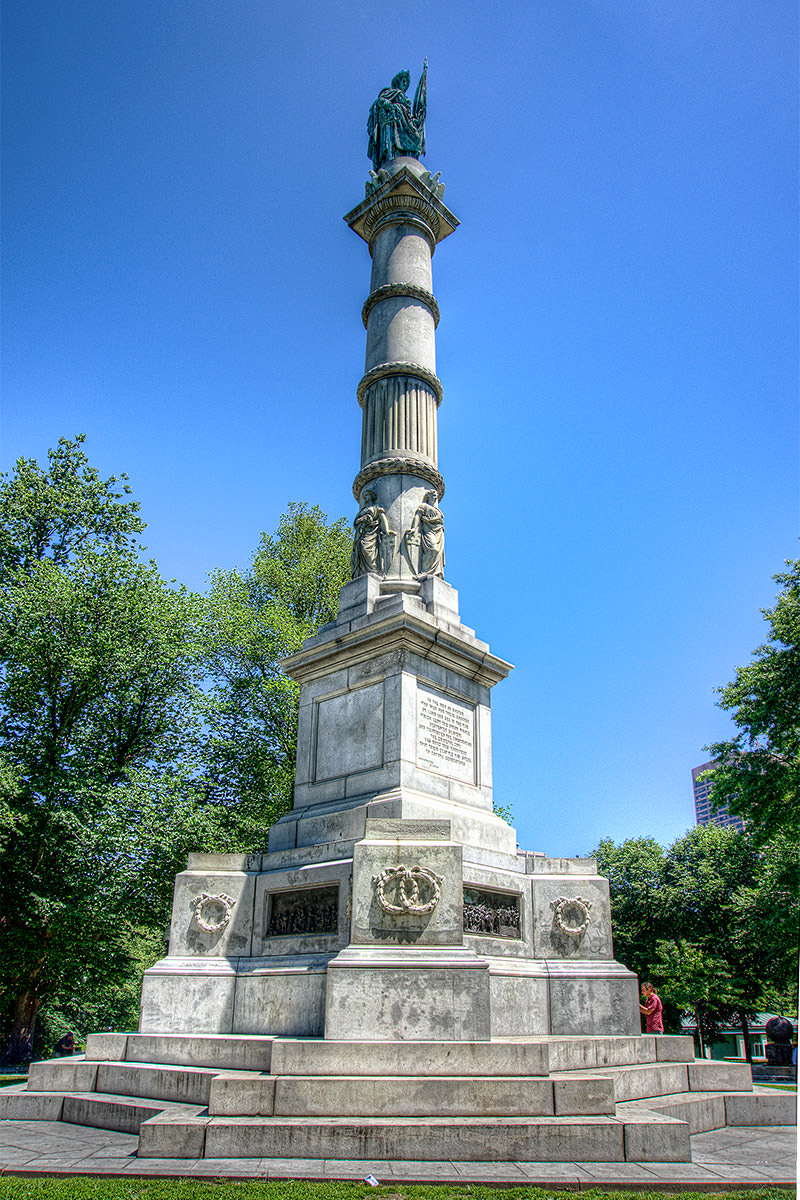 The Soldiers and Sailors Monument.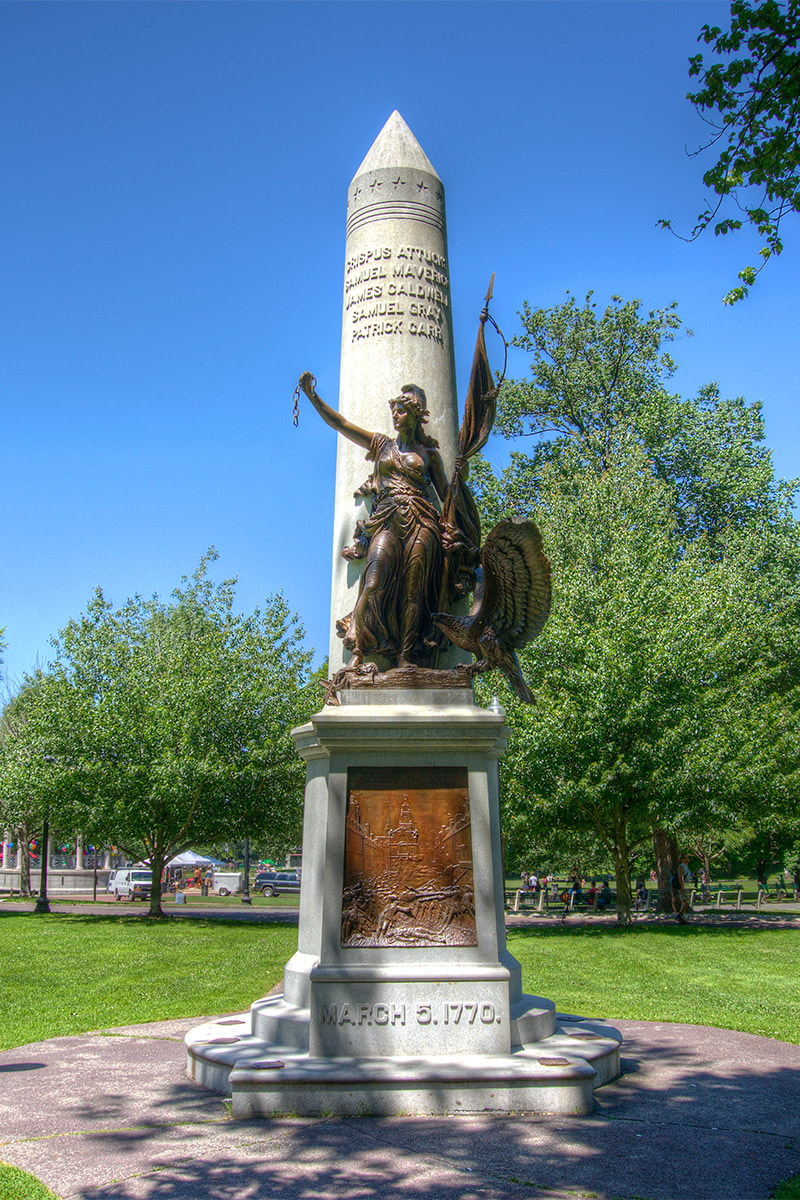 Memorial for the Boston Massacre.
Then it was off to the Granary Burying Ground, which is my favorite of Boston's beautiful old cemeteries that's filled with beautiful tombstones (and home to many famous dead people like Samuel Adams, John Hancock, and Paul Revere)...

Death being more common back then, some of the tombstones are kinda comical.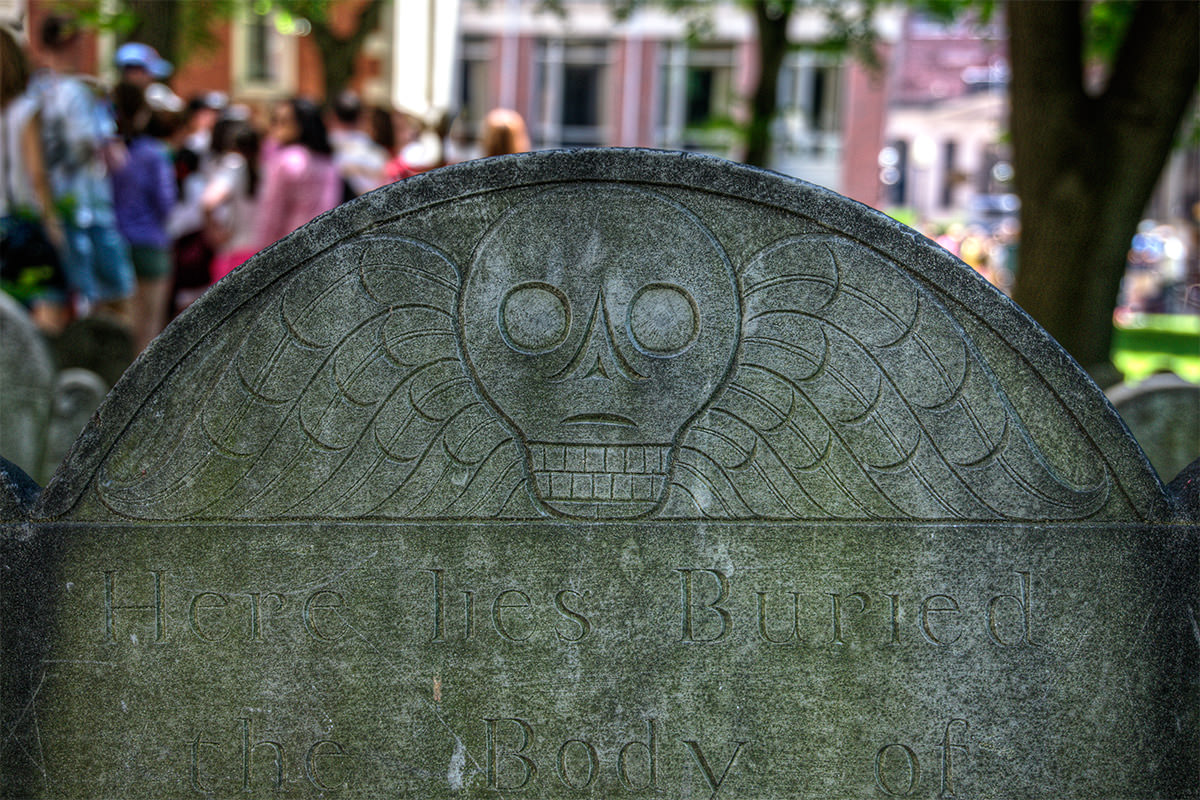 A lot of tattoo ideas to be found here!
I've been to Boston several times, so I wanted to find a museum I'd never been to before. That ended up being the Boston Athenæum, which is a beautiful private library that allows the public to look around. They also have a small exhibit of wonderful works that explain their part in the creation of the Boston Museum of Fine Arts. Pictures weren't allowed on the inside, but I did snap a photo of the entrance, which is equally cool...
From there I was off to a wonderful little shop called The Printing Office of Edes & Gill. They've got a terrific old letterpress that's still in operation. Every time I visit I buy a new souvenir piece, because there's nothing quite so beautiful as a letterpress print...

Seriously worth a stop if you're ever walking The Freedom Trail in Boston.
The print shop is located on the Paul Revere Mall, where his statue has been defaced with a dreaded Bruins jersey...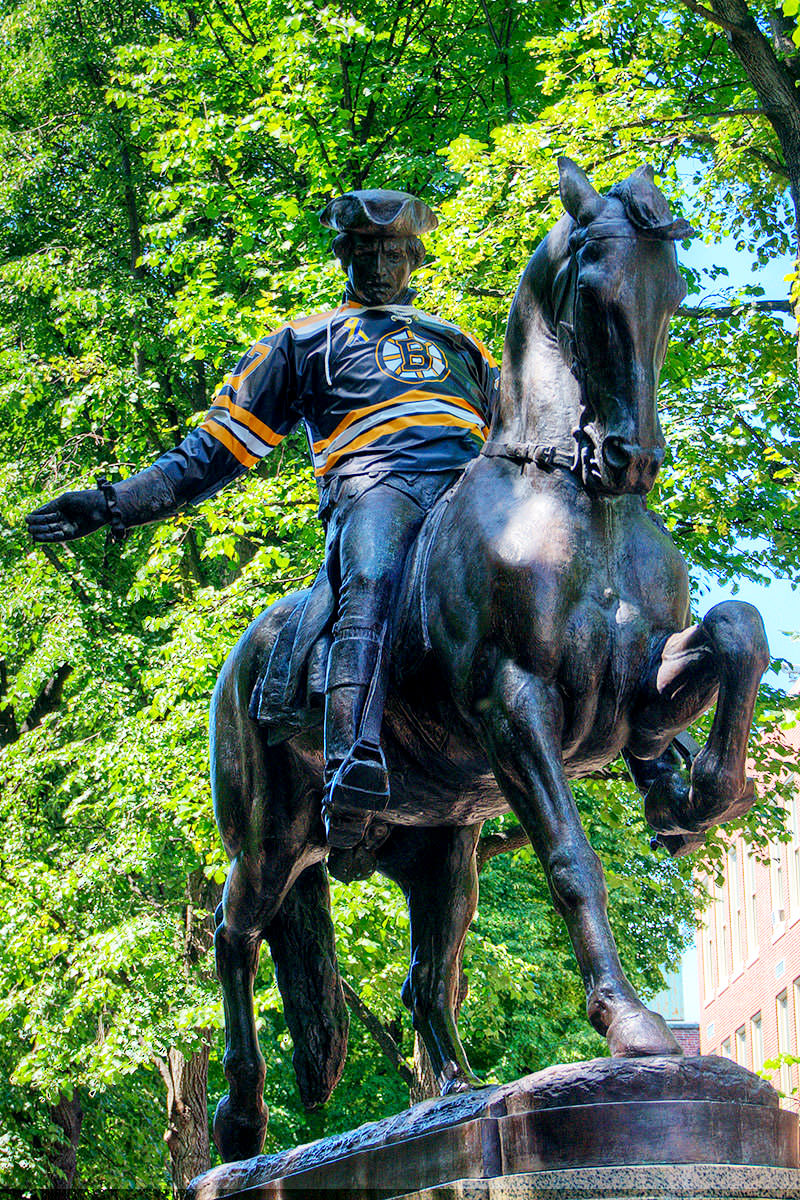 Rebel that he was, I like to think he would be a Blackhawks fan!
Since I didn't get my Earl of Sandwich, I headed to Mike's Famous Pastries for the next best thing... cannoli! Not only does it taste amazing, but I love the way they box it up with hand-tied string. You see a lot of these boxes carried by tourists as you wander around the city. Fortunately, the line was only out the door instead of down the block, so it was only a 20 minute wait...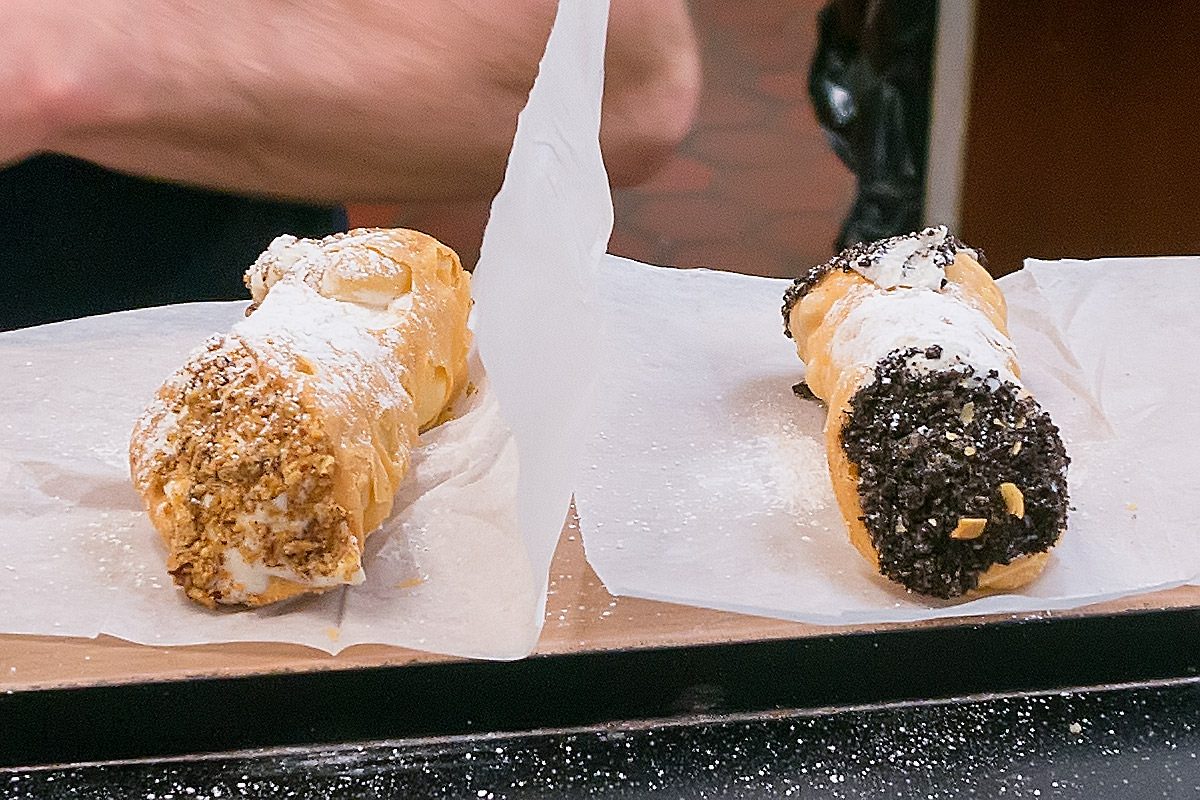 That's a Crushed Caramel Pecan on the left and an Oreo Cookie on the right.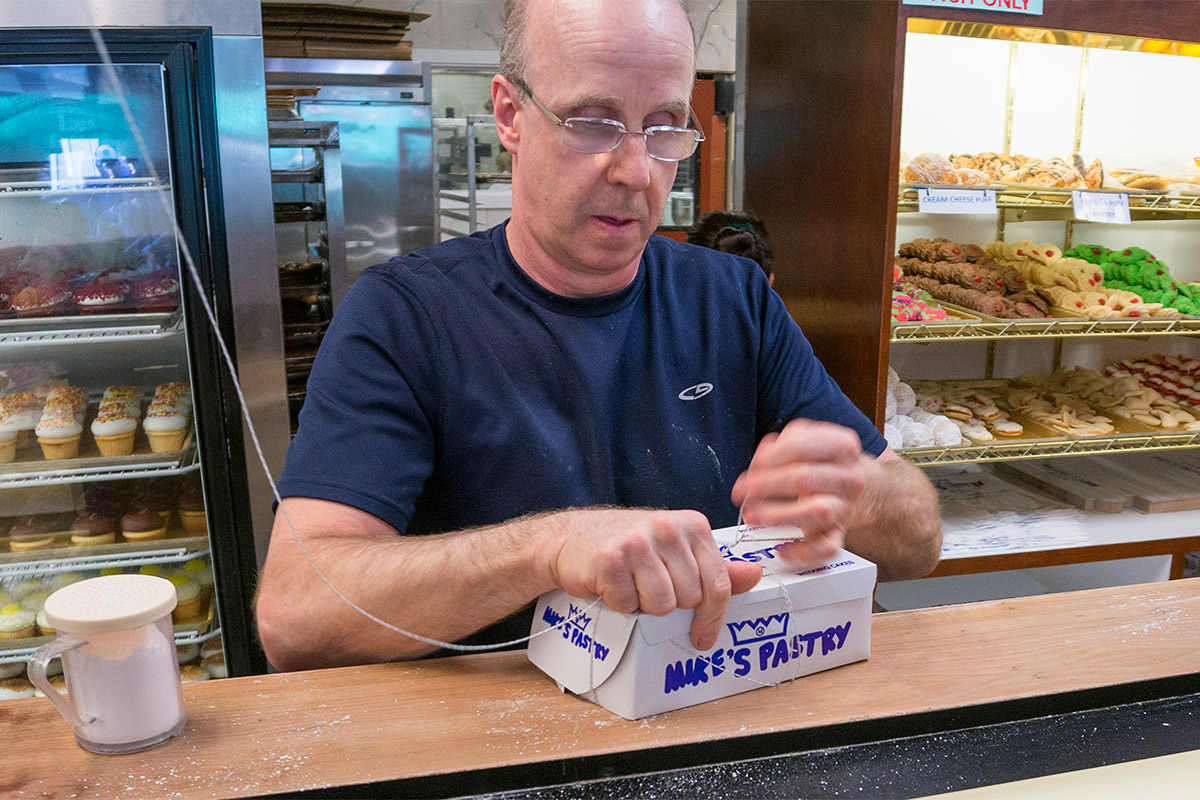 A lot of jealous looks from people when they see the box you'll be carrying!
And then it was time to head out to Somerville so I could meet up with Justin, an online buddy I was very glad to finally meet in person. He suggested an ice cream at J.P. Licks, which didn't take much convincing...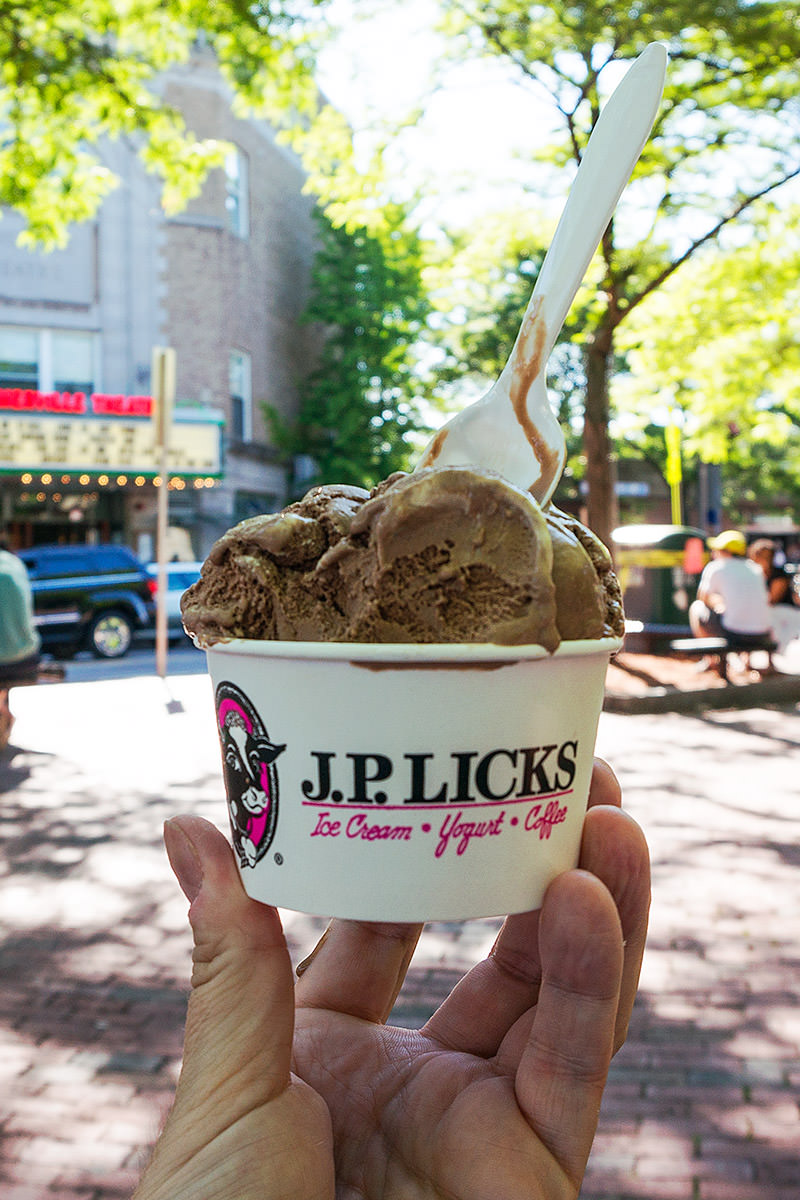 Pretty frickin' amazing ice cream, if we're being honest here.
Since my ride to the party missed their flight into Boston and was going to be late, I was left with a couple of hours to kill. Lucky me, my friend Dave just happened to be in from London! I haven't seen him since Davedon in 2009, so this was a happy (if not totally bizarre) coincidence. We decided to eat at Boston's premiere brick oven pizzeria since 1926, Regina's...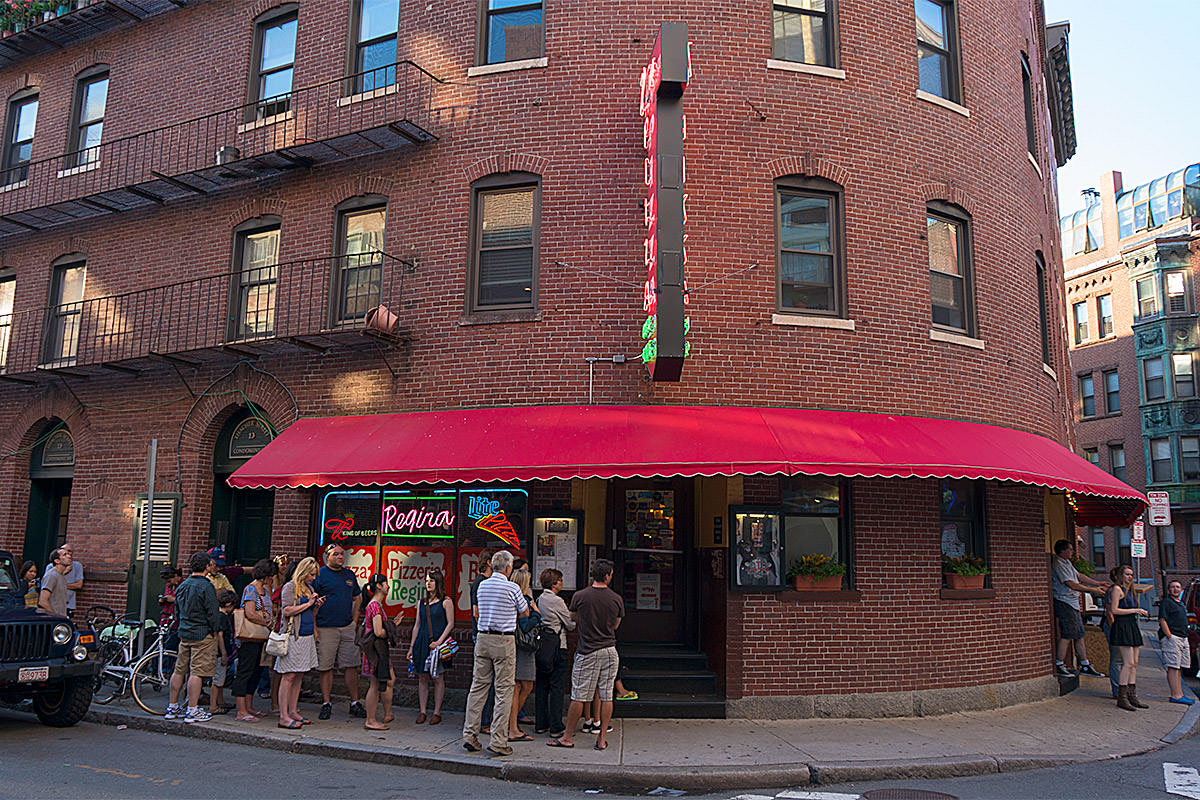 There was a line to get in, of course. But totally worth the wait.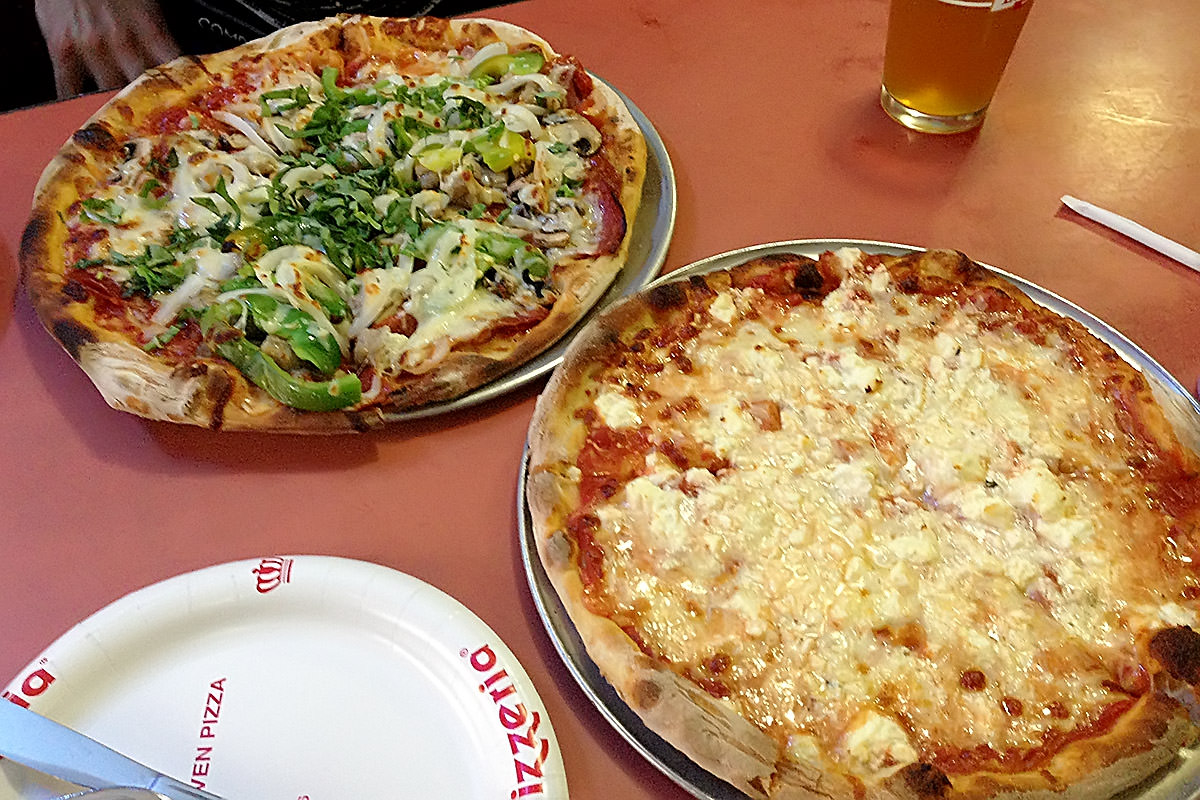 Dave had The Giambotta, which has everything but the kitchen sink. I had mozzarella and feta cheese.
Still needing to kill some time, Dave and I decided to take a walk through the Quincy Market at Faneuil Hall. I love the place not only for the sheer variety of food, but for the decor. Each stall has it's own signage, and most of it is very well done...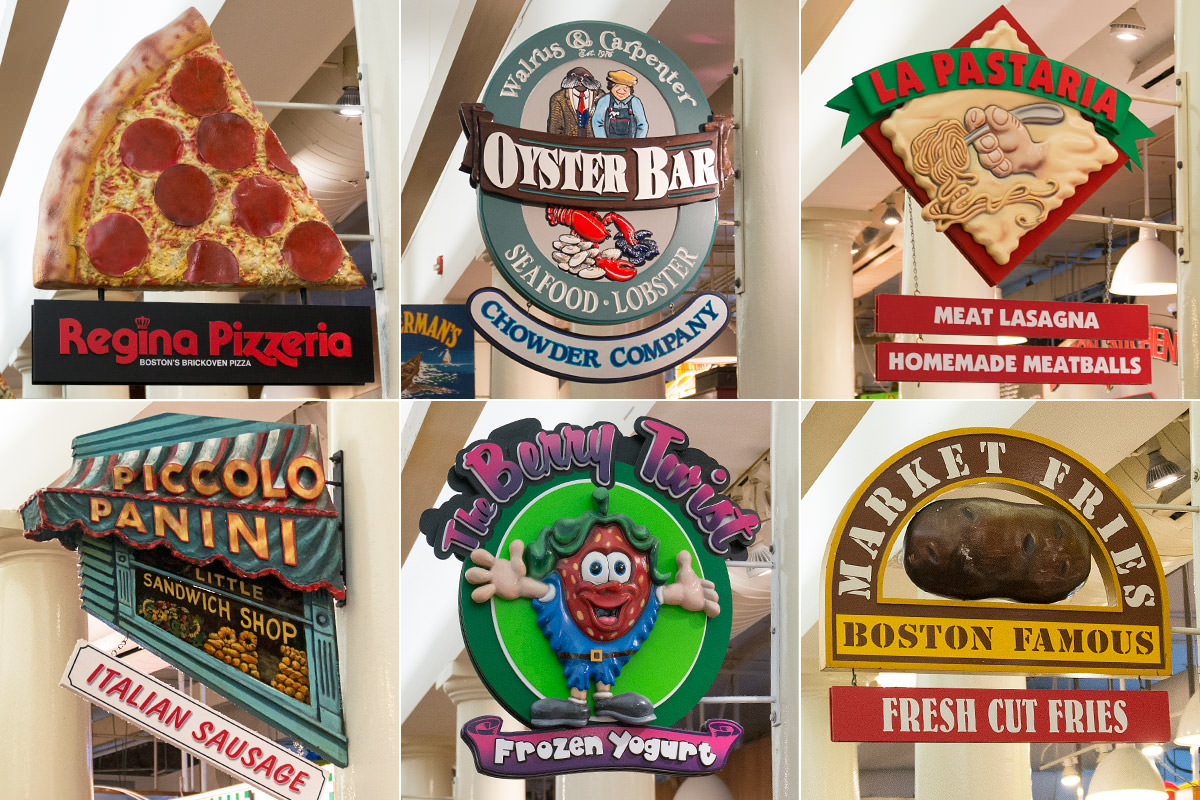 So much nicer than the boring signs you usually see now-a-days.
Outside there was a juggler risking his life with some kind of show. He was capable (and funny!) if this is your thing, but I was hoping for chainsaws...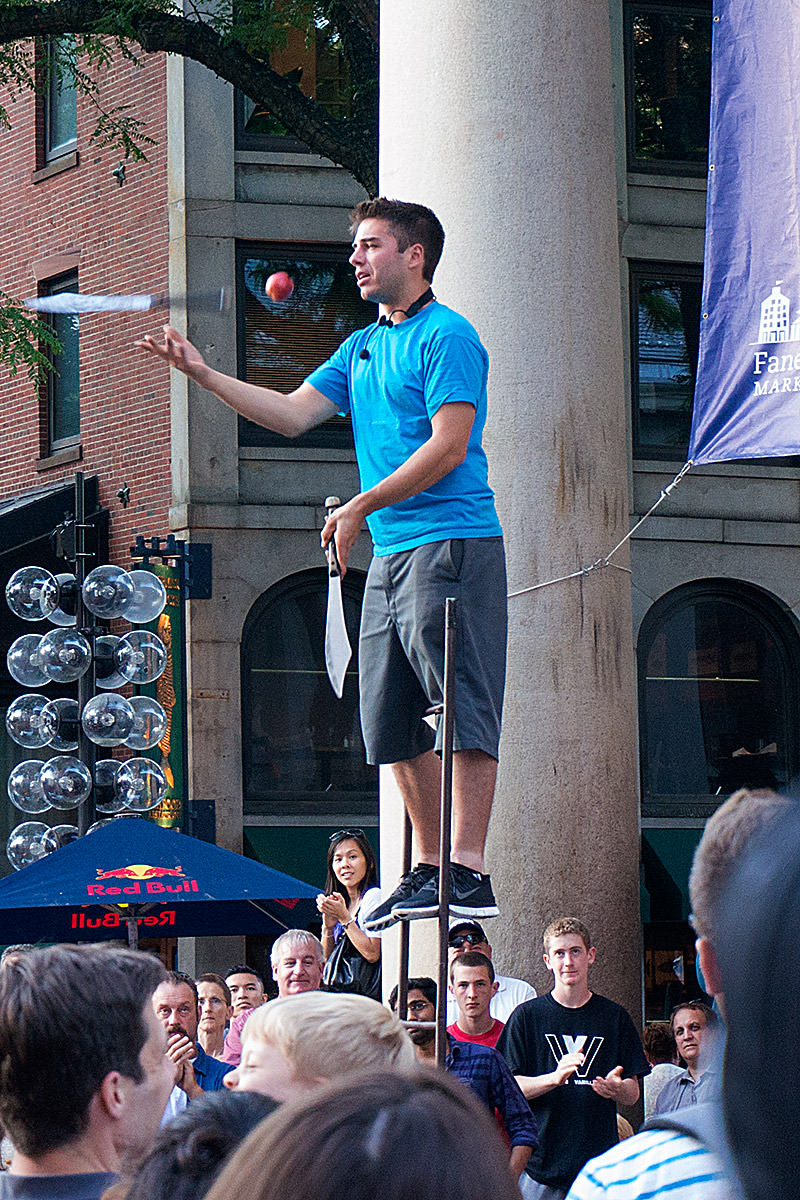 Probably not sharp knives, but you could still poke an eye out.
My friends finally landed, so it was time to say goodbye to Dave and head back to my hotel so I could get cleaned up. Along the way, I saw Boston's beautiful old State House building with a spot of sunset light on it...

Now that's a beautiful building! Though I've never been inside.
Boston is a city that's kinda a strange place for me to be right now. Yes, it's home to my beloved Red Sox baseball... but it's also home to Bruins hockey, which is currently battling it out with my beloved Chicago Blackhawks for the Stanley Cup (wearing my Blackhawks jersey is probably out of the question). The good news is that I managed to find a Jarod Saltalamacchia T-Shirt and a not-LEGO Lil' Salty action figure this trip...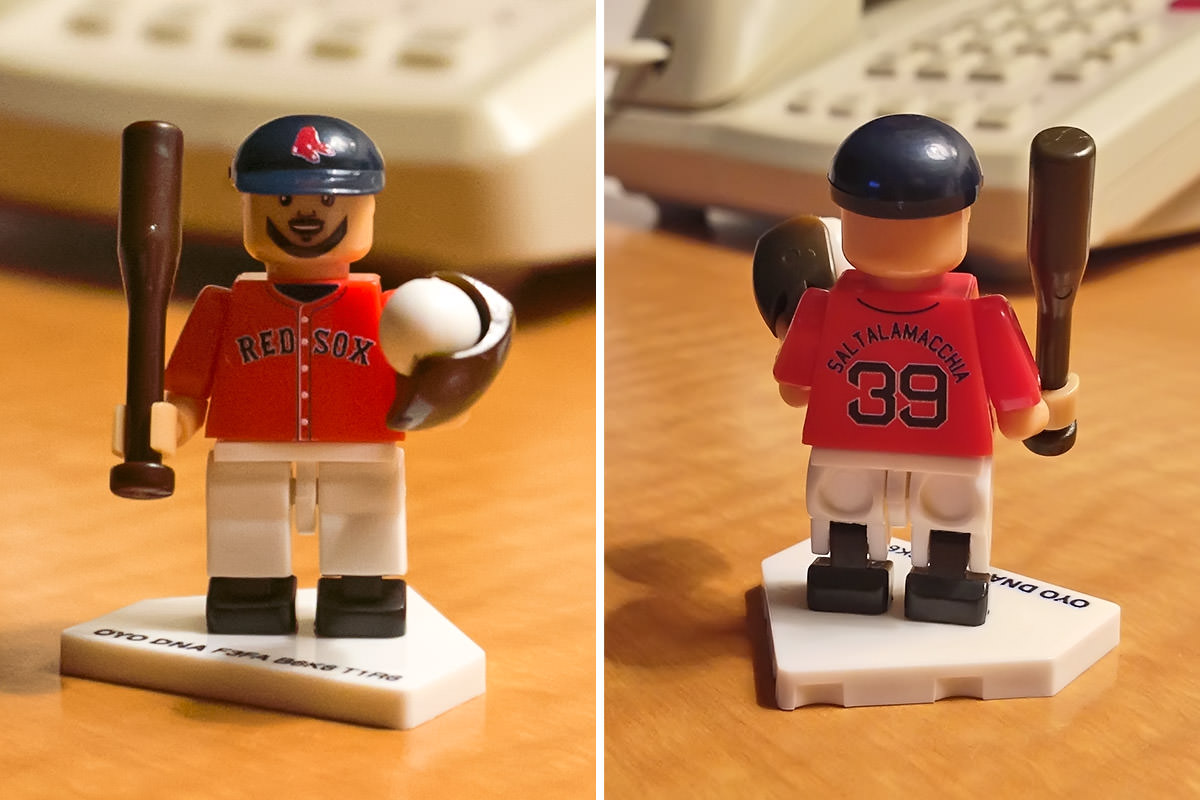 SALTALAMACCHIA!!!
Other than that, it was all good. The party was fantastic, I loved running into my friends, and my trip was a total success.
Until I realize that it's now close to midnight and I have a flight at 7:00am tomorrow morning. Blargh.
Good bye Boston.