Last night Marty (of Banal Leakage fame) and I went to see OMD play at The Depot in Salt Lake City.
As expected, it was mind-blowing amazing show. They played a nice mix of both new material and beloved classics. And, just like the four previous times I've seen them live, played them extremely well. Along with Depeche Mode and Matt & Kim, OMD is easily one of my favorite live bands, and any opportunity to see them in concert is a no-brainer...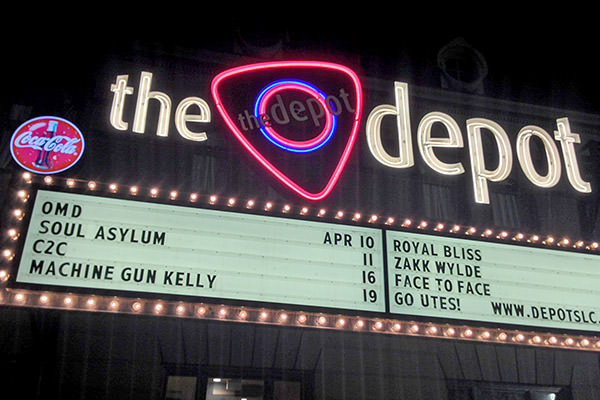 The tour is in support of their new album (released just two days ago here in the US!) called English Electric. Overall, I like the album very much, and there's some pop music treasures on there that I'll be listening to for a very long time. However... OMD being OMD, they decided to add a bunch of "experimental" stuff that I didn't care for at all. Luckily, it wasn't enough to torpedo the whole album (see: Dazzle Ships), but oh how I wish the band would stick to cranking out the beautiful pop music that I love them for and just stop with the self-indulgent artsy crap (or whatever)...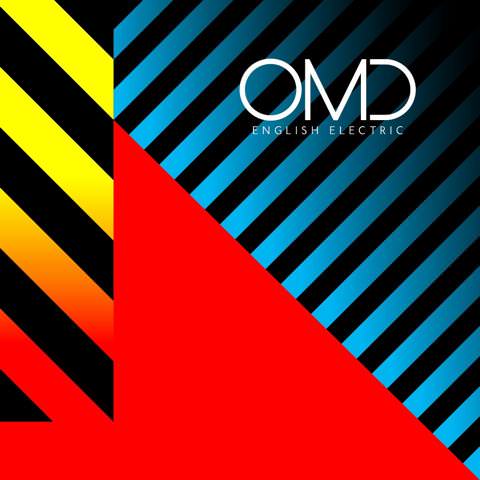 Still, well-worth a listen if you've liked their stuff in the past.
I've put a setlist review in an extended entry, if you're so inclined...
And here's the setlist for OMD's 2013 English Electric Tour...
Decimal/Please Remain Seated. Short pieces of experimental

crap

"music" from English Electric that I deleted from my library because I got tired of it coming up and irritating me at random.
Metroland. A really beautiful bit of pop genius from English Electric that I talked about here.
Messages. An early hit off OMD's first album.
Dresden A nice retro-sounding track from English Electric that sounds as if it could have come from a much earlier album.
Radio Waves. A rare Dazzle Ships track that made it to concert. It's not a favorite, but it was performed beautifully.
History of Modern (Part 1). One of my favorite songs off OMD's previous album, History of Modern.
(Forever) Live and Die. One of the band's biggest hits off The Pacific Age and one of those rare tracks with lead vocals by Paul Humphreys.
If You Leave. Probably the song OMD is most known for because it was recorded for the Pretty In Pink soundtrack. It's a masterwork that you never get tired of hearing, so it's a great fit for their live shows.
Souvenir. A haunting, achingly beautiful song off Architecture & Morality with vocals by Humphreys that is one of my most-played OMD tracks.
Night Cafe. A favorite off of English Electric which Andy says pays tribute to seven Edward Hopper paintings (which is odd, because The Night Cafe is actually by Van Gogh... the painting he's probably thinking of is Nighthawks).
Joan of Arc. An Architecture & Morality track that I enjoy... but would have skipped in favor of several other OMD songs I like better.
Maid of Orleans. Another Joan of Arc song, this time from Architecture & Morality. Wouldn't have minded skipping this one too.
Our System. More from English Electric, but one I'm not a huge fan of. Andy said that the opening bit of noise if from Voyager 1 passing through the magnetosphere of Jupiter (or something like that).
Atomic Ranch. More experimental crap that's not really music, but OMD put it on English Electric anyway. Works okay in concert for a much-needed break and a good lead-in for...
Kissing the Machine. A bizarre English Electric song that keeps growing on me... probably because of the music more than the lyrics.
So In Love. FINALLY! A song from Crush! Also a song that most OMD fans know by heart.
Sister Marie Says. A second track from History of Modern which I love... but I sure wish they would have mixed things up a little and gone with the demo version.
Locomotion. A popular song from Junk Culture that I have never liked. If they had to include a track off that album, I'd have much rather heard Tesla Girls.
Sailing on the Seven Seas. I LOVED the album Sugar Tax, and this song is an amazing one... but boy would I have loved to hear Pandora's Box or Call My Name instead!
Enola Gay. OMD's anti-war song from their album Organisation. As a shining example of 80's synth-pop, I'm obligated to love it... but hearing it live makes me want to love it.
Walking on the Milky Way. The first of a 3-song encore, this is one of the few tracks off Universal that I actually liked... mostly because it is a perfect showcase for Andy's vocals.
Secret. This popular OMD song was a glaring omission from their previous tour, and I was very happy they decided to include it this time around. Paul Humphreys has a distant, restrained way of singing here that makes the song even more beautiful than the lyrics alone would suggest. Hearing it always makes me want to drop everything and listen to Crush straight through for the millionth time.
Electricity. The very first single OMD ever released, this is a track that I appreciate, but don't really enjoy. Still, it does make sense to end the show with the beginning, so I was fine with it. That being said... how perfect would it have been to close with We Love You?
Overall, a really great set. But... would it have killed them to perform a couple songs off Liberator? So many brilliant tracks on that album and we don't get even one of them? Even if it were just Dream of Me, I would have been thrilled. Oh well. When you're OMD and have such a huge catalog of amazing music, I guess something has to give.
No kidding... even if you're just a casual fan of their music, seeing Orchestral Manoeuvres in the Dark live should be on everybody's bucket list. Highest possible recommendation.