Today was kinda a play day where I had no real agenda. That's the good news.
Today was filled with disappointments. That's the bad news.
But, all in all... any day away from the office is a good one, am I right? I mean, sure, I worked a bit... but most of my time was spent looking for things to do in Salt Lake City that I haven't done before. I've been here many, many times, so that is a bit of a challenge.
My first stop was decided last night when I saw "BRUGES WAFFLES" flash across my hotel television's concierge screen. "Wow. I could go for some authentic Belgian waffles!" I said to myself. And so I got up and walked the three lonnnnnng blocks to the waffle shop in time for...

DISAPPOINTMENT NO. 1
On their website, Bruges Waffles says that they have "authentic caramelized waffles," which is exactly what I wanted. The reality? Not so much...
Don't get me wrong... it was a delicious waffle, and the cream was out of this world. Overall, a wonderful breakfast. But where is the pearl sugar that makes that delightful speckle of caramelized bits that I love? I sure couldn't find them. If they were there, my waffle would have looked like this...

Photo from A Feast for the Eyes... which has a recipe for the waffles you're looking for!
And let me tell you... those pearls of caramelized sugar are what makes a Belgian waffle go from "good" to "FOOD OF THE GODS!"
Next up? I wanted to visit the Natural History Museum of Utah. I had been there before years ago, but they relocated to a new building in 2011, and it's supposed to be pretty spectacular. The problem is that there's no real "elegant" way of getting there via public transportation. By car, it's a 16 minute drive from downtown to their location on edge of the University of Utah campus. But I had to spend an hour and fifteen minutes taking the Blue Trax Line to the Red Trax Line all the way out to the University Medical Center... then catch a campus shuttle over some gawdaful roads to get to the museum where I was faced with...

DISAPPOINTMENT NO. 2
The Natural History Museum of Utah is, indeed, in a spectacular new location and has some exhibits that are incredibly well done. The dinosaur exhibits alone are worth the price of admission. Honestly, if you're in Salt Lake City, you owe it to yourself to check it out... it's totally worth it, even if you have to go through public transportation hell to get there.
HOWEVER... when I was there it was absolute bedlam because (I'm guessing) there was a school field trip going on. This wouldn't have been a big deal, except the kids were running around going ape-shit insane. Museum staff didn't even attempt to reign them in, which was just senseless. And the "chaperone adults" that were accompanying the kids didn't bother to "chaperone" at all. They just lounged around while kids were yelling, screaming, running, kicking, and beating on the displays. It was beyond crazy. Even if they didn't make the kids behave, you'd think they would AT LEAST attempt to keep walkways clear so people could get around the museum... but... no. After 45 minutes, I couldn't take it any more and left. But I still got to see some cool stuff...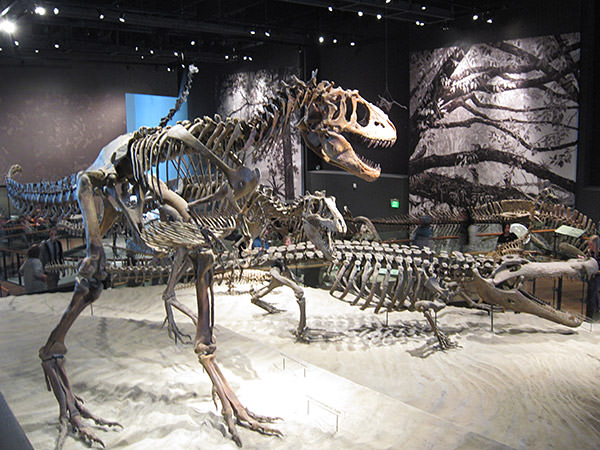 The dinosaur exhibits are truly first class.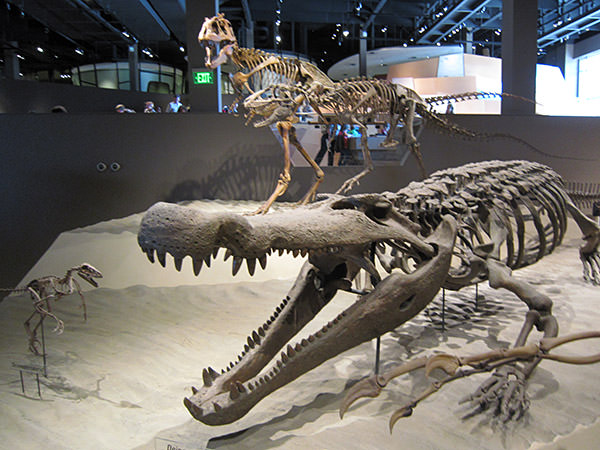 RAWRRRRR! Says the ancient giant crocodile!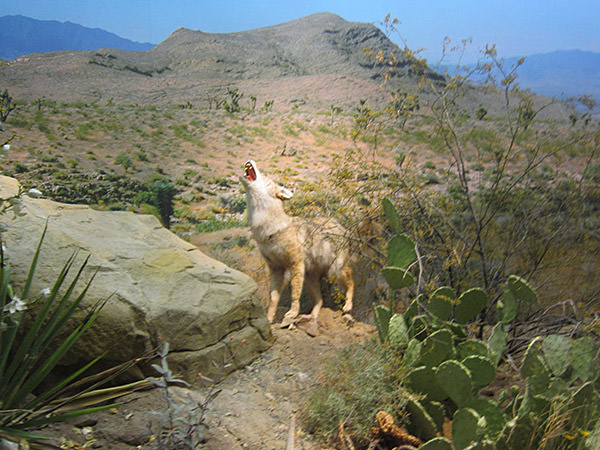 The dioramas were nicely done too... if you like looking at dead stuffed animals.

The "Sky Deck" offers amazing views of downtown Salt Lake City and beyond.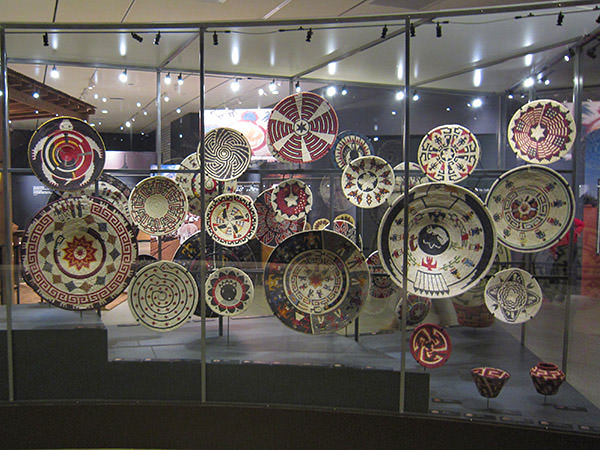 There was a really nice weaving exhibit that was much more interesting than I would have thought.
I complained about the ordeal of using public transportation to get to the museum, but there's one cool bit I should mention. When I was ready to leave, I checked my phone to see how often the campus shuttles ran. Much to my shock and delight, they have a web app that shows you where the shuttles are AND you can tap on a station to get an estimate as to when the next shuttle will arrive there...
Now THAT'S cool... and so useful! I wish the TRAX light rail system here had the same feature.
The one thing I wanted to do above anything else while I am here is to visit The Leonardo so I could see the awesome-sounding MUMMIES OF THE WORLD exhibit. Unfortunately, that brings us to...

DISAPPOINTMENT NO. 3
The show was sold out for the day. And the next day. And the next day. Talk about a soul-crushing sense of defeat... I missed getting to see mummies, dammit!
Last night Marty had mentioned that The Apple Store had relocated from The Gateway to a new shopping mall built by the Mormon church called "City Creek Center," so I decided to stop because I really want a different case for my iPhone 5. When I first got it, there were like -zero- cases available, so I thought I would have a better selection now that seven months have passed. You can probably imagine that this brings us to...

DISAPPOINTMENT NO. 4
The iPhone 5 case selection at the Apple Store is only barely better than it was back in September. They don't even have a simple bumper I can buy... they come attached to a hunk of ugly plastic. And the rest of the cases they have are pretty lame. WAH! Oh well... City Creek Center is really a beautiful mall (if you're into that kind of thing) so I was happy I got to see it...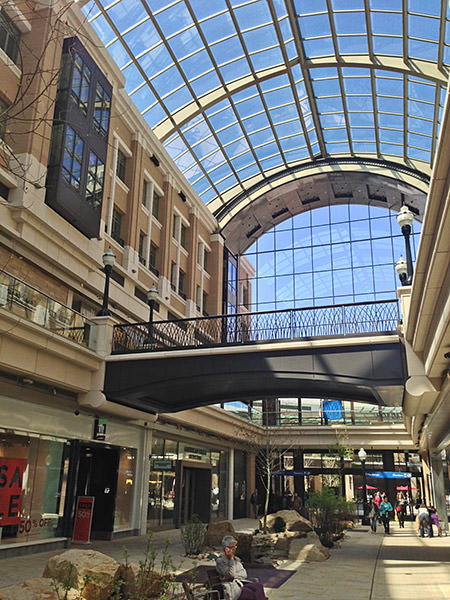 After bumming around beautiful Temple Square for a while (which is never a disappointment), my waffle started wearing off so I decided to head back to the Bruges Waffles shop again for a late lunch. They advertise having "wonderfully crispy 'frites' or fries, with 10 delicious homemade mayos." Now, as anybody who has read this blog for even a little while knows, I am absolutely crave "patatjes met" (Dutch Fries with Dutch Mayo) and also love "frites avec mayo" (Belgian Fries with European Mayo). So this was kinda a no-brainer idea, right? Not really...

DISAPPOINTMENT NO. 5
Patatjes Met? More like Patatjes Meh. First of all, the mayo is NOT creamy, delicious, Dutch/European-style mayonnaise with that delicious taste I love. Nope... it's no different than the clumpy, egg-flavored American mayo you get out of a jar. In fact, I would't be surprised if that's exactly what it is. The "homemade" stuff they're talking about must be American jar mayo mixed with spices or whatever. "Disappointed" doesn't even begin to cover it. But that's just the beginning, because then I got the "frites"...
They weren't "bad"... but they also weren't the big, crispy, golden frites you get in Belgium. Not by a long shot. Too many of the fries were limp, waggy, and overly-greasy. But making matters worse was that a full half of my frites were crusty little nubs that aren't fit for dipping... they're barely fit for eating...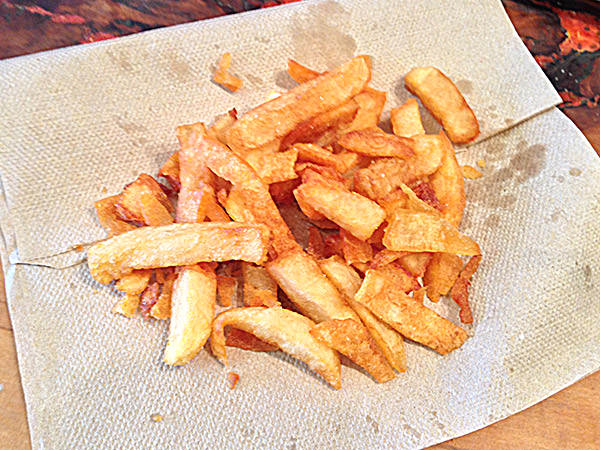 BULLSHIT! Even the worst frites shop in Belgium would never serve this. I make better fries at home. Hell, McDONALDS makes better fries than this. The entire time I was eating this mess, all I kept thinking about was flying to Belgium and getting me some real frites. Or, better still, flying to the Netherlands and getting me some delicious patatjes met...
Oh damn. Just look at those beautiful fried potatoes! AND LOOK AT THAT LUSH, CREAMY, FLAVORFUL MAYO FOR GOD'S SAKE!!! This is the stuff you want!
WAH!
Not wanting to risk any further disappointment, I headed back to my hotel so I could rest up and get some work done.
And now it's time to leave all my disappointment behind me so I can put some pants on and head out for an evening that promises to be anything but disappointing...