After a random look at my blog stats, I saw traffic coming from a website I'd never heard of before. So I clicked through to see what was going on and found this...
NOM lifts pro-gay blogger's personal travel photo
I'm already I'm filled with dread, and I haven't even read the story yet.
And, sure enough, it was my photo they were talking about. The "National Organization for Marriage," which I can only describe as the preeminent anti-marriage-equality hate-group, is using a photo I took as a part of their anti-gay propaganda campaign...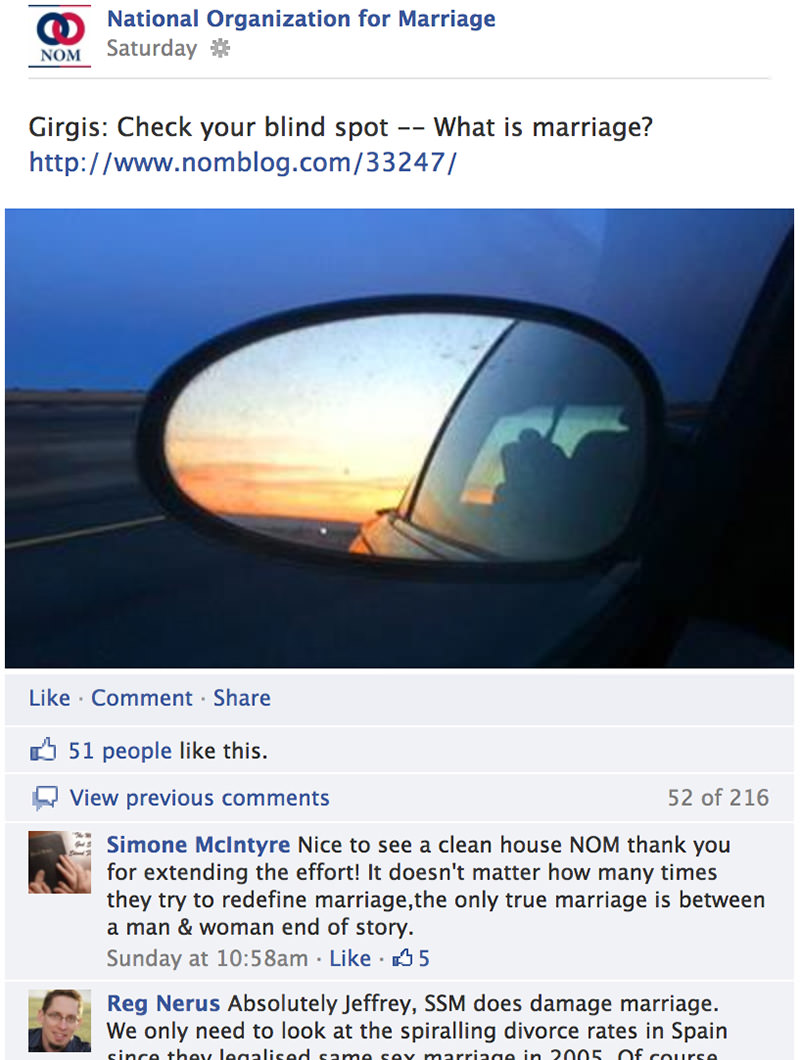 Having something you created being used to peddle bigotry and discrimination is not an easy thing to accept. Especially when it contributes to creating an environment so hostile that LGBT youth are killing themselves rather than having to endure it.
Groups like NOM go against absolutely everything I believe in. But having them drag me into their persecution of the LGBT community is only half the problem. The other is my belief in a free and open internet. Which is why my Creative Commons License (appearing on every page of this site) allows non-commercial usage of the stuff I share here. Granted, NOM violated this license by failing to attribute the photo to it's source in a way that shows I don't endorse their bullshit... but otherwise? Their non-profit status (which is another topic entirely) means that their use of my photo is most likely permissible.
And it's this dilemma that has me frustrated to to tears. How do I reconcile my belief in sharing information on a free internet with my desire to keep my works from being used to hurt people by hateful bigots like NOM??
I thought I might find help in the "moral rights" clause of the license...
"In addition to the right of licensors to request removal of their name from the work when used in a derivative or collective they don't like, copyright laws in most jurisdictions around the world (with the notable exception of the US except in very limited circumstances) grant creators "moral rights" which may provide some redress if a derivative work represents a "derogatory treatment" of the licensor's work."
Except they make it clear that the USA is a "notable exception," which means this is practically worthless.
So what to do? Two things I feel very strongly about seem to cancel each other out. Have an open license, and your works can be repurposed to hurt people. Have a restrictive license, and you're inhibiting the creativity of others to build and share on your work.
I don't know what the solution is. Maybe you can't have it both ways.
All I do know is that I don't support NOM's ruthless persecution of a group of people under the pretense of "protecting marriage." And, make no mistake, it is persecution. They don't like gay people, so they fight to keep them from having the same freedoms as everybody else. And if spreading misinformation and outright lies is what it takes, they'll do that. If allying themselves with individuals or organizations which advocate violence against homosexuals will forward their cause, they'll do that too. Whatever it takes to keep homophobia and fear alive so they can maintain this absurd illusion that marriage is somehow "endangered" by a mythical "gay agenda" that's out to destroy society.
This situation shouldn't be upsetting me as much as it is. It's the internet, after all.
But gay kids are being bullied. Gay kids are killing themselves. And it's groups like NOM that are creating a society which encourages these horrible things to happen.
And being party to that... even unwillingly... is more than I can take.