IT'S SATURDAY!
I'm so happy I could just shit because I only had to work a half-day today. Of course, a "work day" for me is 16 hours long, which means my half-day is the same as most people's full-day, so I guess I should be as excited as I think I am...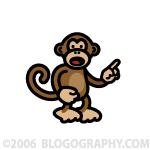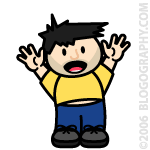 I miss animated GIFs. They seem to be a dying art in the age of YouTube videos. If you're reading this in a feedreader, then odds are that it dropped support for displaying animated GIFs because nobody cares any more. I can only guess web browsers will eventually follow suite.
I was thinking of that this morning when I found a box of VHS tapes filled with awesome television shows that cannot be found on DVD. The VCR I had been saving to play them wouldn't even turn on, so I guess that's the end of that since the alternatives are pretty terrible. Kind of makes me nervous to try turning on my LaserDisc player.
I remember when records gave way to 8-track which, in turn, gave away to cassette tapes. Those, of course, gave way to CDs. Now all music is digital, so I guess it's only natural that video catch up.
The shame of it all being all those terrific television shows and movies that get left behind.
Like animated GIFs in the wind.