And so today is the first day that Washingtonians can get a marriage license if the person they want to marry happens to be the same sex as they are.
It's all the sweeter knowing that their fellow Washingtonians voted to make it so. 53.7% of us feel that love is love, and our laws have no fucking business telling people who they should fall in love with. And this number has nowhere to go but up. Especially now that backwards-thinking straight people will see that two dudes getting married or two ladies getting married has absolutely no fucking effect on their lives.
The pictures rolling in are heartwarming.
Some of these people have been waiting decades for the opportunity to get married...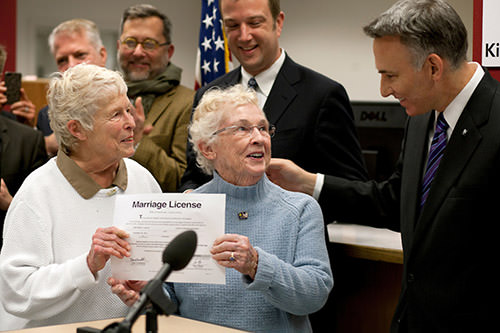 Photo ©2012 from Meryl Schenker's beautiful set

Photo ©2012 from Meryl Schenker's beautiful set
And even here in Redneckistan, happy couples came to get licenses...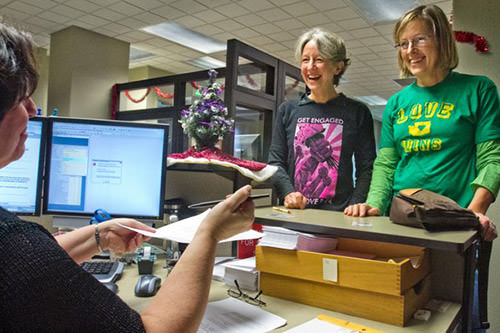 Photo © 2012 The Wenatchee World by Mike Bonnicksen

You have to be one cynical bastard not to be happy for such happy people being so happy.
But, of course, cynical bastards are everywhere.
The bigoted pieces of shit over at the hate group "One Million Moms" apparently feel that gay people shouldn't even be allowed on television. Even when they're not doing anything "gay." Their latest in a long line of absurd targets is this cute ad for JC Penny with Ellen and some elves in it...
What the fuck?
Seriously, WHAT THE FUCK?!??
It's a commercial featuring one of the sweetest, kindest, most caring people on television talking to some elves. I mean, holy shit... I could understand if Ellen was eating out the entire Dallas Cowboys cheerleader squad and the ad was airing during Saturday morning cartoons... but this?!? THIS is what's being protested?
I guess these morons think that seeing Ellen in a television commercial is going to turn girls into lesbians or something, so hold on to your vaginas, ladies.
But even more disgusting than a group of repugnant bitches wanting to eradicate gay people from television is that these repugnant bitches ARE MOMS! They are raising children! Children who may very well end up being gay in one of the most hostile environments imaginable... their own parents want them eradicated.
Which is how teenagers end up putting a gun to their head and pulling the trigger.
I can only hope that the fact that gay people are on television... and gay people are in the news being happy... and gay people are getting married... only serves to show these kids that there is life outside the horrendous environment their own homophobic parents create for them. That one day they can escape from these million idiots and be happy. That life gets better.
And so, on behalf of the 53.7% of the people in Washington who want to create a better life for all kids out there... fuck you, "One Million Moms." Fuck you up your ignorant, bigoted asses. If there's any justice you'll have to pay for the blood on your hands. I just hope your children aren't going to be forced to pay with you.
And to all the happy couples out there... congratulations!