On Pearl Harbor Day, I can't help but think back to the times I've visited this National Historic Landmark. The Visitor Center was re-opened in 2010 after having been beautifully remodeled, and should be on everybody's travel to-do list. The changes and upgrades made by the National Parks Service are world-class and absolutely destination-worthy.
One thing that hasn't changed at the center is the USS Arizona Memorial, which is one of the most stunning monuments I've ever seen. Meant to resemble a bridge over the wreckage of the ship, it was designed by Alfred Preis and had an opening dedication on May 30th, 1962. In some ways, the structure is very much rooted in a 1960's design sensibility... but in others, it feels modern and timeless in a way that few architectural achievements have managed...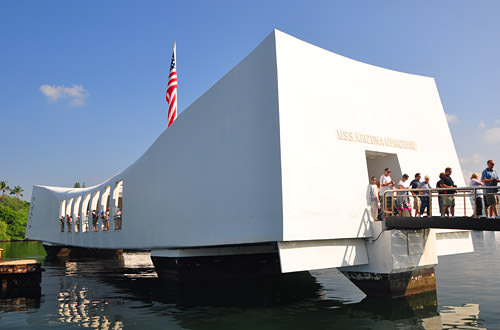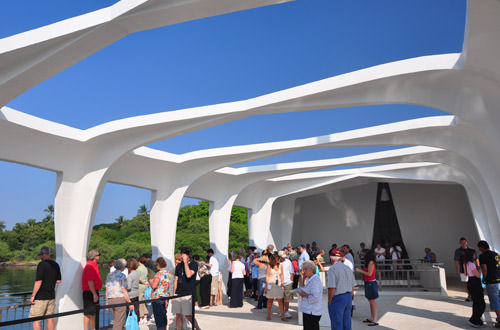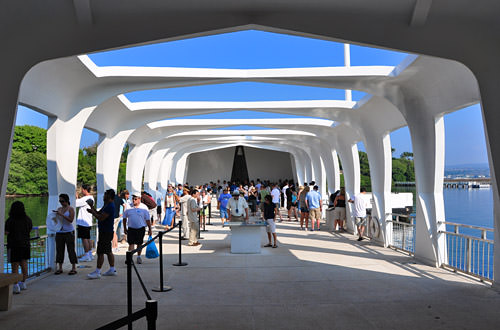 Like I said, well worth a visit. Get there early (or reserve a spot online) so you can claim a water shuttle ticket, because there's a limited number of people allowed on the monument each day.
If Hawaii isn't in your travel plans, I understand that the National Parks Service is planning on touring the US with some kind of mobile exhibit in 2016 for their 100th anniversary. So maybe Pearl Harbor will be coming your way in a few years? Keep an eye out.

Today and every day, thanks to those who gave their lives in service of their country. Whether aboard the USS Arizona... elsewhere at Pearl Harbor... or in foreign lands far from home... you are remembered by a grateful nation.