Wear something pretty and grab your kitty... because a very special Cat Shelter Edition of Bullet Sunday starts now...

• Abandoned! My building doesn't allow pets, which means the cat that's been hanging around here can't live with me. And now that it's getting colder, I'm starting to worry about Spanky surviving the winter outside. So I scoured the internet for shelter plans and ended up taking the best ideas from all of them to come up with a design of my own, made out of a plastic tub...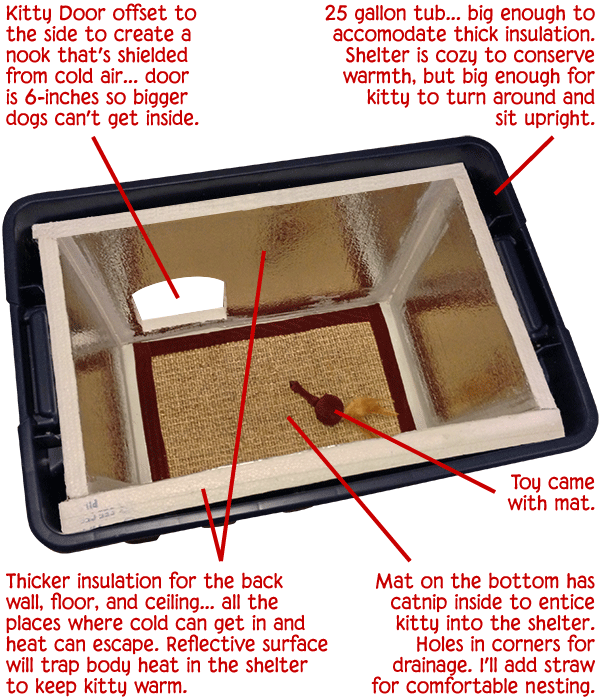 For anybody who has a stray or feral cat that they want to protect from the elements, here's how I did it...

• Tub! Most of the plans called for a fairly small 18-20 gallon tub to be used so that body heat can be conserved. But I wanted enough room to use some pretty thick insulation, so I went for a 25 gallon tub. It's made by Sterilite in the USA, and costs about $15 at Target. Spanky likes to stretch a bit, and I wanted her to have room to sit up if she felt like it, so the size worked out pretty good.

• Insulation! Home Depot had several weights of insulation. I bought 1-1/2 inch for the floor, ceiling, and back wall (which is against an outside wall of an open carport). I bought the 1-inch for the sides and the front wall to give her a little more room. I got the stuff with the reflective surface to better retain her body heat. The final interior dimensions are 19-1/2" wide by 11-inches deep. That seems like it will be cozy enough to keep her warm, but big enough that she's not cramped. Each sheet was about $4.50, so... $9 total.

• Cutting! The plastic container cut fairly easily with a larger serrated kitchen knife. I made the door 6-inches square, but rounded the top. I think she can fit through that hole fine. Any larger and I worried that dogs might climb in. I also cut the insulation with the serrated knife, but held it flat against the metallic surface so as to minimize the styrofoam crumbling apart. By cutting flat, the blade heats up and gets you a cleaner cut than if you just stab into it. IMPORTANT: Be sure to examine the lid on your tub! Some tubs have a lid that rises above the edges. The tub I bought have a recessed lid which meant that I had to cut the insulation down an extra inch so the lid could fit. I made sure that my tub has side-latches so the lid can't come off easily.

• Gluing! I bought a low-odor, thick-tack, instant-grip glue made by DAP to adhere the floor to the bottom of the tub and the sides to the sides of the tub. I figured this would prevent the shelter from falling apart if she gets crazy in there. The ceiling insulation piece fits snugly into the insulation box I created. I then put the quick-grip glue on it so that it would stick to the lid of the tub. So now when I need to clean out the shelter, the lid and ceiling are one piece. The glue also keeps it from falling on Spanky when she's inside. A tube was $4 at Home Depot, and I used all of it.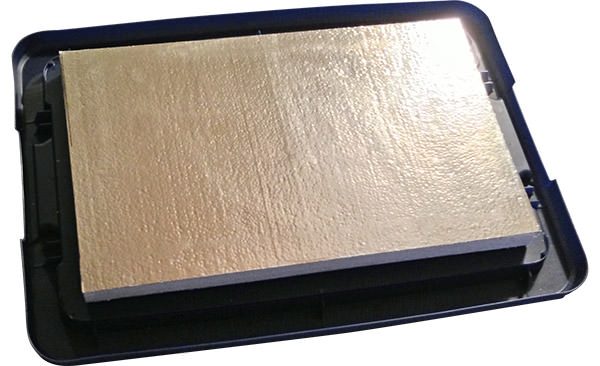 • Caulking! This was the part I really questioned. A good sealant is going to stink like silicone (or whatever that is). But I felt it was really important that any snow/rain moisture wouldn't mix with cat hair, work its way into the cracks, then mildew or something. Far better to have a sealed shelter that will wipe out clean. I'm letting the shelter air-out, so hopefully the odor will dissipate once the caulking dries. A tube was $4 at Home Depot and I used half of it.
UPDATE: I now have serious reservations about using caulk to seal the insulation. The smell does not dissipate quickly enough, and I worry a bit about Spanky chewing on it. So I covered it with aluminum tape. If I were doing this over again, I'd probably just glue the pieces together with the low-odor glue and use the tape. It sure looks better...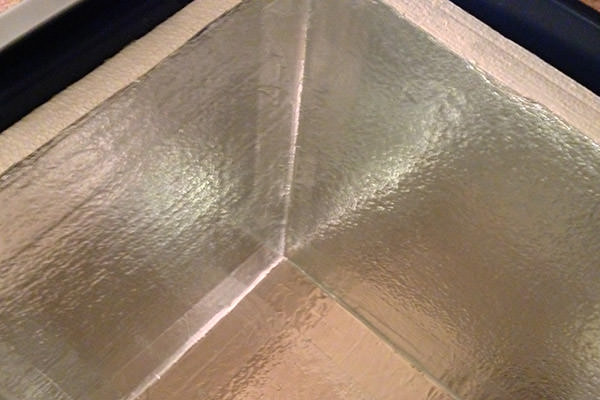 • Flooring! The vast majority of shelter plans I looked at insisted that dry straw (not hay!) was the ONLY acceptable flooring material, because it dries easily and won't trap moisture on the surface like a rug or blanket. Some plans said that crumpled or shredded newspaper was okay. I decided to go with straw, because many websites said that kitties like to nest in it. It also has some insulation properties to it. I worried about Spanky's claws shredding the insulation, so I found an outdoor straw mat that I could cut down. The mat has a pocket for catnip in it too, which will (hopefully) act as a little incentive for her to use the shelter. If this ends up being a moisture-trap or cause some other problem, I'll ditch it and use linoleum for the floor instead. I drilled holes in the corners with straws so water can drain if Spanky gets soaked. The mat was $12 at Petco.

• Finish! And so... $44 for a first-class kitty shelter that will (hopefully) help Spanky survive the winter. If I were to cut corners, I probably could have made one for $35. I have a covered place to put it, so I'm not worried about snow piling up... but the lid is pretty good, so it would probably be okay outside. Though if it were being placed somewhere exposed... I might think about putting some kind of plastic overhang to make it nicer for the cat to enter and exit the shelter.

• Ideas! If the shelter I made doesn't appeal to you... or you need ideas for something cheaper, a good place to start is the Urban Cat League's "Winter Cat Shelters" page.

• Purchase! If you have the money, the best cat shelter I found was The Kitty Tube for $95 with a straw bottom... $130 for a heated shelter. Another shelter that was recommended to me comes from Cozy Winters and is $95 heated.

And there you have it. Winter shelter info for saving a stray cat or feral cat that might be in your neighborhood. Stay toasty.