I'm a bit of a video game whore, even though I rarely have time to play them. But that hasn't stopped me from acquiring a plethora of gaming hardware over the years, including the Atari 2600, Microvision, Nintendo NES, ColecoVision, Atari 7800, Nintendo GameBoy, Atari Lynx & Lynx II, Sony PlayStation, Nintendo GameBoy Color, Nintendo GameBoy Advance, Nintendo GameCube, Microsoft Xbox, Nintendo DS, Nintendo DS Lite, Microsoft Xbox 360, Nintendo Wii, and the Sony PlayStation 3.
And, of course, there were a bunch of computers capable of playing games tossed in there (most notably by Atari and Apple) plus a bunch of dedicated handhelds like Mattel Electronic Football and Electronic Poker. Oh... and my iPhone/iPad, which has all kinds of games on them.
And, for a while there, it looked as though my gaming future was going to be the iPhone/iPad.
But the lack of a dedicated control pad make for a crappy experience. And the lack of LEGO titles meant that the games I most wanted to play weren't available.
Enter the Nintendo 3DS XL...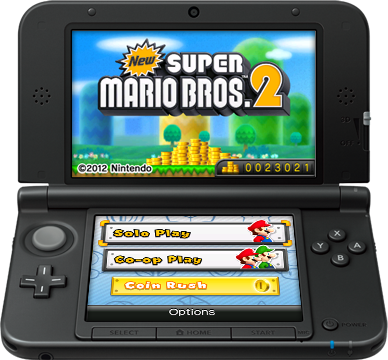 I had played around with the original 3DS, but the 3D screen gave me a headache. I had read that the new "90% bigger screens" of the XL version was easier to view properly, so I decided to give it a shot.
And it's pretty awesome.
The 3D really looks great and, on the larger screen, is much easier to see... though the resolution is kinda low and chunky. The only problem with the glasses-free 3D technology is that you have to hold the hardware a specific distance from your face and look at it straight-on for the best effect. Start looking at the screen at more than a couple degrees off-angle and the screen will darken and eventually go all blurry. At first, this was a problem for me, but now I seem to instinctually hold it properly, so it's not a problem at all.
Having dedicated controls is what makes a hand-held video game superior than a mobile phone for gaming, and Nintendo has quite an assortment. The buttons on the shoulders and right-hand side are pretty standard. As is the D-pad on the left. But above the D-pad is the "Circle Pad." It is glorious. So smooth and precise that gameplay is much improved. A lot of people complained that Nintendo should have put another Circle Pad on the right-hand side (rather than doing so with a clunky add-on) and I have to agree. That would make shooter games a dream to play on the 3DS XL. Oh well.
Both of Nintendo's 3D units have a lot of features outside of gaming... most of them kind of lame, overly-complex, and unnecessary, to be honest. There's "Spot-Pass" and "Street-Pass" for exchanging data with Nintendo, your friends, and even random strangers you pass on the street. There's Mii creation functionality taken from the Wii to make an avatar of yourself. There's an e-shop for buying games and apps. There's internet connectivity and friend codes for playing games with friends over the web. There's a sound editor of some kind. It goes on and on. I will probably use very little of this stuff. I just want to play games.
There's also a crappy, grainy, low-res 3D camera on the back (plus an equally shitty front-facing 2D camera) which can read QR codes. I can't show you what the photos look like without having you look at the 3DS's full-color 3D screen, but I can have Photoshop break out the MPO 3D image file into a cheesy red/blue 3D thing for your to look at...

Get out your 3D glasses! Note how the further back you go, the more the image skews to create the 3D effect.
The camera also saves out a non-3D JPEG image that you can look at on any computer or other device capable of displaying JPEGs. But the quality is so bad, why would you want to?
I guess if you needed a camera in an emergency and your phone wasn't handy, this would be better than nothing. But not by much. Since Nintendo saves the photos to a standard SD memory card they are easy to transfer, so I guess there's that.
I'll probably review the 3D games I bought later on, once I've had time to play them a little more... but I am compelled to mention that my main reason for buying this handheld in the first place was the abundance of LEGO games available...
LEGO Star Wars III: Clone Wars - It's little LEGO characters with light sabers... guaranteed fun.
LEGO Batman 2 - It's LEGO. It's Batman. Therefor it's awesome.
LEGO Pirates of the Caribbean - Brilliant LEGO pirate game even includes Johnny Depp swagger!
LEGO Harry Potter: Years 5-7 - Magic-oriented puzzles are fun and different.
LEGO Lord of the Rings - Really cool to look at, kind of a mess to play.
Sure, they're not very challenging. But they are a lot of fun. Except for the Lord of the Rings game. The battle system is really flawed, which makes playing it more of a chore than fun. Especially for casual, on-the-go pick-up gaming. Unfortunately the 3DS LEGO games don't have all the features of their console counterparts, which means there's less to do. But, on the other hand, you can take it with you.
Nintendo being Nintendo, there's a bunch of great Nintendo-themed games featuring popular characters and properties like Mario, Professor Layton, Link, Nintendogs, Pilotwings, Mario Kart, and the like. No Kirby or Pokemon yet though, which is kind of alarming. Still, a library plenty packed with quality games that people want to play.
Overall, I'm fairly impressed. More than anything else, the Nintendo 3DS Xl is fun, which is kind of the point of video games. If you have the original 3DS, it's probably debatable whether it's worth the $200 price tag to upgrade so quickly (though the bigger screens are SO nice). But if you own any other previous-generation handheld, the 3DS XL is worth checking out.