As expected, Apple unleashed their iPad Mini at today's event... along with some other surprises...

• iPad Mini! The entire point of this product is to compete with the legions of other 7-inch tablets out there... in every way except price. Apple doesn't play the price game, they play the quality & value game... they make their product worth that extra money. Even so, I thought for sure the Mini would start at $299 and was fairly shocked that they went with $329 on the low end. Regardless, Apple is going to sell a bazillion of these things over the holidays...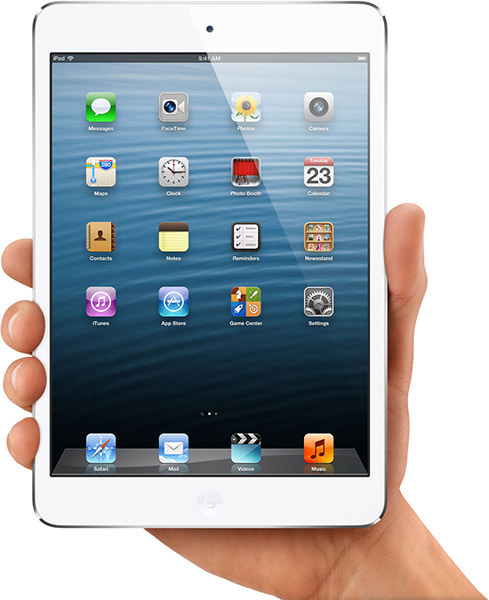 But... not to me. My iPad 3 with Retina Display is absolutely perfect for the one thing I most use an iPad for... reading comics a full page at a time. The Mini's lower resolution would require that I read my comics panel by panel (again, like with iPad 2) instead of page by page.
But... I still want one. It's that sweet-spot size between an iPhone and iPad that would make it so perfect and handy for everything else I find myself reaching for the iPad to do... surf the web... read a book... check email... play games. And, unlike every other iPad I've owned, I would want it with a cellular connection so I could have internet everywhere instead of having to find a free WiFi hotspot.
I will resist the temptation, of course, because my iPad 3 is enough. But when Apple comes out with an iPad Mini with Retina Display... I just might break.

• iPad 4! The smartest thing Apple did at their press party was something nobody expected... a brand new iPad. This has a lot of people who just bought the iPad 3 six months ago in an uproar because the latest version is faster, has speedier WiFi, and better LTE connectivity. I don't care because I can't read comics twice as fast if the iPad is twice as fast, but there's a lot of people feeling burned.
Two things... 1) Apple simply had to get on a holiday release schedule with their new iPads because that's when most of them are sold... and 2) In the Android tablet world, there are a dozen manufacturers that are coming out with something newer and better every month. Apple is the only seller of iPads, so it feels worse than it actually is.

• 13-inch MacBook Pro with Retina Display! While the small size is a killer feature for a traveler like me... I need a bigger screen to do the work I do. The 15-inch MacBook Pro with Retina Display I have is perfect... and will be even more perfect when Adobe's apps are fixed to take advantage of the additional pixels. Still, for a lot of people, the compact size of this new model will be plenty big with the denser display being able to show so much more information than the old models.

• Mac Mini! For somebody wanting a cheap Mac, the new Mini is about as good as it gets. Even the low-end $599 model will provide an excellent experience for running desktop apps. And it's so ridiculously tiny, taking up almost no space. You'll still need a display, keyboard, and mouse... but a lot of people have those sitting around from their previous computer, so the Mini is pretty much a dream come true for somebody wanting to switch to Mac in the most affordable way possible.

• iMac! And here it is. The new product from the event that I am most jealous of... the new impossibly thin iMac...
I bought the last generation model of iMac for work, which now seems like a clumsy piece of crap compared to this stunningly beautiful machine.
People who have seen the display say it's one of the most amazing computer displays ever, even though it hasn't got Retina resolution. I still don't know how Apple is going to come up with the processing power to even run a 27-inch Retina display yet, so this may be as good as it gets for a while. What most interests me is that the glare has been drastically reduced, which is always the big problem with glass facings.
Apple also made it a lot more powerful... even though it's so damn THIN. But it's not the faster chips that make me covet the new iMac... it's the new "Fusion Drive."
I bought both a Solid State Drive and a "regular" Hard Drive so I could use the SSD for speed and the HD for storage. To make work go faster, I put the project I'm working with on the SSD, then move it back to HD when I'm done. A little bit of a hassle, but the speed increase makes it worth the trouble. Now Apple has come up with "Fusion" which combines the two drives and does all this automatically and seamlessly. New files go on the SSD half of the drive, which are automatically moved to the HD half when you stop working on them. Genius.
Of course I want one... I just can't afford one. Wah!

• Mac Pro? Still no Mac Pro. Apple obviously feels that the iMac line is powerful enough that professionals who use Macs will move to them. They added wicked-fast transfer technology like "Thunderbolt" to make sure of it. And they're right... I moved to iMac because there wasn't a new Pro model available, and I've been very happy with it. But... there is a gaping hole in their lineup that Apple has got to address sooner or later or else they are going to start losing customers (if they haven't already). Supposedly the new Mac Pros are coming next Spring. But it would have been really smart to surprise people with a release today to show that Apple is still serious about professionals that need the serious raw power and expandability that an iMac can't offer. Oh well. That ship has sailed for me, so I won't worry about it.

And... it looks like Apple is all set for the holidays. All their consumer products have been refreshed and made better than ever. Which means they are going to be raking in a fuckton of money over the next two months. Which is nice... I hear Apple could use the money.