This trip to Orlando I ended up staying at Disney's Animal Kingdom Lodge... a pricey but very nice hotel that's located directly on the Walt Disney World Resort property.
Meant to compliment Disney's Animal Kingdom theme park, the lodge is an African-inspired masterpiece that has something you won't find in most any other hotel... animals wandering around outside your balcony. Depending on which savanna your room overlooks, you can see giraffes, zebras, okapi, antelope, gazelles, eland, ostrich, and more!
My room in the main lodge (Jambo House) overlooked the "Sunset Savanna" (the other two being "Arusha Savanna" and "Uzima Savanna"). Throughout the day I managed to see all kinds of animals...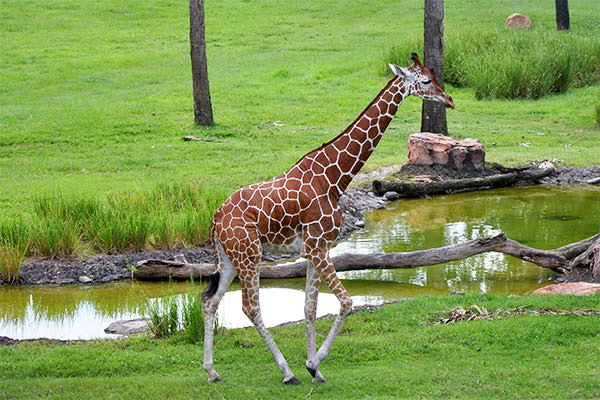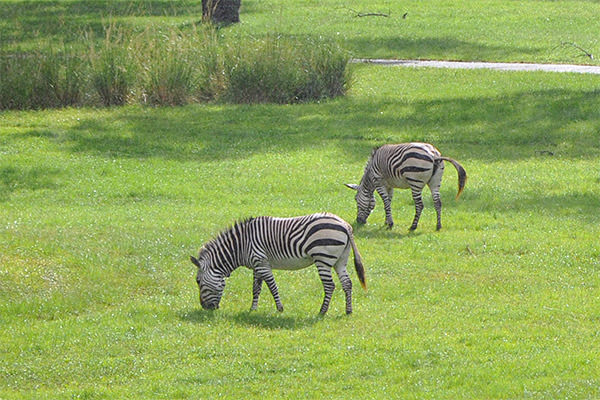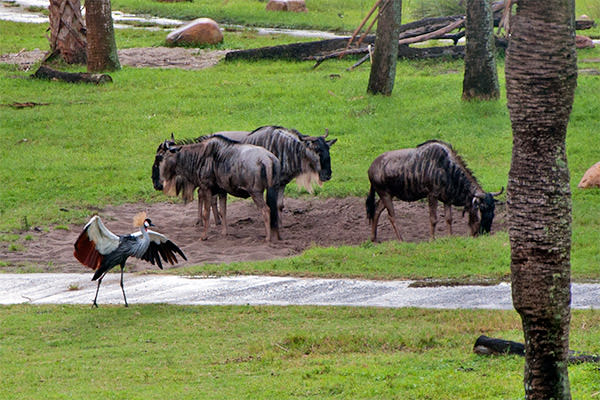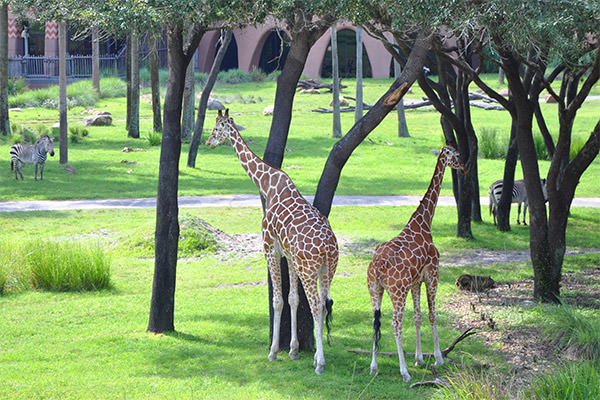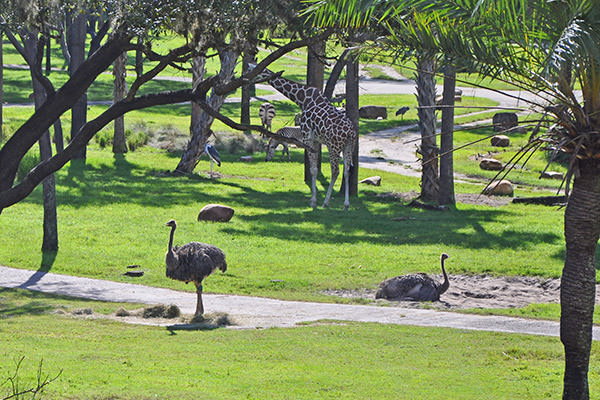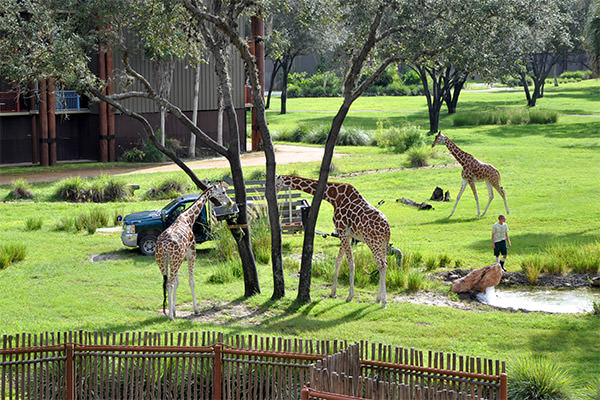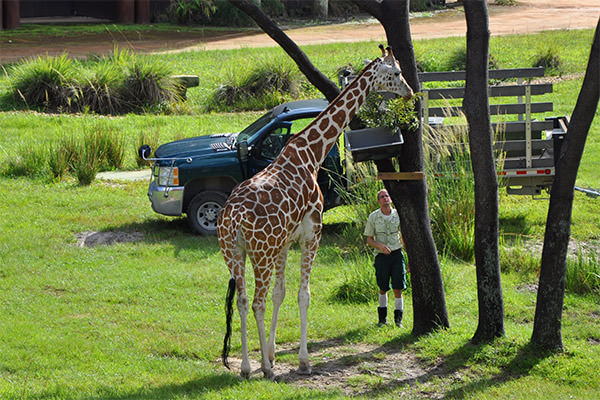 The hotel itself is pretty amazing... which is no surprise since it was designed by Peter Dominick, who also designed the Wilderness Lodge. The showpiece of the hotel being the lobby, which is a towering four+ stories...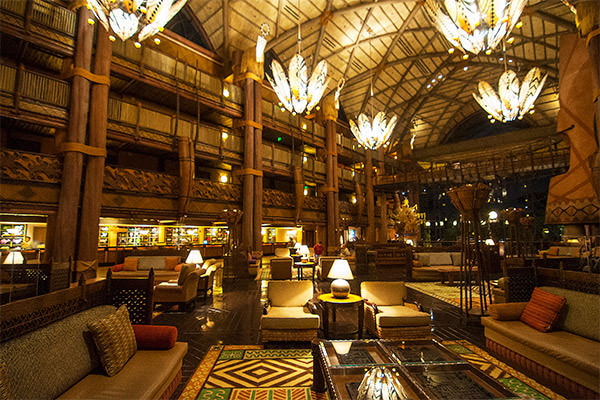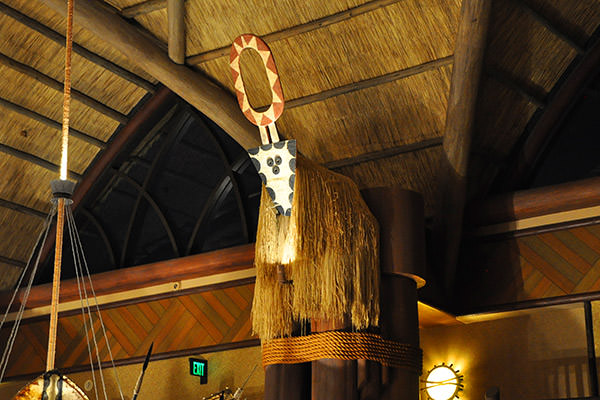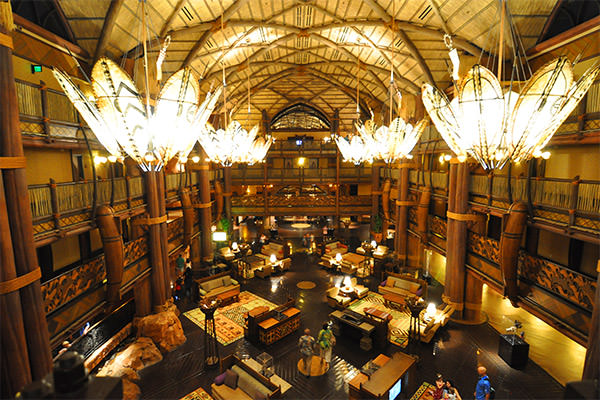 The standard rooms are not overly-spacious, but they are nicely appointed and comfortable...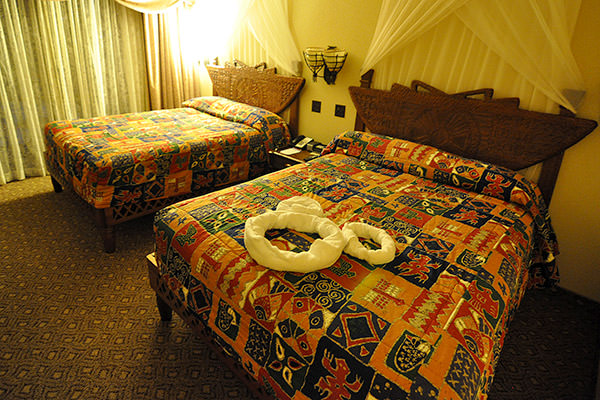 ANIMAL KINGDOM LODGE PROS:
It's Disney. You simply cannot go wrong staying at any of the Disney hotels. From the cheapest "budget" resorts... all the way up to the most expensive "deluxe" resorts... you are assured of clean, comfortable, safe rooms. Not only that, but you get really great perks for staying at the Walt Disney World Resort (extra hours in the parks, free transportation, charging purchases to your room, free room delivery of purchases, and more!).
It's Beautiful. I still like the design of Disney's Wilderness Lodge best... but the Animal Kingdom Lodge is magnificent. The lobby is a sight to behold with its vaulted ceiling and African theming, and everywhere you look there are fantastic little details that make staying here something special.
Free WiFi. The Animal Kingdom Lodge offered up FREE(!) WiFi. Sure it wasn't that great... and I was constantly having to connect/disconnect/connect because it stopped working... but it's FREE (just the way God intended) so I can't much complain.
Savanna Views. Just like you see in the ads, you really do get to look out and see giraffes, zebras, and other animals wandering outside your balcony. It's much cooler than I thought it would be, and you never get tired of watching the wildlife. It's the one thing that puts this hotel in a league of its own amongst the Disney properties.
Nuts. The "Roasted Nuts with African Spices" they serve at the Victoria Falls Lounge are frickin' amazing. And a total bargain at only $5 a bowl! Could not stop eating them.
Restaurants. There are two really nice restaurants with excellent Africa-inspired menus... plus a quick-serve restaurant WITH A FALAFEL PITA SANDWICH!! Great choices for vegetarians, or anybody, really.
Staff. As with all Disney properties, the Animal Kingdom Lodge has been filled with staff that are trained to deliver exceptional service. You really are made to feel welcome and special anytime you interact with them.
ANIMAL KINGDOM LODGE CONS:
Heinously Expensive. Especially if you want a "Savanna View" to look at animals outside your window. And since that's the entire frickin' point of staying here, it would be silly to purchase a "pool view" or "parking lot view" which you can get at any other hotel for a lot less money.
Bathroom. I know they are trying to accommodate families by having the double-sink and double mirror OUTSIDE the bathroom... but it's such a pain in the ass. Would it kill them to put ONE of those sinks/mirrors in the bathroom? That's the way a lot of hotels (including the Hard Rock Hotel Orlando) are designed, and it's much better.
Drums. I am so sick of listening to fucking drums that just the sound of one makes me want to rage. You walk up to the hotel and there's somebody teaching kids how to bang on a fucking drum before you even enter the hotel. Once inside, there's a professional fucking drum performance in the lobby... which would be fantastic, except they invite kids to bang on the fucking drums in-between songs. Trying to have a drink at the bar? A fucking drum parade marches through. Want to go to dinner at one of the amazing restaurants? You guessed it... they give fucking drums to the kids to keep them occupied while they wait for a table... which means you get to listen to fucking drums being played badly as you eat. There are fucking drums being banged in all public spaces at all hours of the day and night. Which means that even if you love drum music (as I used to) you will be so fucking sick and tired of fucking drums that you never want to hear them again.
Location. The Animal Kingdom Lodge is about as far away from everything Disney as you can possibly get. With the exception of the Animal Kingdom park, which is kinda next door, everything is miles away. You can easily spend 40 minutes (or more) just in travel time to get anywhere... that's NOT including the time you spend waiting for the damn bus.
The Damn Bus. For whatever reason (but probably the remote location) bus service to/from the Animal Kingdom Lodge is much more erratic and unreliable than other Disney hotels. You'll be standing in 95° heat watching bus after bus go by that's not the bus you need. Want to go to Disney Hollywood Studios? Sorry... there goes the fourth bus to Epcot, but no Hollywood Studios for you. Want to go back to your hotel? Sorry... there's the third bus for Disney's Pop Century Resort, but none for Animal Kingdom Lodge. This happened all the fucking time. And if you're at the "main" lodge, Jambo House, you may get bypassed altogether because the bus was filled up at the "vacation club annex" lodge, Kudani Village, which is the first stop. This is a serious problem that I haven't experienced to this horrible extreme at any of the other Disney hotels.
SUMMARY:
While it isn't going to dethrone Disney's Wilderness Lodge as my favorite Walt Disney World resort property, it comes very, very close. The Animal Kingdom Lodge with its cool Savanna views offers a unique experience that I really enjoyed, and would be happy to experience again (despite some of the cons that go along with staying here). Highly recommended if you don't mind spending huge sums of money.