And now... continued from yesterday... my observations on Apple's iOS 6 update. For everybody who hates Apple stuff, sorry... but you have one more day to go.

• Messages. If there's one feature I was most excited about when it comes to iOS 6... it would be Unified Messaging. This means that whether I am on my iPhone, my iPad, iMac, or my MacBook... any time somebody texts me via Apple Messages it will appear on all of them. And I can reply from all of them using my mobile number as the return address so it's seamless to the person I'm communicating with. As if that weren't awesome enough, all my devices archive the complete conversation so it's seamless for me to move between them too. This feature alone makes the upgrade to iOS 6 worthwhile.
The only problem is setting it up. I thought it would all happen automatically but, when it didn't, I finally figured out that you need to log out and log back into your iCloud account on your iPhone, THEN do the same on all your other devices and computers. Works like a charm. All you have to do is choose which email addresses you want people to message you at... and whether you want your mobile phone number to receive messages on that device. Easy.

• Mail. Apple always seems to be hesitant to adopt things they didn't invent. Even when those things are superior to what they've developed. Which is why you could have knocked me over with a feather when I found out that Mail has adopted "pull to refresh"... a feature I've loved ever since I first saw it in Tweetie. Not only that, but they added a really cool widget that stretches and snaps when you pull. It's awesome. And I've been begging for it to happen in Mail for a long time. Another new feature is a VIP Mailbox which collects important email from Very Important People you designate. This can be tied to VIP alerts which will let you know when VIP email arrives. It's quite cool...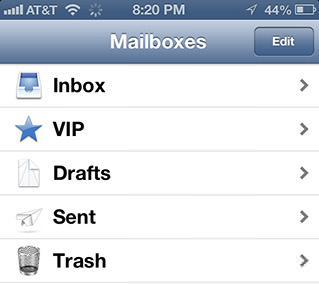 AND DID I MENTION THEY FRICKIN' ADDED PULL TO REFRESH?!? HOLY CRAP DOES THAT MAKE ME HAPPY!

• Do Not Disturb. It's a bit tough for me to dig up praise for a feature THAT SHOULD HAVE BEEN INCLUDED ON iPHONE FROM DAY ONE. but I'm going to try. Because being able to have your iPhone or iPad shut the hell up during the middle of the night is something worth praising. Even if it's years overdue. Suffice to say that being able to selectively (or automatically) make your iPhone ignore everything but calls from critical people you designate is part of what makes a smartphone a SMART ... PHONE! Long overdue and much appreciated.

• Passbook. One of the buzzword technologies hitting mobile phones is "NFC" which is "Near Field Communication." This allows you to buy stuff or unlock stuff or transfer stuff very simply over very short distances. It sounds kinda cool. No more fumbling for your credit card or airline ticket or room key when you've got your mobile phone! Except... not many people are using it. Yet. And, like all new tech, we don't know if it will really catch on. So Apple is conveniently ignoring it. For now. As a stop-gap, they've come up with Passbook. It's kind of like a wallet for your cards and tickets and stuff. Except instead of using NFC, it relies on good old-fashioned bar codes...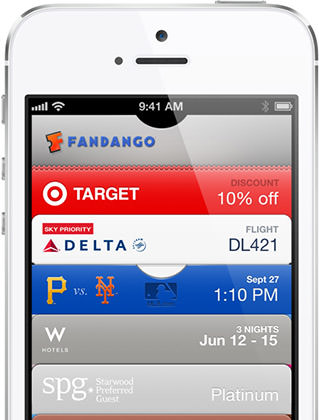 The above image comes from Apple, because Passbook itself hasn't really caught on yet. I think it will. It's just too good of an idea to be ignored. Especially since the cards/tickets/whatever are "location aware" and will pop up automatically when you are near the place they can be used. I look forward to using it. Eventually.

• Facebook/Twitter. And so now you can Tweet and Facebook directly from the Notification Center. You can also Tweet and Facebook stuff from other various apps like Photos and Safari courtesy of the "Share" button. It's kinda nifty...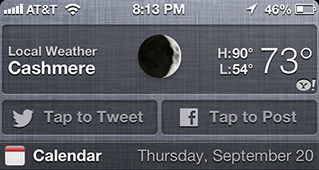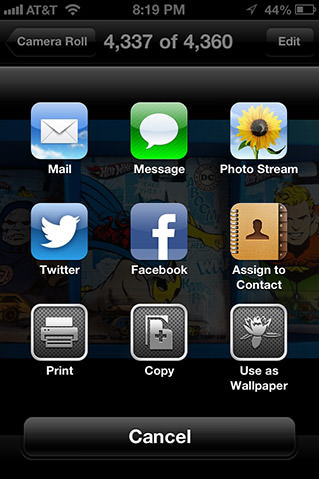 • Maps. There's no subtle way to say this... Apple's replacement for Google Maps (titled simply "Maps")... sucks. And sucks hard. First of all, there's NO Public Transit Directions. This is just awful for somebody like me who travels to new places a lot and uses public transportation. Second of all, the map data is often good, but sometimes pretty terrible. Things are missing or on the wrong place. Satellite views for some locations are so bad as to be indecipherable. It's just a mess, and even if Apple starts throwing millions of dollars at the problem, it's going to be a while before they are even close to Google Maps.
The good news is that when Maps works, it's pretty frickin' incredible... and so very very pretty. PLUS YOU CAN MAKE THE LABELS BIG SO YOU CAN ACTUALLY READ THEM! Sweet! But the feature that sets Apple Maps apart is their amazing "Flyover" feature that allows you to swoop around some cities in beautiful 3-D. I could play with it for hours...
Turning off the satellite gives you the geometry for Flyover...
There is some freaky imagery with Flyover in places... but when it works, it's pretty great. Like the Hard Rock Hotel in Chicago...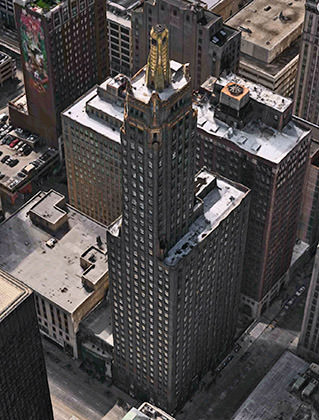 Some famous places like The Coliseum and The Vatican are well-rendered...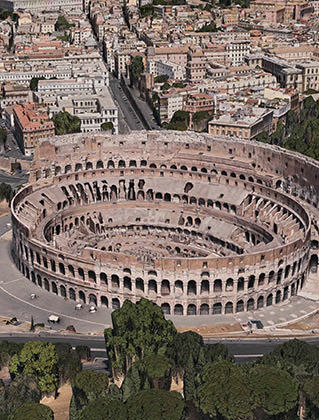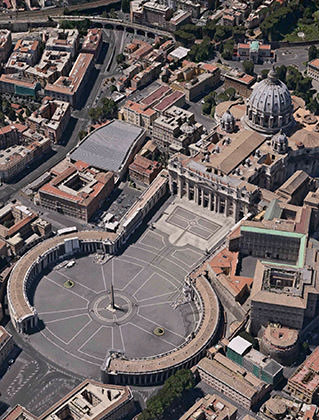 Others, like the Eiffel Tower? Not so much...
I have no doubt that Apple is going to invest the time and money to keep improving Maps to the point that it eventually eclipses Google. The question then becomes... how long is that going to take? Could be years. Which means I really need my Google Maps back for serious use. Hopefully Google will give us an app for that... but, until then, I guess there's always their mobile maps site. Sure I'll lose the "turn-by-turn directions" that Apple has... but I'd take time-tested, reliable maps over flashy add-ons any day.

• Photo Stream. One of the things that drives me insane is how difficult it is to transfer photos. Transfer to my iPad. Transfer to my Mac. Transfer to friends. Transfer anywhere, really. At first I just emailed them to myself. Then I bought an app that had a klutzy way of setting up a link between my iPhone and my Mac. Apple's "Photostream" technology came along, but YOU don't choose what gets put there. Enter "Shared Photo Streams" with iOS 6. Now you can create your own custom streams, invite whomever you want to view them, then post photos until your heart's content. Bonus? You and others can COMMENT on the photos. Pretty sweet. It's not direct, instant transfer to somebody you're talking to, but it's good enough.

• Facetime. And so FaceTime over cellular is now possible with iOS 6. Unless you're unwilling to give up your grandfathered unlimited data plan. Then AT&T decides they're going to FUCK YOU JUST BECAUSE THEY CAN... THEY ARE GOING TO DENY YOU THE ABILITY TO FACETIME OVER CELLULAR LIKE THE GREEDY BASTARDS THEY ARE. Data is data. How they can differentiate how you use that data is pretty fucked up and should be illegal. And what about their customers that are deaf?!? A deaf person could really make use of this technology... but only if they want to sign up for a data plan that AT&T decides they can make money off of. Holy crap do I loathe cell companies.

That's not all the new features in iOS 6, but it's the ones that matter to me. Sure there are loads of other niceties... like being able to dismiss calls with a text... and the nifty panorama camera feature that's head and shoulders above the third-party apps for shooting panos... and shared iCloud tabs across devices from Apple's Safari browser is sure handy... etc. etc.
Any downside?
Well, as I said, Maps is a problem. It can be pretty, but it's not nearly as usable as the Google Maps it replaces. At least not yet. I wish Apple would have waited a while longer until their Maps were more functional. Other than that? Not a lot. My older iPhones don't seem to run any slower, which is always a concern. All the features that are available on each of my iPhones seem to be working as advertised. I suppose I could nitpick on little things, but the truth is that I am very happy with iOS 6... despite the fact that it's not much of a leap over previous iOS versions when it comes to the experience. Probably because Apple got it right the first time, but I fully admit I'd like to see a few more bells and whistles in the way things work. The iPhone 5 that's coming out tomorrow is leagues faster and more powerful than the original iPhone... why doesn't it have more whiz-bang visuals to take advantage of that? Not enough to distract or slow-down the gadgets running iOS, but something to make it feel a bit fresher than the original iPhone.
Because other mobile OS's like Windows 8 and Android may be behind the curve... but they're closing in a lot faster than Apple is willing to admit. Publicly. Hopefully behind the closed doors of Cupertino it's a different story.