Get over your post-Olympic depression... because Bullet Sunday starts... now...

• Sexytime. Remember the good old days when a teacher would sleep with one of their students? Well, technically, those weren't the "good old days"... but now it's looking like they could be. Because a teacher in Texas has been convicted for having a FIVE-WAY GANG BANG with four of her students at the same time ON VIDEO. Plus a fifth student separately (I guess he was late to the party?)...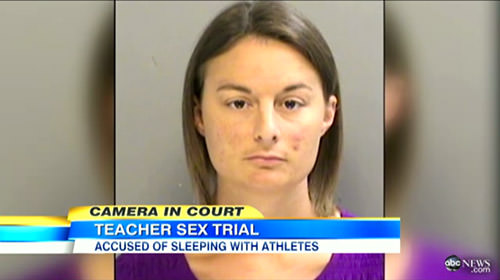 At least the students were at the age of consent this time. Though the truly shitty part is that the woman is married... with three kids. Which makes her eligible for the grand trifecta of Teacher of the Year, Wife of the Year, and Mother of the Year. I don't pretend to know anything about her marriage or her life (apparently her husband was also into the group thang), so it's not really my place to judge her for the things she's done. But holy crap. Age of consent or not, parents should be able to trust that their kids aren't going to get invited to a gang-bang by their school teachers. Military husbands should be able to leave for their service and trust that their wives aren't going to cheat on them with a bunch of teenagers in their own home. Kids should be able to trust that their mom isn't going drag them into the media spotlight by having a sex video where she's sport-fucking a high school football team. If you want to do this kind of crazy shit, more power to you. But don't make it a contest of how many lives you can ruin along the way... stay single and go fuck the Dallas Cowboys or something. Otherwise you're just making choices to intentionally hurt people you should be caring about... and that makes you selfish garbage. I am so sick and tired of hearing about kids having to live through this this crap. If you can't fully commit to having a spouse and family... don't get married and have kids! And if you do it anyway, then at least have the decency to stick by your choices instead of dragging your innocent kids into your shit.

• Douche. There are some actors I love so much that I am compelled to watch absolutely everything they do no matter how bad it is. Morgan Freeman comes to mind. I don't care how crappy the film, you can count on him to be absolutely brilliant in it, thus making the movie worth your suffering. Of course, the opposite is also true. There are actors I loathe so much that I avoid absolutely everything they do. And at the top of that list would be Shia LaBeouf, who has to be one of the shittiest actors on the planet...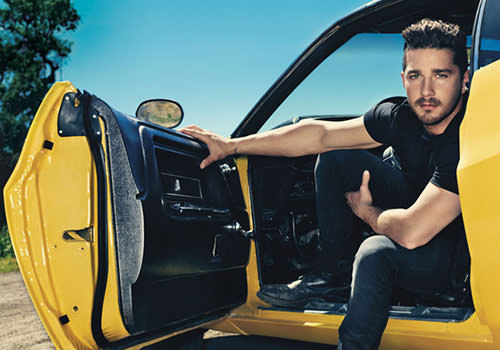 Photo take from a douchetastic interview over at Details Magazine
I mean, this guy played a huge part in fucking up an unfuckable movie franchise for The Transformers! How do you fuck up a movie about giant robots fighting evil giant robots? You hand it over to Michael Bay and put Shia LeBeouff in it, that's how! And how do you fuck up the Indiana Jones movies, one of the most beloved franchises in cinematic history? You have George Lucas write it and put Shia LeBeouff in it, that's how! Everything he touches turns to absolute crap. And, as if that weren't enough, he's a colossal d-bag as well... screwing other guy's girlfriends, trashing the people and studios that gave him work, and squaring off with security guards who kick you out of Walgreen's for smoking. He probably thinks that antics like this make him some kind of "Hollywood bad boy," when it actually just makes him a total dick.
Which is why it makes total sense that he is swearing off big-budget films forever, and is just going to do little indie films which have artistic "vision." First up? He's making a porn flick called Nymphomaniac with Lars VonTrier. Because making a sex video is totally visionary. Well, whatever. Anything that makes it easier to avoid seeing this complete douchebag's shitty acting in another film is something I approve of.

• Closure. I am always gutted with a Hard Rock Cafe closes that I didn't get to visit. And the worst closings are those that keep me from collecting a complete set of country visits. Like Aspen, the only Hard Rock in the USA I didn't get to visit. Or Oasis, the only Hard Rock in the UK I didn't get to visit. And now... Narita, the only Hard Rock in Japan I didn't get to visit. It really blows that Hard Rock Corporate doesn't warn fans when a cafe is going to close so they have some time to see the property before it's gone forever. If I had known that Narita was going down, I would have found a way to get there, even if it meant selling a kidney so I could afford it. Stupid Hard Rock Cafe hobby.

• Patrik. A Swedish movie was suggested to me called Patrik, Age 1.5, and I finally got around to watching on Netflix Streaming. It's the story of a gay couple who set out to adopt a baby they think is 1.5 years-old... but is actually a 15 year-old homophobic delinquent. Hilarity ensues...
Well, maybe not "hilarity," but it is a pretty funny movie. And kind of touching. And a little sad. But ultimately uplifting. Thanks again to my blog readers who keep digging up these fantastic obscure films for me to watch.

• Deadly. And so this happened...
When I first heard that Avitable had turned the "Interviews with Dead Celebrities" feature of his blog into a book, the first thought that came to mind was... I'll bet it wasn't entirely written by Adam. I'll bet that those "15 brand new, never-before-published interviews" were farmed out to some out-of-work writer... or outsourced to India... or copied off the internet or something. No way did he actually fabricate all new interviews with dead people just for a book. And look at that cover! It's a dead giveaway! Avitable is drawn wearing PANTS! Avitable never wears pants. Well, okay... he wears pants when he's out in public... but it's always short pants. This book is obviously a fraud and not entirely by Adam at all. And since I had already read all the real interviews on his blog, I was just going to take a pass. Who wants imitation Avitable? Not me. But then... then something incredible happened. I was reading the book blurb and saw this...
HOLY CRAP! The interviews were written ENTIRELY BY AVITABLE!! No ghost writers... no outsourcing... no plagiarism... the guy actually wrote every single interview himself! At first I didn't believe it. I couldn't believe it. Nay, I WOULDN'T BELIEVE IT! But there it was... staring me right in the face. The interviews were indeed written entirely by Avitable. He didn't even have any help or anything. So I was compelled to read the book. Partly because Adam is a friend... but mostly because I could read it for FREE with my Amazon Prime membership. And, yep, he may be wearing pants now, but it's still Avitable. If you enjoy the "Interview with Dead Celebrities" on his blog, then you'll probably enjoy this, seeing as how there's new content and all. Consequently, if you hate his Dead Celebrity interviews, you will really hate this book. You will be so outraged by this book that you'll want to buy a copy just so you can burn it. Except you can't, because it's only available electronically for Kindle. So you would have to buy the book, download it to your Kindle, then burn your Kindle. Which is kind of pointless, even if you've got the money to burn, because it will only encourage Avitable to write a sequel. In any event, you can buy a digital Kindle copy for $2.99 (or borrow it FREE with your Amazon Prime membership) by clicking this link over to Amazon.

Annnnd... back to work.